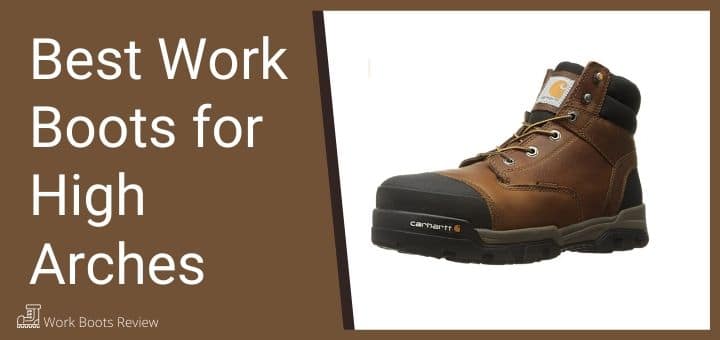 If you have constant foot pain at work, then it might be because you have high arches.
People with High Arches have a harder time protecting themselves against shocks, high impacts and standing for long hours.
Read more below on how high arches can cause foot pain, how the best work boots for high arches can help as well as where you can buy some.
---
Why High Arches Cause Foot Pain
The official name for a high arch is Cavus Foot, which is a condition in which the arches of a person's foot are too high. When this happens, the muscles in the feet have to work harder and have less support in general.
Here are some explanations for why high arches are causing you foot pain:
High arches have a harder time protecting themselves against shocks or high impacts.

Lots of pressure is applied to both the heel and forefoot of somebody with high arches, resulting in more pain in both areas.

Most footgear does not provide ample support for high arches, resulting in more pain and pressure buildup.

High arched feet may slip and slide around more inside shoes which can cause friction, blisters, and discomfort.

The pressure on the toes in some cases can lead to calluses, bunions, hammer toe, and other similar painful toe joint problems.

Since the feet have to work harder and tend to under-pronate, foot fatigue or plantar fasciitis is a common problem with high arches.

---
Best Qualities of Work Boots for Avoiding High Arch Foot Pain
Thankfully there are some features your work boots can include to provide pain relief.
Shock Absorption – Both the outer and inner soles of work boots can include shock absorbers or gel shock pads which deflect and resist shock, preventing it from reaching your feet.

Adaptive Cushioning – The best kind of padding a boot can have is adaptive padding because it will conform to the shape of your feet and provide the exact support you need. Memory foam is a material that does this flawlessly and is used differently when it comes to work boots for flat feet.

Soft Heel Pads – Make sure the boots you try on, have soft or extra cushioning on the heel as this is a weak spot for those with high arches.

Arch Support Shank – A shank is a crucial piece for work boots when it comes to arch support. These take the load off when flexing your feet in awkward positions or standing on your feet all day, both of which can be problematic for those with cavus foot.

Energy Return – Energy return does exactly as the name implies, returning some of the energy to your feet that would otherwise all be used to take a step. This lightens the load on the foot and makes each step feel light and airy.

If you still find yourself having a hard time, then consider purchasing a pair of high arch insoles.
---
The Advantages Of Wearing The Best Work Boots For High Arches
Boots for high arches come with excellent shock-absorbing and energy-returning design that keeps the feet from feeling strained and fatigued
High arch boots come with features that adaptively follow the contour of the feet, allowing them to feel comfortable and relaxed
These work boots with arch support are also designed with extra soft heel pads and cushions that provide extra support for the heels
These boots also offer features that lighten the load carried by the feet and allow the weight to be evenly distributed onto the fee
---
Reviews: The Best High Arch Work Boots
Find your match below amongst some of the very best work boots for high arches.
---
1
Opening the list for the men are some Carhartt boots. The Carhartt® Men's Energy Industrial Boot Advanced Work Boots for High Arches boast unbeatable comfort through its Advanced Footbed technology along with waterproofing and electrical hazard safety features.
Say goodbye to your high arch foot pain with these Energy Industrial Work Boots from the top brand, Carhartt.

Made with dual-layered foam cushion insoles that conform to the shape of your feet, adaptive arch support will keep your feeling comfortable all day long.

Chemical and abrasion resistant uppers alongside a light composite toe help to keep your feet safe and prevent wear and tear.

Electrical protection of up to 18 000 Volts makes sure you are safe from any electrical hazard in your way.

A waterproof storm defender membrane offers additional protection from the elements while still allowing your feet to breathe well.

---
2
Next up are some Timberland PRO boots. The Timberland PRO® Men's Hyperion Work Boots Heavy Duty Comfort Safety Boots boast impeccable quality that is rugged, durable, lightweight, and overall protective.
Superior construction brings exceptional comfort to the forefront with the Timberland PRO Hyperion work boot.

A PowerFit comfort system keeps your feet securely in place and prevents painful slipping and sliding inside the shoes.

The best shock-absorbing technology prevents impact from jarring your feet by deflecting it through the use of beehive-shaped cones.

A contoured insole provides the best support with energy return, keeping pressure off your feet and making each step feel as light as a feather.

A composite safety toe with a rubber cap keeps both you and your boots protected from abrasion and compression.

Durable, lightweight and perfect for any heavy duty construction work.

---
3
The SKECHERS® Men's Workshire Condor Memory Foam High Arch Work Boots are among the list's best arch support work boots. Made from premium materials, these boots exhibit unmatched comfort that is partnered with reliable durability and functionality.
A simple, elegant pair of work boots, the SKECHERS Workshire Condor boot was built for premium comfort and stability.

Memory foam cushioning lines the insoles, providing excellent adaptive support that conforms to your foot shape.

Slip-resistant soles with inbuilt electrical hazard protection will ensure that you are always on your feet and prepared for anything.

The soft toe and ultra-grip soles reduce the pressure on your feet and help to alleviate foot pain.

Made from black leather with a padded tongue and collar for extra comfort, stability, and support.

---
4
Fourth on the list is a pair from Dewalt. The DEWALT® Men's Plasma Work Boot Stylish Full Comfort Work Boots come in a modern, rugged looked achieved from durable leather uppers and classic lace-up front closure.
If you are looking for a pair of work boots that are as comfortable as your favorite pair of skate shoes, then you have found your match.

Made to look and feel good, the insoles have perfect high arch support with extra added cushioning for support.

A steel safety is cleverly disguised at the toe of the boot, protecting your feet from heavy compression and abrasion while looking trendy.

The base of the shoes is oil and slip resistant, keeping you stable and on your feet with perfect traction.

Electrical hazard protection shields you from electrocutions and shocks while on the job.

Clean these up after work for a night out on the town – nobody will know the difference!

---
5
Another pair of high arch work boots are again from the boot manufacturer Carhartt. The Carhartt® Men's Composite Work Boots Rugged Flex Boots for High Arches are designed to provide comfort and stable support for high arches.
A smooth look combined with rugged workers appeal, these slick boots will help you through the day with optimal foot support.

Fully equipped with an ortholite footbed that aids high arches and a lightweight midsole for comfort, flex, and support, you can't go wrong.

Storm Defender leather membrane uppers on the boot prevent water from coming in while an inner mesh lining sends all moisture out the boot.

Superior slip-resistant traction and flex allow your feet to move comfortably and naturally without slipping or falling.

Durable design offers shock absorption, deflecting impact and removing unwanted pressure from sensitive feet.

---
6
Coming in next on the list are some arch support work boots from Wolverine. The Wolverine® Men's Nolan Boot Leather Work Pull-Ons for High Arched Feet features a convenient pull-on design that is comfortable, durable, and reliable, providing a perfect fit for people with high arches.
Here are the best pair of leather pull-on work boots for those who have high arches and want some stylish shine and foot protection.

A performance inner hugs your feet, providing immaculate arch support and performance.

The insole is made with extra comfortable cushioning and can be replaced at any time if you need specialized support.

A nylon shank keeps your feet well-supported under high stress, allowing for ease of movement up and down ladders and more.

The luxury leather stitching and design keep your feet dry and prevent moisture from coming into the boots.

---
7
Caterpillar Diagnostic offers and ERGO comfort system, that is ideal for a higher arch, as well as other foot types and conditions.
Comes with 200 grams of thermal insulation for working in cold weather conditions.

The nylon mesh lining keeps your feet dry and well ventilated.

The leather uppers are completely waterproof and durable.

You can rely on the perforated EVA with gel technology for cushioned comfort, and protection against impact.

The high-performance rubber outsole is completely slip-resistant.

---
8
The Chippewa Loggers are comfortable and supportive enough for a higher arch while providing you with all the protective features for a logging work boot.
Genuine, tough leather uppers.

Waterproof with Chip-A-Tex technology and a Dri Lex 2000 lining for warmth in cold weather.

ASTM rated electrical hazard safe construction.

A protective steel toe.

For comfort, you can look forward to the arch support and, cushioned orthotic insole.

A tough and durable Logger Vibram outsole.

---
9
A rugged safety work boot with all the trimmings, along with exceptional support and comfort features specifically aimed at individuals with a higher arch type.
Very rugged oiled full grain leather uppers that are reinforced with an abrasion resistant toe, as well as side bumpers.

A standard rated lightweight composite safety toe for toe protection.

The rubber outsole is flexible with Gen Flex Dual-density technology, and long wearing.

A well cushioned flexible insole that is removable, and EVA midsole that contains Impact 300 gel to absorb shock.

The electrical hazards safe materials and composite shank, ensure even more worksite protection.

Inside there is a comfortable spacer mesh lining and anti-roll bar heel support.

---
10
Ever Boots not only protect your feet against work hazards but likewise offer excellent high arch support.
A PU midsole and a steel shank for stability and arch support.

Electrical hazard safe materials and a protective steel toe.

The durable rubber outsole offers excellent slip resistance.

Leather uppers that are available in two color options.

---
11
The Wolverine DuraShock technology LX work boot is a superb choice for arch support and shock absorbency.
Genuine leather uppers and a slip-resistant rubber outsole.

EPX anti-fatigue comfort technology and DuraShock System for shock absorbency.

Contour Welt quality construction and timeless craftsmanship.

The strong protective structure meets ASTM standards.

EPX supportive Honeycomb Heel design and a Cushioned Midsole, for superb high arch support.

---
12
A tough and high arch supportive Hiking style work boot from Keen Utility.
Mesh and synthetic uppers for breathability with a lightweight aluminum toe.

A Keen dry waterproof membrane.

Conbtoured underfoot arch support and structured stability features.

Electrical hazard safe materials.

Enhanced flexibility and durability.

---
Index Table: Top Rated Work Boots for High Arches
Frequently Asked Questions
What are the best work boots for high arches?
Generally speaking, the best boots for high arches should possess the following features:
Excellent shock absorption
Adaptive cushioning
Soft, well-cushioned heel pads
Energy-returning insoles
Durable and reliable arch support shanks
How to loosen boots up for high arches?
Loosening up boots for high arches can be a bit intimidating, but it shouldn't be. Here are a few ways to effectively stretch your boots and wear them comfortably in no time:
Get the boots and use a stretch spray on the inside of the insteps of the boots. The stretch spray has a formula that effectively loosens up the fiber of the leather, making the material softer and more pliable. Do take note that the spray works well on natural leather and may work less effectively on synthetic leather materials.
Use a boot stretcher. A boot stretcher is typically made of a two-part wooden or metal piece that mimics the foot. This effectively forces the shoe or boot material to expand, allowing it to loosen up a bit.
How to lace hiking boots for high arches?
There are a few ways to lace up hiking boots, below are a couple ways that are suitable for people with high arches:
The surgeon's knot – this way of lacing up a hiking boot effectively prevents heel slip. This method can be done by following these steps:
First, pull out the slack in the laces and make sure the boot is snug over the top of your foot.
Then locate the lace hooks closest to the point where the top of your foot usually flexes forward.
Next up: wrap the laces around each other twice, pulling them tight as you go. Repeat this step at the next highest set of your lace hooks.
Finish up by lacing the rest of the hiking boot the way you usually do it.
The window lacing – this method is also called "box lacing" which effectively alleviates any pressure point felt on the top of the foot. This way of lacing can be done by following these steps:
Unlace the boot down to the hooks that are located just below where you can feel the pressure point.
Re-lace the boot by going straight up to the following hook, and then cross the laces over.
You may opt to finish lacing up the rest of your boot the way you usually do it or tie a surgeon's knot at the lower and upper edge of the boot for a more snug, comfortable fit.
The Final Takeaway: Which Is The Best Work Boot For High Arches For You?
Finding the best work boots for high arches can be a little tricky. There are a few things that need big consideration: such as the overall construction, type of support, and level of comfort that come with the boots.
And in this review, we have provided you some of today's best work boots for arch support. That being said, which pair do you think fits you most perfectly?