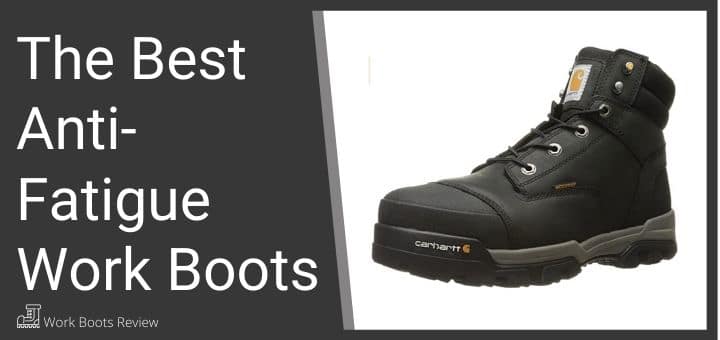 There is nothing worse than tired an aching feet, particularly when you need to perform your best at work, and that in some cases in a hazardous work environment where you need to be alert.
Luckily there are some exceptional work boot options that you can consider which will help to prevent and even treat foot fatigue effectively.
---
Foot Fatigue and Its Causes
Foot fatigue is a very common condition which occurs when you stand or walk for many long hours, particularly on hard and demanding floor surfaces.
Your feet muscles become strained and start to cramp and ache, and can even become limp from the strain and being overtired.
Foot fatigue will be especially likely when you are in a work environment where you need to be on your feet all day.
There are likewise many other factors contributing t foot fatigue which can include your age, certain foot conditions and the amount of time you spend on your feet daily.
Synmptoms of Foot Fatigue Include;

Swelling in your feet and ankles.

Sore and tired, aching feet.

Cramping in your feet and legs.

Pain in your feet and ankles.

If you suffer from these symptoms it is very likely that you may have foot fatigue.
---
Foot Fatigue Treatments and Preventative Measures
There are some excellent preventative measures you can take to prevent foot fatigue as well as treatments, to relieve sore and aching feet after a long day on your feet.
Excercises – You can stretch and massage your feet in the morning and evenings to help soothe the muscles and to relieve pain and swelling.

This video show some excellent ways to treat leg fatigue, which is also a factor when you are on your feet all day;
Shoes Fit – Wear shoes that fit comfortably, particularly your work boots, that do not squeeze or chafe your feet and allow for enough toe room.

Shoe Support – make sure that your work boots offer good support specific to your arch type, and that they are cushioning to absorb impact.

Orthotics – An insole or orthotic device that provides foot support and cushioning can be used inside your work boot.

Change Shoes – Make sure to change your shoes when you get home into something a bit more comfortable to relax your feet.

Foot Soak – A warm foot soak in some salts of your choice can do wonders for tired and aching feet after a long day.

---
Features of a Good Anti-Fatigue Work Boot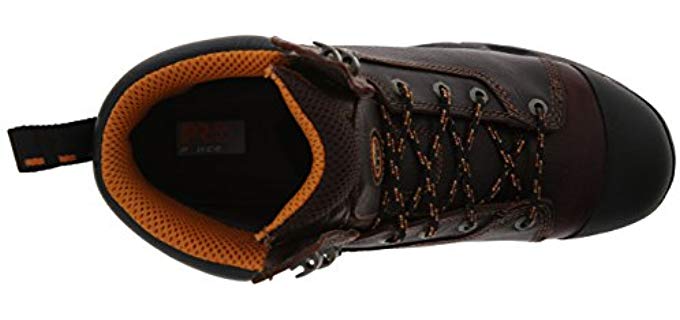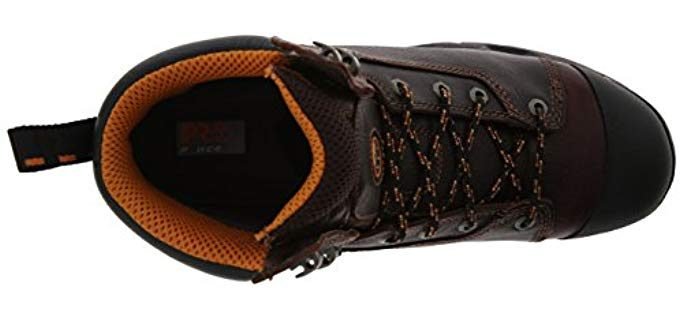 Uppers – Soft and supple leather or synthetic uppers with enough toe room to relax and spread out your toes.

Insole and Midsole – An EVA or foam cushioned midsole that offers comfort and good shock absorbency.

Support – the right support for your foot type and arch types, such as a heel cup, stability features, motion control, and arch support features.

Outsole – A thick and shock absorbing outsole that likewise provides good grip and slip resistance, and is durable for your work environment.

Durability -Goodyear welt, or cement construction methods, double stitching, durable rubber or Vibram rubber outsole, and tough and durable leather or synthetic materials.

Safety Features – With regard to your specific work environment and hazards these may include; a Safety steel, composite or aluminum toe, metatarsal guard, underfoot plate, stability shank, waterproof membrane, heat resistance, and electrical hazard protection or static dissipative materials.

---
Reviews: The Best Anti Fatigue Work Boots
Keeping all these requirements in consideration, here are your best available Anti-Fatigue Work Boots brands and models;
---
1
The Carhartt Energy is a Safety work boot designed specifically to battle fatigue and keep your feet well energized.
Oil tanned leather uppers that are soft and comfortable.

A lightweight, protective composite toe.

The durable rubber outsole offers excellent shock absorbency and slip resistance.

There is an Insite Technology Footbed, designed to provide the best arch support and reduce foot fatigue.

A Storm Defender waterproof and highly breathable membrane for waterproof protection.

---
2
The ariat groundbreaker is a stunning looking Cowboy Style, work boot with a slip-on design and some superb comfort anti-fatigue features.
Leather uppers in a slip on design with exquisite decorative stitching details.

A High rebound Energizing, Cushioned insole, for superb anti-fatigue properties and comfort.

A thick and durable Duratread rubber outsole that is oil and slip resistant.

Inside is a smooth and comfortable breathable lining to keep your feet dry and fresh all day.

This work boot is available in a larger size and wider width options as well as a few colors to choose from.

---
3
The Timberland Pro Endurance is a full house when it comes to safety features, along with a high endurance design and technology to keep you going and prevent foot fatigue.
Full grain leather uppers with a slightly padded collar for comfort and a heel pull tab for easy on and off.

There is a lace up system with rust proof durable metal eyelets for a secure fit.

The rubber toe overlays ensure excellent abrasion resistance.

Flexible with Cement construction and a breathable mesh lining that has been treated to be antimicrobial, preventing odors.

Inside is a single density, contoured open-cell footbed from PU materials with an antimicrobial coating.

The anti-fatigue technology prevents foot fatigue and returns energy to your feet.

Electrical hazard safe and comes with a steel safety toe that meets ASTM safety standards.

The durable rubber outsole offers oil, heat and slip resistance.

---
4
The Georgia Brookville is an anti-fatigue cushioned work boot that is waterproof and completely slips resistant.

Genuine and durable leather uppers and Goodyear Welt Construction methods used in this boot.

A waterproof system, that withstands rain and muddy conditions.

A thick heat, oil, and slip resistant outsole.

Inside is a cushioned comfort insole that provides excellent energy return and shock absorption.

Lightweight and flexible design with a blown rubber outsole.

---
5
If you are someone working in an environment where there is plenty of static electricity, then this work boot is your answer, besides that it likewise provides excellent anti-fatigue properties.
Soft and supple leather upper construction with a protective and lightweight Composite Toe

Features Memory foam cushioning. that conforms to the shape of your feet for customized comfort and support

Features Electric Dissipative characteristics.

Available in wider widths for more toe room.

A thick and durable slip-resistant rubber outsole, that absorbs shock and impact.

Features a relaxed and comfortable fit design, that is easy to wear.

---
6
The Golden Fox is the perfect anti-fatigue comfort work boot with a lightweight and breathable design. Along with energy returning cushioning and arch support.
Full grain soft and supple, lightweight leather uppers.

A patterned wedge sole for good slip resistance and thick consistency to absorb shock.

There is a single density Polyurethane insole, for energy returning, and anti-fatigue cushioning and support.

The heel is extra padded to absorb shock.

---
A single density Polyurethane, insole offers light cushioning with an extra padded shock absorbing heel.
Index Table: Top Rated Anti Fatigue Work Boots