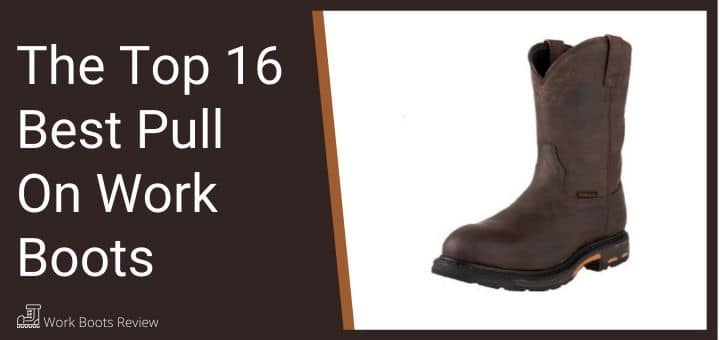 ---
---
Advantages of Pull-On Work Boots
Anyone looking for a pair of work boots should first consider all the technical specs and their advantages.
Pull on work boots are usually worn by masons, construction engineers, concrete finishers and other industrial workers.
Pull on boots have much longer shafts protecting the legs and ankles and keeping you warm and comfortable.
Pull on work boots give you more freedom and ease of movement as well as being a shoe that is very easy to put on and take off which is a significant advantage if you need to change shoes regularly or in a hurry.
Here are a few of the fantastic benefits of Pull-On Work Boots;
The pull-on work boot will provide safety to your feet and toes from falling objects such as tools and other materials.
This boot offers you superb comfort and support to reduce strain and stress on your feet keeping you comfortable and relaxed during a long workday.
because there are no shoelaces to tie these boots are very easy to put on and take off which is very convenient especially if you are in a hurry.
Pull on boots are resistant to most of the elements making them extremely durable and long lasting in even the toughest of terrains and usage.
The distressed leather used to manufacture the boot will help to keep your feet safe.
---
Features of Good Quality Pull On Work Boots
They are designed specifically for heavy duty and outdoor industrial work.
They will protect your feet against extreme weather as well as offering many other functions;
Extra protection of the toe and toe area, some brands offer a steel tipped toe.
Grip and traction for slippery surface areas.
A comfortable fit that will not put extra strain or stress on the feet.
Protection against electrical hazards.
Provides extra cushioning and support to help reduce heel pain.
Very reliable in protecting the ankles against sprains and other injuries.
Rubber sole protects the workers from twist in foot.
Long collar is up to half of leg below the knee with open mouth etc.
Durable construction from high quality materials.
A pull on style for easy on and off.
Safety features such as a steel toe, electrical hazard protection.
Comfort features including a supportive and cushioned insole, breathability and good fit.
A durable slip and oil resistant outsole.
---
Pull On Work Boots VS Lace Up Work Boots: Here's What Makes Pull On The Better Choice
Certain industries call for the use of either pull on work boots or lace up work boots. While both are designed to keep the feet comfortable all throughout a workday, pull on work boots may pose a couple of advantages.
Below are some of these advantages:
Pull on work boots are generally easier to wear compared to their lace up counterpart
The leather of pull on work boots molds pretty well, following the natural contour of the feet
Pull on work boots tend to be more waterproof as there are less stitchings and openings to the boots
Pull on work boots are slightly more budget-friendly compared to lace up work boots
Pull on work boots make great outdoor work boots as no insects or other creepy crawlies can get inside the boots
Pull on work boots look more casual and laid back, making them easy to match any outfit
In finding the best pull on work boots, there are a couple of factors worth considering when buying. Below are some of them:
Material type 
The durability of the pull on work boots will depend on the materials that they are made of. Essentially, you may want to consider a pair that is made of strong materials that can withstand tough work environments. Among the most common pull on boot materials are synthetic leather, genuine leather, and hardened rubber.
Construction type
The construction type of the boots plays a huge role in terms of durability. You may opt for boots that are Goodyear Welt constructed which is a construction technology that is considered to be among the best. Other options also include double-stitched and waterproof seams which add up to the water-resistance features of the pull on work boots.
Fit and comfort
Getting the right fit is crucial in finding the most comfortable pull on work boots. As a rule of thumb, you may want to go for a pair that fits your feet exactly and follows their natural contour.
In terms of comfort, you may want to consider cushioned insoles, EVA foam insoles, arch support features, gel footbeds, and moisture-wicking linings. These features of pull on work boots essentially add up to the overall comfort and support.
Weight
Good pull on work boots will not easily tire your feet and it's a no brainer that the heavier the boots are, the easier they will encourage fatigue. That said, consider the weight of the boots and find one that is not too heavy. You may also opt for lightweight pull on work boots.
---
Best Pull On Work Boots Reviews
Here is our list of the best pull-on work boots that are available on the market today:
---
---
---
---
---
---
---
---
---
---
---
---
---
---
---
---
---
How to Choose an Appropriate Work Boot for Your Work Environment
The first and most important factor in choosing any form of footwear whether, for work, sports or casual wear is the comfort and support features that you require for your particular foot type or foot conditions.
After that footwear needs to be chosen based on the hazards and risks that are present at your work site as well as the temperatures and weather conditions that you work in.
Here are some of the most frequent present hazards in the workplace;
Electrical Hazards
For anyone who works in an environment where there are electrical hazards or who works directly with electricity such as machinery operators, mechanics, and electricity footwear with non-conductive electrical shock resistant soles and heels play a vital role.
These electrical hazard protective shoes will protect you against electrocution if you by accident come into contact with an open circuit or live electricity.
Explosives
When you work in an environment with explosive materials or highly reactive and flammable substance and electrical conductive work boot will prevent the build-up of static electricity that could generate a spark causing an explosion or fire.
Work boots are made from thick and durable materials that are not flammable which also protects you against sparks and molten metal that could cause a flame or burn.
Cutting Machinery
Cutting machinery such as chainsaws and other machinery with rotating discs can cause serious injuries.
A protective safety boot made from specific materials that create a barrier to protect you against spinning blades, as well as a steel toe will help you stay safe.
Falling Objects
Where there is a risk of falling objects in an environment where there is moving of heavy loads, a steel toe will protect your feet and toes against the impact of a heavy falling object that could potentially crash your feet and toes.
Sharp Objects
Sharp or protruding objects on the floor of the workplace can pose puncture risks which can puncture through the sole of your shoes and into your feet.
Puncture resistant footwear has either a very thick and puncture resistant sole made from hard materials or steel or composite plate positioned within the midsole which protects you against punctures.
Rolling Objects and Moving Machinery
Heavy machinery or rolling objects can roll over your feet crushing your metatarsal bones.
Metatarsal protective work boots which are work boots with additional protective features along the metatarsal region of the boot or top of your foot will protect your foot against the damage that could be caused by heavy objects or machinery rolling over your feet.
Wet Work Environments
It is important to keep your feet dry to prevent infections and the growth of bacteria that could harm your feet.
When you work in a wet or muddy environment, a waterproof work boot should be opted for.
Slippery and Uneven Surfaces
One of the highest rated incidents that can cause serious injury even death in the workplace is slipping or tripping and falling.
Wet, greasy, oily, dusty or even uneven floor surfaces are all a risk for slip and trip accidents. A slip-resistant work shoe that provides good grip will ensure that you stay well grounded on your feet.
Comparison Table for Best Pull On Work Boots
---
Are Pull-On Work Boots the Right Choice for You
Most Pull-On Work Boots has a wide shank and heel stabilizers to improve comfort and support.
Pull-On Work Boots also help you to maintain good posture which relieves pressure on your lower back.
A pull-on work boot is easy to clean and will hold up to almost all conditions and terrain.
A pull-on work boot can offer all the protective features of a lace-up safety work boot such as protective steel or composite toe, electrical hazard protection, and an oil and slip-resistant outsole.
A pull-on work boot also has all the required comfort features such as a moisture wicking lining, breathability, cushioned insole, and supportive midsole.
You get Pull-On Work Boots that are made from different materials for various terrains and work conditions such as Muckboots made for working on wet and muddy terrain.
Who are Best Suited to A Pull-On Work Boots
Pull on work boot is a boot that is easier to put on and take off so if you are someone that needs to change shoes in a hurry or get dressed in a hurry a pull-on work boot is your best bet.
Other than that it all comes down to your personal preference for wearing a pull on or lace-up work boot.
In any work environment where you work with large tools and heavy machinery that your shoelaces could get caught in a pull-on work boot is a much safer option.
The Pull-On work boot has become so popular that some job site's safety regulations require you to only wear a pull-on work boot. Pull-On Work Boots are just as popular if not more than their lace-up counterparts because they offer the same levels of toe-protection, slip resistance, puncture protection, waterproofing, and even electrical hazard protection.
A pull-on work boot is designed with comfort in mind while still maintaining all the features of an approved safety work boot; they are convenient and times saving, making them a very sought after safety footwear for more and more heavy duty and industrial workers.