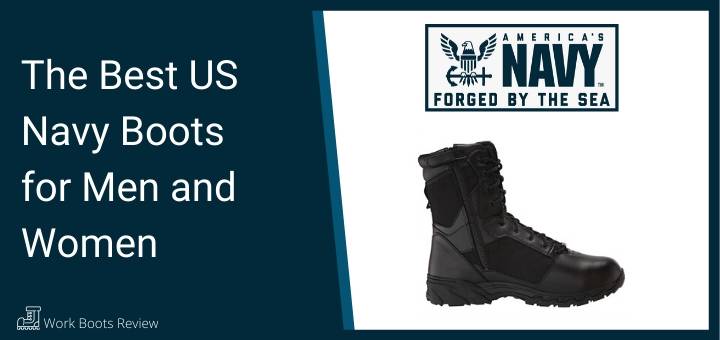 Looking for a good pair of US Navy boots? 
While sailors are known to spend most of their deployment time out in the water, they, too, spend a huge amount of their daily jobs on their feet. 
For that reason, a sailor doesn't only need to have his uniform on point on a daily basis, he, too, deserves the best pair of US Navy boots.
Advantages of Wearing A Good Pair of Navy Combat Boots
It was during the War of 1812 that the military adopted calf-high combat boots. It was during this period that the first pair of the usual combat boots was born. 
And by the late 1880s, the improved version of these boots was released as "Jeff Davis boots" which are named after then-Secretary of War Jefferson Davis who re-equipped the military.
Essentially, wearing a good pair of navy military boots comes with the following advantages:
Provides all-day comfort as they are designed to be snug and keeps the feet well-cushioned

Supports speed and agility, allowing you to move freely and quickly

Doesn't trigger metal alarms and is airport-friendly as these boots are generally non-metallic

Keeps the feet protected and secure

Excellent for use for varying terrains and surfaces

Features of Navy Military Boots
The military combat boot continued to develop over the course of the years until branches set their own specific uniform standards.
These features vary from branch to branch, although the aim of the combat boots all comes down to keeping the feet fully protected yet comfortable all-day.
Generally, navy combat boots boast the following features:
Lightweight, encouraging speed and agility

Durable yet comfortable, able to withstand tough work environments without compromising the feet's comfort

Sturdy and tough outsoles, providing heavy traction and stability even on the most slippery surfaces

Supports the natural gait of the feet, causing less strain and fatigue even on extended hours of wearing

Some are constructed to be free from metallic materials, making them airport and security-friendly

Reviews: The Top Navy Combat Boots For Men
For an active-duty sailor, sometimes, the usual pair of navy work boots is just not enough.
The pair must not only be durable enough to withstand varying work conditions,  but it should also be comfortable enough not to cause too much strain to the feet.
That said, we have narrowed down today's most comfortable and top-performing pairs of navy work boots. 
---
---
---
---
---
---
---
---
---
---
Reviews: The Best Navy Uniform Boots For Women
Just like active-duty male sailors, the women in the navy also deserve the best pair of navy regulation boots. Essentially, the perfect pair will definitely provide unbeatable comfort and support to the feet, even during extended hours of wear.
---
Comparison Table:  Navy Combat Boots For Men
Comparison Table: Navy Uniform Boots For Women
Which Pair Of US Navy Boots Is For You?
A reliable pair of navy approved boots is a must for every sailor out there. And with today's wide variety of choices, finding the one that is fit for you can be slightly tricky.
The comfort, durability, and safety features are among the top things that a sailor must look for in finding his or her pair of navy work boots. Essentially, navy military boots that meet all these features definitely are worth the investment.
After having gone through our list of the best US Navy boots, which pair do you think fits your needs perfectly?