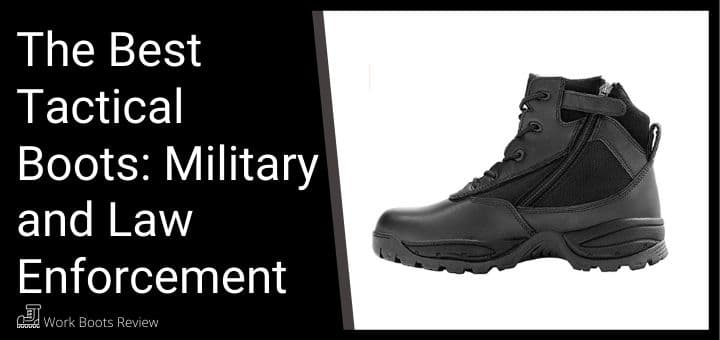 Tactical and Combat Boots are working boots used by those working in the Public Safety: such as Security Guards, the Police, Marines, Navy Seals along with many other Law Enforcement officers.
A law-enforcement officer has a very daunting and dangerous task to protect the public and enforce state laws.
Military soldiers spend most of his day on his feet walking, hiking and running and need suitable and durable shoes in order to fulfill his work safely and successfully.
---
Law Enforcement Requirement for Correct Type of Shoe
The correct pair of footwear is just as important to a law enforcement officer as a running shoe to an athlete.
Because a police officer or a Soldier is on his feet most of the time they must have good supportive footwear.
Soldiers are running, climbing, and jumping over obstacles that need protective and comfortable boots in order to accomplish their daily tasks safely.
A law enforcement officer cannot afford to be drawn back by an ill-fitting inappropriate shoe.
---
Anatomy of a Good Tactical and Police Boots
Height of the shoe will determine the amount of ankle support and mobility that you will have. A mid-cut is for mild running and walking, and the high top is for all-purpose terrain hiking and running.

Ayelets will determine the boots durability and are found in three types; loop, hook and speed laces which come in metal or plastic.

Outsoles are imperative, make sure that you invest in a shoe with a durable sole so that you do not need to replace the shoe every three months or so.

Arch support is paramount if you are going to be on your feet all day, so features such as padded heels and comfort inserts are also quite important.

Toe Support can also come in handy, a steel shank can protect your toes from heavy falling objects.

Traction: some special attributes such as non-slip, abrasion resistance, and hazard safety are also attributed worth looking at.

Flame Resistance shoes are becoming much more popular amongst police officers because they do deal with items and situations where there is fire involved.

Water Resistance This is another good attribute because there is nothing worse than wet feet and a decrease in traction on slippery surfaces.

Advantages of Wearing The Right Pair of Tactical Work Boots
Tactical boots are work boots that are specifically ideal for military, patrol, and tactical operation use. Generally, these boots are designed to withstand varying work conditions and environments.
A pair of comfortable tactical boots come with the following advantages:
Provides great ankle support and mobility, allowing you to move comfortably
Supports agility and stability, keeping the feet feeling less fatigued all-day
Encourages the natural gait of the feet, allowing the feet to feel snug and comfortable
Keeps the feet safe from flame, heat, water, oil, and other hazards
Sturdy yet extremely lightweight, able to withstand tough conditions without compromising comfort
Features of a Good Pair of Tactical Work Boots
Finding the best tactical boots is crucial, especially for those who work extended hours on their feet. As a rule of thumb, a good pair of tactical work boots exhibit the following features:
Breathable which promotes enough airflow and keeps the feet cool and comfortable
Lightweight yet flexible, allowing the feet to move freely without the added weight
Slip-resistant and provides heavy traction, allowing the feet to stay planted to the ground regardless of the surface type
Quiet soles which keep unnecessary squeaks and noises during tactical missions
Durable and sturdy uppers provide excellent stability and keep the feet protected
Secure and reliable, ensuring that the laces don't get in the way of accomplishing daily activities
---
Reviews: The Top Rated Tactical Boots
Here are some of the top choices in tactical shoes that have excellent protection and comfort features;
---
1
Opening the list is a pair of Maelstrom tactical boots. The Maelstrom Patrol is a six-inch tactical work boot perfect for even the toughest police work. A comfortable fit with added cushioning and a steel shank for added protection and support.
A moisture-wicking lining to keep your feet dry and fresh all day.

A full-grain leather toe with high shine polish for added protection and durability.

The nylon uppers are resilient and breathable.

A curved side zip allows for faster on and off.

A shock-absorbing system that maximizes compression and rebound.

The slip and oil resistant outsole offer exceptional traction on any terrain.

A one year manufacturer's warranty for confidence in the durability of this shoe.

---
2
Next on the list is a comfortable and durable pair of Reebok tactical boots. The Reebok RB8894 is a durable and protective shoe that can withstand tough terrain and hard-wearing.
May be unavailable as of 2 Aug 2020.

A synthetic leather and textile upper 100% non-metallic and airport-safe.

F2A polyurethane inserts to cushion all your landing and shock eliminator heel cushion give you more explosive takeoffs.

The TPU shank is lightweight and offers excellent support and protection.

The low profile rubber lug sole ensures superb grip and traction.

The Composite toe cap will protect your toes from falling objects and compression.

Available in four neutral colors.

---
3
The ATAC 8 Inch Boot has been engineered specifically to meet the rigorous demands of law enforcement work. A professional boot that offers comfort and the highest of performance levels.
Available in Black or Coyote Brown breathable uppers with a leather toe for a sturdy polished appearance.

An injection-molded Phylon midsole and cushioned insole for comfort, support, and shock absorption.

A non-metallic shank for improved stability and protection.

The shock mitigation system reduces stress and impact on the feet.

An oil and slip-resistant outsole for enhanced traction and grip on slippery surfaces.

The moisture-wicking lining will keep your feet cool and dry even with prolonged wear.

---
4
Making it to our list of best tactical boots is the Danner 8" Tachyon. These Danner tactical boots have an 8-inch shaft for ankle support and added protection. This pair is one of the lightest, and most flexible tactical work boots that you will come across that can be used for training and special operations.
Ultra-Fast Drying, Lightweight synthetic uppers.

A speed-lacing system for easy on and off.

Completely waterproof in even the wettest of conditions.

A waterproof and breathable Gore-Tex liner.

The Secure fit open-cell polyurethane footbed allows for better airflow and has a comfortable EVA midsole that absorbs shock.

A protective and stability-enhancing nylon shank.

The outsole is slip-resistant and rubber with pentagonal lugs for better grip and traction.

A durable and polishable leather toe for added protection and an enhanced appearance.

---
5
Making it to the list is a pair of tactical boots from the manufacturer Smith & Wesson. The Smith & Wesson Men's Breach 2.0 is a pair built not only to be tactical but to also showcase impressive durability, rigidity, and all-day comfort.
The Smith & Wesson Men's Breach 2.0 boasts impressive durability as the pair is crafted with a mix of leather and nylon uppers.

The pair is also bound to perform well on varying terrains as they are equipped with high-traction, slip-resistant, non-marking rubber outsoles.

Designed to be extremely comfortable, these tactical boots are engineered with foam-padded collars and well-cushioned insoles.

These boots are also built to provide stability as they are crafted with robust steel shanks.

The Smith & Wesson Men's Breach 2.0 is also built for torsional rigidity while reducing foot fatigue with its board-lasted construction.

---
6
These black tactical boots are specially crafted for those who work as airport police and federal officers. Essentially, the Original SWAT Metro Air can go through a metal detector without setting off any alarms. The pair boasts a nine-inch height that is rugged and comfortable for tough everyday wearing.
The uppers are constructed out of leather and Denier nylon with a polishable leather toe.

The upper is double stitched with a three-ply bonded nylon thread for extended durability.

The outsole is low profile and slip-resistant with waffle traction and ladder grip control for better footing on various surfaces.

An air cushion midsole for cushioned support and comfort.

The synthetic liner helps to wick away moisture.

Nylon shanks for better support and comfort.

The zipper is an added function for easy on and off when you are in a hurry.
---
7
The Bates Ultra-Lite weighs only 3lbs and is perfect if you are constantly on the move. This boot is also waterproof so it will work best in wet and rainy conditions.
Constructed of full-grain ballistic nylon and waterproof leather.

A fully cushioned removable insole for support and comfort.

An Ultra-Lite outsole is slip-resistant and provides excellent traction on many surfaces.

The easy zip function enables you to take your boots off and put them on quickly.

Size up as this boot is a very snug fit.

---
8
The Danner Acadia features the famous Danner stitch down construction for a more stable underfoot platform and superb durability. This is a breathable and waterproof boot that will keep you dry and comfortable even in the most extreme conditions.
Constructed from durable, breathable, and waterproof Leather and Cordura.

A sturdy Vibram sole for excellent grip on any surface.

Danner's famous stitch down construction offers support and durability.

This shoe offers a slender profile and a more narrow fit ensuring a snug fit for activities that demand support.

Available in an "EE" size if you need a wider fit.

---
9
The Thorogood Tactical Jump Boot has been constructed with excellent craftsmanship and advanced technology. Thorogood is one of the most trusted brands in the professional industry today making some of the most durable and comfortable work boots on the market.
An 8-inch boot manufactured from black oil-tanned leather

Heavy-duty YKK side zipper with Velcro closure for easy on and off.

A Dri-Lex Aero-Spacer lining to keep your feet dry and comfortable.

A double density polyurethane removable insole for comfort and support.

The EVA midsole offers FlexShock shock absorbency and superior cushioning.

A composite shank for added support.

Goodyear Welt construction for exceptional durability.

Also features a non-marking, slip-resistant dual-density rubber lug outsole.

An added high shine leather toe cap and heel counter for abrasion resistance.

---
10
This Military Boot is lightweight, comfortable and durable boot with safety and convenience features:
May be unavailable as of 2 Aug 2020.

Uppers: Dri-Lex breathable waterproof guaranteed membrane is used to construct the boot.

Outsole: Slip and oil-resistant rubber with the composite shank offer excellent stability and support on any surface.

Midsole: Molded and shock-absorbing.

A Lightweight boot with full bootie construction.

Zipper: Fast on-and-off heavy-duty side zipper (YKK).
---
11
The A.T.A.C Shield is a tactical boot with all the safety and protection requirements of an industrial work boot. This boot has been engineered for superior safety and durability in even the most unforgiving of environments.
A clean and professional appearance.

Rugged and durable uppers with breathable mesh and a CSA/ASTM certified steel safety toe.

The puncture-resistant midsole offers you reliable protection and stability.

A waterproof breathable lining that is also blood borne pathogen resistant.

An electrical resistant, oil and slip-resistant outsole that will enhance speed and traction and well as provide maximum protection.

---
12
For serious performance, the Rocky Alpha Force is equipped with all the comfort, safety and durability features that you may require of a tactical and safety work boot.
Leather and textile uppers for breathability with waterproof construction to keep your feet dry and protected.

A side zipper for fast and easy on and off.

A cushioned black Air-Port footbed for comfort and support.

An oil and slip-resistant, non-marking RigiTrac molded EVA rubber outsole for superior grip and traction.

ASTM certified protective Steel toe and electrical hazard protection.

---
13
Finishing the list is a pair of Bates tactical boots. The perfect boot for those cold and freezing climates, the Bates Safety Enforcer is an 8 Inch Steel Toe tactical boot that will provide you with protection, warmth, and comfort.
Leather and Nylon uppers with a padded collar and mesh lining for breathable comfort.

A comfortable fit that provides excellent ankle support.

A molded midsole with a full cushioned removable EVA footbed, featuring shock-absorbing pads and metallic stealth components for superior shock absorbency and support.

An oil and slip-resistant Ultra-Lite rubber outsole.

An Astm Certified Steel Toe for superior protection.

Tough and durable Cement construction.

---
Index Table: Best Tactical Boots
---
Benefits of a Steel Toe Tactical Boot
A steel toe in a work boot has the main purpose of protecting your forefeet and toes against the impact of falling objects, compression and also from cutting hazards such as sharp moving parts in machinery.
A steel toe work boot or safety boot almost always comes with a protective steel plate in the sole or a thick rubber sole to protect your feet against punctures.
Another less popular function of the Steel Toe boot is its capability of being used as a self-defense mechanism; a steel toe boot can render a very nasty and powerful kick.
Final Takeaway
You are never fully equipped and battle-ready without the right pair of tactical work boots.
Essentially, the perfect pair varies from person to person, but a good pair will surely take your feet to the right places. May it be out in the field or on a secret tactical mission, the best tactical boots are bound to keep your feet protected and comfortable the entire time.
From extremely lightweight tactical boots, down to steel toe tactical boots, which one do you think is the perfect fit for you?