Minimalist work shoes and boots are intended to closely approximate barefoot walking conditions.
Some people think they're like 'Zero Drop Boots' which allow your feet to feel the ground and the environment almost as if you are barefoot, while still providing some protection from hazards.
Minimalist Work Boots are a more natural alternative to toughen your feet and muscles while giving you a better sensory experience.
---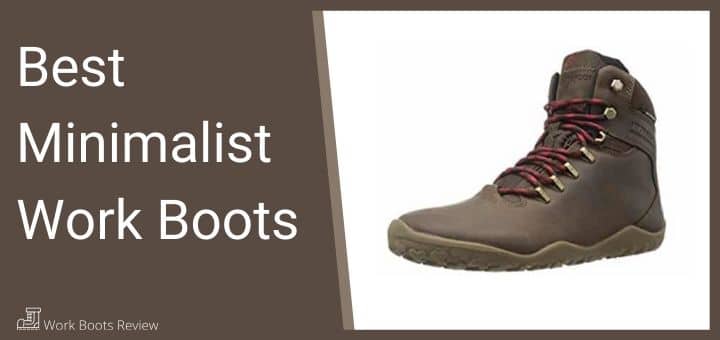 ---
The Purpose of Minimalist Shoes and Boots
Minimalist shoes give the feet the maximum amount of freedom for movement and sensation while still giving you some underfoot protection.
A Minimalist shoe is flexible and low to the ground providing a more natural gait of movement along with the feeling of walking or running barefoot.
The actual purpose behind minimalist footwear is to reduce initial joint impact by allowing your feet a more natural motion which will ultimately also reduce the risk.
A great example of minimalist shoes is made by Birchbury.
---
Transitioning Into Minimalist Shoes
When you are wearing a pair of minimalist boots or shoes for the first time, your feet and legs may hurt after the first few times of wearing this footwear, because your feet and lower limbs need to adjust and increase in strength and mobility.
Transitioning into your new minimalist footwear can take anything from a few weeks up to a whole year as your muscles strengthen and become more conditioned.
It is advised to take it slowly and only wear minimalist footwear for short periods of time, in the beginning, starting off with walking.
---
What Characterizes a Minimalist Boot
Weight, a minimalist shoe is extremely lightweight.
Stack Height, the sole at the center of the heel is usually quite low.
Heel to Toe Drop, there is a very slight drop from the heel to the toe.
Motion Control and Stability, there are very few technologies used in a minimalist shoe that offer motion control and stability.
Flexibility, torsional which is how much you can twist the shoe by rotating the toe and heel in opposite directions, and longitudinal flexibility where you fold the shoes from the heel and toe.
All of these characteristics make up a minimalist shoe. Keep in mind that every type of minimalist shoe will differ in ratio and technologies when it comes to these characteristics.
The less technology used in the shoe and the more flexible and lightweight the shoe is, the higher it's minimalist rating is.
---
The Top Rated Minimalist Boots
We have researched and listed the best available minimalist boots;
---
1
A boot for the outdoor adventurer or hunter. The Vivobare Tracker is an excellent tracking boot with minimalist qualities that will put you at one with nature.
Manufactured from rich and lightweight leather.

Metal eyelets for a stunning appearance and great fit.

A full waterproof Hydroguard lining.

Naturally flexible while remaining tough and durable.

The Dri-Lex lining wicks away moisture for great inner conditions.

Multi-directional V-Teeth on the outsole ensures excellent performance on wet, muddy and steep terrains.

---
2
The Rocky C4T Trainer Duty boot is one of the most lightweight tactical boots that have ever been made by Rocky. These boots will make you feel like you are wearing no shoes at all.
Leather and fabric uppers that are both breathable and lightweight.

A rubber sole offering fantastic grip and traction on many surfaces.

The boot measures 7 inches, with a 2.5-inch heel and a one-inch platform.

Speed eyelets and NATO hooks for easy on and off.

Available in different colors.

---
3
The perfect waterproof minimalist boot. The Vivobarefoot Tracker is a men's lifestyle boot for everyday wear that has been constructed to keep your feet warm and well ventilated.
The uppers are constructed from premium leather and wax canvas materials.

A 6-inch shaft, and 1/2-inch heel with a 0.5-inch platform.

The thermal 200 gram Thinsulate insulation will keep your feet warm in even the most extreme weather conditions.

A lightweight and breathable boot.

---
4
The Under Armor Jungle Rat is the perfect boot for those who love outdoor adventures or who work outdoors. This is a waterproof and rugged boot that still gives you all the sensory features of a minimalist boot.
Synthetic uppers are breathable and lightweight.

A lace-up disclosure for a better fit.

The UA Storm gear uses a DWR finish that repels water without sacrificing breathability.

An antimicrobial Otholite sock liner to keep your feet dry and odor-free.

The Micro G midsole is full length for complete support.

A reinforced TPU shank for improved stability.

---
5
The Tactical Research TR102 is a tactical boot that is durable and comfortable offering you the best features in a minimalist work boot.
A 8 inch tactical boot.

The uppers are manufactured from Flesh-Out Leather and 1000 denier Cordura that is unlined to improve breathability.

A compression-molded lightweight EVA midsole.

An exclusively designed Vibram Tarsus oil and slip-resistant rubber outsole.

This shoe offers a 5mm heel to toe drop.

The double and triple stitched seams enhance the shoe's durability.

The midsole offers 2mm die-cut shock dispersion.

Padded Achilles' support.

The convenient pull-on loop ensures easy on and off.

AR 670-1 compliant.

---
6
A Stylish Athletic style steel toe minimalist work shoe.

Comfortable to wear and stand due to the EVA foam midsole.

An Oil and water slip-resistant rubber outsole.

Left and right asymmetrical comfort steel toes

---
7
A durable water-resistant skate shoe style work boot.

Nylex footbed with molded EVA cushion provides comfort and cushioning all day long.

Stability and traction achieved with the Slip-resistant T1080 rubber outsole.

---
8
The Breathable textile lining of 200g Thinsulate insulation will keep you warm and ventilated.

It has an Ultra-thin, puncture-resistant rubber sole for maximum protection.

It has a removable 3.5mm thermal insole which I would recommend using unless you have prescriptions orthotics.

---
9
A stylish Machine Washable, Antibacterial, Moisture Wicking Perfect Minimalist Work Boot.

Made from Genuine Super Slab that is Oil Resistant and Slip Resistant.

---
Index Table for the Best Minimalist Boots
---
Finding a lightweight, breathable and comfortable minimalist boot should no longer be a hassle. The above choices of minimalist boots are of a great variety all with the most excellent minimalist qualities.
Also Read: The Best Zero Drop Boots
---
Work Boots Review may collect a share of sales or other compensation from links on this page.