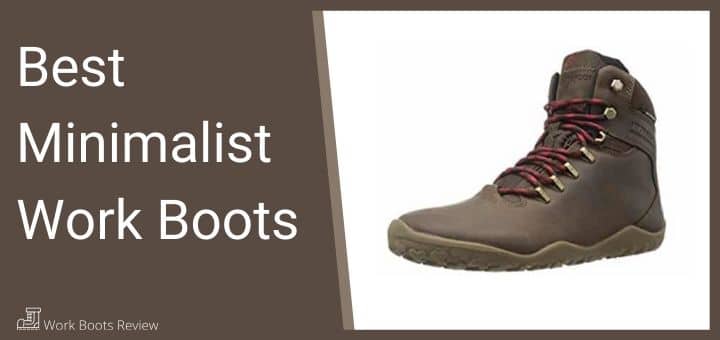 Zero drop and minimalist footwear – people either love them or hate them.
If you come down on the "love" side of the fence, you've probably discovered it's hard to find a good pair of minimalist work boots.  We've found that's because most manufacturers don't advertise these barefoot-like boots as "work-boots".  They'll usually be in other – mostly larger – categories like hiking boots.
It's as if the industry doesn't realize there's a market for people looking for great minimalist style boots to wear to work.
Lucky for you, we've done the research and come up with a list of the best minimalist workboots.  Some of these are zero-drop boots – meaning they have no drop in the sole from heel to toe.  Others have a very slight drop (hence, the "minimalist").  All of them try to give your foot the barefoot shoe experience while being in a boot.
Our best all-around minimalist choice is the Sorel Moc Toe.  It's light, good looking, waterproof and quite comfortable.  You can wear this boot all day – whether at work, hiking or out for a casual night with friends.   It's not made for safety toe or steel toe work environments, however.  Read on beyond our product table for more information on each of the boots that made the list.
---
---
The Best Men's Zero Drop / Minimalist Boots
The Top Women's Minimalist Boots and Zero Drop WorkBoots
Our Top Rated Minimalist Boots Reviewed
Minimalist work boots make an excellent job companion, most especially if you prefer protection that feels so close to being barefoot. Usually very lightweight and extremely comfortable, this type of work boot is definitely worth every buck spent. The good news is, you don't have to give up protection just to get a more natural, flat-foot experience.  There are steel toe versions of zero drop boots available to buy.
So without any further ado, here are some of today's top minimalist work boots for men.
---
1
Our best overall pick is  from the boot manufacturer Sorel. Sorel is a brand known for quality – I still use Sorel winter boots I bought over 15 years ago!
The Sorel Men's Madson is a great-looking boot that is also minimalist at the same time. This footwear is perfect for a wide range of activities beyond the workday. A casual, working shoe that can be worn to the office, factory floor or even on a day hike. The waterproof leather and suede upper will keep your feet dry on the trail, while the sturdy molded rubber outsole will keep you happy on your feet all day. There's no steel toe option with this boot – but if can do without that level of toe protection, it's a great pick!
The Sorel Men's Madson features timeless durability with uppers that are crafted from Nubuck leather.

The pair also boasts reliable grip and traction as they come with sturdy rubber outsoles.

These boots are quite comfortable thanks to the well-cushioned, shock-absorbing insoles.

At a drop of just over 1/2 an inch, they are great to ease into barefoot footwear.

---
2
Second on the list is a reliable, minimalist pair from the iconic brand Dr. Martens. The Dr. Martens Men's Tobias Boot has a nearly zero-drop waffle sole to give you that barefoot sensation. It has a decently-wide toe box – I think it's a nice compromise between the extremes of squishing your toes and looking like you have clown shoes on.  Made of premium materials, these are built to last years with proper care.
100% leather uppers break in quickly – you'll soon forget you have them on your feet!.

The sturdy, rubber waffle outsoles are great in oily or slippery conditions.

The pair is built to provide unmatched comfort as they come with well-cushioned Airwair insoles.

These workboots are true to the brand – everyone will know you have on "Doc's"

The Dr. Martens Men's Tobias Boot is very lightweight yet provides enough sole support for standing on all day.  Your feet will thank you!

---
3
If you are looking for minimalist boots but not a full-fledged zero-drop tactical boot, the next shoe on the list is for you.  These boots have a much milder drop than our next choice on the list. The Danner Men's Tachyon is for tactical situations – but it doesn't mean you can't wear them to the shop floor or out on the trails.  It's a perfect choice if you are just starting out with minimalist combat boots.
The Danner Men's Tachyon features 500 Denier nylon plus durable leather upper to protect your feet when out in the field.

These boots are engineered with sturdy, great-traction, rubber outsoles to handle all types of terrain.

Your 'little piggies' will love the very wide toe box – meant to give your foot room to adjust when having to change direction quickly or carry heavy weight.

The Danner Men's Tachyon is a pair that can withstand tough wet conditions as they are engineered to be waterproof along with GORE-TEX liners.

---
4
Tactical Research has really hit the ball out of the park with the Mini Mil boot line. If your "work" involves wearing tactical gear, make sure you check out the MiniMil TR102.   It's our top pick for the
best tactical zero-drop boot
.
The TACTICAL RESEARCH TR Men's MiniMil TR102 Minimalist Boot is crafted with impressive durability as these boots are made of a mix of premium, full-grain, cattle hide leather and 1000D Cordura nylon uppers.

The Vibram Tarsus soles are OUTSTANDING – they provide good traction and non -slip properties in one package.

Your feet will LOVE the 2mm heel-to-toe drop.  It's effectively a zero-drop boot.

Crafted for comfort, the pair is designed with single-density, well-cushioned, removable inserts.

These tactical minimalist boots are also equipped to absorb shock efficiently as they come with 2-millimeter, die-cut shock dispersing midsoles.
---
5
Next on the list is a pair from the brand Vivobarefoot. The Vivobarefoot Men's Gobi II is a minimalist pair of shoes that offer a lightweight and minimalist design that will let you walk the world in unsurpassed comfort and style.
The Vivobarefoot Men's Gobi II offers durability as the pair is crafted with premium Wild Hide leather.

These boots are also built for treading varying terrains as they are constructed with the brand's signature Lifestyle outsoles.

Built to provide all-day comfort, the pair is designed with lightweight, breathable, well-cushioned insoles.

Designed to follow your foot, the Vivobarefoot Men's Gobi II is a travel shoe that comes with flexible rubber outsoles.

---
6
Finishing off the list for the men's is a pair of minimalist boots from Merrell. The Merrel Men's Ontario is a mid-cut hiking shoe that is waterproof, durable, and guaranteed to withstand the tough demands of various environments.
The Merrel Men's Ontario is a minimalist hiking shoe that features durability through its leather and textile uppers.

The pair also offers a heavy grip as they come with high-traction Vibram outsoles.

Comfort is never an understatement as these boots come with the brand's Kinetic Fit BASEs which is a removable contoured footbed.

The Merrel Men's Ontario offers a sleek look as it comes with low-top shafts and about an inch of platforms.

---
7
A durable water-resistant skate shoe style work boot.

Nylex footbed with molded EVA cushion provides comfort and cushioning all day long.

Stability and traction achieved with the Slip-resistant T1080 rubber outsole.

---
8
The Breathable textile lining of 200g Thinsulate insulation will keep you warm and ventilated.

It has an Ultra-thin, puncture-resistant rubber sole for maximum protection.

It has a removable 3.5mm thermal insole which I would recommend using unless you have prescriptions orthotics.

---
9
A stylish Machine Washable, Antibacterial, Moisture Wicking Perfect Minimalist Work Boot.

Made from Genuine Super Slab that is Oil Resistant and Slip Resistant.

---
The Best Zero Drop Work Boots For Women Reviewed
Women, too, absolutely enjoy the proactive features and comfort that a good, reliable pair of minimalist, zero drop boots provide. Chic, stylish, yet fit for use at work, these boots surely make every penny spent just worth it.
There aren't as many models of barefoot-style workboots geared for women as there are for men. Luckily, most boots in this category are really unisex in style. If you don't see a women's zero-drop shoe you like, make sure to check the men's section as well.
1
Topping our list for women is a pair from Vivobarefoot, a known brand that manufactures some of today's most sought-after minimalist and lightweight boots. Definitely minimalist, chic, and comfortable, the Vivobarefoot Women's Tracker is built to perform well, may it be for work or a casual stroll.
The Vivobarefoot Women's Tracker is a minimalist boot that features unsurpassed durability as they are made of sleek, premium leather uppers.

These boots are also reliable for walking against various surfaces as they come with sturdy, high-traction rubber outsoles.

These minimalist boots are also extremely comfortable as they come with well-cushioned comfort insoles.

Built for various conditions, the Vivobarefoot Women's tracker is engineered to be winterproof along with thermal protection.

---
2
Another and completing the list is a pair from Vivobarefoot. The Vivobarefoot Women's Hiker is a pair that may be originally designed as a hiking companion but the boots are also rugged enough to perform well as a work boot under circumstances wherein durability is imperative but safety toes are not exactly required.
The Vivobarefoot Women's Hiker Hiking Boot boasts durability as the boots are crafted with uppers that are made of high-quality nylon material.

Built for all sorts of terrains, these minimalist k=hiking boots are engineered with sturdy, high-traction rubber outsoles.

Designed to provide unbeatable comfort, the pair also comes with well-cushioned insoles that are removable, allowing you to customize the way these hiking boots will accommodate your feet.

Rugged and durable, the Vivobarefoot Women's Hiker Hiking Boot is intricately crafted to be fit for use under wet circumstances as the zero drop boot pair is also waterproof.

---
Why Do People Buy Minimalist Shoes and Boots?
Now that we've gotten some great examples of minimalist shoes, you might be asking yourself: why would anyone buy these style of boots?  They seem radically different from normal workboots.
There's been a lot of research done on what a minimalist footwear life can do for your body.  While it's not 100% conclusive, there is research to shoe that:
Zero drop shoes encourage a low-impact gait by eliminating the drop between the heel and the forefoot.
They encourage you to land on your mid-foot or forefoot rather than your heel.
They disperse the impact of your footfalls by spreading the forces throughout the leg and allowing your feet to land.
They increase your foot and ankle's strength – there's no artificial support to use as a crutch.
Minimalist shoes give the feet the maximum amount of freedom for movement and sensation while still giving you some underfoot protection.
A zero drop or minimalist shoe is flexible and low to the ground providing a more natural gait of movement along with the feeling of walking or running barefoot.
The actual purpose behind minimalist footwear is to reduce initial joint impact by allowing your feet a more natural motion which will ultimately also reduce the risk.
What are Zero Drop Boots?
Zero drop boots refer to footwear where the heel is at the same height to the forefoot and ball of the foot. These type of boots are also called zero rise boots, zero lift boots, zero differential boots, and 0 drop boots.  Usually, the sole thickness will be under 1 cm, but there are zero drop boots with thicker soles.  It depends on the intended use of the boot.
They help to correct posture and align your spine. A zero drop boot also aids in alleviating strain to your lower back. It encourages mid foot strike and enables you to walk with a healthier stride.
---
Transitioning Into Minimalist Shoes
When you are wearing a pair of minimalist boots or shoes for the first time, your feet and legs may hurt after the first few times of wearing this footwear, because your feet and lower limbs need to adjust and increase in strength and mobility.
Transitioning into your new minimalist footwear can take anything from a few weeks up to a whole year as your muscles strengthen and become more conditioned.
It is advised to take it slowly and only wear minimalist footwear for short periods of time, in the beginning, starting off with walking.
Minimalist shoes have a very specific function. They were originally designed as a type of shoe for dancers to help them in their performances and for athletes to protect their feet. Today, they are a staple in  fashion and have become popular all over the world. What is it about these shoes that have become so popular? What is there about these shoes that make people want to buy them? Let's take a look at what these shoes are made out of and why they are a great choice when you are looking to go out with some style and confidence.
What Characterizes a Minimalist or Zero Drop Boot
It's sometimes hard to tell just what is a minimalist piece of footwear.  That's because there is no one "true" definition.  In general, a minimalist boot is one that places the foot at such a position that it mimics being barefoot – like our ancestor's thousands of years ago would have roamed the Earth.
While there is no one definition, there are some features and characteristics that make a boot a minimalist one:
A low or zero heel-to-toe drop is the main characteristic of a minimalist shoe.  When the drop is near or at zero mm, it is called a Zero Drop shoe.  A high heel-to-toe drop would almost always disqualify a shoe from being considered minimalist.
Weight, a minimalist shoe is usually lightweight.
A low stack height – since the center of the sole is usually close to the toe and heel height.
No stability or motion control, since those tend to require raising the heel by a centimeter or more vs the toes.
A large toe box is usually part of these boots.  The toes are given room to spread out and carry more of the load when compared to traditional footwear.  It's one of the problems shoe designers face with zero-drop boots – the wide toe box is distinctive and loved by everyone.
All of these characteristics make up a minimalist shoe. Keep in mind that every type of minimalist shoe will differ in ratio and technologies when it comes to these characteristics.
While in general, you'll find that zero drop work shoes tend to have less tech and weight than other types of shoes, the difference in the sole height at the heel and toe is what matters.  A low measure of difference puts your foot in a more natural position, which is the idea behind making and wearing barefoot shoes.
---
Did we leave your favorite boot off the list? Please let us know in the comments.