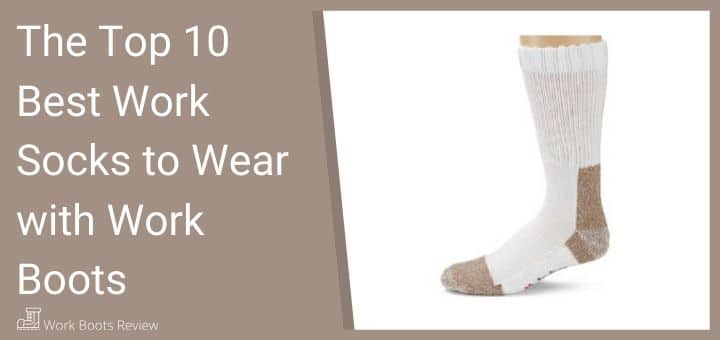 People often make a HUGE mistake when buying their workboots.
They forget the importance of getting a great pair of socks to go with the new boots.
Think about it – your feet are directly in the socks.  While getting a good pair of workboots is the first step, a bad pair of work socks can ruin your day.  You'll get wet, tired, achy feet – all because you didn't take into account how important socks can be.
Luckily, we've put together a list of the best socks for work boots that will help you make a great choice.  These top work socks are made of various materials – so pick the style and fabric that you like best.  All of them are highly rated so you won't go wrong with any of the choices on the list!
---
The Best Work Socks in 2021
How to Choose the Best Work Boot Socks
If you are looking for the best work boot socks, you will have to look at features such as the quality of the material, absorbent level, and ability to reduce odor.
Take into consideration that work boot socks are mostly going to be worn inside a work boot, so they will need to offer some comfort, water resistance, and some form of insulation.
Every customer should keep in mind that the best work boot socks will also depend on their occupation and work environment and the specific requirements thereof.
The best work socks are usually woven or made from everlasting performance material.
Work socks are available in different sizes, lengths, and each pair will have specific functions and features from which you can choose according to your unique personal preferences and requirements.
Always look for work socks that will provide comfort, support, those that will keep your feet cool or warm, as well as keeping your feet dry.
---
Benefits and features of the Best Work Socks
Whether you are looking for the best work boot socks for sweaty feet, the best socks for steel toe boots, and other types of socks, these kinds are the most useful and beneficial to workers using quality designed work boots on a daily basis. Here are a few of the fantastic benefits of wearing the best work socks for boots.
Wick away moisture

Reduce stress and strain on the feet

Soft and Comfortable

Provide heat and pain relief on injured feet

Not slippery inside the boots

Reduce odor

Temperature resistant

Absorb sweat and keep your feet cool in hot weather conditions.

Readily available

Affordable, durable and long-lasting

Multiple types of socks with extraordinary qualities

Gives cushioning against the rough or hard shoe

Reduces skidding.

All of these are some of the fantastic characteristics and benefits that the best socks to wear with work boots will have.

All of these are some of the fantastic characteristics and benefits that the best socks to wear with work boots will have.
There are men and women's work socks available which can be worn with shoes for work in the office, industrial working areas, and outdoor working areas. There is a perfect work sock to fit you, for any occupation or work environment.
Related Content: How to Keep Feet from Sweating in Work Boots, prevention is always better than cure!
---
Reviews: Best Socks for Boots
We have researched and selected a few of the best socks for work boots that feature functions aimed at particular work environments.
1
These work socks have been used by many professionals in the USA for many years. With the surprisingly high-quality materials and impressive features that they hold, they are a great accessory to your work boots.
These are great summer work socks suitable for any footwear

These are made from mixed fibers which include; nylon, acrylic, and soft wool.

No bleaching and tumble drying, Machine washable.

Made in the USA.

Heavyweight working brand.

Men's fit.

The toe and heel part of the sock is reinforced and designed in a darker color. This is a mid-calf sock that will keep your feet, ankles, and legs warm comfortable. These socks exquisitely qualify for heavy-duty work such as construction, concrete fixing, and other outdoor jobs. The Fox River Socks must be worn with reliable and good quality work boots to enhance their performance.

---
2
These are stylish and wonderfully stitched and woven socks that also exhibit extraordinary and impressive benefits.
These also happen to be among the best over the calf work socks manufactured for work boots in industries such as paving and civil engineering jobs. In the global markets, these socks for work boots are well known for their fantastic quality, anti-odor technology, and easy-to-clean.

A very lightweight protective sock that stretches and protects the heel and toes.

Manufactured from a variety of interwoven fibers with long-lasting stability, comfort, and amazing quality.

Moisture absorbing and slip reducing with added comfort features and available in a variety of colors.

It provides graduated compression and improves dryness by wicking away moisture.

A comfortable and soft fit with added anti-odor technology.

---
3
This is most likely one of the best men's work socks used mostly by concrete finishers, engineers and paving staff.

These socks are excellent at absorbing moisture to keep your feet dry and fresh.

Today the best work socks for sweaty feet are also extremely well known for their amazing features and long-lasting durability.

These brands are made of various top quality and absorbent materials to keep the feet dry and free of odor.

The different types of fibers used to make this sock also helps to develop stability, improve comforts, and enhance performance.

These are fully cushioned, compression arch and thick absorbent sock.

Perfect for wearing with work boots in the industrial and manufacturing industry.

A machine-washable sock with excellent compression capabilities to improve blood circulation.

These socks will exquisitely complement a pair of work boots that are made of premium grain leather.

---
4
If you are looking for compression socks for work boots, then these pairs are for you. Comfortable, breathable, and designed for all-day wear, these socks are also good for you if you have poor blood circulation, or if you are on your feet all day. The Footloose compression socks will improve blood flow and provide you with durable comfort, making them easily among the best work socks for men.

Knee-high work socks made of a premium blend of 90% Nylon and 10% Spandex, which is an effective Breathable and moisture absorbent material.

Hug your calves and provide comfortable compression which is a must for those working long hours standing on their feet.

These compression socks for work boots keep a good blood circulatory is important for preventing muscle fatigue, varicose veins, and leg swelling.

They also have Anti-bacterial and quick-drying properties, which are ideal for those with foot-sensitivities and excessive leg sweating, they shield against the development of fungal feet infections.

---
5
This is a sock, unlike any other brand that you have experienced. However, the popularity of wool work socks is also peaking, although polyester and nylon socks have shown to exhibit everlasting performance and durability.

Made from Polypropylene, cotton, polyester, nylon, and acrylic which are popular materials by most manufacturers to make high quality, heavy-duty wear and excellent class footwear accessories.

The toe and heel part of the sock has been reinforced and is extra thick for more protection and shock absorbency. These thick work socks are perfect for heavy-duty and industrial work as they offer extra protection for tough and prolonged wear.

These socks provide arch compression and longer stability.

Not a suitable sock to wear in very wet conditions although they do have moisture-wicking capabilities.

---
6
The World's Softest Crew Work Socks are truly the most comfortable work socks with the softest feel that you will get.

True to their name – these are the world's softest work socks you'll ever get.

Designed to be worn all day long without feeling any discomfort.

They will keep your feet cushioned and will wick moisture away keeping your feet dry.

These work socks are soft and yet they will stay up altogether without cutting off blood circulation or leaving pressure band signs on your leg.

---
7
These workhorse socks offer all-day comfort, durability, and the legendary Darn Toughness.
Manufactured from fine gauge Merino wool, they will keep your feet warm in the winter and cool in the summer.

Seamless construction for advanced comfort.

These Work Socks for workboots comes with an Unconditional Lifetime Guarantee.

Unsurpassed Durability and Performance in a snug fit.

Their Anti-microbial and breathable properties will keep your feet fresh, dry and odor-free.

Manufactured from 3% Lycra® Spandex, 64% Merino Wool, and 33% Nylon.

---
8
For the colder weather conditions and wet work, these are the perfect pair of socks to keep your feet and legs dry and warm. Ideal for work sites where you are dealing with Concrete, Paving, and civils.

These are a great pair of winter work socks made from high-quality elastane, olefin, and polyester.

The Dry Max Work Socks have odor control technology and anti-blister construction for more comfortable wear.

Your heels will be completely protected in these socks, and the padded toe provides extra comfort.

For the improved safety of the toe, the pads are stitched with a thick layer and excellent fit.

These socks will mostly suit men working in the industrial field.

---
9
Cotton socks are considered to be the best available because of their excellent moisture absorbency capabilities. A worker can continue wearing these dryad work boot socks for several consecutive days without having to wash them.

These are superior quality cotton socks that will suit almost any type of work boot perfectly. You can use these socks in any occupation, in the office, to college, as well as industrial work.

Heavy-duty socks so they will last long even with the toughest wear.

The Wolverine Socks have greater compression for more durability and elasticity for improving their performance.

These socks are particularly suitable for steel toe work boots because of their reinforced heel and toe.

Embedded arch support offers extra support and comfort. These socks are very easy to wash and keep clean.

The Wolverine socks are recommended for wearing a steel toe work boot and have a reinforced toe and heel.

Easy machine washable and dries out quickly.

---
10
Indestructible, the Smartwool PhD are lightweight and superbly durable for all day vigorous wear.
Seamless at the toe, with a 4degree elite fitting system.

Body-mapped mesh zones ensure excellent breathability.

Manufactured from merino wool with nylon, and elastane.

Indestructawool technology for long-lasting durability.

The sock measures 8.5 inches in height to protect ankles and calves.

---
11
A comfortable and durable toe crew socks, perfect to wear with any work boot, with a 2-year performance warranty.
Manufactured from polypropylene, cotton, stretch nylon, polyester, and spandex.

The full machine is washable in warm water.

The heel area is reinforced for superior durability.

A lightweight instep that is both breathable and quick drying.

The cotton gives a soft and plush feel, while the cushioning under the feet adds comfort and support.

The toe is seamless and comfortable.

---
12
Soft cotton is durable, comfortable and breathable.

It comes in a handy two-pack.

Fully cushioned for comfort and shock absorbency.

Arch support is holding the sock in place perfectly.

The steel toe technology gives additional comfort for wearing a steel toe work boot.

Waterproof and moisture absorbent, keeping you completely dry and odor-free.

All season, temperature managing work socks.

---