For certain occupations such as construction and outdoor work as well as hobbies including hunting and hiking the danger of being bitten by a poisonous snake is quite imminent.
Therefore protective gear and footwear are essential for these kinds of activities and looking for the best snake proof boots is what we cover here in this article.
The best Snakeproof Boot will provide solid coverage of the foot and leg preventing a snake from being able to puncture your skin.

---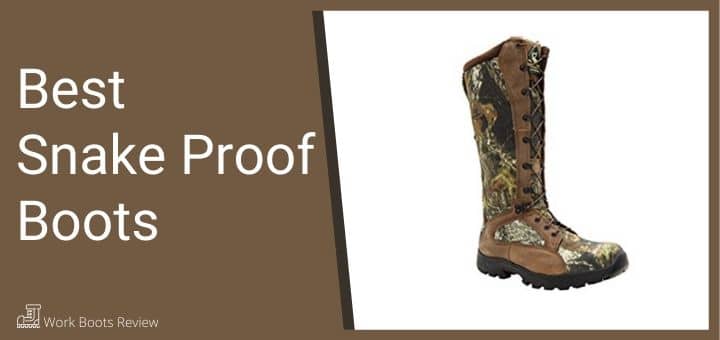 ---
The Dangers of a Snake Bite
Most deaths from snake bites occur in more rural areas where they are mostly unreported, so it is quite difficult to estimate the rate of deaths from snakebites.
One of the biggest reasons why snakes are so dangerous is because many snake species have venom that can often cause death in a matter of minutes.
Snake bites are not just responsible for deaths but also for many injuries and disabilities because of the severe damage that a snake bite can cause even with treatment.
---
Careers that have Snake Bite Risks
Many careers hold the risk of being bitten by a snake, outdoor workers such as loggers and constructions workers.
Landscapers and many other jobs that are in areas where poisonous snakes are present pose a danger.
Hobbies such as hiking, trekking, and hunting also involve many probabilities of having a snake bite accident.
The most dangerous careers pertaining to snakes is most likely that of a snake handler and snake milker.
---
Snake Proof Boots Types and Their Features
Snake Gaiters – A snake gaiter is a protective covering for your feet and legs normally constructed from denier Nylon with polycarbonate inserts that stop the fangs of snakes. Snake gaiters are lightweight, and puncture resistant tested up to ASTM standards. A snake gaiter utilizes a unique toe cover that covers the top part of your shoe and laces to prevent the possibility of a snake getting ist fangs entangled in your shoelaces.

Rattlesnake Proof Boots – Rattlesnake proof boots are long boots with a tough exterior that protects your feet and legs against the strikes of a rattlesnake. They normally have a very tough exterior that can be made of rubber or other materials and have other features such as waterproofing, a comfortable insole or footbed as well as breathability technology.

Waterproof Snake Boots – The waterproof snake boot is a waterproof boot that protects your feet against liquids as well as venomous snake bites. This boot is a long boot that protects your legs, feet, and ankles constructed from waterproof leather with a durable slip resistant outsole for good grip on uneven surfaces. Comfort features can include a cushioned footbed or insole, breathable lining, and supportive midsole.

Rubber Snake Boots – Constructing Rubber snake boots from waterproof vulcanized rubber that is thick and durable as well as puncture proof against snake bites. The rubber snake boot has breathability features and a comfortable cushioned insole as well as a durable rubber sole that provides excellent grip.

Snake Chaps – Snake chaps are protective leg coverings that cover your entire leg up to your thighs. A chap made from sturdy nylon such as Cordura that is completely punctured resistant.

General Snake Bite Boots – General snake bite boots are designed to go up to your knees and made from thick puncture proof materials. This boot can be waterproof and have comfort features or breathability features.
---
Reviews: Best Snake Bite Proof Boots
Here are some of the best choices of snake protection boots, snake gaiters and snake chaps that are available today;
---
1
The Rocky ProLight is a rattlesnake proof boot that is tough and comfortable as well as waterproof.

The Rocky ProLight features mossy oak colored camo Cordura nylon and leather construction for ultimate protection.

The tall 16-inch lace-up style gives you complete protection and peace of mind.

This boot combines a waterproof inner layer with a waterproof upper to keep your feet dry from all directions.

The breathable mesh lining, round toe, and block heel ensure a comfortable and dry fit.

The rubber sole secures your footing and prevents slips.

---
2
The Scaletech Snake Protection Chaps from Rattler offers superior protection against venomous snake bites and are durable and water repellent.

Scaletech chaps have a unique overlapping technology to eliminate the gaps between protection pads and are Constructed from water-repellant, durable and heavyweight nylon material.

The ScaleTech chaps provide complete briar and brush protection.

Above the knee construction with adjustable straps for a customized and secure fit.

Available in short, regular and thigh lengths for added ankle, knee and leg protection.

---
3
The LaCrosse Alpha Mudlite is a rubber muck boots that will provide you with the maximum protection against snake bites and wet and muddy conditions.

Constructed with waterproof LaCrosse Alpha technology using the finest quality natural rubber over neoprene.

Quad-Core technology incorporates four layers of cushioning and support as well as a contoured ankle fit design to guard you against heel slippage and provide a stable and comfortable fit.

The Pu Footbed is both comfortable and removable, and the protective shin guard and adjustable back gusset provide a secure and comfortable fit.

A 4x Burly outsole provides excellent traction in mud and loose terrain.

A 16-inch boot in Realtree Xtra Green Camo patterning.

---
4
The Foreverlast Guards Shield Snake Gaiter provides full protection from snakes from the knees down.

Knee length protection from snake bites, brush, and briars.

Tough Cordura materials with durable construction.

These gaiters are the ultimate in stalking equipment.

Durable and protective.

---
5
For superior comfort and protection, the Danner Pronghorn is your best bet; it combines safety and durability features with comfort technology.

Durable waterproof and full grain leather uppers with all-leather toe and heel caps and a breathable Gore-Tex waterproof lining for superior durability, protection, and comfort.

The well-designed side zip offers quick on and off and a comfortable fit.

The three-density open-cell polyurethane footbed provides superb cushioning and support, and the TPU shank ensures stability.

A durable Danner pronghorn rubber outsole provides solid traction on even the most rugged terrain.

---
6
Designed to be the ultimate multi-functional footwear the Chippewa Pull-on Snake protection boot can be used for the outdoors and to wear casually.

Durable leather and fabric uppers constructed using the rugged Goodyear Welt construction method with a heavy duty Viper cloth shaft for superior protection and long-lasting durability.

The durable Vibram outsole promises excellent traction and grip on different terrains.

The unit heel and round toe profile provide a more comfortable and secure fit.

A tough and protective pull-on boot that is versatile and comfortable.

---
7
An original Muckboot, perfect for hunting in wet and muddy terrain with the added function of protection against snake bites as well as camouflage colors.

Manufactured from pure rubber with a durable rubber sole that ensures excellent grip.

There is 4mm of flex foam and an Xpress cool fabric liner for comfort.

The anti-friction sock liner prevents foot fatigue and keeps feet cool and comfortable.

An ethylene vinyl acetate midsole and rubber outsole pods for further comfort and durability.

The full rubber exterior is completely snake resistant.

---
8
The ultimate in hiking and hunting boot the Rocky blizzard stalker provides you with the functionality of a hiking boot along with protection against snake bites.

Manufactured from leather and textile materials for comfort and breathability.

The rubber outsole is slip resistant and provides thick protection and excellent traction.

A durable rubber vamp for added protection.

Comfortable padded collar and extended tongue with and removable PU footbed.

---
9
The 17 Inch Tall Lacrosse hunting boot will ensure you are well protected against snake bites because of its extra length.

Full grain leather and 1000 denier nylon are used to construct the uppers.

A durable rubber sole for excellent grip.

The Dry-Core waterproof lining ensures your feet are kept dry in wet conditions.

This boot provides 360 degrees of snake bite protection.

A removable cushioned footbed for comfort and Goodyear welt construction method for durability.

---
10
Danner Vital Snake Boots will offer you full protection against snake bites from your feet up to your legs.
Leather and textile upper construction that is durable and abrasion resistant.

Offers 360 degrees of Snakeproof Protection.

Dry waterproof protection with a breathable mesh liner.

A supportive and stabilizing Nylon Shank.

The rubber outsole offers superb slip resistance.

A comfortable molded PU footbed with an open cell design.

---
11
The Rocky S2V is a Waterproof Tactical Snake Proof Boot ideal for military and service work, in hazardous terrain.
Made from very lightweight 1000 Denier Nylon.

High quality and superior waterproofing technology.

Breathable design to keep your feet dry and cool.

Complete snake proof protection.

Inside is a Removable Rocky Airport Comfort Insole.

---
12
A fully waterproof and durable Snake Proof Protective Work Boot from Lacrosse.
Made from 100% pure and durable rubber that is completely waterproof and snake proof.

A durable and lug rubber outsole that offers superior slip resistance.

The rubber is hand laid for durability and optimal waterproofing.

Extra long shaft for full protection.

---
The best way to prevent a potentially damaging and painful accident is by wearing protective snake proof boots.
There is always a chance that may land yourself in a circumstance where you have to face a poisonous snake no matter how hard you try to avoid this, so rather be safe than sorry. Most snake bites occur before a snake is even seen due to you stepping too close or on it.
---
Index Table: Top Rated Snake Proof Boots
---
Work Boots Review may collect a share of sales or other compensation from links on this page.