Your work boots are a major investment that needs to perform an last for a very long time.
Maintaining and protecting your work boots against the elements is just a way of returning the favor.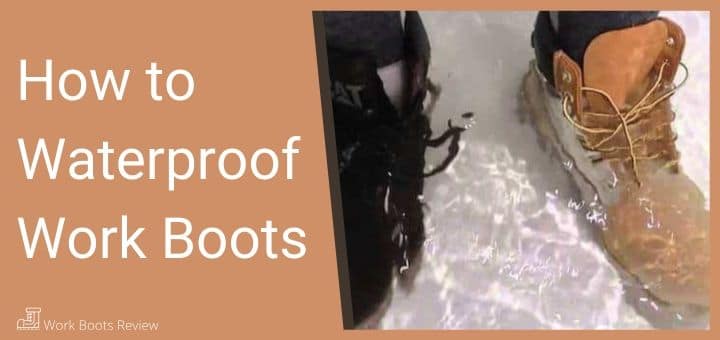 ---
Why Should You Waterproof your Work Boots
Your job description may require you to work in many different terrains, particularly wet weather or terrains.
Water can cause extensive damage to your workboots in the long run, and similarly affect your feet by causing the inside of your shoes to rot and grow bad bacteria.
Although, before you set out to waterproof your new pair of workboots, keep in mind that they need to be BROKEN IN first, so you may want to wear them for a week or two. On the contrary, they also need to be clean before you can waterproof them, so a good clean to remove all surface debris is necessary before waterproofing your work boots.
Most good workboots are already waterproof, some with a Gore-Tex or similar waterproof membrane lining the shoes. But unfortunately, with frequent use, especially in harsh and wet terrain, with heat, and flexing, the waterproof lining becomes compromised, causing your work boots to leak. In this case, it is essential to start participating in a good, regular waterproofing ritual, with the right products.
---
How to Waterproof Your Work Boots
There are two methods which you can use to waterproof your work boots, namely applying a product or using a spray on product. Both these product types create a waterproof membrane that expels water, and seals the shoe against moisture, with the exception of the spray being more breathable.
You can purchase a paste, cream or wax to apply to your shoes, or you can opt for the spray, which is just as easy to apply.
Unfortunately waterproofing this way is not a permanent solution, but it does last quite a while. Within a couple of weeks, you may need to repeat the waterproofing process. Luckily the process is so quick and easy, similarly, it can be incorporated into your cleaning and maintaining schedule which is vital for your workboots.
Keeping your work Boots well conditioned, clean, and waterproof will not only protect your boots and prolong their life, but in addition protect your feet while keeping them fresh and dry

Checklist
Waterproofing your workboots can be a messy and painstaking job, so make sure you are comprehensively prepared, and that you have a clean, well-prepared working space.
Get some rubber gloves as the waterproofing oil may stain and cause a strong smell on your hands.

Find a good place that is well ventilated to dry your boots, or consider investing in a boot dryer. A fan will also work well with this regard.

Make sure to dry your boots regularly when working in wet conditions, as the wetness can compromise the waterproofing, and deteriorate your work boot. Never leave them in the sun or dry them by a fire, as this may crack the leather. Rather place them in a cool area in the house, or close to a fan.

Waterproofing Process
Using a Cream, Paste or Wax
This method requires that you purchase a waterproofing cream, paste or wax, that generates a temporary waterproof membrane around your workboot.
Firstly remove all the dirt from your workboot and give it a thorough clean.

Make sure that your workboot is completely dry before you start your waterproofing process.

Warm the wax or paste in the sun or put the jar in warm water, this is not necessary for cream.

Apply the substance to your boot with a clean, dry cloth.

Use circular motions to apply, and make sure that you use enough of the paste, cream or wax to coat your boot generously.

Leave your workboots in a cool dry place for an hour or so to dry, or place them under a fan.

Use a buffing sponge or brush to remove excess product.

You can repeat this process when your work boots start to look cracked, or after a couple of weeks.

Using A Waterproofing Spray
The easiest and most convenient way of waterproofing your workboots is by using a waterproofing spray. Thanks to polyurethane coatings your work boots can now resist water droplets from entering the boot, while still remaining superbly breathable. This spray will give you breathable waterproofing, that is so easy to use and reapply.
Remove all dirt and debris from your workboot and make sure that they are well cleaned before you start the spraying procedure.

Make sure to dry your work boot scrupulously before applying the waterproofing spray.

It is best to hold the spray bottle six inches away from the boot to get an even coating of waterproof spray.

Spray the boot thoroughly making sure not to miss any spots, coating the entire outside of the boot completely.

Leave you to work boots in a cool dry area overnight to dry out, never leave them in the sun or near a fire for drying, as this may cause damage and compromise the waterproof spray.

As soon as you work boots start to look like they are starting to form cracks, or even after a few weeks, you can recap the entire process.

---
In Conclusion
Imagine having to cross a snow-covered marsh, or having to tread through dirty muddy water, and suddenly your once waterproof work boots are not living up to their name anymore. The water seeps in, your feet are cold, wet, your socks chafing blisters on your feet. This is a scenario that we all want to avoid, which can also negatively affect your work performance.
For this reason, the little time you will spend to improve or recap the waterproofing on your work boots is a small price to pay, when your work performance and the health and comfort of your feet are at stake.
I would also like to remind you that it is imperative to keep your boots dry on the inside and outside on a daily basis, not just to protect your boot and to prolong the waterproofing, but most importantly for the health and well being of your feet!
---
---
Work Boots Review may collect a share of sales or other compensation from links on this page.