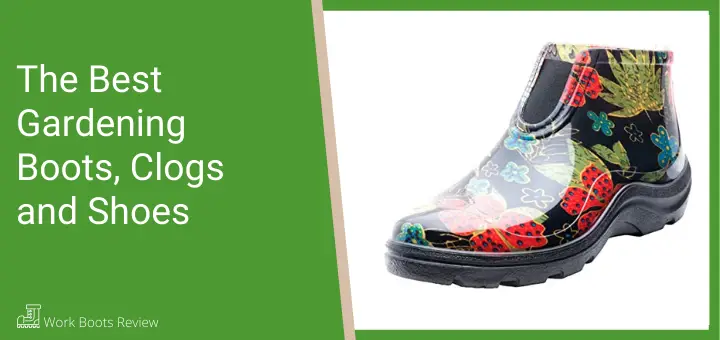 A pair of gardening boots or shoes at your backdoor is something every gardener should invest in. If you tend to run out to pull a weed and three hours later, you are still in the garden, you should have a pair of gardening shoes ready at your backdoor.
There are so many styles and materials to choose from – the possibilities of gardening boots are almost endless, and varieties vary from gardening shoes, ankle boots to full work boots.
We spent 25+ hours researching and reading reviews to create a shortlist of the best gardening boots for men and women. Our editor's choice for backyard garden footwear is the Crocs Unisex Crocband Clogs; it is a unisex shoe that also comes in kids' sizes. The garden clog slips on easy, is comfortable to wear, durable for daily gardening use, and easy to clean.  It's not meant for heavy, deep-in-the-mud gardening – but most people don't need that protection.
Our list features a variety of garden boots to accommodate the needs of different yard chores, from watering the flowerbed, protecting feet against poison ivy,  to cleaning livestock messes and chicken coops. We also listed waterproof products, slip-resistant gardening footwear, shoes at a different boot height, and some gardening shoes are so pretty you would want to display them as home décor.
Best Garden Boots/Garden Shoes in 2020
Reviews of Garden Clogs, Shoes and Boots
1
The Crocs Crocband Clogs are the best shoes for general gardening. The garden clogs are the editor's choices because they are inexpensive, unisex, easy to put on, slip-resistant, water-friendly, quick to clean, and comfortable to wear. With the multiple color options and shoe size chart, men and women may find the perfect stylish pair for their gardening needs and fashion tastes.
Working in the garden could easily take a whole day or weekend, and because it is recreational, you do not realize you are on your feet for hours. The Croslite foam provides the iconic Crocs Comfort for your feet so that gardeners may focus on their gardening chores and not worry about having sore feet the next day. The garden clogs fit comfortably for all types of feet; it does not pinch toes or sit too tight for wide feet.
If you want to go out into the garden quickly, then these garden clogs are what you need at your backdoor for effortlessly slipping on and off. No need to waste time putting on heavy boots or tying laces to pull a weed you saw from your lounge window. Neither do you want to ruin another pair of shoes by quickly going out to pull a weed and another, and before you know it, your new shoes are covered in mud.
You will not lose the gardening shoe halfway either if you're in a hurry; the pivoting heel strap ensures a secure fit without feet sliding out of the garden clog.
It is impossible to keep feet dry while working in the garden; the water friendly Crocs drains water well. No squishy soggy feet while wearing these garden clogs. You may also find them helpful to wear when washing cars or hosing down garden furniture.
When finished with the gardening chores, simply hose the muck, mud, and debris off the shoes, and leave to dry quickly. The ventilation holes also ensure sufficient ventilation and breathability to your feet, avoiding sweaty feet even on a hot summer's day.
The unisex garden clogs come with a trendy midsole stripe giving it a sporty look. Its stylish design and lightweight make for comfortable wear outdoors and indoors. Non-marking soles ensure safe walking on all types of floors and surfaces.
The delightful color choices may tempt you to buy an extra pair of garden clogs, and the low-price points make it possible for you to have multiple pairs in various colors. Another benefit why Crocs unisex classic shoes are the best gardening shoes is their ranges of kids' garden clogs too. Kids like to dress up like mom or dad, and they mimic their parents also. With the Crocs garden clogs, your kids can wear the same type of gardening shoes while helping you or playing in the garden.
---
2
The Sloggers Waterproof Rain and Garden shoe is a pair of gardening shoes you may want to wear all day. The garden shoe comes with Slogger's exclusive All-Day-Comfort insole providing maximum comfort to gardeners' feet. It is the best gardeners' shoes for men and women who often work in their garden.
With the thicker heel, thick ball, and molded arch support, the All-Day-Comfort insole provides the comfort to feet allowing you to dig, prune, water your garden for hours without having aching feet. The insole is removable to soak and airy dry to clean it after use. Replacement
insoles
are sold separately should you wear your insoles out. The soles are made for sure-footed stepping in mud and water.
Made from 50% recycled material, the soles provide excellent traction; the material is durable and long-lasting for many summers to come. The heavy-duty lug tread may keep your feet dry and provide slip resistance needed when working in the springtime mud.
Sloggers garden shoes are made in the USA, and the uppers are manufactured from 100% clear material scraps. The company's commitment to sustainability encourages gardeners to send their gardening shoes and work boots back to them instead of throwing the pair away. They grind the shoes and recycle them back into new garden shoes or boots.
These garden shoes are not only comfortable and pretty to look at, but they may keep your feet dry too. The shoes are waterproof, just like waterproof rain boots, when watering the garden or working in wet conditions.
---
3
The Sperry Women's Saltwater Rain Boot is the best garden boots for wet climates and rainy season gardening. The boots are gardening shoes and stylish enough to wear daily or have the right traction for adventures at sea or traversing over rugged landscapes challenging the elements.
Typical of a duck-boot style, these gardening boots are waterproof with a leather upper section and a rubber sole. These garden boots will keep your feet dry when working in the rain or mucky, wet conditions. The signature Wave-Siping provides traction on dry and wet surfaces; even at sea, the traction may avoid slipping or losing your footing on a wet deck.
The inner micro-fleece lining may keep your feet warm when outdoors on cold days. Snuggled in a comfortable pair of garden boots, your feet should not tire, get wet, or ache after gardening all day.
If you were looking for a functional garden shoe that is fashionable and stylish, then the Sperry Women's Saltwater Rain boot could be the best option. The boots come in different color combinations, and some come with a matte finish for women who prefer a more subtle look. A slight heel provides stability with a feminine touch.
A lacing system provides a tight fit for comfort and avoids chaffing and blisters forming from a loose fit. The laces also add a stylish touch to the shoes. However, if you are in a hurry, you do not have to tie or untie the laces; a side zipper gives you the option to put shoes on and off without touching the tied laces.
The boots aren't limited to moms only; the whole family can equip themselves with these duck-style gardening shoes for outdoor adventures irrespective of the weather conditions. The Kids Sperry Saltwater Boots look just like the adult version, and the Sperry Top-Spider Men's Avenue Duck Boot is the male equivalent to the Sperry Women's Saltwater Rain Boots.
---
4
The Muck Boot Adult MuckMaster Tall Rubber Work Boot is the best boot for landscapers, farmers, and gardeners who spend hours outdoors. The garden boot is one of the best garden boots for all-weather, heavy-duty gardening providing high-quality comfort to the feet.
With calf-high extended overlays, these rubber boots keep feet dry and puncture-free. The extra-thick vulcanized rubber uppers are 100% waterproof. The sole is made for heavy-duty traction in mud or for safely shoveling snow. Extra rubber underlays and full bootie construction insulates your feet against sub-freezing temperatures.
Designed for durability and comfort, the rubber work boots come with thermal foam under the footbed for warmth and a breathable Airmesh lining for consistent air circulation. The 5 mm neoprene provides shock absorption and adjusts to the natural shape of your foot. With the heat retention features and foot molding, the garden boots provide extra comfort and avoid chafing and blisters. For additional comfort, the unisex garden boot features a removable Nitracel EVA sock liner. A Stretch-fit Comfort Topline ensures a snug fit against the calves to keep the warmth inside.
Whether your job is to shovel dirt, snow, or create a compost pile, or you are working in the yard because you enjoy it, these gardening boots have you covered, even against poison ivy.
---
5
With the color-contrast pull circles on the side of the boot, the Crocs Women's Jaunt Shorty Boot is comfortable to slip on and off. Right for rain, these garden shoes may keep your feet dry and mud-free while weeding garden beds, pruning plants, or watering flowers.
If you are looking for a comfortable pair of gardening shoes for wide feet, this is one of the best gardening shoes. The synthetic fully molded Croslite material makes these garden footwear waterproof and provides a lightweight cushioning. With its durable rubber outsole, these garden boots may double as rain boots that will keep your feet dry.
The work boots come in four color options, black, navy, pink, and yellow. The boot opening is about 12.5 inches around, and the shaft measures 6.75 inches from the arch. If you were looking for a pair of no-fuss gardening boots that will last and is inexpensive, then these Crocs Jaunt Shorty Boot is an excellent choice.
---
6
The Sloggers Women's Rain and Garden Ankle Boots are the best pair of shoes that are not as full and high as a garden boot but provides more coverage than a garden shoe. These super comfortable garden shoes are beautifully designed. The cheerful summer print inspires gardeners even before they reach the garden.
It could be hard to choose only one pair with five different colorful prints; they are all delightful to look at and may start interesting conversations with the neighbors. Like the no-hands kick-off tab at the back, small details make you want to own a pair. If you are too tired to bend over to take the shoes off, or your hands are full, the no-hands tabs are convenient.
These ankle boots also come with Sloggers' removable All-Day-Comfort insoles providing optimum comfort to your feet. The elastic gored inset at the front offers a comfortable fit and makes it easy to slip the shoes on and off. Higher sides than standard garden shoes keep mud and dirt out of the shoes.
The deep-lug tread for durable traction makes these ankle rain boots different from many other rain boots. The rubber sole provides a secure grip to avoid losing your footing on wet surfaces. Hose off mud and debris, and your gardening shoes are ready to wear again.
---
7
If you prefer a full boot as gardening shoes, then the Sloggers Women's Waterproof Rain and Garden Boot, with its delightful patterns, is one of the best picks for gardeners, landscapers, or farmers. The variety of animal patterns may make anyone want to smile and enjoy their outside gardening chores.
Like the Sloggers Garden Shoes and Sloggers Ankle Rain Boots, the Sloggers full boot also features the All-Day-Comfort insole to give busy feet optimum comfort. The insole is also removable for easy cleaning—just soak, and air dries the gardening boots. The heavy-duty lug tread provides secure traction gardeners, landscapers, and farmers may need when working in the muck, mud, and wet soil.
The print may have animal designs, but vegans will be happy to know the non-latex material is vegan-friendly and 100% recyclable. Slogger garden shoes are made in the USA.
---
8
Don't let the snow boot in the name fool you! The Kamik Men's Hunter Snow Boot is one of the best gardening boots to wear when conditions
scream
for you to stay inside. Men who enjoy gardening/farming or adventurous sports like hunting and kayaking may benefit from these waterproof knee-high boots.
A synthetic rubber upper is waterproof, and the thermal guard liner insulates your feet, keeping them warm in cold, wet, and freezing temperatures. Leashed at the top, the gardening shoes hold the warmth inside and the muck and water outside. These insulated gardening boots will not only keep the rain out but are also acid and oil resistant. The synthetic soles provide a safe tread when working in mud, sleet, or snow.
The shaft of the knee-high gardening boot measures 13 inches from the arch, the heel measures 1.25 inches. These pair of boots are the best gardening footwear for the roughest and most challenging conditions.
---
9
The unisex MuckBoots Daily Garden Shoes are the best gardening shoes for men and women who find reasons to be in their garden all year round. These waterproof shoes could be your best friend during gardening escapades keeping your feet warm in the cold and cool on a hot summer's day.
If you need to run errands, the sleek, streamlined design of the gardening shoes should not embarrass you by making it evident that you worked in the garden. The shoes are so lightweight you may forget you were wearing them. The gardening shoes come in two colors that blend in with everyday wear, Garden Green and Mud Muck Brown.
The natural rubber upper self-cleans and the multiple-ribbed outsole provides the traction for secure footing during light gardening chores. The 100% waterproof feature ensures dry feet during yard work, enjoying a day at the beach, playing with kids in the park, or casual daytime wear.
The moisture-control lining in the lined footbed have excellent moisture wicking features for the different gardening seasons; you may have warm feet in winter and cool feet in the summer. The pull tab for fast slipping on and off is another reason it is an excellent garden usage choice.
---
10
If you like
athletic shoes
, then the sneaker style Kujo Yardwear Work Shoe may appeal to you for working in the garden, yard, or farm settings. It has the style and comfort of wearing a pair of sneakers with the features you expect when buying the best gardening shoes or work boot.
When you need one pair of shoes that should function as athletic shoes, gardening shoes, and casual footwear with the right arch support and water-resistant, then Kujo Yardwear is an excellent choice.
The water-resistant feature will keep your feet dry when mowing the lawn early in the morning or starting an early day as a landscaper. The durable rubber outsole's aggressive lugs will prevent you from slipping on wet grass while the SPU (segmented polyurethane) toe cap protects your toes against abrasions and keeps them dry.
These great looking sneaker garden-shoes provides arch support and traction when walking the dogs, having fun in the park, or functioning as a work boot in landscaping or farm chores. The gardening shoes come in half shoe sizes for wide feet, and the removable insole allows for replacing with orthotics if required.
The shoes feature a unique flex window air mesh between the laces and toes for improved air circulation and flexibility. The breathable air mesh features transparent sonic welds for lightweight support, and the cushioned EVA midsoles provide comfort when standing and walking all day. An anti-microbial inner lining keeps the debris, small pebbles, and water from entering the shoe to irritate your feet.
---
11
The Litfun Women's Mid-Calf Rain Boots are the best gardening shoes for women who want to garden with style. The quilted design gives these waterproof boots elegance and flair you will not normally expect in gardening shoes.
These rubber shoes' shaft measures from arch to mid-calf, which means no debris may enter or water splash into your shoes. The rubber soles are non-skid, making it safe to walk in the water without slipping and losing your footing; the rubber is also waterproof to keep the feet dry.
A 0.75-inch arch platform with a 1.10 inches block heel gives an additional feminine touch without being uncomfortably high heels. The Scottish pattern design makes it a unique fashion statement. The gardening boot is made to support arches and ankles, avoiding unnecessary foot fatigue. These trendy gardening boots come with a removable insole to ensure additional support with the insoles of your choice.
---
Gardening boots come in different styles for men, women, and kids. Features vary to accommodate specific types of outdoor yard work and weather conditions. Which gardening shoes are your favorite pair? Did we miss a pair we should include on the list?