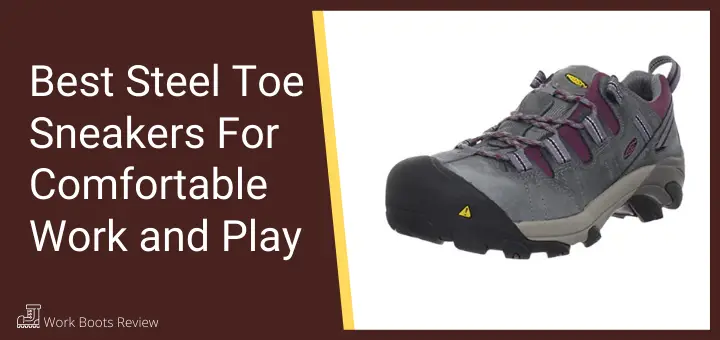 Psst….I got a secret for you…yes YOU!
(Looks around)…Did you know you can get all the protection of steel toe boots in a shoe package?  Yes, it's true!
While steel toe boots are a standard requirement for specific industries, you don't have to always wear boots. Work boots may feel clumsy and hefty, primarily if you are used to wearing sneakers, tennis shoes, or other comfortable footwear at home. In this review, we look at steel-toe work boot alternatives that comply with these safety standards.
It took us over 29 hours of research, but we compiled a list of steel toe sneakers that give you the comfort and safety protection you'd expect from boots. Our editor's choice is the Keen Utility Atlanta Cool-M Industrial shoe, a pair of stylish sneakers with steel toe cap protection that is waterproof, slip-resistant, provides puncture protection, and durable for a reasonable price.
Our list also features the best work shoes for women and steel toe sneakers for various industries with their unique hazards.  If you think we've missed one of your favorites, let us know in the comments!
1
The Keen Utility Men's Atlanta Cool Steel Toe Work Shoe is overall the best steel toe work sneaker. The work shoes are the editor's choice because the shoes are designed to protect your feet against industrial hazards at the workplace. A stylish look conceals all the excellent features these steel toes sneakers have to offer.
These safety toe shoes' upper side is made from water-resistant nubuck leather and mesh. The 100% leather is breathable, keeping your feet cool in hot temperatures and when you need to walk a lot. The mesh lining material further enhances the work shoes' breathability, maintaining dry feet from moisture and sweat forming on the inside of the shoe. The waterproof material may keep your feet dry from outside when working in transportation, maintenance, landscaping, or other wet job sites.
An oil and slip-resistant rubber outsole ensure a stable footing for mechanics and workers where jet fuel, oil, and other fluid spillage occur. The stiff sole's puncture resistance feature protects the soles of your feet against the impalement of sharp objects. The durable soles won't wear out if you walk for miles and miles on concrete; the non-marking feature does not leave markings on the workplace surface area.
The compression-molded and double-density EVA midsole cushions your feet if you walk and often stand at work. The design balances the natural shape of the feet and provides arch support. Its shock absorption feature protects feet against impact from jumping or landing hard on your feet. The Keen Atlanta steel toe sneakers are designed for a comfortable and fit standard shoe sizes from 7 to 14.
The asymmetrical steel toe cap design provides more toe space in the toe region. People with wide feet may appreciate the extra toe space. The shoes with steel toes comply with ASTM F2412-11 F2413-11 1/75 C75 safety standards.
Women enjoy the Keen Utility Women's Atlanta Cool ESD Steel Toe Work Shoe's beautiful style and design that provides safe footwear in fashionable colors.
---
2
If you need a functional and safe heavy-duty work shoe to protect you while standing on concrete all day, then the Skechers for Work Steel Toe Work Sneaker is one of the best steel toe shoes for comfort. This safety shoe is designed for durability, comfort, and safety for men and women working in a warehouse, powerhouse, railroad industry, engineering, or construction industry.
Comfort is a high priority if you are walking and standing the entire day. The steel toe shoes' sporty design includes memory foam insole padding providing a comfortable full-length experience for your feet. The thick padding cushions feet and the soft fabric lining adds to the comfort, decreasing fatigue and tiredness of feet. A roomy toe front does provide adequate space for your toes and does not push toes against each other, which may cause foot pain. Despite the steel toe cap, the work shoes are ultra-lightweight. Shoe sizes range from 7 to 14 and are available for narrow and broad feet.
The steel-toe safety work shoe is independently tested and certified meeting or exceeding the Authority ASTM F2412-2011 1/75 C/75 safety standards for impact and compression. The shoes are designed to protect the wearer against electrical hazards and are compliant with ASTM F2413-2011 EH requirements. The work shoes provide a secondary level of insulated protection against accidental contact with live electricity.
The casual steel toe sneaker is made from abrasion-resistant textured leather with mesh fabric to provide breathability. Stitching accents and side overlays complete the sneaker's sporty look that may appeal to men and women. The stitching also strengthens and increases the durability of the steel toe work shoe. The lace-up system ensures a tight fit avoiding blisters or discomfort to your feet. Rubber soles with a lug pattern provide excellent traction and grip for climbing ladders when necessary.
While these shoes rank high for comfort, there have been complaints that some of the manufacturing batches have shoes that wear out quicker than other brands.  If you really tend to give your safety shoes a pounding, you might want to look at other names on our list first.
---
3
The Keen Utility Women's Atlanta Low Steel Toe Work Shoe is one of the best protective footwear for women in construction and other industries where it is necessary to wear a steel toe work shoe. With the arch support, asymmetrical steel toe cap design, and rubber outsole traction, women may safely and comfortably walk and stand on hard and slippery surfaces all day long.
A metatomical footbed design provides supreme arch support and embraces the feet' natural contours, cushioning, and avoiding foot fatigue. Keen prides itself on delivering work shoes with the same snug fit required of hiking boots to prevent blisters and feet injuries during extreme exercise. A snug fit in the heel and a big low steel toe box provide toe space and ankle support feet desperately need. The soft foam EVA footbed and the mesh lining 2-zone comfort technology ensures a comfortable experience with every step. The Cleansport NXT protects feet against odors avoiding the embarrassment of smelly feet on hot summer days.
The asymmetrical steel toe shoes are made to fit the right and left foot, protecting the toes from the little toe to the big toe. The large steel toe box provides ample space for the toes to spread out with enough room to flex and move the toes. Even women with broad feet won't experience pinching toes when the foot is hyper-flexed.
The 100% leather and durable fabric provide an aesthetically pleasing upper work shoe. The materials offer flexibility, durability, and comfort in conjunction with the cushioned removable EVA footbed. The rubber sole protects the wearer from slipping on wet and oily surfaces. The non-marking rubber outsole won't leave nasty marks on floors.
Steel toe caps, durable and safe reflective webbing, and rubber outsoles with an excellent grip make the Keen Utility shoe one of the best and most comfortable steel toe protection shoes for women at work and outdoor exercise fun.
---
4
The Ticcoon Work Steel Toe Shoes are one of the best pairs of steel toe work shoes for men and women in manufacturing, working in a warehouse, power industry, or outdoor recreational activities. Make a fashion statement at work while adhering to safety standards; the steel toe sneaker is a stylish and safe alternative to a steel toe work boot.
The bold line patterns design brings out the trendy shoe shape. A variety of shoe colors from black, blue, grey to red, pink, and green gives men and women the flexibility to find their perfect pair. The steel toe shoe is so light and comfortable that you may forget you are wearing them at the end of your workday. The work shoes' trendy design blends in with after-work activities; your friends may not even notice the steel toe.
Stepping on pieces of glass or nails are no longer a concern with the rubber sole. The work shoes' traction provides a steady grip; the oil and slip-resistant feature allow for secure stepping on wet or oily surfaces.
The wear-resistant rubber outsole and the steel toe protect the feet against harm, the synthetic and breathable mesh fabric of the upper part of the work shoe keeps hard-working feet fresh. The unique textile design provides cooling and breathability and comfortable protection against foot fatigue.     One reviewer mentioned that these safety shoes' rubber soles are so durable that it withstands the wear-and-tear caused by working on airport ramps. Certain working conditions are demanding on shoes, and no matter the durability of the shoes, workers may find the shoe soles don't last as long as in other industries. The inexpensive price point of these steel toe work shoes allows workers in these industries to replace the shoes without overspending their budget. The rubber soles may last longer than other brands, and the shoes are affordable to purchase.
The steel toe for shoes and work boots typically adds weight and clumsiness to the footwear. Steel toe work sneakers with the steel toe safety feature are not so heavy or awkward to wear. The Ticcoon ultra-lightweight steel toe work shoes only weigh 16 ounces and look great on men and women. The manufacturer claims these are so lightweight you could use them mountain climbing.  If you do, please let us know!
---
5
The New Balance Men's Steel Toe 627 V2 Industrial Shoe is one of the best steel toe work shoes designed for comfort. If your work shifts consist of standing and walking for 12 hours or more on hard surfaces like steel or concrete, foot comfort is a high priority.
This steel toe work shoe offers maximum comfort and protects your feet against workplace hazards. The design combines the steel toe and safety elements you expect to find in a work boot with sneakers' sporty lightweight features. A molded EVA foam footbed absorbs shock on impact, and Abzorb midsoles provide comfort. Ethyl Vinyl Acetate (EVA) foam provides additional comfort, eliminating foot pain to all types of feet – including a high instep or high arch. Even with the steel toe cap, it feels like you are wearing light athletic or workout shoes instead of work shoes; the lightweight steel toe shoe only weighs 17 ounces.
Arch support and the 10 mm (0,39 inches) heel drop also help when walking and standing on hard surfaces for hours. The sewn-in place gusseted tongue protects the midfoot from rubble and pebbles entering the shoe that may cause friction and injuries.
An oil and slip-resistant rubber outsole makes the footwear safe to wear on slippery, wet surfaces. Static dissipation safety features ensure secure protection against live electricity. The shoes are ASTM 2412-11 and 2413-11 certified for slip-resistant and electric hazard safety. The steel toe cap width provides ample space for toes and wide feet.
The safety shoe is one of the most comfortable steel toe work boots; its anti-fatigue support mechanism and moisture-wicking features will help keep feet dry, providing a comfort level you and your feet will appreciate.
---
6
If you work on-site but mainly in the office, then the Caterpillar Men's Brode Steel Toe Work Shoe is one of the best steel toe safety shoes. Company workplaces often have offices on site. Even though office professionals' risk isn't as high as professionals working in the warehouse or plant, the company may require them to wear steel toe cap boots for safety reasons. Caterpillar is a leading global manufacturer for heavy equipment; they use the same principles for creating safe footwear. Their craftsmanship of complying with safety requirements and a casual, aesthetics appearance may appeal to office workers.
The 100% leather low-top work shoe with lace-up closure and the steel toe is the perfect work shoe where regulations require footwear that provides foot protection. The steel toe work shoe is aesthetically pleasing for the office environment but offers safety and protection when stepping out of the on-site office.
A nylon mesh lining provides breathability, keeping feet cool during heavy walking or warm temperatures. The Caterpillar men shoe is safer and looks better with summer clothing than a tennis shoe. The low sides, laces, and tongue give a sneaker style look, but the steel toe cap and rubber outsoles ensure work boot safety.
The work safety shoe complies with ASTM standards and has a high electrical rating. The steel toe work shoe features electrical hazard protection, sufficient oil-resistant protection, spillage safety, impalement of sharp objects, and thumping of feet on concrete floors, pavement, and hard surfaces. The sturdy Strobel and cement construction ensure years of wearing
---
7
The skate-safety features of the Reebok Work Men's Soyay RB1910 EH Safety Shoe mean comfort and protection. It is one of the best steel toe shoes for restaurant and hospitality industry workers who need a light protective shoe to fly from one demanding task to the next. People working in tough industrial jobs may appreciate the abrasion-resistant and slip and oil resistant features of these comfortable safety shoes.
Skateboarders know how important it is to have footwear that protects their feet, can take a beating when skating over rough terrain, and has a built-in comfort system. The Reebok Oxford shoe complies with skaters' performance needs and comes with protective steel toe and safety features for industrial work environments.
The suede leather upper is designed in a sneaker skate style with a round toe. Suede leather is a durable and sturdy material that provides the agility required for the hospitality industry. Suede has a soft and light touch that enhances the feel of weightless mobility.
The high-traction rubber sole comes with a removable EVA cushioned padding. Together with the sponge and rubber heel wedge, the steel toe shoe provides balance, protection, grip, and comfort to the wearer. Mechanics, people working in the automotive industry, or walking on concrete or hard floors all day may appreciate the built-in safety features.
Superb craftsmanship provides a beautiful suede upper that conceals the ultimate safety benefits built into the work shoe. The steel toe shoes have no exposed metal on the uppers, and the safety shoes meet the ASTM F2413 standards that protect your feet against electrical hazards. The Grip Master slip-resistant outsole is made to give a safer grip on wet and slippery surfaces. The shoes are safe to wear in demanding jobs where workers are exposed to chemicals, oil spills, electrical wires, wet surfaces, and uneven terrain.
The lightweight steel toe shoes provide the comfort technology of athletic sport shoes and built-in safety features for the work environment. A lace-up front with padded collar and tongue protects feet from sharp objects entering the shoe and provides a comfortable, snug fit.
Of course, you could wear these skateboarding as well – we'll leave that up to someone a bit younger to report back on!

---
8
The Suadex Indestructible Steel Toe Shoe is a tough shoe for a challenging work environment. A pair of Suadex safety shoes protect feet where high traction, anti-slip, anti-impalement, abrasions, and comfort is required. These steel toe shoes are top work shoes for wearing as a carpenter, at a construction site, factory, forging workshop, warehouse, or industrial kitchen.
No work shoes are indestructible, but the high-quality Kevlar midsole makes the work shoe almost indestructible. Although a nail may imbed into the rubber sole, it will not penetrate the bulletproof Kevlar midsole easily. The slip-resistant outsole provides an excellent grip on wet and oily surfaces helping you to keep your balance. Suppose your work means stepping on ladders and changing feet positions while on the ladder, then the slip-resistant outsole feature may keep your feet steady on the ladder rung. The steel toe shoes give protection to the toes as required by industry safety standards.
The lightweight steel toe shoe is surprisingly comfortable to wear. The removable dual-density EVA footbed and the superb flexibility of the Kevla midsole ensures a comfortable fit all day. The mesh material provides breathability and air circulation, cooling feet on summer days or warm environments.
Conveniently the shoes come with both types of shoelaces, the standard tying shoelaces and the no-ties laces for men and women who don't like the irritation of tying loose shoelaces. Men and women may prefer the sneaker design safety shoes as an alternative to a pair of clunky work boots.
---
9
The Reebok Work All Terrain Steel Toe's are designed for harsh outdoor terrains with the built-in comfort of wearing a pair of running shoes. The steel toe shoes provide all-terrain protection and traction when stepping on rocks, mud, or warehouse concrete floors.
If you relish the feel and look of athletic shoes, but your job requires you to wear safety steel toe boots, these safety sneakers are an excellent choice for outdoor trail runners and indoor construction workers. The work shoe combines comfort and protection with its sporty low-cut design giving the wearer freedom of movement. The seamless neoprene lining offers a glove-like fit protecting the feet from mud and debris entering the shoe.
An upper bootie design made with ripstop fabric ensures the shoe fits snugly and provides the durability you expect from an all-terrain shoe. The material is wear-and-tear resistant, which is essential when working in harsh terrains. The mesh fabric offers the breathability and odor control fast-moving, and hard-working feet need to keep them cool and moisture-free. The lacing system also provides the snug fit you need when working on uneven terrain.
The full height midsole with the lightweight foam cushioning provides shock absorption when jumping or heavy landing on your feet. It gives that extra soft comfort minimizing back pain from standing all day. The foam technology of the Memory Tech footbeds accommodates your feet' natural contours, creating a custom fit for ultimate comfort.
The rubber outsole provides the protection needed in rugged terrain. The safety shoes come with steel safety toe caps, static dissipative dual resistors, and aggressive lugs for traction and slip resistance. The steel toes work boots meet the ASTM F2413-11 1/75 C/75 SD safety standards protecting against compression and impact.
---
10
These easy-on-the-eyes Harley-Davidson Static Steel Toe Shoe do not look like other steel toe shoes. They do, however, have the safety features required for working on a hazardous job site. If you were looking for a pair of stylish steel toe shoes that provide comfort and durability, then these flat feet steel toe shoes is an excellent pick.
A suede upper gives a casual look that does not make it evident that it is a pair of work shoes with steel toe cap protection. The design provides some ankle support, which is often lacking in steel toe work shoes. A full-length cushion sock lining makes these shoes one of the most comfortable work shoes and an excellent option for people standing all day. The sock lining also absorbs moisture, decreasing odors from sweating feet.
The rubber sole provides excellent traction protecting against losing your balance when stepping on oily or wet surfaces. The left and right toe caps fit individually and are not visible from the outside, enhancing the shoes' appealing look. The work shoes comply with the ASTM and electrical hazard safety standards.
If you have smaller feet, the Harley Davidson sizes should fit you well. Others may size up half size or whole foot sizes to find their perfect fit.
---
11
If you need a pair of waterproof work shoes, then the Keen Utility Men's Flint II Low Steel Toe Shoes is one of the best construction work choices, workshop, or a hard warehouse floor. The waterproof feature keeps your feet dry from sweat and protects against water entering the shoe.
The steel toe cap shoes meet the ASTM F2412 and F2413 EH compression and impact safety standards. The asymmetrical design provides wider steel toe caps, ideal for wider feet, and providing some room for toes to flex.
The rubber outsoles are designed for improved traction protecting mechanics and warehouse workers from slippery oil and water surfaces. The work shoes meet the ASTM F1677-96 and F2913 SATRA standards. The siped outsoles disperse liquids, increasing traction.
Landscapers and workers who work in the rain and wet environments may appreciate the waterproof feature. Dry waterproof leather and the moisture-wicking lining produces a waterproof work boot. The lining absorbs moisture from sweaty feet, and the waterproof leather prohibits water and humidity from entering the shoe. The Cleansport NXT probiotic-based technology decreases foul odors produced from perspiration.
The work shoes are made to comfort and decrease tiredness of feet standing and walking for hours every day. The Keen.ReGen cushioning midsoles give a 50% energy return with each step, and the shellback heel support and compression-resistant midsole provide underfoot comfort.
---
12
The women's Nautilus Lightweight Athletic Work Tennis Shoes provide ultimate protection and the comfort expected from athletic shoes. You'll want to check out these shoes if you work in an environment where you aren't allowed to wear shoes with any exposed metal.  You can wear these comfortable work shoes safely around electronics and open circuits.
Nautilus Safety Footwear incorporates the lightweight comfort of sports sneakers and safety standards compliance required for protecting feet in hazardous environments. The ESD electrical static dissipation and the absence of exposed metal shield your feet against live electricity. The ASTM safety standards ensure excellent traction, non-slip features, and the steel toe cap protects the toes.
The EVA foam midsoles and cushioned PU footbeds function as shock absorbers safeguarding your feet against impact from excessive walking. The lightweight athletic style shoes with its polyurethane insole lessen the fatigue you expect to experience from standing for long hours. The microfiber suede and microfiber nubuck upper provides breathability to the feet. The colorful, feminine design may appeal to women working in a rugged environment as an alternative to wearing a safety boot.
The Nautilus Safety Toe Work Shoe is an excellent choice for women who need a functional, trendy, feminine work shoe for today's modern work environment.
---