An insole is an accessory that you use with your footwear to provide comfort and support.
It is an external inner sole that you place inside your shoe for extra cushioning to give you more comfort and strong shock absorption.
The best insoles for work boots can make quite a difference if you are performing strenuous work on your feet all day or if you take part in activities that involve plenty of walking, standing or climbing.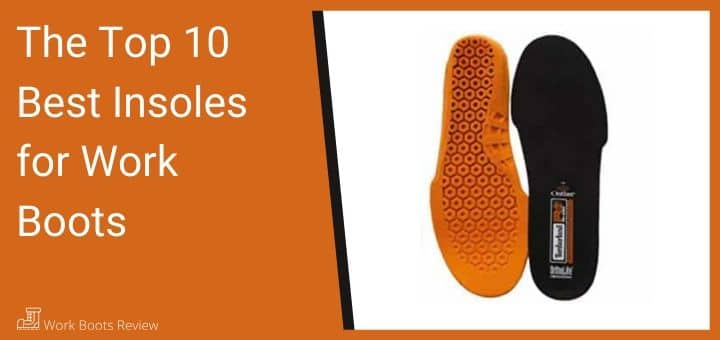 ---
There are quite a few reasons that make insoles an import part of your footwear.
Advantages of the Best Insoles for Boots
Insoles form a crucial part of footwear for those who work long hours on their feet, experience foot pain, have a foot or heel injury, suffer from a poor balance or whose muscles are under strain and stress.
Thick and comfortable shoe insoles for your working shoes are advisable so that your feet are stress and strain-free, and you have extra support and cushioning to absorb shock.
Insoles help to protect your feet from injuries and will relieve the pain of walking if you already suffer from an injury.
---
Types of Insoles for Boots
When choosing the perfect work boot insole to suit your needs, you will need to consider an insole that offers efficient and supportive comfort.
The insole must be recommended for your work boot type, foot condition, and the level of support or cushioning that you need for your work tasks or general activities.
Every insole is made uniquely with different types of volume, density, thickness, material quality, and other technical features.
So the choice at the end of the day will depend on your specific requirements and personal preferences. Here are some incredible choices of insole types;
Insoles that offer added cushioning to your heels and ball of your foot.
An insole with a softer and more comfortable cushioning.
Corrective insoles for foot conditions and injuries.
Orthotic Insoles that have specific functions.
Sports Insoles with a specific design for different types of sport.
---
How to Fit Insoles in Work Boots
Fitting an Insole inside your shoe is very simple and easy.
There are however some basic instructions as to how to use a new insole and how to replace an old insole with a new one.
A new insole might have to be cut to the correct size; you will measure the insole according to your foot and the inside of your shoe.
You will place a new insole at the toe inside the shoe and then lightly press it up to the end of the heel with your fingers.
You will use your hand to move the insole around to adjust it to fit your shoe, and then lastly insert your foot, walking around a bit to ensure that you have a perfect fit.
If you have an old insole that needs replacing, you will carefully remove the old insole and use it to measure against the new insole to get a perfect fit.
You may have to cut the new insole to size according to the measurements of the old insole. Now you can add your new insole.
Related Content: Best Work Socks to Wear, for extra comfort and support? 
---
Features of the Best Work Boot Insoles
Made from anti-bacterial and moisture-wicking materials to keep your feet dry and odor-free.
Soft padding or cushioning for shock absorbency and comfort.
Durable and long-lasting construction.
---
Reviews on The Best Insoles for Work Boots
Below is a list of some of the best insoles available with all their benefits;
Try one of these comfortable and durable insoles to provide you with exceptional support and comfort for a long day at work.
---
1
This insole has two different shapes and structures on either side of this brand. You can use these insoles in various types of shoes and casual boot. This insole will give you incredible relief in the case of a heel injury. The structure of the insole supports foot shape, and the wearer will never experience any foot fatigue.

Synthetic sole.

Imported quality insole.

Aids in relieving pain when you have a foot injury.

Lightweight and anti-fatigue technology.

An OrthoLite top layer.

Dynamic arch design to support any foot type.

Temperature regulatory technology properties.

Anti-skidding.

Anti-sweat and moisture capabilities.

---
2
One of the latest brands of insoles that are completely cushioned with a flexible and comfortable cover. They are extremely useful for those who have excessive moisture or sweat inside their shoes because of wet conditions or long work hours.

Synthetic insoles.

Imported quality and orthotic.

Long-lasting and durable.

An OrthoLite high bounded insole.

Best for maximum support and comfort for extended wear.

Dynamic arch design that suits every foot shape.

Helpful in temperature regulation.

Anti-moisture and wetness technology.

---
3
These are Orthotic insoles that support foot movement in every type of work shoe. These insoles are high heeled with an arch-friendly design that helps the wearers to move around more quickly. It is also, a very well-cushioned insole that offers exceptional comfort and protection particularly for injured feet and feet with ailments.

High arched design.

High orthotic-quality.

Made from superb quality material.

High heel for extra support and shock absorbency.

A great remedy for deep heel and toe injuries.

It is equally useful for flat feet and/or curved feet.

The dual-layered insoles are incredibly soft.

Recommended for people that work on industrial sites and outdoors.

---
4
These insoles are popular for their massaging, supportive and comfort characteristics. Most women and men use these insoles because they provide such comfort especially when you do plenty of walking as your feet will never get sore or tired. This is also an anti-skidding insole that will help to wick away excess moisture and sweat.

Great fatigue reduction.

Low arch design for added comfort.

Ideal for work shoes.

Compatible with more than 50 shoe types.

Highly comfortable with long-lasting durability and performance.

Double layering for added support.

Offer great toe and heel pain relief.

Anti-odor and sweat technology.

---
5
The middle part of this insole is shaped in such a way that it keeps the pressure on your foot and delivers a massaging comfort to your feet. This brand of the insole is extremely popular because of its unique structure.
It is one of the most well known and ideal gel insoles for work boots used by people across the world. It is a high quality, comfortable and durable insole that is available in various sizes according to the shape of the foot.

Manufactured using a good quality rubber.

Superior quality insole.

Massaging bed for the foot for added comfort.

Easily adjustable for a better fit.

Long-lasting durability.

Very good value for money.

---
6
This is premium quality and stylish insole that offers extreme comfort and durability.
It is a perfect fit when paired with all footwear from Red Wing.
This is the first on the list for the red wing work boot insoles, with its fantastic performance and everlasting durability.

PORON® Technology to absorb shock from impact.

Suede Fabric Covering for moisture management.

Various sizes to choose from.

Great arch support.

---
7
A very affordable Orthotic style and performance insole made with the best quality materials. It will also last longer keeping up with the same level of performance and durability. It comes in a standard fit with very accurate sizes.
These insoles are made from nylon and top-notch quality rubber to keep the feet relaxed and supported during sharp movement. These insoles are the best replica of Orthotic insoles with guaranteed performance and satisfaction.

A perfect fit and true to size.

Comfortable curved in the same shape as the human foot.

High quality but still affordable.

Great orthotic qualities.

Low arched for added support.

An excellent choice if you like to run.

Made from very flexible and durable materials.

---
8
These are the best insoles for work boots for concrete finishers both men and women. These insoles offer excellent support and comfort benefits.
They will keep the heel, toe, and center of the foot fully relaxed and supported, and you will never feel pressure on your heel during random movements. These are good quality insoles manufactured from only the best materials.

Imported quality insoles.

Manufactured from high-quality synthetic materials.

Manmade sole for extra cushioning.

High-arched for the best support.

Good quality and fashionable insole.

Durable construction for ideal comfort and support.

Will offer great relief for foot pain, heel aches, and toe injuries.

NXT anti-bacteria coating to keep your feet fresh and dry.

---
---
10
Added extra comfort as an orthopedic insole.

Ats technology offers all-day comfort and support for active workers.

---
---
Index Table: Insoles for Work Boots
---
Work Boots Review may collect a share of sales or other compensation from links on this page.