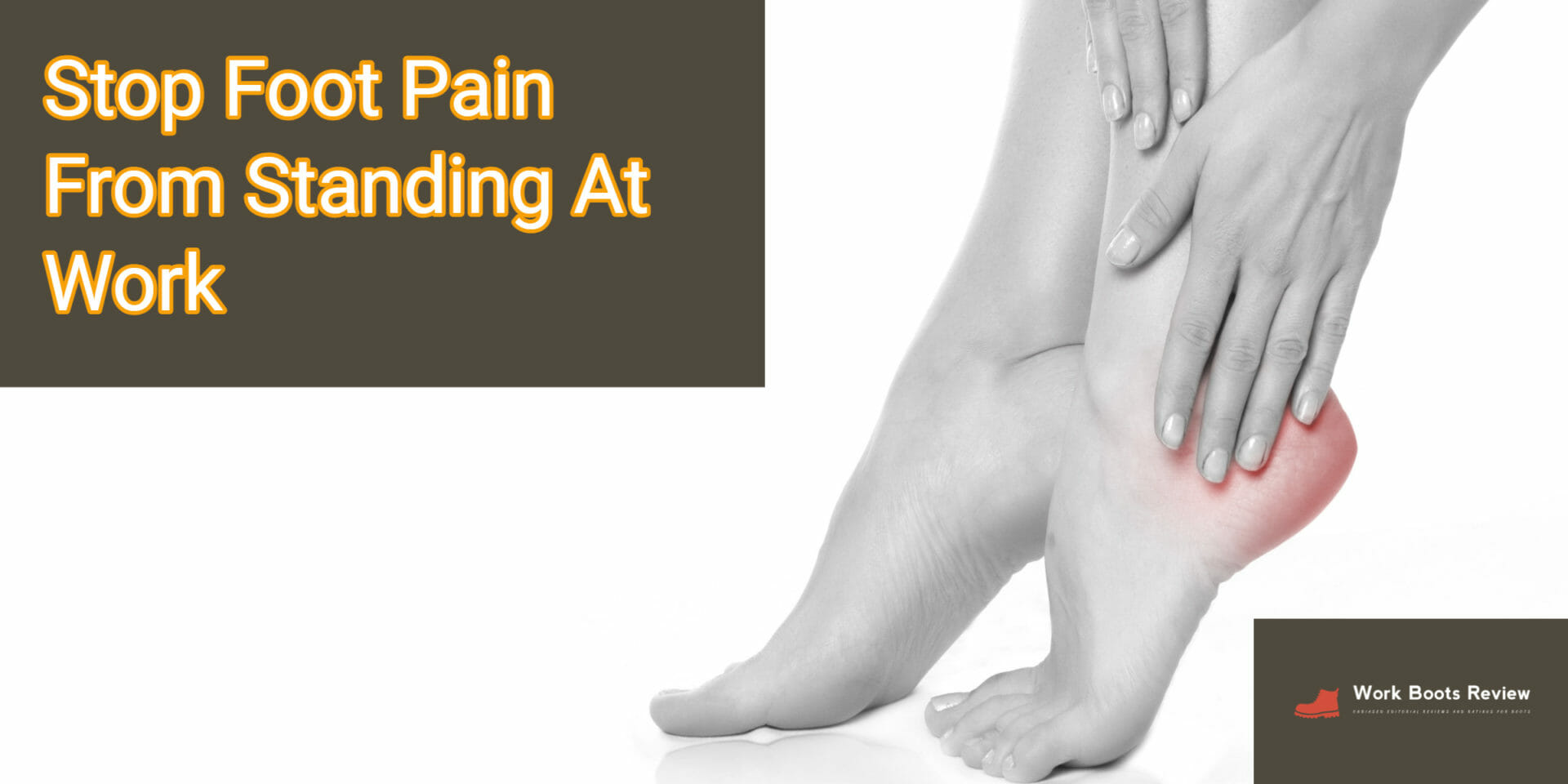 Many workers stand most of the time at work. Another problem is workers bending and lifting hefty weights, which causes pain during the work shift and afterward. Even office workers working at standing desks experience fatigue and body pain. Evidence shows that foot fatigue, low back pain, cardiovascular problems, and pregnancy issues are adverse health problems associated with prolonged standing at work and decreased productivity.
What is the proper posture and ergonomics for standing all day at work? This article covers the steps that will help reduce problems caused by standing at a desk all day. The exercises include activating a person's core, pulling in the belly button for better posture, and ways to increase productivity without affecting a person's health.
Wear The Right Shoes For The Job
The most expensive or fashionable pair of shoes aren't necessarily the proper footwear for the job. Footwear has a direct impact on sore feet. Wear comfortable shoes, especially if working in a standing position for prolonged periods.
According to the Canadian Center for Occupational Health and Safety (CCOHS), standing for many hours per day affects the human body, causing a variety of health issues like low back pain, sore feet, leg swelling, varicose veins, neck pain, and shoulder stiffness, and muscle fatigue.
Footwear is personal because every person's feet are different, and they work in different environments. The benefits of choosing the right footwear and insoles are reducing and alleviating musculoskeletal disorders caused by standing for an extensive period of time.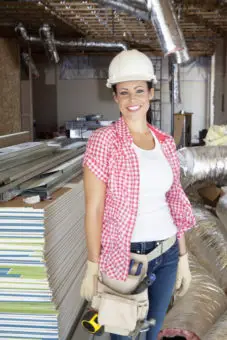 Choosing The Right Footwear
Replace footwear when worn out to prevent foot pain. A person should replace athletic shoes about every six months.
Features to look out for are a cushioned shoe that complements your foot shape, is comfortable throughout the day, and relieves pressure points. Footwear with different shapes than feet will cause unnecessary foot pain, blisters, and even leg pain.
Consider the job hazards when buying safety work boots or shoes. Ensure the work boots adhere to the safety regulations, such as toe protection against impact, protection for electrocution, traction in rough terrain, and slip-resistant on oily and wet surfaces.
Wear work boots or shoes designed for a standing work environment. If you have to walk and stand all day, comfortable shoes for your feet will compensate for the rough terrain and hard floors.
Narrow and shallow boots cause foot fatigue; make sure there is enough room for toe movement.
Safety footwear protects feet against impact, compression, and other foot injuries.
Wear shoes with arch support. Lack of arch support may cause overpronation and flat feet.
Wear shoes with lace-up fastenings. Tighten the lace instep for a better fit preventing feet from slipping inside the footwear, causing unnecessary friction.
Avoid wearing flat shoes that cause strain on the Achilles tendon. A boot with a small heel decreases the stress.
High heels put extra pressure on toes and cushions. If standing for long hours, heals shouldn't be more than 1-inch. Choose footwear with a broad base to avoid pinching toes. People who don't stand that much can consider a higher heel but not more than 1.6-2.4 inches.
Proper padding benefits hard-working feet. For example, padding under the tongue will protect against tenderness over the bones at the top of the feet.
Always try the shoes on in the shop and walk around for a few minutes to ensure a comfortable shoe fits correctly.
Feet swell during the day; shop for work boots or shoes later to compensate for the swollen feet.
Insoles Can Reduce Foot Pain
A shock-absorbing insole will relieve the impact on feet when walking and standing on concrete floors and hard surfaces at work.
If you suffer from plantar fasciitis or have a high or low arch, insoles can provide the necessary arch support minimizing leg and foot pain.
Insoles provide improved cushioning and distribute pressure on the feet for a more satisfying experience.
See a podiatrist for a customized insole that relieves foot pain and foot fatigue caused by foot issues. You'll be surprised how wearing the correct insoles can affect the entire body, including leg muscles, knees, ankles, and lower back pain, hip.
How To Avoid Pain From Standing For Extended Periods
The Occupational Safety And Health Administration (OCHA) published ergonomic guidelines for people working at a computer workstation and standing most of the day. The tips show what to look out for when purchasing or using a workstation.
Tips For People Standing At A Workstation Or Standing Desk
As mentioned above, wear the correct footwear for maximum support and comfort. According to the Mayo Clinic, the proper desk height and where you place your computer are vital to standing workstation ergonomics.
Correct Posture
Sedentary behavior and bad posture contribute to back pain. Standing at work can be as harmful as sitting all day with poor posture. By standing the right way, workers can avoid lower back pain, leg cramps, and foot pain. Good posture distributes body weight evenly across the body, preventing your feet, knees, and back from carrying the load.
Maintain a good posture at work by standing at the workstation or standing desk with a straight back, belly button in, and chin up. Activating the core reduces stress on the knees and feet. Avoid slumping or pushing your hips forward.
The head, neck, legs, and torso should be in line.
Align shoulders with the spine and hips.
Feet should face the workstation or standing desk with toes pointed forward.
Avoid placing body weight on one hip. Stand with both legs straight.
Push shoulders backward and don't lean with the neck forward.
Try A Standing Desk
The best standing desks are those that allow workers to alternate between sitting and standing. If the desk isn't designed that way, workers should deliberately alternate between sitting and standing at work to give leg muscles and tendons a rest.
Adjust the standing desk according to your height.
The standing desk should be deep enough to accommodate a computer screen or monitor 20 inches away from the worker.
A desk or workstation with a rounded front removes pressure on the wrists.
Place objects often used nearby to avoid excessive stretching.
Use a headset or place the phone on speaker when typing and listening simultaneously. Avoid cradling the phone between the neck and shoulders.
To maintain the correct posture, place the computer or monitor on the standing desk directly in front of the person and an arm's length away.
The best light source should be to the side of the computer.
At Your Computer, Try These Tips
The screen top should be almost at eye level. People who wear bifocals should lower the monitor 1-2 inches.
When using two monitors, place the most frequently used monitor directly in front of the person. If workers use both monitors equally, place them at an angle close to each other.
Place the keyboard and mouse on the same surface and at elbow height. The desk should align with elbows.
Keep wrists straight when typing, hands slightly lower than elbows, and upper arms close to the body.
Set the mouse to a light touch sensitivity level.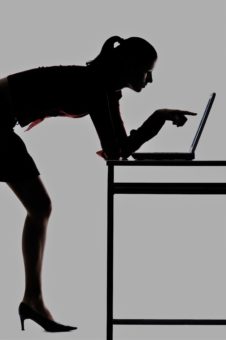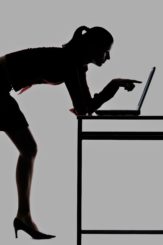 More Hints To Correct Bad Posture
Seek a podiatrist's advice to evaluate the best footwear for a person's feet and job.
Alternate between standing and sitting.
Take frequent breaks with position shifts and small movements. Changing the standing position removes any discomfort in muscles and joints caused by staying in the same position for long hours. It is a way to engage different leg and core muscles.
Alternate by working at the workstation and doing something else, like filing, stretching your legs and feet, or practice squatting.
Be accountable to someone to remind each other to maintain the proper posture.
 See a doctor for help if something is bothering you, like pains in the spine or joints. Don't delay; the doctor will get to the bottom of the cause and prescribe treatment.
Standing Throughout The Day Exercises
Relaxing Your Feet
Massage the foot arch, Achilles tendon, and calf muscle.
Ice is a natural anti-inflammatory remedy for sore and swollen feet. Alternate between putting an ice pack on the painful area for 15 minutes and removing it for 15 minutes. If you don't have an ice brick, use a pack of frozen vegetables wrapped in a towel.
Foam rolling stretches leg and foot muscles.
Exercise Leg And Calf Muscle
Calf raises strengthen calf muscles. The exercise also strengthens the toes and feet. Pick up an object with the toes and hold it for 10 seconds before releasing the object.
Balance on one leg at a time to improve proprioception of nerve receptors in legs, ankles, and feet.
Move only the ankle to draw in the air with the big toe; it exercises the leg muscles.
Bend knees slightly during the workday so that the knees don't lock so much.
Exercise Shoulder And Body
The shoulder roll re-aligns the shoulders. Move one shoulder forward, up, and then backward; repeat with the other shoulder. Practice good posture by rolling the shoulders whenever you catch yourself slumping; the shoulders will learn to stay relaxed in a stable position.
Squat at the workstation to release tension in the back.
At-Home Exercises
Elevate feet to reduce swelling. Lie on a bed and raise legs above the heart for 15-20 minutes. Compression socks help reduce leg swelling; it provides the right amount of pressure for lymph and blood flow.
Soak feet for 20 minutes in warm water and Epsom salts or essential oils. Dry feet and massage them with a moisturizer.
Stretch stiff feet to relax muscles, improve blood flow, improve flexibility, and minimize leg cramps.
Place a small bottle filled with cold water beneath aching feet rolling it back and forth.
How do you set up your workspace to maintain good posture and reduce aches and pains?