Are you looking for a good pair of summer work boots?
The summer with its lovely warm weather is usually a season to look forward to, but the hot weather can be quite taxing on your body and feet, especially when you are doing industrial or outdoor work.
Overheating can cause excessive sweating and cause you to feel faint and lethargic among other issues.
Keeping your feet safe and comfortable during the hot summer months can be quite challenging when you have to wear protective summer work boots.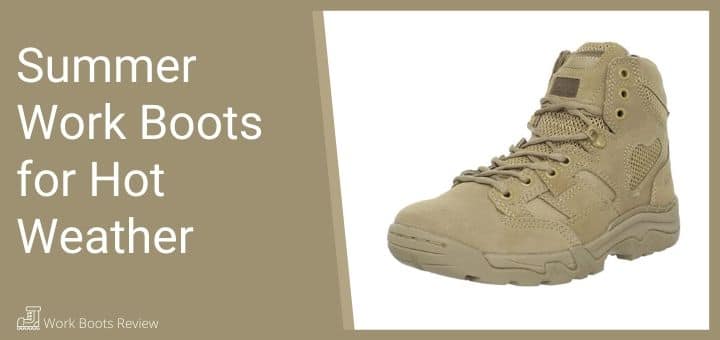 ---
The Importance of Hot Weather Work Boots
Most work boots can cause your feet to overheat and sweat quite a bit during summertime or in very hot conditions. If you are doing strenuous work that requires a lot of movement, it will certainly make it worse.
Sweaty feet tend to rub and chafe and develop blisters, sweat and chafing can also cause skin irritations and athlete's foot.
Thus having work boots that are suitable for hot weather is almost a necessity. Hot weather work boots will help to keep your feet dry and comfortable, as well as cool and fresh during even the most extreme heat conditions.
Having cool and dry feet will in turn also help to keep your body cooler and give you comfort that will significantly improve your work performance during hot weather conditions.
---
Consideration for a Hot Weather Boot
Having an extra pair of work boots for summer is always an advantage and will help in keeping you cool and comfortable during the sunny season.
People who live in areas where the weather is mostly hot and the summer heat can become quite extreme should rather invest in a boot that is specifically designed for hot weather conditions.
Those who are exposed to occupational heat such as in ceramic plants, boiler rooms, steel foundries, and many other industrial environments will also need to invest in a pair of hot or summer work boots.
Related Content: Low Top Work Boots, protect you against all the safety hazards?
---
Features of Good Hot Weather Boots
When you are exposed to very high temperatures keeping your feet cool can help to reduce the body's temperature, a pair of work boots that are breathable can help to attain this.
Lightweight – Hot weather work boots are made from breathable, and light materials that will keep your feet cool and dry.
Comfort – Comfort features that any pair of work boots have.
Protective – Features such as steel toe boots, waterproof material, and rubber soles can all be found in comfortable summer work boots.
---
Advantages of Wearing Hot Weather Work Boots
Just when the hot season is just around the corner, it's time to bring out a pair of reliable summer safety boots. Tailored for extra humid and warm days, the best hot weather work boots will surely get your feet through a long workday with ease and comfort.
Essentially, wearing comfortable boots for work comes with the following advantages:

Amazing breathability and well-ventilated, keeping the feet feeling cool on a hot summer's day of work

Well-cushioned, ensuring that the feet are comfortable and snug all-day

Lightweight and flexible, allowing the feet to move freely, quickly, and more comfortably

Mesh-padded collars and tongues that add up to the overall breathability of the boots for hot weather

Oil, slip, abrasion-resistant rubber outsoles that ensure deep and heavy traction against all surfaces

---
Reviews: Top Summer Work Boots
Below are a few of some of the best summer work boots and hot weather condition work boots:
---
1
If you're looking for the best red wing work boots for summer then this pair is your top option. Beautifully stylish, these summer work boots are made from quality leather that performs excellently in hot weather and provides an abundant deal of protection and comfort to the wearer.
A leather and nylon upper that is completely stained resistant.

The boot comes Moisture Wicking Lining membrane as well the full boot construction to keep your feet dry and cool in even the warmest of temperatures.

Mesh padded collar and tongue add support and comfort as well as helping to keep your feet cool and dry.

The steel toe will keep your toes protected while keeping the boot lightweight.

The boot comes with a removable shock-absorbent insole that offers extra cushioning and support.

The rubber outsole offers oil and slip-resistance as well as excellent grip capabilities.

Constructed with a composite shank that is lightweight and provides added stability and support.

---
2
A beautifully stylish work boot made from quality leather that performs excellently in hot weather and provides an abundant deal of protection and comfort to the wearer.
The upper part of the boot is made from full-grain waterproof leather

The smooth leather lining technology will help to wick away moisture so that your feet do not get sweaty or wet in hot or humid weather.

A boot that is suitable for rugged wear in rough terrain because of its superb durability.

The leather footbed molds to the precise shape of your foot to improve comfort and give great support.

---
3
The KEEN® Men's Utility Flint Mid Summer Work Boot is a pair of lightweight summer work boots that is comfortable, durable, and provides full-protection for the feet. These summer safety boots are equipped with steel toes and meet ASTM F2412-11 and F2413-11 I/75 C/75 EH standards.
The specially designed outsole complete surrounds all the key areas of foot and secures them inside the shoe.

This work boot is very lightweight and still offers the maximum amount of protection.

It also features a compression-molded EVA midsole that provides extra cushioning and comfort.

The rubber outer soles provide excellent grip and are oil and slip-resistant.

The removable outsole gives you added comfort and support.

Made from a breathable and lightweight material; making this the perfect work boot for hot weather.

---
4
An all in one durable, protective steel toe 8-Inch height boot that will keep your feet cool and dry in the hot summer.
The eight-inch steel toe boots will most definitely keep you protected when working with heavy loads and objects that can fall.

The Polyurethane removable insoles offer extra cushioning and comfort – you can replace them with your own orthotics in case you have prescription insoles.

The Vibram outsole provides excellent grip and traction as well as making this boot safe against electrical hazards (ASTM certified).

The upper portion is made of leather and Cordura (durable synthetic fabric) that will help to keep your feet cool and comfortable.

These boots are not water-resistant so they will let your feet breath, keeping your feet ventilated and cool at all times.

There is a molded rubber covering over the heel and toe area for improved durability.

This boot also offers fantastic arch support.

---
5
The Dickies Solo Men's Work Shoes is a very lightweight and one of the best cheap work boots that have excellent features to make it the perfect summer work shoe.
The upper is made from a suede leather that is durable, comfortable and breathable as well as offering protection in hazardous working circumstances.

The mesh padded collar and tongue further provide excellent breathability and cooling features.

The mesh insole lining for the cushioned EVA midsoles is designed to keep all moisture away from your feet and give you added support and comfort.

These work shoes are steel-toed to protect you when working with heavy loads and falling objects.

The rubber soles offer extra grip and are slip and oil resistant.

---
6
Looking for that perfect well ventilated, cool, and lightweight work boot for hot summer days. Look no further, the Timberland Pro Keele Ridge is everything that you need in a protective work boot, with the addition of a cool and comfortable fit.
A steel toe protects you against falling objects and compression hazards.

The premium full-grain waterproof leather with breathable mesh for the upper construction.

Cement construction and a nylon shank for structural support.

A midsole and outsole that is flexible and supportive.

The outsole likewise ensures excellent traction on slippery surfaces.

---
7
The Thorogood american Heritage is a comfortable and lightweight work boot, offering electrical hazard protection, and similarly a lightweight breathable fit to keep you going on those hot summer days.
Lightweight and cool oil-tanned leather uppers.

A removable shock-absorbing footbed with a Poron comfort-cushioned insole.

Further protection and stability from the fiberglass shank.

Electrical hazards safe materials.

The MaxWear slip-resistant wedge outsole ensures incomparable support and slip-resistance.

Constructed with the robust Goodyear Welt construction method.

Available in many neutral colors options to choose from.

---
8
These boots from Wolverine are the perfect hot weather composite toe boots. The Wolverine® Men's Overpass is simply a fusion of the best technologies from the brand that combine comfort and performance, even under the most excruciating heat.
Breathable and cool leather and textile uppers that are waterproof with an abrasion-resistant toe.

The contoured welt construction allows for flexibility and bending at all the essential points.

The removable Ortholite cushioned footbed ensures luxurious comfort and support.

A completely slip, abrasion, oil, and chemical resistant outsole, guarantees you safety on every floor surface type.

The composite toe is ASTM rated for safety, and the boot is M I/75 C/75 rated for electrical hazard safety.

---
9
The Wolverine Wilderness is a lightweight and highly breathable hiking boot, which is perfect for outdoor work in extremely hot weather conditions.
Leather Uppers for stability with breathable and lightweight mesh insets.

Completely slip-resistant with a durable rubber outsole.

Waterproof yet still breathable and well ventilated.

Available in two color options that are neutral and fashionable.

---
10
The perfect Work Boot for hot weather, the Terrain from ariat wicks away moisture keeping your feet dry and has a breathable mesh tongue.
Genuine leather uppers with a waterproof lining and breathable design.

A padded collar and mesh tongue for better ventilation.

The Duratread Rubber Outsole is slip-resistant and self-cleaning.

A Gel Cushioned footbed for superior comfort and support.

Available in a COPPER or DISTRESSED BROWN color option.

---
11
The Taclite is a very lightweight and breathable work boot in a tactical design, with a light color that will not absorb the sun's rays in order to keep you cool.
Pure leather upper construction for stricture with mesh insets ensuring good ventilation.

There is a zonal lacing system for a more customizable fit to keep laces secure and neat.

Inside there is a moisture-wicking, antibacterial lining, and comfortable Orthalite sock liner.

The Integrated side vents are ideal for humid climates and hot weather.

A durable oil and slip resistant rubber outsole.

Fast rope tread for better traction.

for comfort and cooling effects.

---
12
The Carhartt® Men's CMX4023 4-inch Lightweight Moc Toe Work Boots are comfortable summer work boots that also happen to be lightweight and durable.
Oil-tanned leather uppers, along with lace closure for a secure fit

Sturdy, high-traction, cement-constructed rubber outsoles

Well-cushioned, shock-absorbent polyurethane insoles

Ortholite™ cushion insoles.

Fast dry® technology lining to wick away sweat.

---
Index Table: Best Summer Work Boots
Which Pair Of Summer Work Boots Is For You?
Summer is a season enjoyed by many, but it can be crucial when it comes to certain industries. Working under the hot sun for long hours surely can be uncomfortable. 
Essentially, having the right set of gears can be a huge advantage. Among these gears are reliable work boots for hot weather. 
From lightweight pairs to summer safety boots, there are many options in finding the best hot weather boots. However, the best pair isn't a single product that fits all and you may want to keep in mind that the best will always be dependent on your needs and preferences.
With our review of today's top work boots for summer, which work boots for hot weather do you think are for you?
---
Work Boots Review may collect a share of sales or other compensation from links on this page.