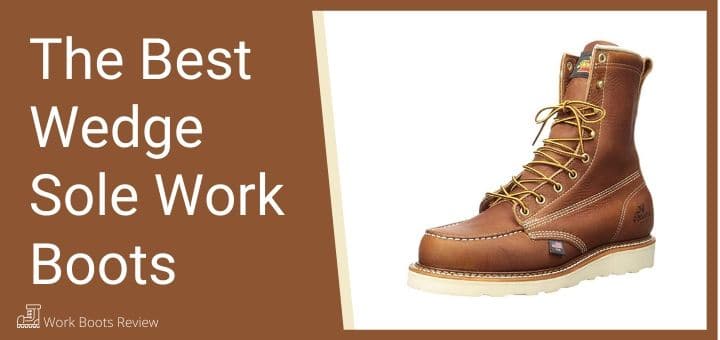 Thorogood introduced the first Wedge Sole style work boot in 1964.
Wedge sole work boots were mainly used by iron-workers, construction workers, and carpenters.
Today wedge sole work boots have become very popular as they share a similar shape to that of the modern basketball sneakers.
A wedge outsole (flat soled) offers excellent cushioning and durability and the leather uppers, and classic style of a wedge sole work boot means that you can work hard and still look good.

---
---
The Advantages of a Wedge Sole Boots
A wedge sole naturally distributes your weight more evenly and reduces strain on your feet; it is also incredibly comfortable as it cushions your feet and slips resistant.
A wedge sole work boot is more suitable to work on hard flat surfaces and not ideal for climbing or traverse terrain, although there are some wedge sole models that can be used on both tiled, cement and rocky or wet floor surfaces.
A wedge sole work boot also does not track much dirt and gunk around ion the sole; that is why they are so popular amongst farmers in the Midwest.
A wedge sole boot can contain all the safety features of a safety work boot such as a steel toe, steel shank, and electrical hazard protection, as well as provide comforts such as that of a cushioned insole, or EVA midsole.
---
Who Will Benefit from a Wedge Sole Boot
Construction Workers who are on their feet all day and work on hard and rough surfaces.
Iron Workers mostly use them so that their heels do not get caught when they work on the high beams.
Asphalt Pavers like a Wedge sole boot because they do not track much dirt around.
Carpenters are also found of wedge sole work boots because of their comfort and because they do not track the dust and wood shavings..
Some Farmers use wedge sole work boots for their comfort and stability on slippery floors surfaces.
Anyone working on hard floor surfaces that are not too uneven and where climbing of ladders is not necessary is a good candidate for a wedge sole work boot.
---
Characteristics of a Wedge Flat Soled Work Boot
A wedge-shaped cushioned and durable slip and oil resistant outsole.
Durable and comfortable construction – Goodyear Welt.
Safety features such as a safety steel or composite toe, electrical hazard protection, and a steel shank.
Comfort and protective features such as insulation, waterproofing a cushioned insole and supportive fit.
---
Features Of The Best Wedge Sole Boots
Wedge sole work boots are often preferred by those who work in the paving, farming, and ironwork industry.
Essentially, a good, reliable pair of wedge work boots come with the following features:
Wedge soles that are made of either polyurethane or rubber materials that are slip, oil, fat, and heat-resistant
Durable and sleek uppers that are crafted with either full-grain, nubuck, or suede leather, Cordura nylon, textile, or a mix both
Shock-absorbing, energy-returning, and well-cushioned insoles or footbed inserts which provide unmatched comfort
Moisture-wicking and anti-bacterial linings that are designed to prevent the development of unwanted odors and bacteria
---
The Advantages Of Wearing The Best Wedge Sole Work Boots
Wedge sole work boots generally keep the feet from tripping hazards.
These flat sole work boots are also designed to provide less dirt tracking, allowing the pair to avoid any dirt or debris from getting stuck in their soles.
The design of the boot allows the feet to feel less strained, even during longer periods of wearing, as it reduces pressure points on the feet as you stand.
Wedge work boots are also generally very comfortable to wear as they come with well-cushioned, full-length insoles
Reviews: Best Wedge Sole Work Boots
Looking for your next pair of the most comfortable wedge sole work boots? Here are some of today's best choices of work boots that have sleek, reliable wedge soles along with many other comfort and protective features.
---
1
Opening the list of our wedge sole work boots reviews are some Thorogood wedge sole work boots. Thorogood is a brand that manufactured one of the first ever pairs of Wedge Sole work boots.
Fast forward to today and the Thorogood® Men's American Heritage 8 Inch Moc Toe Wedge Heel Work Boot is one of their best-selling, timeless pairs.

Oil-tanned leather uppers with contrasting moc-toe stitching for a durable boot that looks good and works hard.

The removable dual-density shock absorbing insert with Poron 4000 provides cushioned support.

Manufactured using Goodyear Storm Welt construction for incredible durability and style.

A composite shank offer added support and stability.

Available in Oil Tobacco and Gladiator Tobacco colors.

---
2
Next up are some Wolverine wedge sole work boots. The Wolverine® Men's W08288 Moc Toe Wedge Sole Work Boot is an absolute classic that will never go out of style but at the same time impressively lightweight and comfortable.
The Wedge Outsole is well-treaded for a variety of surfaces and is oil, water, slip, and abrasion resistant.

Manufactured using classic Goodyear Welt Construction featuring full grain leather uppers with your choice of a steel or moc toe.

The springy rubber midsole along with the nylon shank absorbs shock and gives you added stability and support and flexibility.

A full-cushioned removable footbed ensures all-day comfort and support.

Electrical Hazard rated to protect you against electrical hazards at the workplace.

Available in brown, black and russet colors as well as Narrow, Medium and Wide Width sizes.

---
3
The Golden Fox offers you Premium leather wedge sole work boots that are durable, fashionable and comfortable.
The finest oil-tanned full grain leather uppers for maximum strength and lasting durability.

The oil-resistant Rubber outsole and Texan footboard will give your durable protection.

A steel shank for improved stability.

Manufactured using Goodyear Welt construction using genuine denier yarn to sew the top of the welt.

The premium leather uppers once broken in will be much softer and have a rougher and distinctive vintage look.

A variation of colors available.

---
4
The Danner Bull Run Wedge Sole Boots are the perfect hot weather work boots that will mold to the shape of your feet and keep you protected and comfortable all day.
Hand Crafted stitch down construction using unlined full grain leather that has been oiled.

The oiled rich leather uppers will mold to your feet, has minimal break-in time and provides a lightweight and cool comfort in hot temperatures.

Underfoot Vibram and a blown rubber outsole for slip resistance and durability.

Electrical hazard safety features, as well as non-conductive soles, provide you with full electrical hazard protection.

The polyurethane leather lined footbed provides all-day cushioned comfort.

Available in different neutral colors.

---
5
Making it to the list are Red Wing wedge sole work boots. The Red Wing® Men's Classic Moc 6 Inch Wedge Sole Work Boot is a work boot made for the crafter and the hunter. Comfortable and durable, these flat bottom work boots are ready for harsh work on any given surface, even on rocky or uneven terrains.
Tough leather uppers with triple stitched detailing for enhanced durability that looks stunning.

A cushioned and removable polyurethane footbed and EVA midsole will buffer your feet from the impact on harsh surfaces and provide all-day comfort.

A soft toe and electrical hazard protection that meets safety standards.

The padded collar ensures a more comfortable and snug fit and the rear pull-on loop allows easy on and off.

---
6
The Domestic Boot from
Carolina Work Boots
has a stylish wedge sole and classy yet rugged appearance with the added protection of a steel toe as well as being electrical hazard safe.
Rugged and classic leather construction with a Meramec Raptor Polyurethane Wedge outsole.

A steel safety toe cap for protection against falling objects and compression hazards.

Also provides protection against electrical hazards.

A comfortable AG7 Polyurethane footbed.

---
7
The Golden Retriever is a tall Pull-On Wedge Sole Work Boot that features an easy pull-on design and comfortable footbed.
Durable full-grain buffalo leather upper construction with a rubber wedge sole for excellent slip resistance.

The easy pull-on design makes this shoe easy to take off and put on when necessary.

A removable, comfortable footbed with added Aegis Microbe Shield odor resisting solution to keep feet fresh and dry.

The longer shaft offer ankle and leg protection.

---
8
The Georgia Wedge Wellington Workboot is comfortable and offers protection against chemicals as well as electrical hazards.
The Georgia Wedge is available in wider widths for every foot shape and type.

Manufactured from SPR leather with three times the strength to withstand abrasion and chemicals.

Protective features include a steel toe and electrical hazard protection.

A comfortable insole and supportive shank keep your feet stable and well supported.

The Goodyear Welt Construction used to manufacture the Georgia Wedge Wellington Work Boot.

---
9
The American Heritage by Thorogood is a wedge sole work boot that has a longer length as well as a steel toe for added protection in the workplace.
Oil tanned leather uppers constructed using Goodyear Welt methods.

An ASTM certified steel toe and electrical hazard protection.

Excellent traction with the Vibram rubber outsole.

Great shock absorbency and support.

---
10
Wedge sole that offers superior cushioning.

An alloy safety steel toe to protects you from falling objects.

vintage look Leather uppers.

Slip-resistant outsole to keep you on your feet.

---
11
Great inexpensive option for work boots for Industrial Construction and Concrete Contractors.

Shaft measures approximately 6 from arch

Goodyear Welt Construction offers Durability.

Premium Pitstop Water Repellent Leather.

Mesh Lining to keep your feet warm for winter Botas.

Comfort Non-Marking Wedge PU Outsole.

Removable Cushion Insole.

---
12
Six-inch boot in vintage leather featuring waxed laces and debossed logo at side, Made in the USA!
Goodyear welt construction.

Vibram Christy Crepe Wedge Sole.

---
With the durability and cushioned comfort that a wedge sole work boot offers along with slip resistance and stability, you cannot go wrong with a Wedge Sole work boot. The choices that we have selected are all durable and hardworking Wedge sole work boots each with their own unique and reliable protection and added comfort features. With a wedge Sole work boot, you can work hard and look great!
---
Comparison Table: Top Wedge Sole Work Boots
---
Frequently Asked Questions
Why choose wedge sole work boots?
If you're working in the paving, farming, or ironwork industry, then wedge work boots make an excellent choice of footwear for you. Practically speaking, these boots have a larger contact surface area than other traditional boots, making it more comfortable to wear, especially if you spend long hours in your feet.
Additionally, these boots evenly distribute the weight of your body onto your feet, allowing you to feel less strained and fatigued even during extended hours of getting in your feet. Moreover, wedge sole boots are designed with flat, wedge soles to keep any dirt, debris, and other tripping hazards from getting stuck in the boot.
Where to find 10″ pull on wedge sole work boots?
There is a wide variety of available 10" pull on wedge sole work boots in the market. Some of these pairs can be bought directly from the physical stores of their manufacturers. These boots can also be purchased online, through the manufacturer's e-commerce websites, or via third-party online selling platforms like Amazon.
What is wedge sole on work boots?
Wedge sole on work boots typically refers to the style or look of the sole found on the footwear. A wedge sole is basically flat, without a heel, and resembles the shape of a wedge, hence its name.
What are wedge sole work boots?
Wedge sole work boots are footwear that is designed with 'wedge' flat soles. These boots don't have heels, making them more comfortable for longer and/or extended hours of wearing.
What are wedge sole boots for?
Aside from the impressive comfort wedge sole boots offer, these boots are also often marketed for use by those who work in the farming, paving, and ironwork industries. Wedge sole boots are also recommended for those who spend extra long hours standing on their feet as these boots evenly distribute the body weight, causing less strain and fatigue to the feet.
Why wear wedge sole boots?
Generally speaking, wedge sole boots are very comfortable to wear. They are designed with a flat sole that evenly distributes the pressure points in the feet, allowing it to feel relaxed even during extra-long hours of wearing. Compared to its traditional, heeled counterpart, wedge sole boots also tend to not catch any debris, dirt, and other tripping hazards to their outsoles.
What do wedge sole boots feel like?
The best wedge work boots are generally very comfortable to wear. Just like other boots, they also come in well-cushioned insoles that allow the feet to feel snug and comfortable. These boots are also more energy-saving than their heel counterpart as they come with flat wedge soles which tend to help in evenly distributing the pressure points felt on the feet.
The Final Takeaway: Which Pair Of Wedge Sole Work Boots Is For You?
Whether or not it's for a tough day at work, we all know that you can never go wrong with a reliable pair of wedge sole work boots.
Durable, timeless, and comfortable, these boots are without a doubt a go-to, especially for those who are working in industries that call for long hours spent on their feet. On top of that, these boots are energy-savvy and encourage the even distribution of the weight all over the feet, making it an absolute advantage for those who are standing for extended hours on a daily basis.
And with our narrowed-down list of today's best-selling and top-performing wedge sole work boots, which pair do you think is your perfect fit?