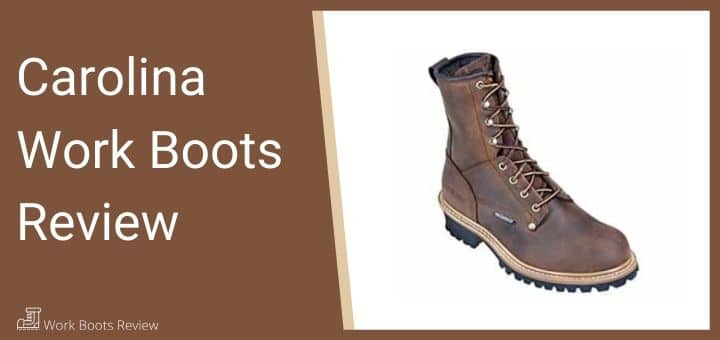 Carolina is a brand of work boots that offer exceptional comfort, quality, and durability in a boot that is suitable to cope with all occupational hazards and requirements and that can still be worn casually and for other occasions.
Carolina is well known for creating the toughest and most comfortable work boots for men.
---
Why are Carolina Boots so Popular
The Carolina company design their boots with every occupation and wearer's specific needs kept in mind.
They use comfort and insulation technologies such as Goretex, Thinsulate, and Dri-lex to create a work boot that is perfectly shielded from moisture, tough and extremely comfortable.
Carolina boots are made specifically for rugged wear and heavy-duty work in outdoors and tough environments.
---
Different Styles of Carolina Work Boots
There are so many different occupations out there and everyday tasks that you perform at work; Carolina has designed footwear that is suitable for every trade and work task.
Safety shoes with steel toes for heavy duty work in an environment with many hazards, hiking boots, slip-resistant boots for strong traction, classic work style boots for comfort and protection, and much more.
---
Charactaristics of a Carolina Boot
Manufactured from soft and durable leather, normally Pitstop leather is used and double sticthed.
Carolina Boots are well known for being lightweight.
Scubaliner Technology is used in most boots to ensure that they are completely waterproof.
An EVA midsole provides support and shock absorption.
A comfort insole ensuring that your weight is dispersed evenly to reduce pressure.
Somee boots come with a steel shank for added stability and protection.
Carolina winter boots are insulated using Thinsulate materials.
Cambrella technology is used in the interior of the boot to keep your feet cool in hot weather and warm in cold weather.
Some Carolina Boot models offer electrical hazard protection.
---
Reviews: Top Rated Carolina Work Boots
This list is our choice of some of the best styles of Carolina Work Boots for Men:
---
1
The Carolina Logger Boot is one of the most popular ranges in the most trusted Carolina boot range.
A great working boot because it is completely waterproof, lightweight for a long day's wear as well as having the best support mechanisms to keep your feet comfortable and supported.

The upper portion of the boot is constructed with a durable and soft leather.

The leather used to form the top portion of this boot is covered with a membrane that is one hundred percent waterproof.

The EVA sole adds extra comfort and foot protection.

The boot is designed with a built-in steel shank for heavy foot support and protection.

A heavy duty boot that is also suitable to wear casually as everyday footwear.

---
2
The title says it all about this boot, this boot is rugged, comfortable, durable and offers maximum protection for the wearer in any terrain and work condition.

Pitstop leather is used to construct the boot to offer the wearer the most comfort during prolonged wear.

Due to the ATSM technology used the foot is protected against shock and impact.

The boot comes with steel toe construction for added safety purposes.

Cambrella technology is used in the interior of the boot to keep your feet cool and dry despite the weather condition.

The boot offers a snug fit so make sure to order the correct size.

This work boot is the only one that you will ever need for a tough day at work.
---
3
The brand of Carolina work boot continuously provides footwear that has no rival when it comes to combining comfort and quality.

Brass eyelets to provide a snug fit for more comfort.

The insoles are designed so that they spread your weight evenly from heel to toe along the boot to reduce strain on the feet and lower limbs.

Because of the double and triple stitching throughout the entire shoe, this boot will last very long in even the toughest of wear and harshest of conditions.

A very durable and high-quality shoe that offers comfort, safety, and support to the wearer.

This is a highly reliable work boot.
---
4
The Carolina Steel Toe Waterproof Logger offers both safety features and optimal comfort for every day harsh work conditions.

Thinsulate material is used to insulate the boot making sure that your feet are kept dry and fresh in even the wettest weather conditions.

Steel shanks are used in the construction of the boot for improved balance capabilities and better stability.

The two-inch heel gives the boot a bit more height and also helps to absorb shock.

The boot is very lightweight at only 6.6 pounds (less than 2 kilograms).

They offer superb protection against electrical hazards and are electrical hazard rated.

The Scubaliner technology ensures that the boot is completely waterproof.

The steel toe provides protection against falling objects and compression risks.

Your feet will be kept cool and dry during hot weather, and warm during cold weather.

---
5
This boot will provide you with all-day comfort and protection as well as exceptional dryness in any weather conditions. An exceptional choice of work boot especially for cold weather and other cold conditions.

This boot has been designed to withstand all weather conditions and to keep your feet warm.

Scubaliner technology is used to ensure that the boot remains one hundred percent waterproof, keeping your feet dry at all times.

Insulated and embedded with material that will keep your feet warm in even the coldest conditions.

The nylon, leather and mesh construction of the boot provides the wearer with a flexible, comfortable and durable shoe.

The additional pillow cushion pad is inserted into the shoe and gives added comfort and support to the footbed and arch and improves protection against moisture.
---
6
This boot is an all in one work boot that offers all the safety and protective features as well as superb comfort and durability.

The EVA Midsole provides protection and comfort.

A removable polyurethane footbed and pillow cushion allow for more comfort and protection of the foot against shock.

Heel to toe comfort and weight distribution for better mobility and to avoid foot injuries and ailments.

Non-metallic shanks have been used to offer flexibility and support during movement.

Electrical hazard safety mechanisms for improved protection.

The rubber sole provides excellent traction and grip.

Scubaliner technology is used to waterproof the boot.

Overall a very robust, reliable and comfortable boot for everyday wear in tough terrain.

---
7
The Carolina Domestic offers you the best fit in a tough and protective work boot, along with exceptional comfort features.
Dri-Lex lining along with a cushioned insole.

A steel safety cap, steel shank, and heavy plastic dense external MetGuard ensures that you are protected.

Welt construction ensures long-lasting quality.

Slip resistant.

Heat resistant Vibram outsole.

---
Carolina makes the boots mentioned above with superb quality and comfort.
Carolina boots are specially made with safety and durability features to improve the wearers work and overall performance and to provide the wearer with optimal security and comfort during even the toughest conditions and use.
---
Index Table: Best Carolina Work Boots