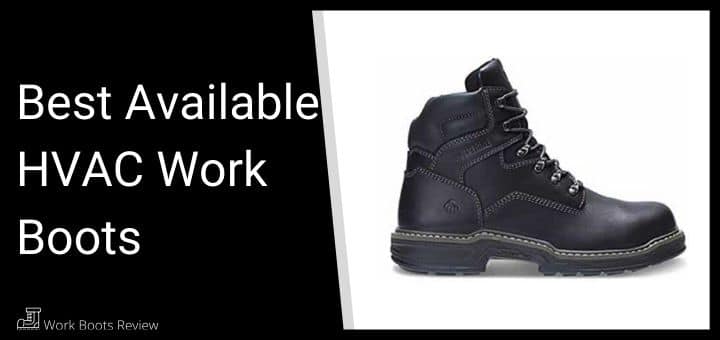 In any occupation that you need to climb up onto a roof, or work in a variety of conditions requires the right gear to keep you safe and protected.
When it comes to the Heating, ventilation, air conditioning and refrigeration business whether residential or commercial a good pair of HVAC work boots is an absolute must.
---
An HVAC Technician in a Nutshell
HVAC is short for "Heating, Ventilation and Air Conditioning"
HVAC systems are intricate systems that are used to provide cooling, heating or ventilation services to either commercial buildings and businesses or even residential areas and small homes.
Before this innovative system which can perform all three these duties was created, there were three or more devices required for each of these functions.
A person who works as a contractor or technician with these systems will specialize in either the installation, maintenance or repair, or in some cases both.

---
Hazards faced By HVAC Technicians
In the HVAC industry there are hazards that are similar to that of an industrial work environment, and likewise a few unique hazards;
Fatigue that can cause incidents and injury. HVAC contractors and technicians are notorious for being overworked.

Electrocution risks from working with electrical wires and equipment.

Exposure to dust, cement and in some cases toxic asbestos.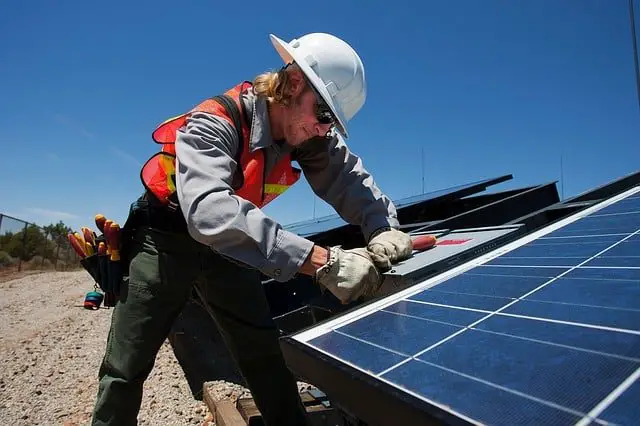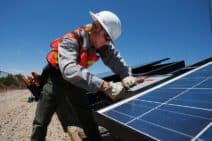 Falling from heights is one of the main concerns as most HVAC technicians and contractors need to work at heights.

Burns from hot equipment.

HVAC contractors have a satisfying and profitable career, but not without its fair share in dangers. Therefore the right equipment and personal protective gear is crucial,
this counts especially when it comes to work boots.
---
Charactaristics of the Best Work Boot for an HVAC Technician
Here are a few Vital Charactaristics to Look for in a good HVAC work boot.
Durability
Make sure that you have a durable and reliable work boot that will last you a long time. A hard and durable outsole and a soft and comfortable inner sole are key in this case.
Weight
The last thing that you need when you are up on a roof is extra weight, therefore a lightweight work boot is your best friend as an HVAC contractor or technician.
Heat Resistance
You are working with machines that heat up to pretty high temperatures, and even outdoor temperatures can get quite annoying, therefore heat resistance and breathability are key.
Shock Resistance
This is yet another crucial feature as you are working with electrical cords and equipment, make sure your work boot is electrical hazard safe.
Comfort
To prevent fatigue, pain and injury, the comfort and support that your work boot provides is fundamental. First and foremost look for a good snug fit, then cushioning or EVA in the footbed, and good arch support. Shock absorbency is another critical element provided by an efficient midsole or cushioning alike.
---
Reviews: Top HVAC Work Boots
With no further a due, here are the top picks in HVAC safety work boots.
---
1
Opening the list is a trusty, durable pair from the boot giant Wolverine. The Wolverine Men's Legend features a six-inch boot construction equipped with unsurpassed durability and comfort as these boots are designed to be all-day wearable without the need to compromise safety and security.
The Wolverine Men's Legend is built for tough times as the pair is made durable with its premium leather uppers.

These HVAC work boots are also built for all surfaces as they come with high-traction rubber outsoles.

Comfortable and absolutely wearable, these boots are engineered with well-cushioned heels and insoles.

Designed to keep the feet less strained, the boots boast the brand's Wolverine Dura shocks that efficiently absorb shock and provide comfort.

The Wolverine Men's Legend is built to provide excellent wearing experience combined with reliable stability as they are equipped with the brand's H-plate suspension system.

---
2
These USA made, handcrafted beauties from Redwing will offer you superior comfort as well as tough wear and superb protection.
Durable and comfortable leather uppers that are scuff resistant and sleek in design.

A non-marking oil and slip resistant robust outsole.

A protective and abrasion resistant toe cap with a high polish appearance.

Triple stitched with Goodyear Welt construction for long lasting durability.

---
3
Looking for something that is easy to slip on and off, while protecting your feet and legs, well then the Thorogood Gen-Flex 3 is the answer. A master in its class, and one of the latest innovative designs from a well-known brand!
Stunning oiled, full grain leather uppers in a pull on design.

Completely waterproof with X-Stream waterproofing technology.

A removable single density polyurethane footbed for lasting comfort and support.

A protective composite shank that similarly adds stability.

The durable Gen-Flex outsole is slip resistant and exceedingly flexible.

---
4
You no longer have to tread with fear with the Timberland Pitboss. This boot offers you top of the notch slip and oil resistance, with the best traction that you will find.
Features a durable rubber outsole, which meets ANSI safety standards for slip, oil and abrasion resistance, as well as high traction.

Genuine comfortable and supple leather uppers.

The comfort suspension technology reduces foot fatigue and supports your arches while cushioning every step that you take.

A soft toe work boot for enhanced job performance and all-day comfort.

---
5
Georgia prides themselves in their well-constructed and comfortable work boots, that empower every worker as an unsung hero, to take pride in their work performance.
Durable and supple, full grain leather uppers with a soggy brown appearance.

Ankle-high construction with side goring insets and dual pull loops for a fast and snug fit.

Tough and long-lasting Goodyear Welt construction.

A supportive EVA midsole with a mesh-covered cushioned footbed.

More toe room with the rounded toe shape.

A tough and durable slip resistant outsole.

---
6
The Dr. Marten Icon is a heavyweight when it comes to protective features, although it is very light and comfortable on your feet!
Tough and comfortable, genuine smooth leather uppers, in tan or black color options.

An air cushioned durable slip and oil resistant outsole.

Electrical hazard safe with a steel cap for toe protection.

The comfortable cushioned footbed is removable.

---
In Conclusion
Looking at the Hazards that an HVAC contractor and technician face on a daily basis, there should already be a few scenarios of incidents that come to mind, that could occur.
If you or someone you love works in this environment, the highest priority should be taken to ensure their, or your safety.
These listed quality work boots are the best available work boots that will serve any HVAC worker with reliable comfort and protection.
---
Index Table: Best HVAC Work Boots