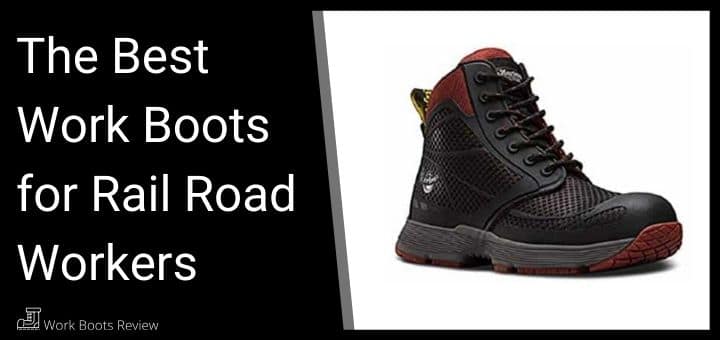 Choosing the best work boot for your specific job description and work environment is one of the most fundamental, and the most valuable decisions you can make, in the long run.
Working on the railroad holds many dangers, and when your health and safety is on the line, taking the time to invest in footwear that may save your life, is vital.
---
Railroad Certified Work Boots
In order to work on railroads, by law and company policy, you will need certified work boots.
Here is the GCOR regulations and rules for what a railway safe work boot should feature;
Footwear
When you are working on uneven terrain, or near tracks, vehicles, engines, and other moving equipment, you will need footwear that offers support and protection.
A thick sole to withstand punctures, good traction, and that offer slip resistance is key.
Laces and buckles need to be properly tied at all times, and the work boot must fit properly, likewise being in good condition, not worn out.
A Defined Heel
A "defined heel" typically means that the heel of your work boot is at an approximately right angle from the rest of the sole and from the ground when you stand.
Riding heels, in this case, are not appropriate and the heel should not be at an angle less than 45 degrees from the rest of the sole to the ground.
Ankle Cover
A work boot should comfortably cover your ankle, look for a boot that is 6 inches high or more.
For transportation employees, lace-up work boots are a requirement, likewise, intermodal employees that load and unload containers need a safety toe as well.
OHSA Requirements
When working on railroads the OHS Act requires electrical hazard safe materials, a puncture resistant sole, as well as a protective toe in areas where there are falling and rolling objects.
An oil resistant and slip resistant sole is also a requirement in this work environment, and all work boots must be properly laced up to prevent tripping hazards.
---
Why Do You Need The Best Work Boot for Working on a Railroad
There are plenty of hazards when working on a railroad.
Despite moving vehicles that can crush your feet, you also need to consider falling objects for which a safety toe may be needed.
Uneven terrain is your forte in this occupation, along with wetness and oils spills that can cause slipping hazards, so a high traction outsole is absolutely essential.
Then there are also electrical hazards for which you need protection, against electrocution.
Lastly, weather conditions and wetness is also something most railroad workers are faced with, a well-insulated work boot that is completely waterproof should offer the best protection.
Not forgetting comfort, railroad workers seldom sit down and are on their feet on uneven and sometimes hard floors for long hours. In this event, shock absorption, arch support, and a well-cushioned footbed or insole should never be compromised.
---
Features to Look for in a Good Railroad Work Boot
If you are overwhelmed by all the safety and comfort features, here is a list of characteristics to look for, to help you in choosing the best work boot for working on a railroad;
It is usually better to opt for a metal free safety toe and work boot when working on a railroad unless otherwise specified.

A protective composite, or fiberglass midsole for protection against punctures.

Where allowed a steel midsole can also protect you against sharp objects.

A composite toe cap providing 200J of impact resistance, while remaining lightweight, reducing foot fatigue.

If allowed a safety steel toe is much heavier and can get pretty cold, but in turn, offers the best protection against falling objects and compression hazards.

Anti-Static materials to prevent the risk of static build up.

Breathable waterproofing such as a gore-tex lining offers the best waterproof protection.

Heat resistance up to 300 degrees Celsius.

A quick on and off system such as a side zip.

Impact resisting ankle protection.

Good grip and traction on a variety of surfaces, including oil and abrasion resistance.

A cushioned insole.

Shock absorbing midsole.

Breathable interior lining.

Cement or Goodyear welt construction methods are most sought after for quality and durability.

---
Reviews: Top Picks in Railroad Safety Work Boots
---
---
---
---
---
In the end
The best work boots for any job are those that offer job-specific protection against the hazards in your work area while ensuring the best support and comfort for your foot type, size, and shape.
Choosing the right work boots for your job can mean the difference between comfort and pain, life and death, health, or injury.
By following these rules and guidelines you are sure to find the best work boot for working on a railroad that will offer you're the protection and comfort required for this specific occupation.
---
Index Table: The Best Work Boots for Railroad Workers