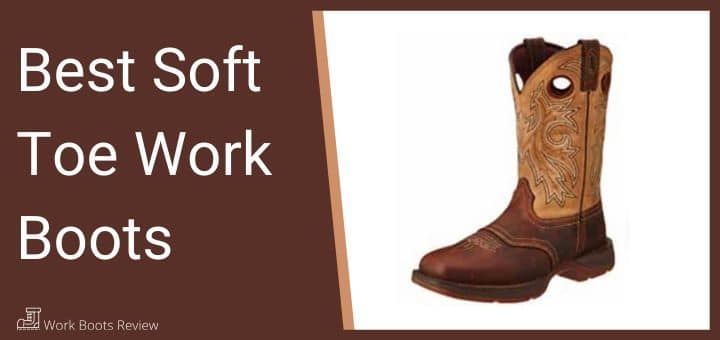 From the protective steel toe to the high traction outsole, safety work boots have greatly evolved to offer the maximum levels of protection in the workplace.
Luckily with laws and regulations today, companies are forced to create a safer work environment for employees, thus eliminating work hazards that cause the need for such advanced protective footwear.
Today soft toe safety work boots are the preference, because they are more lightweight and flexible, and do not hold any of the negative side effects of their steel toe, family member.
---
What is a Soft Toe Work Boot
Well in the easiest explainable terms, a soft toe safety work boot is a work boot that has no protective toe cap.
A protective toe cap is generally manufactured from steel which is extremely heavy, can get pretty cold in the winter and has the added inconvenience of setting off security alarms.
The alloy toe is also a metal protective toe cap, with similar issues, but more lightweight, in comparison to the composite toe which is non-metal, the lightest and most comfortable.
Unfortunately, steel and alloy toe caps offer the most protection against falling objects and compression hazards, while composite also offers protection but cannot handle as much weight or compression.
The soft toe offers no protection against falling objects or compression hazards, though it is the most comfortable and lightweight, without any of the negative issues that a steel or alloy toe may have.
The soft toe work boot is flexible, lightweight and much more comfortable allowing better movement and preventing foot fatigue.
---
Benefits of a Comfortable Soft Toe Work Boot
There are plenty of comfort and support benefits from wearing a soft toe safety work boot, as well as some protective benefits that have not been compromised;
Excellent foot support and complete body balance, reducing joint pain and foot fatigue.

Less stress on your feet with less weight and more flexibility.

Good shock absorption and more support ensure less likelihood of a foot injury.

Better productivity because of more comfortable and well-supported feet, which in turn keeps your entire body comfortable and healthy.

Lightweight which allows better movement and no foot fatigue.

Will not set off security alarms because of a metal toe cap.

Warmer feet and more breathability, no cold steel against your toes.

---
Other Safety Features of a Soft Toe Work Boot
Just because your work boot has a soft toe does not mean it offers no safety features at all;
A durable outsole that offers protection against punctures and can be slip, oil, heat and abrasion resistant.

Waterproof material keeping your feet dry and protected against outside liquids.

Heat insulation, keeping your feet cool, and cold insulation keeping your feet warm.

Materials designed to protect your feet against cutting hazards and molten metals and materials.

Electrical hazard protection, providing protection against electrocution.

Anti-Static materials to prevent the build-up of static electricity that could ignite a spark in a flammable work environment.

---
Reviews: The Top rated Soft toe Work Boots
1
Ready to work and tackle all those heavy duty projects. Even though this work boot has a gorgeous stylish look and fine embroidery, it is still tough as nails.
Beautifully embroidered leather uppers, that are soft and comfortable.

A durable, oil and slip resistant, non-marking rubber outsole.

Ten-inch long shaft for extra calf and ankle protection.

A comfortable fit, with a soft toe.

Durable construction, ensuring a work boot that will endure with time.

---
2
We all know Harley Davidson as being a biker brand, but their boots are fast becoming more and more popular not only as stylish footwear but hence also durable work footwear.
Tough and durable Goodyear Welt construction with smooth leather uppers.

A slip-resistant thick rubber outsole, that is lightweight, oil and slip-resistant.

The dual density sock liner is removable and has added memory foam.

YKK locking zippers, the best zipper brand you can get.

---
3
There is just no going without the Timberland Pitboss, this work boot is a leader in its range.
Extra comfortable, electrical hazard safe, and lightweight to prevent foot fatigue.
Comfortable leather uppers with speed lacing hardware.

Tough, slip-resistant rubber outsole

A soft rounded, and extra roomy toe area, for a wider foot or foot conditions such as arthritis and hammer toe.

The insole is fully cushioned and the tongue is well padded.

The sock liner adds contoured support and is removable.

Available in a brown and wheat color.

---
4
Welcome to the Wolverine Floorhand, an iconic american brand, crafted to perfection. This model is the leader in all day comfort with the Durashock technology.
The Durashock and Multishox technology prevents foot fatigue and gives the best performance when it comes to shock absorbency.

An excellent choice in work boot for being on your feet on hard floors all day.

Thick, and durable slip resistant outsole.

Goodyear Welt constructed leather uppers.

Comfortable cushioned insole.

Available in dark brown and wheat color leather.

---
5
The Carhartt CMF6606 is a tough and flexible work boot with the comfort of a soft toe and Ortholite insole. Electrical hazard safe, as well as oil, chemical, and slip resistant, perfect for the workplace.
The rubber outsole is oil, chemical and slip-resistant.


Genuine cement constructed leather uppers, for tough durability.

ASTM rated for electrical hazard safety, to prevent electrical shock.

EVA midsole, PU strobe pad and an Ortholite insole for five layers of plush cushioned comfort.

Flexible design allowing you more freedom of movement, and less restriction.

---
6
The Keen Utility Manchester has a soft safety toe cap that still provides some protection against falling objects and compression hazards, while remaining soft comfortable, and very lightweight.
Tough Waterproof leather upper construction with a Keen Dry Lining that is breathable and keeps liquids out.

features interior technology for natural odor protection.

A secure design with metal lace up hooks for a better fit.

Very lightweight with a compression resistant midsole and removable metatomical PU footbed for superior comfort and support.

The TPU shank ensures extended protection and stability.

Meets ASTM safety standards for electrical hazard safety and slip-resistance.

The Reflective webbing detila adds extra visibility during night time.

---
7
The Timberland Pro Gridworks is a soft toe Moccasin Style work boot with a thick wedge sole for added protection and shock absorbency.
Leather and textile uppers construction that is Breathable and Lightweight.

A Soft Moccasin Style Toe.

Durable high traction rubber outsole with a thick wedge midsole.

manufactured from premium grade full grain leather, with a waterproof membrane

There is an additional steel shank for better structural support.

Inside a mesh lining with antimicrobial treatment keeps your feet dry and odor free.

---
8
the Everboot brand is fast becoming a popular and sough after brand in comfort and tough work boots. The Tank offers you supreme long lasting durability with many comfort features.
Tough full grain Nubuck leather uppers constructed using Goodyear Welt methods.

A comfortable and cushioned insole with a removable option for use of your own orthotic devices.

The durable and thick rubber outsole is slip resistant and offers good shock absorbency.

Speedy lace up hooks allow for a quick and secure fit.

---
Lastly
In the end, as work environments become safer, it is easier to find suitable work boots, and there is less compromise on comfort and support.
Soft toe work boots, we will all agree are so much more comfortable and lightweight, offering much better support and flexibility to keep your feet happy and healthy.
If you are lucky enough to have the choice, in addition with an environment safe from falling objects and compression hazards, to work in, then a comfortable and soft, lightweight and flexible, soft toe work boot is in the stars for you!
---
Index Table: The Best Soft Toe Work Boots