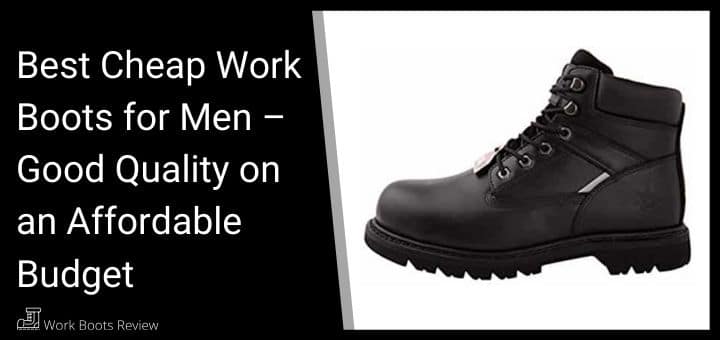 If you need a sturdy and durable pair of work boots but you have a tight budget; Here is a list of the best cheap work boots for men, that will suit every pocket.
You will have a choice of Steel toes or Soft toes, and many other safety and comfort features!
This list brings you a wide range of options along with high quality and robust, cheaper work boots to get you through a tough workday!
---
Expensive Work Boots vs. Cheap Work Boots
Even today, there are still many people out there who are convinced that the most expensive work boots are the best work boots because they are made from better materials that are more durable.
In many cases, this is totally correct, although there are also affordable working boots that are below $100 that have features such as, comfort, durability, and of course Safety which is just as good as their more expensive counterparts.
---
The Importance of Good Quality in a Cheap Boot
Durability – Even though a work boot is a cheaper less well-known name brand it should still be constructed from high-quality durable materials that will last a generous amount of time.

Protection – The main purpose of a work boot is to offer you protection against the work hazards in your work environment. A Steel. Alloy or protective Composite toe, as well as electrical hazard safe materials and a slip-resistant durable rubber outsole, are important in an industrial work environment.

Comfort – A comfortable fit that is snug and not too loose with comfort features such as a cushioned and shock absorbing insole from EVA or PU materials and a breathable moisture-wicking lining.

Oustole – The outsole needs to be durable, a rubber or Vibram outsole is your best bet, that has a slip, and/or oil and abrasion-resistant lug tread.

---
Features of a Good Quality Affordable Work Boot
A durable rubber or Vibram outsole that is oil, slip, and abrasion-resistant.

soft and supple leather or synthetic uppers with a breathable and moisture-wicking inner lining.

A comfortable and shock absorbing PU or EVA cushioned midsole and insole.

safety features such as a protective toe, steel shank, electrical hazard safe materials, a waterproof membrane, and chemical resistance where needed.

Durable stitching and materials with Cement, Welt, or Goodyear Welt construction methods.

---
Reviews: The Best Affordable Work Boots
If you are on a tight budget here are some amazing quality work boots with great safety and comfort features;
Our List is Sorted by Price – from Cheapest Boots to Higher Priced Ones:
---
1
This is a high-performance work boot with all the necessary safety and comfort features.

Designed with premium water resistance upper technology.

It is constructed from Full-Grain Nubuck Leather which is a high-quality leather material.

The Rubber outsole offers good grip and slips resistance on slippery surfaces.

The Safety Steel Toe will give you excellent protection against heavy loads and falling objects.

Embedded with Good Year Welt for improved durability.

---
2
A Goodyear Welt Construction, Insulated Work Boot suitable for Industrial and Construction Workers and colder weather conditions.
The Oil and Slip Resistant Rubber Outsole offers durability and longevity

The boot is waterproof to keep your feet dry and all moisture out.

A soft protective toe offers some protection against falling objects and materials.

A comfortable and durable work boot for everyday wear.

This Boot comes with a three Month Manufacturer Warranty.

Insulated to provide protection against harsh weather conditions.

---
3
A sturdy and durable pair of low price work boots, ideal for industrial work such as construction and other outdoor work.
These boots are waterproof and made from sturdy and durable suede leather.

A Double layered steel toe helps protect the toes and feet from injuries that can be sustained from falling objects, and other obstacles or hazards.

The well-treaded rubber sole that is slip-resistant on surfaces with oil and water, and offers superior grip and safety.

These boots comply with the following standards for foot protection: ASTM F2413-05 I/75 C/75

---
4
Great work boots for Industrial Construction and Concrete Contractors.
Shaft measures approximately 6 from arch

Goodyear Welt Construction offers Durability.

Premium Pitstop Water Repellent Leather.

Mesh Lining to keep your feet warm for winter Botas.

Comfort Non-Marking Wedge PU Outsole.

Removable Cushion Insole.

---
5
Next up are affordable working boots from Columbia. While this pair is mainly designed as a hiking boot, the Columbia Men's Newton Ridge Plus II is also durable and comfortable enough to make an excellent work boot that is withing fairly reasonable price ranges.
The Columbia Men's Newton Ridge Plus II is built for toughness as the pair is designed with a mix of premium suede leather and mesh uppers.

The pair is also built for all types of terrains as they come with the brand's Omni-Grip multi-terrain technology through their high-traction rubber outsoles.

These hiking boots also feature long-lasting comfort along with superior cushioning as they carry the brand's lightweight, comfort insoles.

The pair is also built to provide an excellent, secure fit as they come with adjustable, lace-up closures.

The Columbia Men's Newton Ridge Plus II is also equipped for wet conditions as the boots are constructed to be waterproof.

---
6
The Skechers Workshire is good quality and comfortable pair of work boots. Skechers are quite a favorite brand of work and sports shoes.

An original relaxed fit is well known to Skechers.

Memory foam insoles for added comfort and support.

It also features a protective Steel Toe.

Slip-resistant outsoles for excellent grip on slippery surfaces.

It offers protection against electrical hazards.

---
7
The Caterpillar Second Shift's are an affordable and durable pair of boots that will last you very long.

Offering both options of a Steel Toe or a Soft Toe, these 6-inch boots are available in the variety of colors to suit your personal preference.

These boots are amazingly versatile despite the fact that they are one of the toughest brands of boots.

Made for heavy-duty industries, sturdy and rugged yet they don`t compromise on appearance with their sporty

Overall a very comfortable and durable boot that will keep your feet safe and supported.

---
8
A work boot that offers all the required safety features as well as comfort and durability for all industrial occupations.

These boots offer protection against electrical hazards.

These boots will withstand even the worst weather conditions and keep your feet dry and comfortable.

Advanced cushioning and support systems to reduce stress and strain on the feet.

An ideal pick for engineers and electricians as they offer the safety features required for those occupations.

---
9
The Caterpillar Men's Revolver is one of the most comfortable long boots on the market today, with their easy pull on and pull off the design.

Easy to pull on and pull off when you have to change your shoes in haste.

A comfortable boot that will keep your feet supported and reduce strain for long hours of wear.

Full leather construction for durability and safety.

Slip-resistant outsole for excellent grip and traction.

A stylish work boot that is very affordable as well.

---
10
The Timberland Pro Titan is a durable and lightweight work boot with fantastic comfort features.

A breathable boot that will keep your feet dry and fresh all day.

Constructed from material that will wick away moisture and a mesh lining to ensure comfort and proper ventilation.

A tough and durable work boots for men that are ready to step in on any terrain in any weather condition.

Because of all these characteristics, the Titan Pro is known as Timberland`s most versatile work boot.

---
11
It is probably one of the most durable and best quality, affordable work boots that you will find today.

The Timberland Pro is a tough and comfortable Steel Toe Work Boot.

The padded top collars and padded midsole offer excellent comfort and support.

The midsole opens to the footbed with Agion technology to keep your feet fresh and dry all day long.

Apart from being a soft and comfortable boot, the Pit Boss offers a steel toe to ensure the safety of your toes and feet which makes it one of the most suitable work boots at a good price.

Fitted with a Timberland rubber slip that is also abrasion-proof as extra durability and protective characteristic.

---
You can count on our work boots for the ultimate protection and comfort along with durability. Just because a work boot is a low price does not mean that it is less efficient and of poorer quality!
---
Index Table for Affordable Work Boots