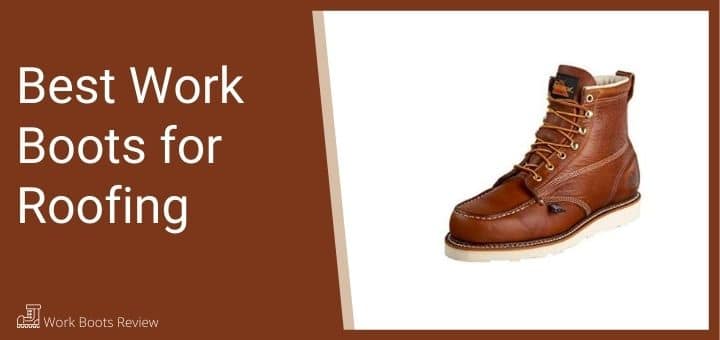 Roofing construction is a high-risk occupation that is filled with potential hazards.
Slip hazards, loose debris, ladders, decking, skylights, and exposure to weather elements all pose a great risk to the roofing constructor.
The most important piece of equipment that a roofing constructor has is his safety shoes, one slip or uneven step can cause severe injuries, even death when working at those heights. Therefore an appropriate pair of Roofer Boots is a necessity.
---
Potential Hazards in Roofing Construction
Tripping Hazards – Loose debris such as branches, leaves, building materials, tools, and small stones are all potential tripping hazards.

Weather Conditions – Weather conditions such as extreme heat, extreme cold, rain or snow all pose certain risks.

Wet Surfaces – Wet conditions cause slippery surfaces and therefore slip hazards.

Electrical Hazards – Constructors working with electricity stand the chance to be electrocuted.

Chemicals – Chemical exposure is another hazard that can cause illness to a person or damage to objects, especially your shoes.

Ergonomics – Roof work involves a lot of repetitive activities and motions. You are on your feet for very long periods, standing, walking, kneeling, climbing, and lifting, which can cause much strain on your feet and lower limbs.

---
What Constitutes a Good Roofing Work Boots
Roofing boots have to endure loads of abuse every day because of constant abrasion from the shingles and tar used on a roof. Therefore it is vital to have although and durable boot with a thick, and even better replaceable outsole.
A good pair of roofing boots should also provide protection against heat and moisture build-up, as well as provide the best available grip on slippery surfaces and uneven slopes.
Because a roofing constructor is on his feet all the time he will need the maximum amount of comfort and support for his feet that will last throughout the day.
---
Features of a Good Roofing Construction Work Boot
They should cause minimal damage to the roof.

Ensure all the comfort and support features to enable the constructor to work on his feet for long periods of time.

They must have thin threads with no deep lugs.

They will need to be able to withstand weather conditions. Many Roofing constructors have one pair of shoes for hot weather and another for cold or wet weather.

They should fit well with laces that tie up properly and do not form a tripping hazard. High top Work Boots work the best.

Some companies and government jobs require you to wear steel toe work boots as part of their safety policy.
---
Safety Measures Before You Climb on a Roof
Whether you are a professional roofer, or just trying to install or fix something on your home roof, safety should come first:
You should always wear a well-fitted harness to protect you from skidding or falling from the top of the roof.
Here's what this roofing kit includes:
Universal Harness with Five Adjustment Points for Comfort
SafeLight Universal Harness
Reusable Heavy-Duty Temper Anchor
50 ft. Rope Lifeline Assembly with Manual Rope Adjuster
Storage Bucket
---
Reviews: The Best Roofing Work Boots
We have researched and picked out the Best Work Boots for Roofing on the Market today;
---
1
A superb work boot from Thorogood, you cannot go wrong with the Thorogood american Heritage.
This boot offers all the safety features required for roofing construction work as well as added comfort features and breathability. This is a durable and reliable work boot that will help you to perform at your best and will last you for many years to come.

Made from oil-tanned genuine leather that will maintain it's appearance even with tough use.

Goodyear Storm Welt construction for superb durability.

The cotton drill vamp inside the boot helps to wick away moisture and will keep your feet dry and comfortable throughout the day.

A Christy Blown Rubber Wedge outsole that is slip-resistant on all types of surfaces providing the security every roof worker requires.

A Dual Density Ultimate Shock Absorption Footbed resting on Poron giving you a spring action with every step you take that will absorb shock to prevent strain on your legs and ankles when you are on your feet for long periods of time.

Pros
Slip Resistand Wedge Sole

Made in USA

Electric Hazard Resistant

Available in Wider Widths Up to 2E

Cons
Pricey

Require about a week to break in

---
2
The Cougar Paw Sure Grip Work Boot is an excellent choice for Roofing Construction, it is a boot that has evolved and developed in design to give you the best safety and comfort technology. The Cougar Paw Sure Grip has the proper balance of cell density and tensile strength with inexpensive pads that can be easily replaced when they are worn out.
May be unavailable as of 2 Aug 2020.

Manufactured from smooth grain leather that resists staining and a leather lining that is heat absorbent.

Roof heat-absorbing pads.

A patented traction grip pad, giving you stability and reassurance on any floor surface.

The ankle is padded and the boot is cushioned for extra comfort.

ASTM rated slip resistance.

The toe is reinforced for added durability and protection.

Pros
Tracktion Pads Absorb the Roof Heat

Slip Resistant Outsole

Durable and Comfortable

Cons
Pricey

Not Good on Metal Roofs

Runs 1/2 Size Large

---
3
These are one of the best Roofing Construction work boots as they can withstand all the demands of this tough and dangerous occupation as well as remain durable and comfortable.
The Timberland Pro Men's Wedge is guaranteed to keep your feet and ankles steady on any roof type because of their custom fit.

Leather upper with full welt construction.

A thick rubber wedge sole that is slip-resistant and will make the wearer aware of his footing.

The supportive insole and EVA midsole provide comfort for all-day wear.

This boot offers excellent durability features to withstand tough use in any environment and conditions.

The supportive comfort system cradles the foot and protects it against stress and strain.

Pros
Wedge Sole allows Better Feel the Surface

EVA Midsole Provides Lightweight Cushioning

Premium Full Grain Leather

Anti-Fatigue insoles Technology

Cons
Require Some Time to Break-in

A Little Bit Heavier

---
4
The Rhino 6 Inch Steel Toe is a Safety work boot that has been ASTM F2413-05 I/75 C/75 Approved. This is a durable and safe work boot that has excellent qualities making it one of the best boots available for Roofing Construction work.
A rugged natural rubber, a two-color outsole that is oil and slip-resistant on any surface.

The best quality leather uppers.

Offers approved protection against electrical hazards.

The padded collar and tongue add comfort and stability to this boot.

An approved steel toe safety boot that will offer you all the protection required for roofing construction work.

Pros
Very Affordable Boot

Electrical Hazard Approved

Slip Resistant Outsole

Steel Toe

Cons
Heavier Than Other Boots

No Wide Width Option

---
5
The Wolverine Men's Moc Toe Roofing Work Boot is a tough and durable work boot that is seam sealed and waterproof with a rubber outsole. It is an excellent choice for a long-lasting Roofing Construction Work Boot that will keep you firm on any surface.
Available in a size 6 up to size 15 with EE width.

A six-inch genuine leather upper.

Constructed with Goodyear Welt technology.

The uppers are seam-sealed and completely waterproof for durability and dry feet.

The insole is cushioned for added comfort.

An oil and slip resistant rubber outsole.

Pros
Affordable Price

Slip Resistant Wedge Outsole

Available in Wide Widths

Cons
Heavy Users See Cracks on Outsole

Runs 1 Size Large

Made in China

---
6
The Red Wing Heritage Moc Boot is a breathable and durable wedge sole work boot that is great for roofers.

Durable and comfortable leather uppers with a rugged look.

Norwegian Goodyear Welt construction makes it tough and can withstand hard work.

The moc-toe provides lightweight protection and durability for the shape of the boot.

A comfortable, supportive footbed with wicking moisture technology.

The rubber wedge sole provides excellent grip and traction as well as shock absorption and great support.

Pros
Traction Tred Wedge Crepe Outsole

Available in Wide Widths (2E)

Cons
Very High Price

May Run 1/2 Size Large

---
7
An excellent choice of Roofing Boots, it is designed to give you maximum grip while walking and working on roofs. This boot offers durability and comfort with its tough body and padding.
May be unavailable as of 2 Aug 2020.

Made from Lightweight leather and nylon upper in order to reduce weight found in traditional boots.

The Leather and nylon upper make a durable construction that still remains breathable even on the hottest days.

A patented traction grip pad, giving you stability and reassurance on any floor surface.

Cushioned interior lining for a snug, and comfortable feel even on steep roofs.

This is a professional roof boot with excellent traction on metal roofs.

Pros
Tracktion Pads Absorb the Roof Heat

Slip Resistant Outsole

Great for Metal Roofs

Cons
Relatively High Price.

Runs 1/2 Size Large

---
8
Another sought-after pair on the list is from the brand Wolverine. The Wolverine Men's Overpass is a six-inch work boot that is durable and made reliable with its composite toe safety feature.
The Wolverine Men's Overpass is built to be extremely durable as the boots are made with a mix of high-quality textile and premium leather uppers.

In terms of grip and traction, these boots won't disappoint as they come with sturdy and robust rubber outsoles.

The pair also provides unmatched comfort as they come with well-cushioned ortholite footbeds.

These roofing work boots are also built for wet conditions as the uppers are made of waterproof leather combined with abrasion-resistant toes.

Built for toughness, the Wolverine Men's Overpass is guaranteed to meet ASTM F2413-11 M I/75 C/75 EH safety standards.

---
9
The Timberland Pro Boondock is a waterproof and highly durable work boot which is your perfect companion for Roofing Construction work.
Distressed brown Oiled leather uppers with a waterproof membrane.

A TPU Outsole with Deep Step Lugs for high traction and slip, oil and abrasion resistance.

anti-fatigue technology comfort system for cushioned comfort and shock absorbency.

Molded Rubber abrasion resistant toe protector caps.

Pros
Anti-Fatigue Technology.

Lug Outsole for excellent Grip.

Cons
Not Very Flexible.

No Toe Protection.

---
10
One of my top picks is the Keen Utility Milwaukee, for its exceptionally comfortable fit and high grip durable outsole.
Full-grain leather uppers that are waterproof and abrasion-resistant, treated with Tough-TEC, technology.

The waterproof membrane is likewise very breathable.

A Comfortable EVA footbed and a non-marking oil and slip-resistant rubber outsole.

The Metatomical dual-density EVA footbed is removable allowing you the use of your won orthotics.

Also features a protective Steel toe cap.

Pros
Comfortable Insole.

Breathable.

Cons
Steel toe can be heavy.

Speed lacing System Breaks Easily.

---
The most important thing to keep in mind when you are working on any roof surface is to have a work boot that is non-slip on a variety of surfaces, slipping and tripping are the two highest risks involved in any roof work that can cause the most serious injuries.
---
Index Table: Top Work Boots for Roofing