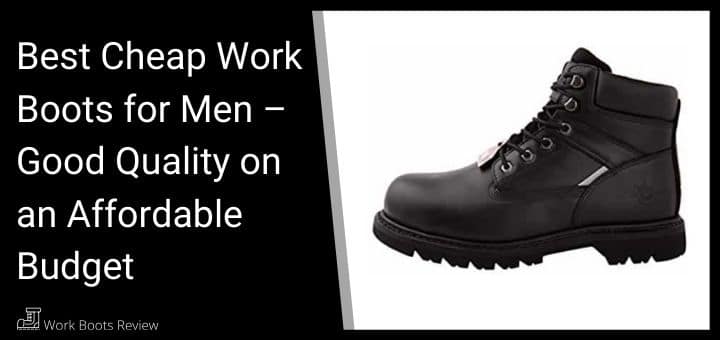 Wet feet can develop an odor, blisters and in the worst case scenario cause an infection. It does not matter who you are, where you work or how tough you are, wet feet are uncomfortable, and cold feet even more so.
Wet feet, especially in cold conditions can be excruciating and in extremely cold weather or snow can lead to frostbite.
A good pair of waterproof work boots need also be tough, durable, provide adequate protection for your work situation as well as keep your feet dry, and comfortable.

---
---
Choosing The Correct Work Boot
Work Hazards to Keep in Mind
You are susceptible to many hazards in the workplace the nature of which will depend largely on your work environment and job duties.
In an industrial work environment such as construction, engineering, and outdoor work environments there are many hazards present and the rough terrain and tough work tasks can also take their toll on your work boots.
Work-related danger that contributes to the need for safety protective footwear in the work place include;
Falling objects that can be heavy like machines, tools and bricks.
Compression hazards.
Sharp and protruding objects that pose a puncture hazard.
Electrical currents.
Slipping hazards such as water, grease dust and oil.
Hazardous chemicals and abrasives.
Hot or cold materials.
Wet, cold or extremely hot working conditions.
---
Features of a Good Waterproof Work Boot
Work Boots come in a variety of styles and designs with different safety and protective features;
Metatarsal Guards – A metatarsal guard is strapped to the outside of your shoes to protect the instep area from heavy falling objects that may crush your feet.

Toe Guards – A toe guard fits over the toe area of regular shoes and safety boots to help in preventing foot injuries.

Safety Toes – A built-in safety toe such as steel, aluminum or composite toe provides protection against falling objects, compression and cutting hazards. Your steel toe is the heavier option but provides the most protection.

Foundry Boots – A Foundry boot has insulation that will protect your feet from the heat from molten metals and keeps these metals from lodging in the eyelets, tongue and other parts of the boot.

Waterproofing – Waterproofing or water resistance in a work boot will keep your feet dry and protected in wet conditions as well as prevent frostbite in extremely cold weather.

Slip resistance – Work boots that have a durable slip and oil resistant outsole will keep you well grounded and prevent slips and falls.

Insulation – For cold weather conditions and outdoor work, an insulated work boot can be quite handy to keep your feet warm. There are different levels of insulation available fro cold to extremely cold weather conditions.

---
Who Need Waterproof Work Boot?
If you are working in conditions that are wet and messy such as mud, sludge, cement or outdoors day in and day out you will need work boots that are 100% waterproof.
Work conditions that require a completely waterproof work boot are;
Construction and concrete work.
Agricultural work, farms and fishing where there is mud and deep water.
Wet Weather conditions.
Outdoor work.
---
Maintaining a Waterproof Work Boot
Comfortable waterproof work boots when you work in a wet and tough environment is an important part of your work attire.
Most leather work boots are water resistant meaning you can walk through a puddle or two with no worry about wet feet, for more extreme work environments a work boot that is completely waterproof may be necessary.
You can use a waterproofing wax or cream to keep your work boots water resistant or waterproof and maintain their functionality.
---
How does a Waterproof Work Boot Protect You
Wetness in your work boots can cause discomfort as well as infection and bad foot odor.
In cold weather conditions, a wet work boot can cause your feet to become very cold and even result in frostbite.
Other unwanted liquids such as chemicals, oils, dirt, and sludge may also seep into a nonwaterproof work boot and may cause discomfort as well as irritation to your feet.
Waterproof work boots provide complete protection and insulation against wetness and also aid in keeping your feet warm in cold weather conditions.
Most insulated work boots are also completely waterproof protecting your feet against wetness, snow, and cold weather.
---
Anatomy of a Great Waterproof Work Boot
A great waterproof work boot should not just be waterproof but manufactured from high quality and durable materials that offer you the maximum amount of comfort and protection according to your occupational and personal requirements
The boot should be waterproof up to the point where you can tread through water and mud while your feet stay completely dry.
A good Waterproof work boot should also provide an adequate amount of insulation particularly if you are working in cold weather conditions as cold feet can be just as miserable as wet feet and cause you much discomfort and inconvenience.
---
Reviews: The Top-Rated Waterproof Work Boots
Here are some of the best available work boots that are waterproof as well as some that are waterproof and insulated from cold and wet weather conditions;
1
Start an amazing work day with a pair of the best quality waterproof work boots. The Wolverine`s Rider is a sturdy and flexible boot that will give you comfort and confidence with every step. The credit goes to its welt construction and thick cushioning in the footbed offering you a sturdy, stylish and comfortable shoe. Starting back in Rock-Fort, the Wolverine is an iconic brand which is known for its timeless craftsmanship and use of the finest materials.

Manufactured from high-quality leather.

A rubber sole that provides excellent grip on slippery floor surfaces.

An ankle high work boot with leather uppers.

Multi-Shock compression pads that are molded in the outsoles and a moisture managing mesh lining.

A removable footbed that provides full cushioning for support and comfort.

Durable and stylish contour welt construction.

---
2
The Thorogood Gen-Flex is an absolute must-have, it contains all the features of a safety work boot as well as being waterproof, pull on and superbly comfortable.
Tumbled full-grain leather uppers with a composite safety toe.

It comes with an abrasion-resistant rubber toe cap and side bumpers.

Excellent traction is achieved with the rubber outsole as well as Anti-Roll bar heel support.

A cushioned EVA midsole and Impact 300 gel heel insert for comfort and shock absorption.

Goodyear welt construction durability and a Thoro-Dri waterproofing system.

---
3
A comfortable and heavy-duty waterproof and steel-toe work boot the Keen Utility Pittsburg will keep you dry and well protected against hazards in the workplace.

Comfortable and durable leather uppers with a Keen Dry waterproof membrane.

The Drylex lining with hydrophobic/hydrophilic 2-zone comfort technology ensures a dry and supportive fit.

A removable metatomical dual density EVA footbed provides excellent cushioned comfort and support.

The durable rubber outsole is non-marking as well as oil and slip resistant.

A Keen key-tech full-length TPU interlocking torsion plate provides exceptional stability and support.

---
4
The Stanley Dropper offers a steel toe for superior protection along with 100% waterproofing for wet and hazardous work conditions.

Durable and comfortable uppers that are completely waterproof and constructed using the tough Goodyear Welt Construction methods.

The removable EVA insole and dual-density EVA midsole provide exceptional support and comfort for all-day wear.

A reinforced TPU heel counter secures the heel for a more supportive and comfortable fit.

The Stanley Dropper meets the ASTM standards for steel toe protection and electrical hazard safety.

---
5
The Direct Attach Boots from Timberland are made for superb functionality and durability. Timberland`s Pro Work Boot series is certain to help you perform at your best. These Direct Attach Waterproof boots have unmatched comfort, long-lasting durability, and excellent protection. As we can see from the previous models, Timberland is ready to set new standards for craftsmanship, design, and comfort when it comes to authentic, Waterproof Footwear.

This boot has 400 gram of Thinsulate insulation and is recommended for cold weather conditions.

Manufactured from premium waterproof leather with a seam-sealed construction for complete waterproofing capabilities.

A classic rubber lug outsole that provides excellent grip and traction on any floor surface.

A molded nylon shank.

An antimicrobial lining.

---
6
An all in one waterproof work boot that offers optimal comfort, durability, and protection for any work task and the environment. Packed with hunky safety and performance features, these boots arm its user with the ultimate tools for protection and comfort. Made with Premium leather covered with a waterproof membrane, the Timberland Hyperion will keep your feet dry and comfortable all day. In addition, this boot is abrasion resistant and features a protective, lightweight alloy safety toe, and comfortable, lightweight EVA midsole.

Manufactured from leather with a waterproof membrane.

A Title XL last safety toe cap that is lightweight.

A good fit featuring the dual-purpose hardware for quick lacing.

A Powerfit comfort system for the most comfortable fit.

The mesh lining has anti-odor treatment.

Supportive EVA midsole to provide comfort and support.

Durable Vibram sole for excellent grip.

---
7
The Timberland Pro Titan Footwear Series is well known for its lightweight, protective and versatile features. Manufactured from full grain leather, complete with an Alloy safety toe, breathable mesh lining, and waterproof capabilities, this is a perfect work boot. An attractive boot that does not compromise on comfort or safety and is durable enough for any work circumstances.

Made from full grain quality leather.

A lace up vamp with speed lace hardware at the top for ease of use.

Titan alloy safety design protective toe.

Polyurethane midsole providing lightweight, supportive cushioning.

A moisture channeling mesh lining with antimicrobial treatment.

The rubber sole is oil and slip-resistant.

Completely waterproof.

---
8
The Cat`s waterproof work boots are the perfect combination of style, comfort, and durability.
These boots offer a great breathable lining along with non-slip outsoles and steel shanks which will keep you comfortable and protected all day long.

Constructed from waterproof leather featuring antiqued lacing hardware and a contrast tone at the toe and collar.

Insulated with 200 grams of Thinsulate insulation material.

A steel toe for added protection against falling objects and compression hazards.

A rubber outsole offering good grip on slippery surfaces.

Removable EVA foam inserts with gel technology for improved comfort and support.

---
9
Great as a winter and cold weather work boot.

400 grams of 3M thinsulate insulation to help keep your feet warm in colder temperatures.

---
10
The perfect waterproof minimalist boot. The Vivobarefoot Scott is a men's lifestyle boot for everyday wear that has been constructed to keep your feet warm and waterproof.
The uppers are constructed from premium leather and wax canvas materials.

A 6-inch shaft, and 1/2-inch heel with 0.5-inch platform.

The thermal 200 gram Thinsulate insulation will keep your feet warm in even the most extreme weather conditions.

It is the most waterproof and lightweight work boot we could found available on the market.

---
11
The Baffin Tractor is a rubber waterproof work boot that is perfect for wet outdoor work.

Lightweight and flexible uppers made from the highest quality materials and rubber compounds with thermal protection to keep your feet dry and comfortable.

Baffin uses a combination of molding technology with a format based inner boot system to create a hybrid style that is durable and comfortable.

The sole and midsole are molded to the base for even more waterproof protection.

The outsole is made up of several advanced thermoset polymers that have been combined with a perfect balance of warmth and functionality.

---
---
13
Transparent, prevents stains and soiling.

Eco-Friendly, Safe for Humans and Pets.

UV Stable! Great for boots and even suede boots, running shoes, canvas, jackets, clothing, socks.

It is oil, water, and dirt resistant.

---
All these Waterproof Work Boots have exceptional Safety, Comfort, and Durability qualities. They are high-quality boots that are tough and durable but do not compromise on style and class!
Make sure to pick one of these boots that are most suitable for your personal and work requirements, as not one of them will disappoint you!
---
Comparison Table: Best Waterproof Work Boots