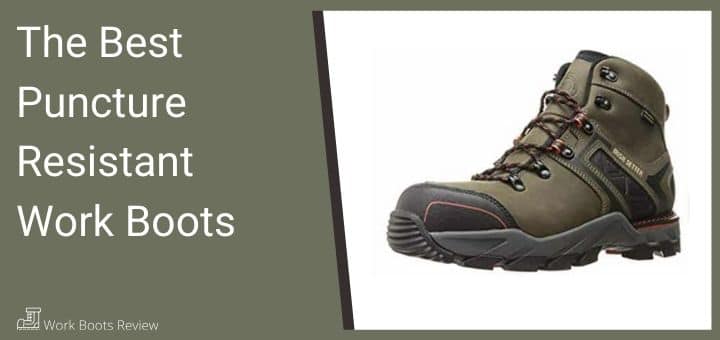 Puncture resistant work boots are essential during construction, but also for those who work in the army, industrial kitchens, and factory environments.
All puncture-resistant safety shoes will protect your feet from wounds and infections, however not all of them will suit your unique needs.
Find out below about the specific type of puncture-resistant boots you need and more!
---
Different Types of Puncture Resistant Work Boot Components
The middle sole or midsole of the boot is usually where the puncture-proof material is placed in a work boot. You get different types of puncture-resistant midsoles, typically divided into metal and non-metal.
Non-metal midsoles are made of high strength woven fabrics, and are generally accompanied by non-metal composite toes to allow for lightweight work boots that will not set off a metal detector, as found in a military complex.
Steel midsoles are generally accompanied by steel toes which add a lot of weight to work boots, but are usually better for construction purposes.
Each metal and non-metal midsoles have their pros and cons. Here are a few listed below:
Steel Midsole Pros and Cons:
If made from stainless steel, these will never rust, however if made from coated steel, they can rust over time.
More cost-effective than woven fabric midsoles.
Conducts cold, heat and electricity. You may need thermal liners, heat resistant soles or electrical hazard protection with a steel midsole.
Perfect for protection against tiny, sharp objects like nails.
Less flexible than fabric midsoles.
Thinner than textile midsoles and hidden after removing the inner sole.
Woven Fabric Midsole Pros and Cons:
Lighter and more flexible than steel midsoles.
Visible when removing the inner sole.
More comfortable.
Has good temperature, abrasion and cut resistance.
Ideal for protection against thicker penetrating objects like rocks.
Does not set off metal detectors.
---
Best Features of Puncture Resistant Work Boots
Aside from the actual puncture-resistant midsole, these work boots can have other features that make them even more impenetrable!
Acid and Chemical Resistance – Acids, bases, and chemicals can sometimes even melt holes in plastics or fabrics, penetrating to your skin. Chemical and acid resistant boots will prevent this and keep your feet nice and safe.
Electrical Shock Hazard Rating – Not all shoes will protect you from an electrical shock or hazard. Those that have an electrical rating tend to have insulating layers that prevent currents from reaching your feet.
Waterproofing – Some work boots are water resistance, which means that you can step in some water without wetting your feet. However, only waterproof boots protect you from full immersion in water for long periods of time.
Heat Resistance – If your boots are not heat resistant and you work with things that get very hot, your boots will melt when they come into contact with them. Heat resistant boots can offer a great deal of protection from hot substances, keeping your feet safe.
Rubber Toe Reinforcement – A rubber toe reinforcement over the steel toe is useful to prevent abrasion on the outside of the boot and improve the boots durability.
---
Reviews: Top Puncture Resistant Work Boots
Below are some of the best Puncture-Resistant Work Boots available today, ensuring that your feet will stay protected, comfortable, and secure.
---
1
Irish Setter's work boots bring you the best of both worlds when it comes to safety boots, incorporating the perfect blend of flexibility, puncture-proof protection and stability.

The outer layer of the boot uses Armatech technology which can withstand a lot of force and is abrasion-resistant.

A composite nano-toe shield provides you with all the safety of a steel toe without weighing you down.

Water- and weather-proof leather surrounds the boots on the outer layer, while the inside contains more than two layers of moisture-wicking material, ensuring your feet are always dry.

StableFlex technology combines both flexibility and stability, minimizing the pressure on your feet.

---
2
Timberland PRO specialises in providing the best work gear, aimed at protecting your feet from impact, damage and fatigue.

A cleverly hidden flexible steel midsole works wonders to prevent any nails and other sharp objects from penetrating your boots.

The inner insoles offer lovely anti-fatigue foot support and are detachable should you have specialized needs or want a replacement at any time.

An abrasion-proof double rubber toe covers the steel toe part of the boot to prevent scratches, tears, and damage to your toes from heavy objects.

Made from exceptional quality leather for high durability.

The base is both shock- and slip-resistant.

---
3
The Oliver 55 series is an ultimate work safety boot, incorporating some of the best features available today.

Resistant to strong acids, bases, mineral oils, chemicals, animal fats, and other oils, these are ideal for full-day protection in most industrial workplaces.

All-Terrain Dual Density sole technology ensures both shock absorbency and a high heat resistance of up to 572F (300C).

The lightweight puncture-resistant midsole and the rubber-reinforced steel toe will protect your feet from 90% of all impacts whether from above or below.

These shoes have an electrical hazard rated outsole and are safe for electrical work, even in wet environments.

---
4
The SnowJack Pro was made for anyone who has to endure extreme snow and ice while doing construction or other heavy-duty activities.

The boots come with two pairs of interchangeable soles, one for snow tracking and another studded one for crossing ice, so you're always prepared.

A lightweight composite safety toe and a puncture-resistant midsole ensure that you can handle anything that comes your way.

The entire boot is constructed to remain 100% waterproof, even in snow, paired with a thick layer of insulation to keep your feet dry and warm.

To top it all off, these are acid and oil resistant with maximum traction to prevent slips and falls.

---
5
Making it on the fifth spot is a pair from the brand Timberland. The Timberland PRO Men's Boondock is guaranteed to provide durability and protection without compromising the pair's overall comfort.
The Timberland PRO Men's Boondock is engineered with reliable durability as the pair is crafted with premium leather uppers.

Built for various terrains and surfaces, these boots are designed with high-traction, puncture-resistant, sturdy synthetic rubber outsoles.

The pair also boasts unbeatable comfort as they are designed with the brand's well-cushioned, anti-fatigue polyurethane footbeds.

These puncture-resistant boots are also bound to keep the feet dry and comfortable as they are engineered with breathable and moisture-wicking linings.

Built to execute greatness, the Timberland PRO Men's Boondock is also guaranteed to keep unwanted odors at bay as they come with anti-microbial odor control treatment.

---
6
These combat-style boots feel very comfortable, securely keeping your feet and shins guarded against any chemicals, oils or acids.

The base of the insoles is puncture-resistant, keeping your feet safe in case you accidentally stand on a nail, glass or any other sharp objects.

Heat resistant urethane lines the bottom of the shoes, covering a heavy-duty steel toe to protect your feet from abrasion and extend the life of the boots.

Comfortable padding lines the shaft of the boots with quick and easy loop catches on the side so you can get in and out of your boots in a rush.

Water-resistance allows you to get wet temporarily while still keeping your feet dry.

---
7
You can trust the Avenger carbon Nanofiber to protect you not only against puncture hazards, but similarly electrical hazards, external liquids, likewise, slips and trips.
Electrical hazard safe, according to safety standard ratings.

The composite toe cap is manufactured from ultra-light Carbon Nanofiber.

The dual-density PU insole offers superior comfort while aiding in absorbing perspiration.

Completely metal-free to reduce weight and electrical hazard safe.

The Lenzi plate in the sole offers the best levels of puncture resistance and the nitrile rubber outsole is slip-resistant with a 90-degree heel.

---
8
Tough and rugged, yet still very comfortable and lightweight. The ariat Wide Toe Puncture resistant work boots will keep you out of harm's way and comfortable all day.
Robust leather uppers with a six-row stitch pattern to enhance style.

ATS advanced torque stability with the technology of a composite forked shank.

A slip-resistant Duratread sole with a puncture-resistant Swen-Flex insole board.

The wider square toe gives more room for movement and the inner mesh lining improves breathability.

This work is also completely metal-free and electrical hazard safe.

---
9
If you work in one of the most demanding industries, the Oliver 65 Series is your answer. This work boot can surely take the punch when it comes to harsh and dangerous working environments.
SPR leather uppers with the TPU safety cell reinforcement to protect you against cuts, abrasions, chemicals, liquids, and similar acids.

The Kevlar stitching on critical seams further liquid proofs this boot and enhances durability.

All-terrain Dual-density soiling technology which combines a soft and plush shock-resistant dual-density PU midsole, with the high traction, durable, high-density rubber outsole.

The all-terrain outsole is similarly heat resistant up to 300 degrees Celsius, slip-resistant, and resistant to acids, alkalis, fats, and oils.

This work boot likewise meets the ASTM requirements for electrical hazards safety and offer non-metallic impact protection with the XRD metatarsal guard.

Furthermore, the outsole is entirely puncture-resistant protecting you against sharp objects.

---
10
Puncture-resistant plate for flexible underfoot protection.

Rugged full-grain leather for maximum comfort and durability.

Fast break-in time due to the cement construction.

Odor control is achieved by the antimicrobial mesh lining.

Slip, oil, and abrasion-resistant outsole.

Electrical Hazard protection.

---
Index Table: Top Rated Puncture Resistant Work Boots