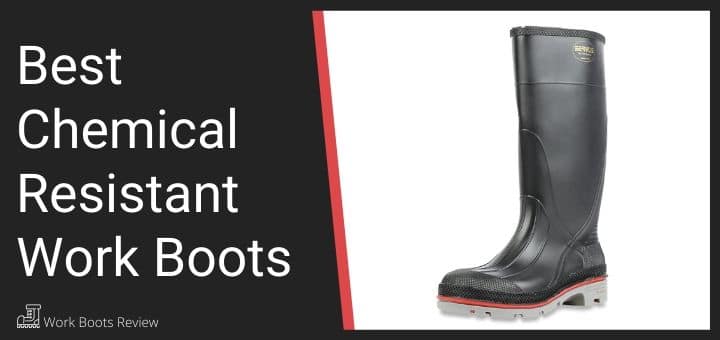 I'm going to say it.
Everyone needs a pair of chemical-resistant workboots or shoes.
They aren't just for oil-rig workers or chemical refinery employees.  Most people that work for a living – on a factory floor, as public safety officers, as custodial staff, or working outside – will come across some chemical "substances" during the day.  It might be motor oil, or grease, or even bodily fluids – but none of it is great for either your health or the lifespan of your footwear.
But chemical-resistant boots are made to hold up to most of these chemical spills.
We've provided a list of great work boot choices below.  Our favorite "heavy duty" pick is the Honeywell Servus XTP 15.  It's made for really rough environments yet is a super comfortable chemical-resistant boot.  It's likely overkill for most professions.  For those not knee-deep in the 'yuck' all day, we'd recommend checking out the Bates Delta.   We are big fans of the iCS technology which actually allows you to change the feel of the boot.  It's not a gimmick-it really works.
We've provided more information on all our boot selections below to help you in your search.

---
---
Our Picks For Best Chemical Resistant Safety Boots
---
Reviews: Top Rated Chemical Resistant Work Boots
Here are a few of the most suitable Chemical Resistant Work Boots, each with their unique safety and comfort features;
---
1
The Honeywell Servus XTP 15 is a pair of chemical boots that have been constructed with TDT –
Triple Density Technology
.  Invented by Servus, TDT is a compound blend created to withstand the type of damage only organic materials can dish out.  Animal waste and poultry/fish processing are one example – working on an oil rig is another.   These boots also provide great chemical resistance protection for "normal" custodial and general-purpose environments as well as overall foot protection with the built-in steel safety toes.
The XTP stands for XTRA Traction Performance.  The outsole is designed to "self-clean" with every step which will make it easier for you to walk safely and avoid falls in slippery environments.

All Honeywell Servus boots are manufactured in the USA.

The 3 stage molding construction of the boot ensures a smooth and completely waterproof boot.

No chemicals will penetrate along the sides and under the heel of this boot.

Your feet will stay happy with the great arch support and comfortable removable insoles.

Not only do you get great protection versus chemicals – these steel toe work boots protect your feet from falling and crushing dangers as well.

---
2
The Bates Delta isn't a traditional chemical-resistant boot.  The thick leather/nylon upper provides solid protection from normal day-to-day chemical spills, but if you work in a chemical refinery, look elsewhere on the list.  It's made for peace officers and others that need to be ready to enter a variety of environments at a moment's notice.
We included this model in our recommendations because of the extraordinary iCS technology built in to the boot.  You see, there's a little adjustable disc built into the boot that allows you to "dial in" the shoe based on your gait and cushioning level.  It turns this work boot into a semi-custom piece of footwear!  Combine that with the great breathability, soft toe construction and solid footbed and you have an extremely comfortable pair of workboots.  If you are on your feet all day, you owe it to yourself to try a pair.

The Bates Delta is a durable and breathable boot that is very easy to clean.

Side-zipper construction means you'll have no trouble getting these boots on and off.

iCS allows you to choose the right comfort level – why don't all work shoes have this?

The hard rubber outsole will give you additional support and protection from punctures.

The entire boot has a chemical protection cover to minimize the risks of chemical contamination.

A comfortable boot that also provides slip resistance and excellent grip and traction.

---
3
I'll admit – I really LOVE my pair of Keen hiking boots.  They are well made and comfortable.  Keen has continued that tradition with the Utility Milwaukee model. Constructed with KEEN.DRY to keep water out yet let water vapor escape, you should feel how dry your toes are after hours of wear. The asymmetrical steel toe design means your toes won't be cramped – and no one likes cramped toes.  The solid rubber soles are oil and slip-resistant – great for the shop or factory floor.
Nutback leather design stands up to demanding working environments.

Embedded with EVA cushioning pads for excellent shock absorption and more comfort.

Oil and slip-resistant rubber soles help prevent nasty workplace falls.

The meta atomical footbed cradles your feet for all-day luxurious comfort.

KEEN.DRY waterproof technology will make soggy feet a distant memory.

An exceptionally durable boot that will withstand even the harshest elements in the toughest work environments.

---
4
Wolverine is an established brand of work boots that combines elegant craftsmanship and high-quality materials into their products. The Wolverine Harrison is an exceptionally tough boot that is perfect for harsh warehouse environments and rough wear.
The boot features air mesh linings, with a removable fully cushioned footbed for improved comfort and breathability.

These boots are light – the lack of a steel safety toe keeps the weight down.  Why fatigue your feet and legs if you don't need the protection?

The boot offers customized shock absorption levels that will meet the requirements of every foot condition to reduce pain and discomfort.

Men with wide feet will LOVE these boots.

The Nylon Shank and Cement Sole construction provide superior durability and stability.

These boots are best for dry environments where the dry slip sole works outstanding.

The single-density polyurethane midsole ensures proper shock absorption and support.

---
5
The Muck Boot Chore is a comfortable and protective boot that is perfect for work environments that are susceptible to chemical spills. These acid-resistant boots are also built to be reliably tactical.
These chemical resistant work boots are comfortable, supportive, and fit for almost any work environment.

The pair boasts additional ankle supports to provide you with maximum comfort and reduce strain and stress on the feet and ankles.

An exceptional shock-absorbing mechanism of these acid-resistant bots reduce injuries and offer better support.

The outer soles provide superb traction and grip quality for any floor surface.

Embedded with a contoured sole and a disc with different settings for a boot that offers customized comfort on all requirement levels.

The EVA midsole provides additional support and comfort.

This boot is constructed of nylon uppers which prevent chemical penetration and keep your feet safe and protected inside the boot.

---
6
The Red Wing Irish Setter is a longer length rubber boot that offers outstanding protection against animal waste, heat, chemicals, and abrasion as well as other hazards.
A long boot that is manufactured from rubber and textile materials for added protection.

The Steel Shank in this boot ensures, even more, protection and structural enhancement.

An exceptional Safety Work Boot that meets all the ASTM F2892-11 EH standards.

The outer sole is manufactured from Slip, Oil, Chemical, Abrasion, and Heat resistant rubber.

For Comfort and support, there is a polyurethane cushioned footbed.

---
7
The Georgia G4432 is a chemical-resistant work boot that is ideal for farming and ranching work. It offers the optimum levels of comfort while protecting you against harsh chemicals and liquids.
Manufactured from SPR leather which undergoes a special tanning process making it stronger, chemical, and abrasion-resistant.

A supportive additional steel shank.

Fully lined with a breathable mesh lining that wicks away moisture.

Inside there is a comfort core insole for the best in support and comfort.

This work boot is 11 inches long to offer protection not only for your feet and ankles but for your legs similarly.

Completely waterproof, chemical, and abrasion-resistant.

Durable rubber outsole that ensures oil and slip resistance.

---
8
Don't we all wish for tough and protective work boots that are also comfortable enough for all-day wear? Well, that wish just may come true with the Dr. Martens Icons.
Electrical hazard safe with a protective steel toe.

Durable full-grain leather uppers that will mold to the shape of your feet.

Air-cushioned slip and oil-resistant outsoles.

Comfortable insole and improved shock absorption capabilities.

Available in men's and women's sizes.

Chemical resistant.

---
9
With the Carhartt CMF6066 you have an all in one protective, durable, and comfortable work boot, that will get you through those tough days with ease.
Flexible design for easy movement.

The EVA midsole and PU Strobel pad along with the Ortholite insole provide you with five layers of cushioning and flexibility.

It is oil, chemical, and slip-resistant, with a high traction outsole.

Electrical hazards safe, according to ASTM F2892-11 safety standards.

Six inches tall to guarantee ankle support and safety.

---
10
Full safety work boots that are ideal for working in a Chemical environment.
Leather uppers that are fire retardant and chemical resistant with a rubber slip, oil, and chemical resistant outsole.

A dual-layer metatarsal guard for protection against falling objects.

Comfortable shock absorbing and cushioning technology with a smooth interior lining.

Tough and durable construction.

---
11
A lightweight and chemical resistant workboot from Carhartt one of the top work boot brands.
Soft and flexible oil-tanned leather uppers and a durable Slip, Oil and Chemical resistant rubber outsole.

Full abrasion resistance.

A storm defender waterproof membrane to keep your feet dry.

Electrical hazard safe materials and chemical protection.

---
12
A tough and durable workboot from Wolverine with a rubber outsole that is a slip and chemical resistant, as well as waterproof upper design.
Durable slip and chemical-resistant rubber outsole.

Comfortable leather uppers that are completely waterproof.

Inside is a moisture-managing mesh lining

Tough Goodyear welt construction and a Nylon shank for stability.

Armortek guard and electrical hazard safe with a protective steel toe.

The uppers and the entire shoe are protected against harsh chemicals and liquids.

---
You are most definitely safe and protected against all hazardous chemicals and many other work-related hazards in our selection of Chemical-Resistant Work Boots. Step out in comfort and safety and perform your work tasks with confidence.
---
Work Boots that are Chemical and Abrasion Resistant
Standard Chemical Resistant Boots that feature tough nitrile rubber outsoles.
Special leather that can resist acids like caustic soda and sulphuric acid can also be used to make chemical-resistant boots.
Most chemical-resistant boots are completely waterproof to prevent any liquids from seeping in and are also heat resistant and flameproof to prevent the ignition of any flammable materials.
Advanced threading and stitching methods such as Kevlar double stitch threading are also used on chemical-resistant boots to improve heat tolerance and abrasion resistance.
Chemical resistant work boots are normally punctured resistant to help keep out any unwanted chemicals or liquids should the boot come into contact with any sharp objects.
---
Who should Wear a Chemical and Abrasion Resistant Work Boot
People who work in industrial environments who do heavy-duty work involving chemical substances, abrasives, corrosives, and any other hazardous materials should consider a work boot that has protective features specifically designed for these work circumstances and environments.
Any possible exposure to irritating or corrosive substances or wet, oily surfaces seems a good reason for Chemical and water-resistant work boots.
---
Features of a Chemical Resistant Work Boot
Durable leather or synthetic uppers that are chemical resistant and/or water and abrasion resistant.
Seam sealed durable constrcution such as Goodyear Welt.
A chemical resistant outsole that is also oil and slip resistant and can be waterproof.
A comfortable inner sole and a durable and supportive footbed.
Other Safety features such as a steel or composite toe and electrical hazard safety rated.
---
Advantages Of Wearing The Best Chemical Resistant Boots
Chemical resistant work boots are specially built to provide full protection against acid and other harmful chemicals.
These boots are also extremely durable, making them fit for use under tough work conditions.
Chemical resistant boots also provide unmatched comfort as the most sought-after pairs come with well-cushioned, energy-returning insoles.
A reliable pair of chemical-proof boots are designed to be robust and crafted using Goodyear welt construction.
The Final Takeaway
A pair of boots that can provide full protection against chemicals, abrasives, and other harmful substances is a must-have, especially when you work in tough environments. These boots add up a sense of security that you are protected at work all day.
From work shoes, down to work boots, some of today's best chemical resistant work boots come in different styles. Based on your personal preferences and needs, which pair do you think is perfect for you?