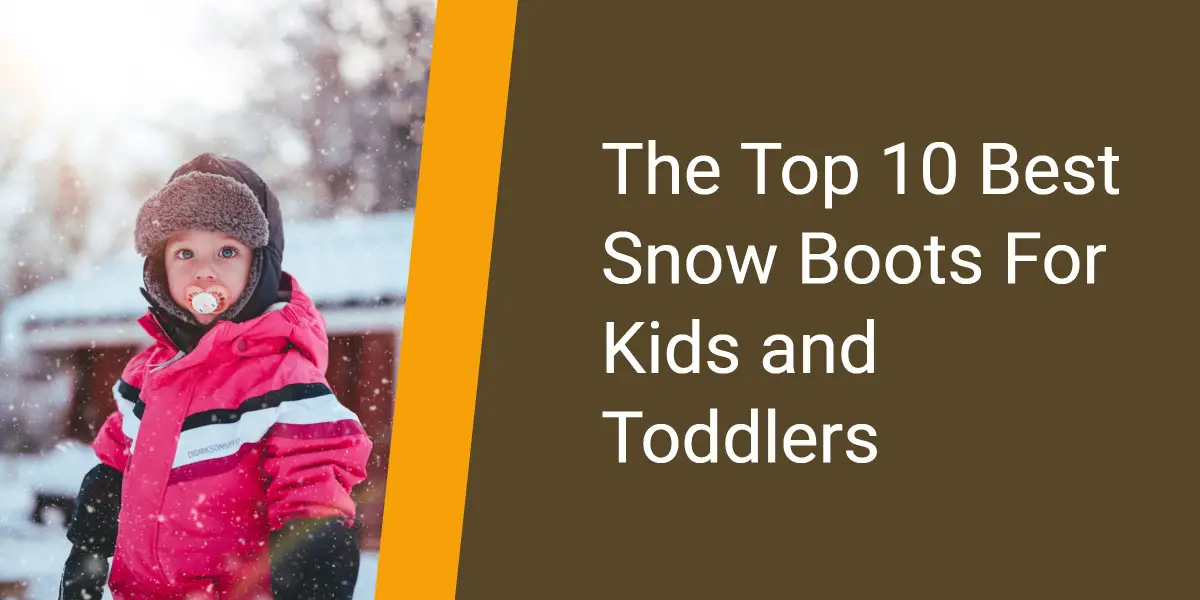 The best winter boots for kids are the boots that keep little feet comfortable, safe, warm, and dry. A completely waterproof upper and rubber sole works as a shield protecting the snow boots from getting wet inside. However, kiddos play rough, and a removable lining will quicken the drying of winter boots from internal and external moisture.
The winter season varies from one area to another; some places have warmer winters than others. For example, the features for Alaska will differ from a Californian winter. Some kids like to go outside in freezing cold weather, whereas others want to build forts or go sledding.
We researched and reviewed products compiling a shortlist to help you select the best snow boots for your little one. Our editor's choice is the North Face Alpenglow Lace snow boots because it is an affordable snow boot for boys and girls. The boots are insulated, waterproof, and come in a wide variety of colors and sizes.
We also included a pair of winter boots that double as rain and winter boots, warm boots for extreme temperatures, boots for warmer winters, and boots with rugged rubber soles for superb traction.  Your little one can stay warm and stylish this season with the range of color, design, and fun prints.
Best Winter Boots For Toddlers and Kids Compared
Reviews of the Best Kids Winter Boots in 2021
1
The North Face Alpen Glow Lace boot is the editor's choice for the best winter boots for kids. The boots feature the main factors required for kids playing in the snow. They are easy to put on and off, are constructed with waterproof uppers, is lightweight, and comes with a removable lining.
If you were looking for a pair of snow boots for toddler boys and girls or shopping for your 12-year-old, you should find the right boot size for your child. A bungee lace shaft and collar provide a secure fit to keep snow and wet out when adventuring in the snow or enjoying a snowball fight.
The lightweight TPR Shell bottom is flexible for easy and comfortable movement. It is also designed for durability. With TNF Winter Grip rubber outsoles, kids can focus on aiming and throwing snowballs instead of worrying about losing their advantage by slipping on icy, wet terrain.
A removable Thermafelt Plus liner offers warmth for all-day comfort and toasty toes. The ballistic nylon with leather overlays and sealed seams protects feet from getting wet. These waterproof winter boots are made to enjoy the snow with warm and dry feet.
Lightweight, flexible boot for easy movement.

Warm, removable lining with a temperature rated for-25F.

Cemented and sealed seams with waterproof construction keep feet dry.

TNF Winter Grip rubber outsole for safe stepping on slippery surfaces.
---
2
The Merrell Snow Bank 2.0 waterproof snow boot is made for kids who don't like wearing heavy snow boots. The slim sneaker design is fashionable and offers a lightweight snow boot for everyday use, like going to school or having fun with friends in the snow.
The 100% leather uppers come in various color combinations for boys and girls; it is also waterproof with the M-Select DRY construction. Fitted with M-Select 200g insulation and temperature rated for -25 degrees Fahrenheit, these boots keep kids' feet toasty irrespective of the snowy adventures planned for the day.
Losing your footing in a snowball-throwing contest could be disastrous for your team; the M-Select GRIP rubber soles help kids keep a steady balance during play. The non-marking traction prevents ugly heel marks on floors. The on and off lacing system won't delay the snow fun; kids can quickly jump into their snow boots with the easy toggle closure. The lacing system ensures a snug fit for secure movement and comfort.
With a 6-inch shaft measurement, the boot offers a decent boot height to keep the snow out when kids jump, run, and play. Adults with wide feet like the Merrell brand; likewise, kids will too. The boots' opening measures about 6 inches, which makes it easy to put on and off.
Temperature rated to -25 degrees Fahrenheit.

200g of M-Select Warm lightweight insulation for warmth.

Waterproof leather upper keeps feet dry.

Sneaker like design that is lightweight and comfortable for wider feet.

M-Select GRIP for super traction, flexible and non-marking

The mid-calf length keeps snow out.
---
3
The Kamik Footwear Kids Snobuster 1 Insulated Snow Boot is an all-weather winter boot; use one pair of boots for all seasons. The removable moisture-wicking lining adapts to different seasons, from building a snow fort to playing in the rain.
Constructed from synthetic rubber, these winter snow boots are waterproof to maintain dry feet in snow, mud, and rain. Thick rubber sole with multi-directional treads grips and offers excellent traction to prevent your little one from slipping and falling. The durable waterproof exterior ensures dry feet, and the 6 mm thermal guard liner keeps feet warm. Remove the liner in the Fall or rainy Spring days, using the winter snow boots as rain boots for some messy fun in mud puddles, wet grass, and wading through streams.
The moisture-wicking thermal guard and toggle seal keeps the warmth at your kid's feet. With a snow collar at the top to keep snow out and the rubber shell extending to the top, children's feet will stay warm and dry when outdoors. The Easy-Grab lace Lock adjusts the collar to fit snugly.
The Kamik boots come in sizes from 1-year old toddler to 12-year-old kids, and bright colors should appeal to boys and girls. The waterproof snow boots are made in Canada with domestic and imported materials.
Temperature rated for 25F.

Synthetic rubber all-weather winter boot is waterproof.

6mm Thermal Guard removable liner makes it conveniently a rain boot and winter boot.

Super traction with the Snobuster outsole with multi-directional treads.

Bungee laces with easy pull-tab and knobs for quick dressing.
---
4
The Sorel Children's Yoot Pac Nylon Snow Boot with its removable felt lining keeps feet warm on frosty days. If your kids like playing outside even on the coldest days, then this is the kind of winter snow boot you want them to wear.
The 9mm felt inner boot insulation with Sherpa pile snow cuff is removable to wash or dry before the kids go out to play again. Kids have a knack for getting the inside of their snow boots damp; even waterproof winter snow boots are not always immune to energetic kids. The Sorel Kids boots dry quickly by removing the insulation while kids take a snack break from making a snow angel or snowball fights.
With an 8.5-inch boot shaft height, children can safely stomp around in lots of snow. The waterproof nylon upper with seam-sealed waterproof construction protects feet from getting wet. Snow stays outside and warmth inside.
The handcrafted vulcanized rubber shell with herringbone outsole is waterproof and offers sturdy traction.
9mm Felt liner insulates feet against chilly winter conditions.

Temperature rated for -49 Fahrenheit keeps feet warm in frigid weather.

Liner is removable to wash or help the boot dry fast.

Rubber outsole for sturdy grip and traction on ice and snow.

Durable nylon uppers with seem-sealed construction.

Waterproof winter boots for young kids.
---
5
With a zipper closure design, the ArcticShield Kids Waterproof Insulated Snow Boots easily slip on and off. Fidgeting toddlers are not the easiest to dress; a lace system could be challenging when your kid does not sit still. The boot opening measures about 9 inches around to insert little feet wearing thick socks effortlessly.
The waterproof shell in bright pink or blue colors will keep boys' and girls' feet warm. All-terrain rubber outsoles protect busy feet against cold weather and wet conditions. The durable rubber soles are constructed with non-slip patches for safe footing on the ice, muddy terrain, snow, and other slippery surfaces.
Arctic Shield insulation captures body warmth and retains about 90% of the heat, creating a warm, cozy environment instead of the harsh temperatures outside. Kids can enjoy playing outdoors without the discomfort of cold and wet feet.
The sizes range from toddler sizes to big kids size 4. The pink and blue colors should appeal to boys and girls.
Zipper closure and 9mm opening for easy pulling on and off.

Waterproof shell for warmth and protection against snow and wet surfaces.

All-terrain outsoles are durable, and non-slip patches offer excellent traction.

Sizes available for boys and girls, from toddlers to teens.
---
6
If you were looking for style, comfort, and warmth at an affordable price, then the Gubarun Snow Boots for kids in a wide range of colors and design is an excellent pick. With 23 color choices and a range of sizes from toddlers to bigger kids, there should be a style and color for all the kids in the house—no mixing up of boots or accidentally wearing your sibling's boots.
Soft, plush faux fur lining gives the utmost comfort and warm feet during cold winter months. The faux fur's softness and warmth keep your little one's feet cozy and warm all day. Anti-skid rubber outsoles provide a secure grip for any outdoor activities, from making snow angels to camping or exciting snow adventures exclusive to kids and their imaginations.
Kids can dress themselves with the adjustable hook and loop strap. It is an easy-on and easy-off design; no wasting time trying to put snow boots on when the snow is beckoning. The velcro closure is durable and adjustable for a secure fit around the calf.
The synthetic upper is made from lightweight, waterproof material, ensuring dry feet in wet weather and deep snow.
The waterproof boots come in an assortment of colors.

Non-slip rubber outsoles with superior traction.

The faux fur liner gives extra warmth along with a dose of style.

The hook and loop closure with Velcro strap tighten for a comfortable fit.
---
7
The Nova Mountain Winter Snow Boots is designed to keep kids safe and visible. Your kids are always visible to you with the reflective patch on the boot's heel. You can watch your children play and know they are safe without them realizing it.
Walking is easy in these lightweight boots, making them suitable for school and playtime. With the reflective patch, vehicles will see your child in poor visibility. The bright variety of colors are easy to spot. The reflective heel patches keep even camouflage designs, white boots, and darker boots that could blend into the surroundings visible.
The synthetic and fabric waterproof upper keep wet snow out of the boot. The boot offers a snug fit with the insulated lining and gusseted tongue, ensuring warm toes in cold climates. A fur topline completes the stylish boot design and contains the warmth inside.
Synthetic outsoles come with deep lugs and a traction pad for secure grip and traction. The anti-skid design should keep kids safe on icy and wet surfaces. These kids' winter boots come in kids sizes from toddler size 6 to big kid size 4.
The range of colors, amazingly simple bungee style lace closure and non-slip sole could be your child's favorite winter boots.
Temperature rated for -25F.

Reflective heel patches ensure visibility, keeping kids safe.

Warm lining, gusseted tongue, and fur top keep feet and toes toasty.

The insulated boot has a waterproof upper protecting the inside from wet snow.

The older snow boot's textured sole provides excellent traction.
---
8
The ankle-height London Fog Cheshire Snow Boots are must-haves for children who prefer the freedom of movement this shoe-style design offers. The kids' winter boots are made to fit like a shoe and ensure dry feet in a wet, snowy winter.
A round toe construction offers comfort and ample room for wiggling toes. The round shape is also great for kids with wider feet. Soft, warm faux fur lining cushions feet in cold temperatures of -25F. These classic pair of waterproof snow boots keep feet warm on icy days.
The manmade polyurethane/Sherpa upper is waterproof; little feet can stay warm and dry without limiting the winter fun. The stylish, synthetic leather design embodies the classic appeal unique to this recognized brand. With over 90 years of experience, the London Fog brand's outdoor gear offers warmth and comfort in snowy winters and extreme cold temperatures.
The synthetic insulation keeps feet toasty warm, the waterproof design holds wetness out, and a sturdy outsole supports feet for safe stepping. The slip-resistant synthetic soles have a decent grip to avoid slipping and falling on wet surfaces.
Temperature rated for -25F.

A waterproof synthetic upper shields foot against rain, mud, and snow.

Round toe construction provides toe movement and fits wide feet.

Ankle-height for children who prefer lower-cut design.

Feet stay warm and comfortable with faux fur lining.
---
9
The Bogs Kids Classic High Waterproof Rain and Winter Snow Boot is the best choice if you want one pair of winter boots for snowy winter days and the rainy spring season. With a 100% waterproof rubber exterior and 7.5-inch shaft, your kiddos can walk through streams, play hopscotch in puddles, build a snowman, or other winter activities that require snow and playtime.
The durable, lightweight non-slip rubber sole shields a four-way stretch inner bootie that provides comfort and heat protection. The bootie is constructed with a 7 mm Subzero Neo-Tech insulation. Wear the right thickness socks, and your child is geared for rain and snow. Breathable Aegis antimicrobial insoles are anti-fungal and odor-resistant, minimizing foul odors.
With a range of kid sizes, your 1-year-old toddler to your 12-year-old tween can wear these rubber boots throughout the year. The boots come in a wide range of colors and designs, from unicorns and dinosaurs to a more classic look; children should find a pair of boots that appeal to them.
Sturdy pull handles make it easy for kids to pull on and off without adult assistance. The tall shaft protects feet from getting wet when trudging in deep snow or wading through streams. The Bogs Performance Outsoles are designed for all-purpose traction. The non-slip, non-marking soles release mud, sludge, and dirt for safe and secure movement.
The waterproof material is covered with a thin wax film to avoid weathering and increases durability. When exposed to extreme temperatures or drastic temperature swings, blooming may occur, manifesting as a thin white wax film. Don't panic – it's not a defect in these kids and toddler winter boots.
Temperature rated for -30 degrees Fahrenheit.

100 percent waterproof boots for rain and snow.

High shaft for feet dry in deep snow and streams.

The kids' winter boots are available from toddler size to tween.

Non-slip, lightweight rubber sole.
---
10
The Columbia Kids' Youth Bugaboot Plus lv Omni-Heat Snow Boot is the type of boots kids will want to wear during the winter season, especially on extremely cold days. With temperatures rated for -40 degrees Fahrenheit, feet stay warm and toes toasty in the worst winter temperatures.
The Omni-heat reflective technology is designed to retain body heat for warmth in freezing temperatures. The interior lining fabric consists of the Columbia's metallic dot pattern, which is breathable to dissipate moisture but maintains a warm environment. With the 400g insulation, children will have warm feet in freezing conditions.
The tough leather and textile uppers come with a lace-up closure the full height of the boot. The lace-up supports the child's feet, ankles, and mid-calf for a comfortable but snug fit. Their stepping is further secured with the injection molded rubber shell and deep tread outsoles. These durable snow boots are waterproof but can be a bit heavy for young legs.
Temperature rating of -40F for extreme winter weather.

Omni-reflective heat technology retains body warmth.

Lace-up closure is the full height of the boot for a snug fit.

Waterproof leather uppers and injection molded outsoles.
---
Toddler Snow Boot Buying Guide
What are the best snow boots for kids?
The best winter boots for kids are waterproof, insulated, comfortable boots they can wear all day. The boots should provide warmth inside and be waterproof on the outside. Rubber soles with superb traction will protect them against slippery surfaces.
The North Face Alpenglow lace snow boots is our editor's choice for boys and girls sizing from toddler to tweens. The boots are lightweight for easy maneuvering. With a temperature rating of -25F, kids' feet will stay warm in cold temperatures.
A wide mouth with a bungee lace closure or a Velcro strap makes it easy for kids to pull the boot on and off.
Should you buy kids snow boots a size bigger?
It is not necessary to buy kids and toddler snow boots a size bigger to accommodate the socks. Winter snow boots are designed to wear with winter socks.
Check the brand size because brands differ from regular shoe size to running smaller or larger. Brands like Merrell and London Fog also fit wide feet. If your child is a half-size, instead buy bigger than smaller. Too small will cause toe and foot discomfort, whereas too large can cause blisters.
What are the best snow boots for toddlers?
The best toddler snow boot should be insulated with a soft lining that offers warmth and has comfort in mind.
A moisture-wicking lining will keep feet dry from sweat and any wetness that enters the boot. Water-resistant material won't provide adequate protection; you need a waterproof construction to keep moisture out.
The boot should have excellent traction for safe treading. A toddler snow boot should be lightweight and flexible for movement. If the boot is too stiff, the child can't bend their feet.
How do I know my toddler's shoe size?
You can measure your toddler's feet to find out their shoe size. Feet vary in size, so choose the child's larger foot for shoe size measurements.
     Your toddlers should stand with feet flat and toes extended. Make sure they are not curling their toes.
     With a ruler, measure the foot from the big toe to the heel.
     If you want to include a growth spurt, add a ¼ inch.
When fitting the boots, use your thumb to make sure the big toe is not against the shoe's end. There should be a ½ inch room between the toes and the boot-end.
Which pair of snow boots do you favor for your kids? Leave a comment and tells us why those boots are the best boots for your kids.