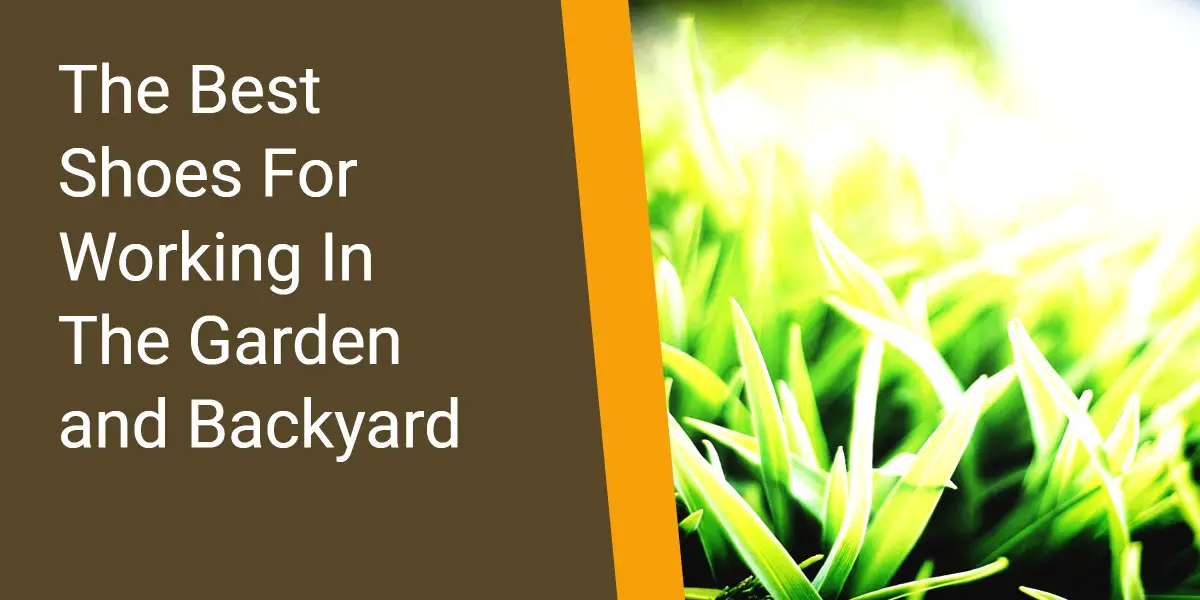 Wearing the right shoes while working in your yard is just as important as using the proper garden equipment. Cutting grass, trimming hedges, and getting rid of weeds require different equipment choices. Likewise, you need different specific features in the work boots or shoes you wear when cutting the grass, working in the yard, or doing landscaping chores.
We created a list of the best gardening shoes, grass cutting shoes, and boots for landscaping, to help you select the best pair for your needs. Our editor's choice is the KujoYardwear Lightweight Breathable Yard Work shoe because it is excellent in nearly all yard work scenarios. They are designed for cutting grass and other outdoor chores; it protects your feet against getting wet by wicking moistures away from your skin, and are very comfortable to wear.
The list also contains footwear with protective steel toes for landscapers and challenging yard work; memory foam and other cushioning material for those looking for more comfort; heel and arch support for stability; and waterproof boots for working in the rain or mud. Some are gender-specific, but men and women alike can comfortably wear most of our top choices.
Best Gardening Shoes Compared
Best Lawn Mowing Shoes Reviewed
1
The KujoYardwear Lightweight Breathable Yard Work shoe is the editor's choice because it is lightweight, water-resistant, slip-resistant, and a comfortable shoe built like a work boot fits like a shoe. Whether you are cutting grass, weeding the flower bed, or socializing in your backyard, these shoes are specifically designed for outdoor work.
It is one of the best shoes to keep feet dry while cutting the grass. Wet grass and clippings should no longer be a menace inside the shoes with the waterproof toe cap and water-resistant mesh. The SPU toe material is durable but not clunky or heavy like steel toe work boots.
The upper's breathable mesh material with transparent sonic welding offers water-resistant and breathable features. With the antimicrobial wicking inner lining, these garden shoes avoid the build-up of moisture inside from sweaty feet and prevent wet feet when walking through wet grass. The gusseted tongue further ensures debris stays outside the shoe. The durable rubber outsole features strategically placed grip pods and lugs for secure and safe stepping.
Aero strength anti-fatigue technology offers support and stability, optimizing foot comfort. Yard and landscaping work could take hours; sometimes, a gardener may spend the whole day in the yard. These shoes are designed to keep feet comfortable. The cushioned ethylene-vinyl acetated molded midsole minimizes foot fatigue. The True Shape construction is contoured for natural alignment, and with asymmetric toe boxes, the shoes offer a proper fit for comfort.
If you prefer a lightweight pair of shoes when doing yard work, then the Kujo Yard Shoe is an excellent pick for gardeners, landscapers, and people who enjoy their yard.
The SPU toe material is durable, and the waterproof feature keeps feet dry.

Rubber lugs in a flex groove system offer a sure grip and a slip-resistant outsole.

The breathable antimicrobial mesh keeps feet cool and reduces terrible odors caused by sweating feet.

Yard shoe is designed for comfort to prevent foot fatigue when working in the yard for hours.
---
2
The Skechers Men's Afterburn Memory-Foam Lace-Up Sneaker is like wearing your favorite tennis shoes or sneakers while cutting grass. These trendy shoes fit men, women, and kids—you can be fashionable, have style, and be comfortable working around in the yard.
Skechers is a global leader in lifestyle footwear, and these shoes are designed for walking and trails. It is the type of shoe you would want to wear when cutting grass, providing support and comfort to your feet while walking up and down using your best lawn mower for your yard.
The sporty athletic design features a smooth letter upper, mesh fabric front and side panels, a lace-up front with metal top eyelets, and stitching and overlay accents. With a variety of colors, men and women should find the shoe color of their choice. The shoes are not just designed with style but are functional too.
The 100% leather and lightly textured synthetic overlays make the shoes durable. With reinforced overlays at the toe and heel, your toes and ankles are protected. Perforated mesh side and front panels ensure a cooling effect that prevents feet from overheating. The 1.5-inch built-in heel gives stability to the wearer and protects the soles from wearing out.
Designed for walking, you may be tired after an entire day working in the yard, but your feet endured with the cushioned comfort. The flexible memory foam insole features Articu-Lyte shock absorption protecting feet against absorbing the shock when walking and jumping. Soft fabric lining and the padded collar and tongue also contribute. The flexible rubber high traction sole keeps feet secure while cutting grass or stepping on mud or wet surfaces.
Trendy athletic sporty training sneakers designed for comfortable walking

Durable leather upper with synthetic overlays and extra heel and toe protection

Perforated air mesh front and side panels for cooling feet

Articu-Lyte shock absorbing feature and memory foam insole offers extreme comfort.
---
3
The Merrell Men's Moab 2 Ventilator Hiking shoe is one of the most durable pair of work boots for cutting grass and working in your yard. Hikers across the globe challenge trails with these comfortable and sturdy hiking shoes. Worn by about 20 million people since their launch, these landscaping boots are one of the best boots for challenging jobs like edging, trimming, and weeding the lawn and flower beds.
Features designed for comfortable and safe hiking are the same kind of features gardeners and landscapers need when cutting grass and working in the yard. The Vibram TC5+ rubber sole, 5 mm lug depth, and protective rubber soft toe cap provide excellent traction, helping the landscaper or gardener stay in control with steady footing. Nobody wants to slip on wet grass while pushing a lawnmower or operating an edge trimmer.
The Merrell air cushion in the landscaping boots' heels absorbs shock and gives extra stability. The work boots feature added zonal heel and arch support for added comfort, with an M Select FIT.ECO+ blended EVA contoured footbed, gardeners' feet should experience excellent comfort and support.
A Bellows, closed-cell foam tongue keeps debris and moisture out. The suede leather and mesh upper material ensures long-lasting wear and airflow feet need when working hard.
Vibram TC5+ rubber outsole with 5 mm lugs features excellent traction and steady footing when cutting grass.

Heel and arch support, the EVA insole, and shock absorption feature the work shoes offer added comfort and feet support.

Suede leather and mesh material uppers give the landscape boots durability and endurance.
---
4
The New Balance Women's FuelCore Nergize V1 Sneaker is designed to provide the utmost ease for women with active lifestyles. Stay comfortable, with style, while working in the garden. Slip them on, tighten the laces for a better fit, and you are ready to spend time in the garden planting flower beds, cutting grass, or doing neglected yard chores.
If you want a shoe for yard chores that will do the job without the cumbersome weight of a work boot, the New Balance sneaker is one of the best yard working shoes for women. It is a lightweight shoe with a cushioned insole and a thick rubber sole for grip.
Aesthetically pleasing and over 30 color combinations, women can select the color option they prefer. The beautiful colors and affordable price range may even tempt you to own a pair of shoes for walking, recreational socializing, and of course, a couple of grass cutting shoes. The eye-catching synthetic and mesh uppers are so lightweight that you may forget you are wearing them. Once you have experienced the comfort, you may even be more tempted to own a few pairs.
The REVlite midsole cushioning and memory sole insert offers luxurious comfort keeping feet relaxed all day long. The insole also helps support the feet, and the REVlite foam cushions feet during movement. A V-dip collar supports the ankles, and the perforated mesh allows for breathability combatting sweaty feet.
Although the shoes have laces, it is designed for slip-on ease. The laces and elastic band ensure a tight fit, keeping feet in place, avoiding friction and blisters forming caused by feet moving inside the shoe.
REVlite midsole and memory sole insert offer plush comfort when walking or standing all day.

The eye-catching, sleek sneaker design comes in over 30 color combinations.

A lightweight shoe, the bootie features support for active women landscapers and gardeners.
---
5
With the protective steel toe, Skechers For Work 7705 Cankton Athletic Steel Toe shoes, protect your toes and feet from sharp objects while cutting grass. The steel toe is the protective barrier that safeguards your toes so that you can focus on cutting grass in a straight line instead of watching where you step.
The Relaxed Fit sneaker design offers a roomy, comfortable fit avoiding toe pinching; your toes have space to flex freely. With memory foam distributed throughout the full length of the insole, feet are cushioned completely. The midsole's shock absorbent material protects feet by absorbing the shock when hitting the ground for added comfort.
A heavy-duty traction rubber sole with patterned lugs offers the grip and traction for secure footing on slippery and uneven surfaces. Sometimes lawn maintenance or working in your workshop could require additional safety protection. Should you accidentally step on electric wires, the shoes are electric hazard safe, and safety toe protection rated ASTM F2412-2011 1/75 C/75.
High-quality abrasion textured leather forms the upper with action nubuck overlays. The casual look is enhanced with the sporty lace-up feature, and stitching accents hides the heavy-duty protection offered by the steel toe. Skechers, an award-winning leader in the footwear industry, developed these work shoes with durable leather material and trendy designs.
Steel toe shoes protect toes when bumping against sharp objects.

The relaxed fit design, memory foam insoles, and shock absorbent features offer a comfortable fit.

Rubber soles with patterned lugs provide grip and traction when cutting grass.

The shoes are EH safe, and safety toe rated ASTM F2312-2011 1/75 C/75
---
Top Gardening & Best Shoes For Yard Work
6
The Sylphid Men's Garden Shoes doubles as a rain boot, convenient when surprised by unexpected summer rain while cutting grass. If you tend to work on mud or wet surfaces, then these waterproof work boots should come in handy.
These work boots are made from quality natural rubber, which is so soft it won't crack when stretched. The vulcanized rubber upper further improves the natural thermal insulation and water-resistance features of the shoes. Thermal insulation should keep feet warm on chilly mornings, and the waterproof boot ensures dry feet in the rain and when stepping in puddles.
A combination of patterned stripes and a durable rubber sole strengthens the antiskid design offering a secure grip when walking on slippery, wet, or oily garage floors.
The slip-on feature makes the shoes easy to wear, and to be lightweight means no extra foot weight, but light, comfortable walking experiences.
A durable shoe made from high-quality rubber.

The waterproof features make it the perfect rain boot or working in mud.

The slip-on feature allows for convenient wearing.

An antiskid design gives extra traction and grip on slippery and oily surfaces.
---
7
The Tengta Unisex Waterproof Garden Shoes are trendy, fashionable garden shoes that protect wearers from rain and mud. Whether you are watering the garden, cutting grass, camping, walking the dog, or washing your car, these garden shoes keep your feet dry.
Unlike high work boots, these garden shoes' low top design is more comfortable to wearers who don't like shoes that fit high up the ankle. Vulcanized natural rubber uppers feature waterproofing and thermal insulation to keep feet warm and dry. It is also easy to keep clean from mud and debris.
With the neoprene shoe mouth, it is effortless to put the shoes on and off; the material's elasticity stretches and jumps back for a snug fit. The removable insole keeps feet warm and dry but can be replaced with a customized insole if preferred.
The high-quality rubber does not crack when stretched, and its wavy pattern makes the shoe slip-resistant.  If you want to stay dry but do not like wearing work boots or rain boots, then these waterproof slip-on is an excellent alternative.
The flexible rubber upper is waterproof and won't crack when stretched.

Convenient slipping on and off with the neoprene mouth.

Stylish design for wearing on walks, gardening, or other outdoor chores.

Self-cleaning exterior and anti-slip rubber sole.
---
8
If you were looking for garden clogs, the Crocs Unisex-Adult On The Click Work Shoe is the deluxe version of the classic clogs. The garden clogs are designed for hard workers; these built-in features for nurses, baristas, chefs are exactly what hardworking gardeners and landscapers appreciate.
Cutting grass and other landscaping chores places gardeners and landscapers, like healthcare professionals, restaurant servers, and industry workers, in situations where the risk of falling should be avoided. The Crocs Lock slip-resistant treads help reduce the risk of slipping or falling.
Working long shifts or spending hours and weekends in the gardens are tiring for feet. The Croslite foam soles and deeply cushioned footbeds give the Dual Crocs Comfort that fights foot fatigue by providing excellent comfort. The garden clogs fit secure with room for moving the toes.
Unlike classic clogs, these garden clogs come with enclosed heels and toes for additional protection. The enclosed synthetic uppers should avoid moisture seeping into the shoe dry when in contact with water, wet surfaces, or accidental spills.
The molded garden clogs are easy to clean with soap and water; it dries fast.
Enclosed toe and heel protect feet against dew and moisture.

Crocs Lock slip-resistant treads avoid skidding and slipping on wet surfaces.

Dual Crocs Comfort provides extreme comfort during long hours of yard work.

Conveniently slips on and cleans easily with soap and water.
---
Best Shoes For Landscaping/Mowing/Gardening FAQ:
Lawn Mowing Shoes:
What makes a good pair of grass cutting shoes?
Breathable. Cutting grass in hot weather means you sweat, including your feet. A pair of shoes with breathable mesh provides continuous airflow that keeps the inside of your footwear cool. Some footwear has wicking linings. Ideally, the footwear should offer breathability to keep feet inside dry and be water-resistant or waterproof to keep moisture out, like the KujoYardwear shoe.
Ideally waterproof. Cutting grass and working in the yard means your feet can get wet from rain, damp grass, or mud. In cold weather, wet feet mean cold feet too. A rubber outsole should keep moisture out, but water seeps through the uppers. Make sure the uppers are made from durable leather or synthetic material that is at least water-resistant. If you are spending lots of time in the rain, you should opt for a pair of waterproof footwear.
Good traction. Durable rubber outsoles with patterned lugs give the grip and stability you need when cutting grass. Some work boots have non-marking rubber soles that are dirt and oil resistant.
Foot protection. Cutting grass with a closed toe and heel protects against flying projectiles and sharp objects. A composite toe or soft toe protection should be sufficient. However, steel toe work boots provide all the protection you need, but for some, cutting grass with a steel toe is heavy and tiring on the ankles. Footwear like the Skechers Men's Afterburn Memory-Foam Lace-ups has overlays at the heels and a soft toe for added protection.
Yard Work Shoes:
What are the best shoes for yard work?
Working in the yard can become messy. The best shoes would be a pair of waterproof or water-resistant footwear that is comfortable to wear. You do not want to maintain your yard at the expense of your feet. Crocs, Tengta, and the Sylphid garden shoes are designed for comfort and protection, which is ideal when working in the yard.
Landscaping Shoes:
What are the best shoes for landscaping?
Landscaper boots are more durable and robust than cutting grass shoes. Landscaping functions are more extensive; landscapers work all seasons and in various terrains and places. They need work boots that protect them from mud, water, slippery surfaces, projectiles, sharp objects, and sometimes against electric hazards.
What should I wear for landscaping?
The Skechers For Work Cankton work boots with their steel toe protection and the KujoYardwear shoes are landscaping footwear that offers excellent traction, breathability, and safety.
Are Timberland shoes suitable for landscaping?
Yes, even if the Timberland work boots aren't made explicitly for landscaping, they are comfortable to wear. The Timberland Pro Pit Boss work boots are an excellent example; they come with a steel toe or a soft toe.
At the end of the day, you want your feet to be comfortable and protected so you can focus on cutting the grass and working in the yard. What is the most important feature you look at when buying grass cutting footwear? Which pair of garden shoes do you prefer when cutting grass, working in your yard work or landscaping?