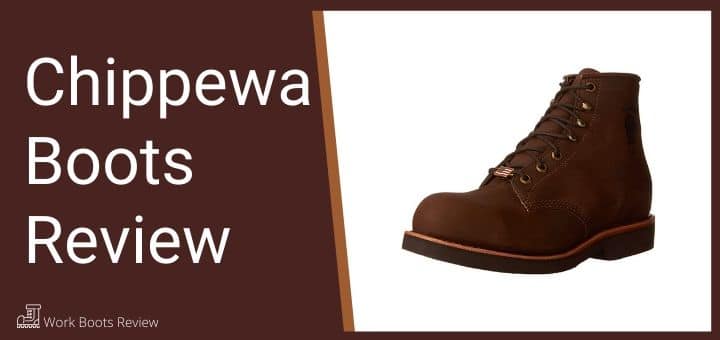 Chippewa offers a range of boots and shoes that are a blend of modern durability with fine craftsmanship and the finest quality materials.
Chippewa is well known for its outdoor and work boots. Their collection is a timeless range of vintage-inspired footwear reflecting their heritage and craftsmanship.
---
A Bit of History Behind Chippewa
Chippewa started out as a small shoe factory on River Street in downtown Chippewa Falls, Wisconsin early in 1901.
Today, Chippewa continues its tradition in supplying only the finest quality rugged boots for every purpose.
Every pair of Chippewa boots are designed to reflect only the highest standards and be the most reliable and authentic heritage of rich luxury boots.
Still today Chippewa has not compromised on the quality and authenticity of their boots even now that they are manufactured on a larger scale.
---
Some features Unique to Chippewa
Metguard with Poron XRD – Metguard is basically a thermal plastic urethane shield that is manufactured using Poron XRD technology. The Metguard overlays the steel box toe running to the top of the instep to create even more protection for your metatarsals.

Ortholite Technology – An Ortholite insert made from open-cell polyurethane foam is inserted into the shoe and is removable to be washed or replaced. The Ortholite insert is lightweight, flexible and breathable and will not flatten over time. It has anti-bacterial characteristics that keep your feet fresh and well protected.

Guard Toe – Chippewa has been producing Steel Toe boots for over 85 years and their GardToe steel safety toe has been designed specifically to protect you against the most common accidents.

Vintage Vibram – Chippewa was one of the first shoe manufacturing companies to introduce a U.S made mountaineering boots with the Italian made original Vibram Soles. Today Chippewa have collaborated to re-issue their cobranded Vibram Soles paying the same attention to the excellent grip, durability and traction capabilities that they offered from the start.

Chippewa XOG – Chippewa XOG (Extreme Oil and Gas) boots have been designed to provide that extra bit of protection in a harsh work environment. These boots have a shock absorbing outsole with ladder grip and a puncture resisting insole for protection against sharp objects. The Achilles heel pad provides comfort and support and the reflective trim enhances visibility. The XOG boots have a more lightweight composite safety toe for a more comfortable all day wear.

Horween Leather – The Horween leather company has been supplying Chippewa with some of the best leather in the world for over a century. Horween leathers are made by hand following the traditional techniques and formulas of old world tannages still today.

CSA Sole Puncture Protection – The Soles on a Chippewa boot are extra thick and can withstand impacts up to 125 joules, a force of 270lbs and can resist cracking even after 1.5 million flexes.

Thinsulate Ultra Insulation – Thinsulate Ultra insulation is much thicker and loftier than the usual Thinsulate insulation to provide you with the ultimate warmth and comfort while still allowing freedom of movement. The mid-loft insulation is designed to withstand the harshest conditions on earth and will retain insulating value even in damp conditions.

Dri-Lex – A DriLex moisture managing system is used that manages moisture, dries quickly and is completely breathable

Chip-A-Tex – The Chip-a-Tex waterproof membrane system is breathable and locks water out of the boot.

Dual Guard – A solid steel plate is placed in between the insole and the outsole protecting your feet from punctures. The Steel Safety Toe cap also exceeds the ASTM F2413-11 standards for impact and compression.

CSA Electrical resistance – The soles on Chippewa boots resist electrical shock from any environment where there may be accidental exposures and can withstand up to 18 000 volts.

Steel Toe – The Steel safety toe meets and exceeds the ASTM F2413-11 standards for compression and impact to keep your feet protected at all times.

Composition Safety Toe – The composition safety toe is lighter than a steel toe and will not transfer heat or cold. It is also non-electrical conductive and does not have magnetic charge properties.

Waterproof – The seam-sealed construction keeps your feet dry and comfortable, free from wetness.

Vibram Outsole – Vibram is the leader in high-performance rubber soles and has always been famous for its quality, performance, innovation and unique design.

---
Reviews: The Best Chippewa Work Boots
Here are a few of the best choices in Chippewa Work Boots that are available today;
---
---
---
---
---
---
---
---
Since 1901 the heritage and philosophy of Chippewa remain the same, and they use only the finest quality materials and craftsmanship to build their brand.
You will not regret choosing a Chippewa boot as your reliable and protective work or everyday wear boot.
---
Index Table: Chippewa Boots Overview