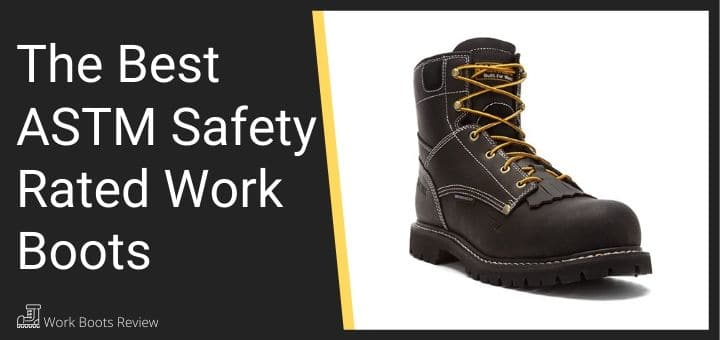 Depending on where you work and what your work involves, some companies such as industrial and engineering companies required by law and company policy that you wear proper safety protective gear.
---
What Does ASTM Rated Mean?
ASTM rating refers to the standard requirements of a specific safety whoc or boot, ASTM F2413-11 being the norm, denoting to the safety toe cap.
This rating describes the minimum design, performance, classification, and testing requirements and gives direction as to the fit, function and performance criteria for footwear that protects against work hazards.
Any footwear that conforms to these specifications must meet the specific performance requirements when it comes to, impact resistance on the toe area, compression resistance, metatarsal protection, conductive features, electrical hazard protection, static dissipation, chainsaw cut resistance as well as dielectric insulation.
---
ASTM Rating Markings and Their Meanings
Here are a few of the ASTM rating markings that you will find on safety Work Boots, and their meanings;
ASTM F2413-11 – This means that the protective footwear must meet all the performance requirements stipulated in the rating issued in 2011.

M I/75 C/75 – this rating identifies which gender the footwear is implied for. Similarly, it identifies the impact resistance, a rating which may be 75, 50 or 30 pounds of compression resistance, or compression resistance correlating to 2500, 1750 or 1000 pounds of compression.

PR Mt75 – Footwear that offers protection against specific hazards such as; (Cd) Conductive, (EH) Electrical hazard, (SD)Static dissipating, (PR) Puncture resistant and (Mt), the metatarsal rating, which is 75 pounds in this case.

(Cd) Conductive footwear protects against hazards from static electricity buildup, and reduces the likelihood of igniting explosives, and volatile chemicals.

(EH) footwear are non-conductive, and have electrical shock resistant soles, heels and other materials.

(SD), static dissipative footwear provides protection against hazards related to very low footwear resistance, in order to preserve a high level of resistance counter to electrical shock.

(PR) footwear are puncture-resistant, protecting your against injuries from sharp objects, by means of a puncture-resistant plate between the in and outsole of your work boot.

(Mt) metatarsal protection adds extra protection to the top part of the foot which may be exposed to falling objects.

---
Why is Safety Footwear Important
Well to put it in short, your PPE (Personal Protective Equipment), including safety footwear is there to protect you against injuries and life-threatening hazards in the workplace. So, basically to save your life, in the worst event.
Not only is safety footwear company policy in most work environments, but it is also required by law. You as an employee, and likewise your employer can get into serious altercations with the law if you do not abide by safety standards.
On the contrary, not only can safety gear protect you, but similarly your co-workers, so if you look at the worst case scenario, negligence to wear you PPE can result into death or injury of a co-worker, or severe damage to property.
So for your own safety and that of your peers, wear the appropriate safety footwear, as this can save your life, and prevent an enormous amount of pain and disaster!
---
The Best Available ASTM Rated Safety Work Boots
1
The Carolina CA7530 is designed for comfort and superior protection against all work-related hazards.
Reliable and high-quality waterproof Carolina work boots, that will provide you with support and comfort for many years to come.
Soft and durable leather uppers.

A slip-resistant leather outsole.

Composite safety toe cap for ASTM rated protection.

Scubaliner technology waterproofing.

A removable polyurethane AG7 footbed for advanced comfort.

Electrical hazard protection.

Heavy duty work boots that will last.

---
2
One of the top rated work boots when it comes to meeting safety standards. The Thorogood Quick release work boot meets ASTM, CAN/CSA and OSHA standards and requirements for safety, ensuring you are protected against almost every work-related hazard possible.
Soft and durable, high-quality leather upper construction.

A non metallic flexible puncture resistant insole.

ASTM F2413-11 rated composite safety toe.

Electrical hazard rated safety.

Meets all OHSA title 8 requirements for safety toe and puncture resistance.

A quick release system with elastic gore pulls straps.

---
3
The Merlin from Wolverine is light as a feather, while still ensuring ample protection and lasting durability.
Waterproof, with a composite toe that is ASTM rated, with lightweight construction, and a comfortable footbed.
Fine quality leather construction.

A durable and high traction rubber outsole that also offer electrical hazard protection.

A full cushioned removable insole for additional comfort and support.

The mesh lining maintains moisture.

Cemented Wolverine sole construction.

Non-metallic, so it is security friendly.

Durashock technology.

Supportive Nylon Shank.

---
4
What list is complete without the Timberland Pro?
Here we are featuring the Titan, which is a lightweight and durable work boot with an alloy safety toe, a power comfort fit, and breathable interior.
Minimize break-in time with the premium soft full grain leather uppers.

An alloy safety toe for lightweight protection.

The antimicrobial mesh inner lining keeps your feet dry and germ-free.

Flexible cement construction for comfortable durability.

A powerful comfort system is ensuring critical support and comfort.

The rubber outsole is oil, slip and abrasion resistant.

---
5
We do not always see Dr. Martens as a Work Boot, but rather a rocker style fashion boot. Although, few know how tough and durable they are, with a reputation of being indestructible. Today dr. Martens have their place as a rated and standard safety work boot.
Full Grain oiled leather uppers.

Padded ankle support.

Reinforced pull loops made from leather.

A removable comfortable EVA insole.

The heavy duty and slip-resistant outsole is air-cushioned and manufactured from high-quality PVC.

---
In Conclusion
To find out what your work boots safety ratings are, you can just check the label inside the boot.
ASTM F2413-11 is you a standard rating for most safety work boots, offering a safety toe-cap.
Make sure to check your company policy for what is required, as well as regarding the hazards in your work environment. This will give you a clear idea as to the features your work boot should have to offer you the best protection.
---
Index Table: The Best ASTM Rated Safety Work Boots