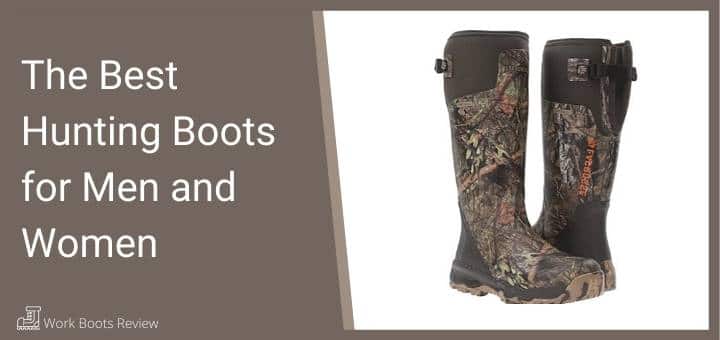 Are you looking for the best hunting boots?
Hunting can be a very demanding recreational activity.
It doesn't only require accuracy, but a lot of patience as well. Additionally, a good hunting session calls for the right set of gears.
Generally, you are not fully-equipped without a reliable pair of boots for hunting.
And practically speaking, a good pair is designed to take you to the right places with ease.
With that being said, we're narrowing down some of today's best hunting boots.
Advantages of Wearing Good Hunting Boots
Hunting is a demanding sport. Its usual settings often take place in tough environments, and for that reason, a pair of good hunters boots is an advantage.
Essentially, wearing good hunting boots come with the following pros:
Durable and sturdy, making them fit for use in tough hunting environments

Offers excellent protection and coverage, ensuring that the feet are safe from any hunting hazards

Breathable and flexible, allowing you to move freely and comfortably

Comfortable and energy-saving, doesn't tire the feet easily

Provides full support and stability, ensuring that you stay on your feet throughout your hunt

Features of Reliable Hunting Boots
With today's wide selection of boots, finding a reliable pair can be tricky. Additionally, the best hunters boots don't come in a single, generic product that is fit for all.
However, a reliable pair will often come with the following features:
Durable yet lightweight, able to withstand tough conditions without the added weight

Waterproof, ensuring that the feet stay dry and comfortable even on wet environments

Breathable, allowing good air circulation especially on warm hunting days

Antimicrobial/bacterial technology which keeps unnecessary odor build-up at bay

Insulated, making them suitable for winter hunting season

Reviews: The Top Hunting Boots For Men
For the man who loves to hunt, having the best hunting boots is a must. So whether you're new to the sport, or have been hunting for many years, we've gathered up some of the most reliable pairs in the market you may want to check out today.
---
---
---
---
---
---
---
---
Reviews: The Best Women's Hunting Boots
For the lady who likes to hunt, a reliable pair of hunting boots is as crucial as having the right set of gears. That said, we have gathered up some of the best hunting boots for women available in today's market.
---
---
---
---
---
---
Comparison Table: The Top Hunting Boots For Men
Comparison Table: The Best Women's Hunting Boots
Which Pair Of Hunting Boots Is For You?
When it comes to finding the best hunting boots, there isn't exactly a one-product-fits-all. As hunting is an activity that changes its demands from season-to-season, these changing demands also call for different footwear.
That said, the perfect pair depends on both your needs and personal preferences. Some may opt for rubber ones, while others may go the timeless leather route.
Do you like to hunt during the summer, during the winter, or both? If so, which pair do you think meets your hunting needs the most?