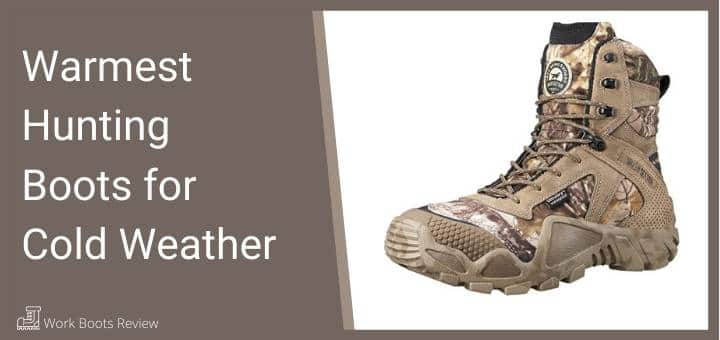 ---
---
Hunting as a Sport or Hobby
Hunting, especially as a sport, has developed a very bad reputation, for some people hunting implies killing animals for fun and disrespecting them.
Today, however hunting as a sport or hobby is done within the boundaries of certain rules and regulations, and most hunters have respect for nature.
Hunting can be done to obtain a trophy and the meat is prepared and used by the hunters many times, or it is sold.
Hunting as an Occupation
There are also hunters who hunt as an occupation. Some hunters hunt certain animals for displays in museums, another hunt for meat and byproducts to be sold to certain clients.
There are hunters that are involved in the culling of certain herds of animals that have become too large. Some hunters are involved with wildlife management they help to relocate animals and to do research on animals in order to manage the disease and prevent the extinction of certain breeds.
Choosing a Warm Hunting Boots
Insulation
Insulation is the most important characteristic of a Hunting Boot for cold weather conditions that affect how warm the boot will be. How you will be using the Hunting boot and how low the temperatures are in the environment that you are going to be hunting will determine the level and type of insulation that you will require.
Your body makeup and foot condition will also affect the level of insulation; some people have feet that tend to be warm in general while others have feet that that get cold easily.
Thinsulate is one of the best choices in insulation materials because it provides the ideal warmth without excessive weight and bulk. Thinsulate insulation is measured in grams that do not refer to the weight of the material but rather the form of grams per square meter of the fabric.
Insulation functionality can be broken down into three levels;
Uninsulated up to 200grams for early season and high activity levels.
Insulated between 400 and 800 grams the most popular category covering fall hunting situations.
Insulated at 1000 grams and more for much colder winter conditions and more sedentary activities.
Waterproofing
Any good Hunting Boot, particularly for cold weather, should also be waterproof as snow and water can cause frostbite as well as infection if your feet should get wet.
During a hunting trip, you will be walking through wet grass, puddles mud and in extreme weather conditions, even snow and wet feet on a cold day can be very uncomfortable.
The most common form of waterproofing in a Hunting Boot is a waterproof membrane that is sewn into the lining on the inside of the boot and the outer shell.
Gore-Tex is the most popular premium waterproof and breathable membrane that is used to construct a waterproof boot in the footwear industry. Gore-Tex does not just keep water out from the outside but is also breathable keeping moisture out from the inside and your feet well ventilated and dry.
---
Warmest Rubber Hunting Boots Designs and Styles
There are many different styles of Hunting boot available on the market with different functions and characteristics.
Hunting boots are divided into three basic categories;
Upland Boots
Upland boots are lightweight, comfortable and have a soil shedding lightweight lug sole. This type of boot is suitable for moderate terrain for Hunters and Bird Watchers that put on quite a few miles and needless weight and protection. These boots can be either insulated or uninsulated for warmer weather conditions.
Multipurpose Hunting Boots
A Multipurpose Hunting Boot is a boot that will cover most hunting activities and is ideal for both big-game and upland hunting. This Hunting Boot is durable, long-lasting and provides great traction on many different surfaces.
Multipurpose hunting boots have different levels of insulation and different features to choose from; they are also made for the more tough terrain.
High Country Boots
The High Country Hunting Boot is meant for going after the big game such as Elk or Deer that are found in rugged and steep terrain that requires extra support, durability and slips resistance from footwear.
This category of boots is made for the harshest environments and the most demanding and high elevation hunts and tough situations. They provide extreme durability and the best support for your feet and ankles along with insulation options and waterproofing.
Hiking Boots
Some models of Hiking Boots also make excellent Hunting Boots. Hiking boots are shorter and lighter in weight, and they can improve your mobility and strength in the field while still providing similar levels of protection and durability.
Our discussion has revolved around hunting boots, but Cabela's has an excellent selection of boots in their hiking selection that serve well for hunting. These hiking boots are especially good for early season archery hunts, such as bugling elk.
These shorter, lighter boots may help you succeed in the field by improving your mobility, as well as your strength to stay in the hunt.
Overboots
An Overboot is a boot insulator for sedentary hunting designed to provide insulation in extreme cold weather conditions.
Rubber Hunting Boots
For hunting in muddy, wet or sloppy conditions such as marshes, creeks, and swamps, a rubber hunting boot is your best option. Rubber Hunting Boots are scent-free, 100% waterproof and can also be insulated along with many other features making them perfect for wet and cold conditions.
Any Hunting Boot that falls into the "good" category will fit comfortably, provide good ankles support, along with enhanced traction, insulation, and waterproofing.
Related Content: Best Slip Resistant Work Boots, slips can cause many serious injuries!
---
Features of the Best Cold Weather Hunting Boots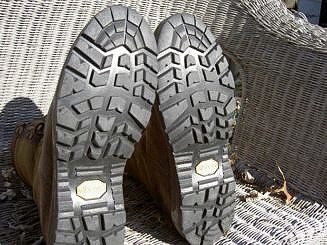 Hunting requires you to spend quite a bit of time in nature and rough terrain, almost the same as hiking. So if you are going to be out there trekking and hunting you need to be prepared for a lot of walking and climbing on rough and uneven surfaces, sometimes in snow and very cold weather.
Therefore you will need a durable and sturdy pair of boots that can hold up and still remain comfortable.
A few important features of a good pair of hunting boots are;
Insulation, for a full day in the cold or snow you will need a hunting boot that is well insulated to keep your feet dry and protected.
Waterproofing, because you are going to be walking through wet marshes, ponds and creeks and even snow in some cases. So to avoid infection and frostbite, it is a good idea to have hunting boots that are entirely waterproof.
The outsole of the boot is very important as it must provide excellent grip and traction on uneven, wet and slippery surfaces as well as be durable and leave a minimal scent behind.
Good cushioning, for comfort and support when you are on your feet for many hours and cannot afford the distraction of sore feet.
A lightweight camouflaged or brown material for the uppers works the best although good quality leather is more durable and has its advantages too.
Breathability, for keeping your feet dry and free from sweat and odor that can accumulate because of the constant activity for long periods of time.
Reviews: Men's Warmest Hunting Boot
Here are some of the top choices of warm hunting boots that are very popular and reliable;
---
---
---
---
---
---
---
---
---
---
---
Reviews: Women's Warmest Hunting Boots
Not to forget about the ladies, here are some superb choices in Hunting boots for cold weather, designed ideally for women;
---
---
---
---
---
Do not let an ill-fitting inappropriate pair of hunting boots spoil what could have been a great hunting experience.
A pair of the warmest hunting boots that keep your feet dry and protected with the durability to last for quite a few more such trips are worth the effort and money spent.
Those as mentioned above are the best cold weather hunting boots are all made for freezing conditions and will keep your feet dry, comfortable and protected against all the hazards and elements involved in trekking and hunting.
---
Index Table: Men's Warmest Hunting Boots
Index Table: Women's Warmest Hunting Boots
Final Factors to Consider When Buying The Best Cold Weather Hunting Boots
In finding the warmest most comfortable hunting boots, there a few things that are worth considering. Below are some of them.
Boot Type: Field or Rubber
There are generally two types of cold weather hunting boots: the field-type and the rubber-type.
Field-type cold weather hunting boots are the best pick if you're looking for boots that will let you move around comfortably. They are generally less restrictive compared to their rubber counterpart. 
However, field-type cold weather hunting boots are not specifically built for extremely wet and deep-water hunting conditions.
On the other hand, rubber hunting boots make an excellent choice when it comes to hunting in extremely wet areas. As they are made of rubber, this type of cold weather hunting boots are guaranteed to keep the feet snug and dry under these conditions. Additionally, this type usually makes the warmest waterproof hunting boots out there.
On the down-low, the rubber-type tends to restrict movements as they often come in knee-height. 
As a rule of thumb, it's best to match the type of warm hunting boots that you will purchase with the type of hunting that you will be engaging in.
Boot Fit
When it comes to purchasing any type of footwear, considering the fit should be a no-brainer. As for the warmest hunting boot, getting the wrong feet may cause the feet to feel uncomfortable and sore during a hunt. 
That said, it's best to pay close attention to your size and be aware of manufacturer sizing charts. This way, you'll be able to gauge the sizes better and find the perfect fit.
Comfort
Comfort is another key factor in finding the best cold weather hunting boots. Essentially, you may want to look for the following added features in your next purchase of hunting boots:
Moisture-wicking linings

Cushioned, memory foam, or gel-infused (removable) insoles

Orthopedic insoles

Sturdy yet flexible high-traction outsoles

Breathable linings

Padded collars and gusseted tongues

Traction
Cold-weather hunting and slippery surfaces come hand-in-hand, so if you are hunting under these conditions, the traction of the boots is another factor worth considering. Generally, you may want to opt for cold weather hunting boots that are made of sturdy, slip-resistant rubber. 
Additionally, if you're going for synthetic soles, you may want to consider the type that doesn't harden up under extremely cold weather conditions. Lugged outsoles are also a good way to go.
Boot Warranty
The best cold weather hunting boots will surely come with a price, so when buying a pair, it's only practical and smart to consider their warranty. As you are paying, you may want to make sure that the pair you're getting is covered by a decent warranty. This way, you are assured that you are getting the most out of the price that you paid for.
Which Pair Of The Warmest Hunting Boots Is Right For You?
Nothing can stop dedicated hunters from chasing after their prey, not even extremely cold weather conditions. And whether you hunt for a hobby or for a profession, your feet deserve only the warmest hunting boots.
From field-type to rubber-type hunting boots, lightly insulated to heavily insulated, there is just a  wide range of hunting footwear available. And with what seems like a pool of endless choices, which pair do you think fits your hunting needs best?