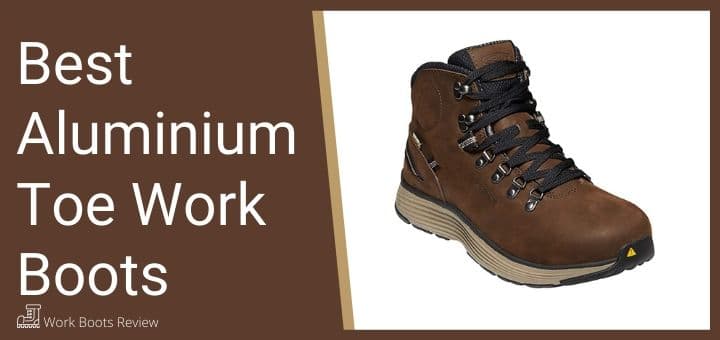 In a work environment where you may need a protective Safty Toe to work boot, you will have three options unless your company stipulates otherwise; a STEEL toe, COMPOSITE Toe or an ALUMINIUM or (Alloy) toe work boot.
In this article, I will be concentrating on the advantages of an Aluminium toe rather, compared to that of its Steel and Composite counterparts.
---
Protective Safety Toe Caps Explained
There is a distinct difference between a Steel, Composite and Aluminium Safety Toe work boot, each with their own advantages and disadvantages.
Steel Toe – A tough and highly protective toe made from Steel that can withstand the most impact and is quite heavy.
Composite Toe – A Composite toe is your most lightweight and moderately protective toe that is made from non-metal materials such as Kevlar, carbon fiber, plastic or fiberglass.
Aluminium Toe – A lightweight and thin safety toe that is just as strong as steel made from Alloy and Titanium Metals.
---
Pros and Cons of the Different Safety Toe Materails
Steel – Steel will offer you the most protection and is usually a requirement in many industrial industries. A steel toe cap can be quite heavy and can get cold in the winter. Besides this, a steel toe cap will also set off security alarms at an airport and other security gates.

Composite – A composite toe made of non-metal materials will be your most lightweight option, but will also not provide as much resistance and protection as a steel or aluminum toe. A composite toe likewise will not set off security alarms as it is a non-metal and will not become cold or hot with weather conditions.

Aluminium – Aluminium is very lightweight, does not take up much toe room and is less likely to become cold in the winter. Aluminum surprisingly provides almost just as much protection as a steel toe work boot. Aluminium will also cost a bit less than its steel toe counterpart as it is not such an expensive metal to manufacture.

In the end, I would recommend an Aluminium Toe Workboot as it gives you the best of both worlds, it is lightweight, yet still very strong and protective.
---
Features of a Good Aluminium Toe Work Boot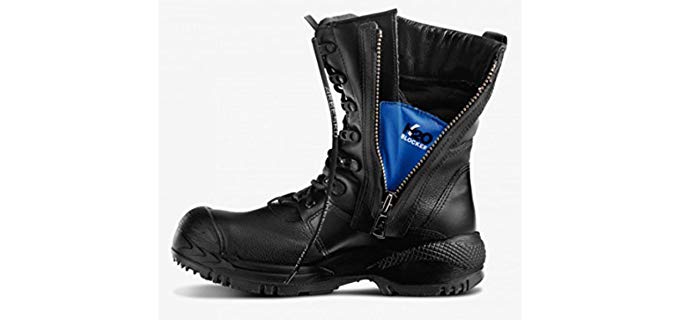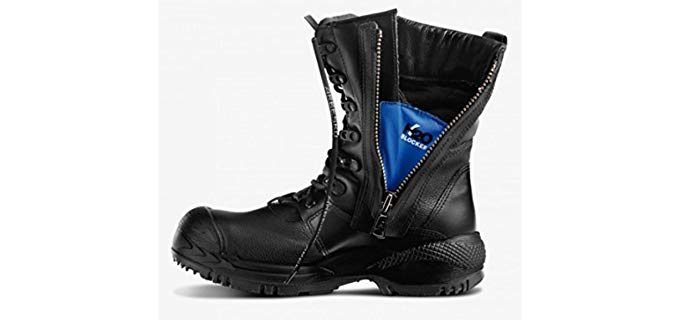 Toe Cap – A reinforced Aluminium Toe cap that offers lightweight protection against falling objects and compression hazards.

Uppers – Durable leather or synthetic materials with preferably Cement or Goodyear Welt Construction methods, along with a smooth interior lining. uppers can likewise me manufactured from synthetic materials with mesh insets to improve breathability.

Lining – Smooth interior linings with moisture wicking capabilities, as well as a moisture wicking lining on the footbed to prevent sweat and moisture build up.

Confort and Support – A supportive and comfortable cushioned footbed from either EVA or Foam, with good arch support and a heel cap.

Outsole – Durable and tough rubber for shock absorbency, that is oil and slip resistant, and in some cases offer heat and abrasion resistance.

Durability – Abrasion-resistant rubber outsole, toe and heel reinforcements and nylon coating. Goodyear Welt or Cement Construction. Tough and durable rubber outsole and leather or synthetic uppers that are of high quality.

Other Safety Features – Some other safety features may include Waterproof membranes, Heat protection, electrical hazard safe materials, Insulation for cold conditions, or breathable materials for hot conditions, such as mesh and Gore-Tex.An underfoot puncture plate is also an advantage.

---
Reviews: The Best Aluminium Toe Work Boots
Below are some of your toughest and most comfortable Aluminium Toe Work Boots;
---
---
---
---
---
---
---
Index Table: Top Rated Aluminium Toe Work Boots