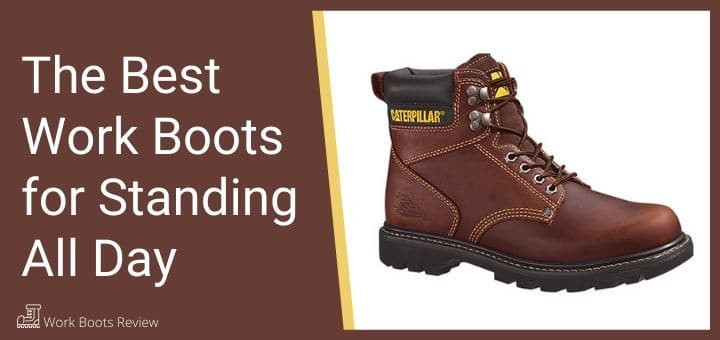 We have all heard the saying, staying seated for too long is the silent killer, but what about the opposite end of the scale?
There is so much guidance given to office workers who sit at desks all day, but not much thought is given to those who are on their feet all day.
Standing on your feet all day can cause plenty of health issues, including fatigue, painful feet, and limbs.
---
Negative Effects of Standing All Day
It takes an exceptional amount of muscular activity to keep your body in an upright standing position, much more than in a seated position.
By standing you reduce blood flow to the necessary muscles, which in turn causes pain and fatigue in muscles in the legs, back, hips, feet, and even the neck.
Prolonged standing or walking causes blood to pool in the foot area resulting in inflammation in your veins. Likewise, your damage is caused to your joints which can later lead to rheumatic diseases.
---
How is Working in a Standing Position a Problem
Your body is greatly affected by the tasks that you perform as well as the arrangement of your work area, these things will determine how your body is positioned when you are standing.
When in a standing position your body has very few positions to chose from, and similarly the positions that you are in are more rigid and sustained.
Restrictions give less freedom of movement, which in turn, overuses certain muscle groups and neglects others, reducing flexibility, and causing long-term health issues.
Most standing job descriptions do not address ergonomics and the natural functions of the body.
So what can you do in this regard, well changing positions, sitting for a couple of minutes or taking a short walk are a few solutions at the top of my head.
Then, of course, there is correspondingly the right footwear, which will make a huge difference.
---
Comfort Features of a Good Work Boot for Standing All Day
Here are a few features to look for in a work shoe or work boot for standing on your feet all day;
Lightweight Construction – Heavy work boots can quickly cause fatigue and add strain to your foot and leg muscles. Therefore always try to find the lightest work boot. This can be a problem when you need a steel toe safety boot, however, you could also opt for a composite toe safety work boot which is much lighter in weight.

Durability – Standing on your feet all day can wreak havoc on your shoes, and similarly, wear out your soles pretty fast. To prolong the life of your work boots, make sure that they are manufactured from quality, durable materials. Leather with a rubber sole is always a good choice.

Heel and Arch Support – Arch support is crucial no matter if you are standing or not. When you stand there is a substantial amount of weight on your tendons and ligaments, which with prolonged standing, over time can weaken. To ensure that your work boots offer ample arch support and heel support, with ample cushioning.

High Traction Shock Absorbing Outsoles – The sole of your work boot is of crucial importance as it not only provides traction to prevent slips and falls but similarly ensures that you have good shock absorption, returning energy back to your feet. A thick, well-constructed lug sole that is slip resistant, is an absolute must for every work boot.

Extra Padding and Cushioning – You can never have enough cushioning or padding when you are standing on your feet all day. Additional padding and cushioning will ensure you have all the comfort and support that you need.

Breathability – Being actively on your feet all day means that your feet may become hot and sweaty. Good ventilation and breathability in a work boot create a favorable environment for your feet, keeping them cool and dry.
These are the most important characteristics for a work boot, that is suitable for standing all day;
---
Reviews: Best Work Boots for Standing All Day
1
As you have most likely noticed Caterpillar is a well-renowned work boot brand when it comes to durability and support for your feet.
The Second Shift is a rugged work boot that provides just the right amount of stability, flexibility, and support to get you through a workday.
Rugged and durable full grain leather uppers.

Offers excellent support and stability on low traction surfaces.

Durable and slip-resistant rubber outsole.

Electrical hazard protection.

Steel shank for added support.

Climasphere, climate control insole is keeping you cool and dry.

---
2
The Timberland Pro Grip Max is an excellent choice when it comes to standing all day on hard or concrete floors. The grip max technology offers excellent traction and stability, and the cushioned insole will keep your feet comfortable all day.
A slip-resistant Grip Max rubber outsole for the best traction and stability.

Full grain leather uppers with an air textured nylon tongue.

The top collar is padded for comfort.

A cushioned insole for extra support and comfort.

---
3
The Wolverine WPF features compression pads and DuraShock technology, all which aids in adding comfort and support for standing on your feet all day.
A CarbonMax nanotechnology safety toe for maximum protection without the weight.

Impact absorbing MultiShox compression pads, protect you against shock from impact.

Made to withstand even the toughest environments.

The thinner walls of the boot aid in fighting foot fatigue and adds less weight.

A durable outsole that offers excellent slip resistance, with DuraShock shock absorbency.

Altogether a very lightweight work boot.

---
4
Standing all day, in the heat, on hard floors, bring it on, the Irish Setter can keep up with the pace.
Heat resistant, comfortable, thick tread with excellent traction and a supportive insole, all you need for a long day on your feet.
A molded heel and cushioned insole for the best comfort and support.

The durable rubber outsole offers exceptional traction, shock absorbency and slips resistance.

Electrical hazards safe, waterproof and heat-resistant, perfect for an industrial work environment that can get hot at times.

A non-woven nylon lining that is breathable and durable.

Antique brass eyelets that will not budge.

---
5
The Thorogood Max wear is an all in one ASTM rated safety work boot with the comfort features, to provide the best relief and support, for standing on your feet all day long.
Electrical hazard safe, with the protection of a steel toe that is ASTM rated.

A polyurethane MAXwear wedge sole for superior shock absorbency.

Durable oil tanned tobacco or black full grain leather uppers.

A removable shock absorbing footbed placed on a Poron comfort cushioned insole.

The fiberglass shank offers superb stability and protection.

A MAXwear wedge outsole that is durable and slips resistant.

---
6
On your feet all day, well no problem, the ariat Rebar Flex will keep you comfortable and relaxed all day.
Soft and supple leather uppers with decorative stitching, ideal for on and off-site wear.

A comfortable anatomical fit with a cushioned and supportive footbed and a moisture-wicking interior lining.

The rubber outsole offers excellent grip and shock absorbency.

A protective leather toe overlay and reinforcement for durability.

---
7
The Dr. Marten Icon is a full house safety work boot with comfort and durability features for standing all day.
Full-grain durable and soft leather uppers that mold to the shape of your feet.

Safety Features include Electrical Hazard safety, Oil, Slp and Chemical resistance and a protective steel toe.

The perfect work boot for hazardous industrial environments.

Features a comfortable Air Cushioned sole for shock absorbency and support.

---
8
Features a relaxed and comfortable fit with genuine leather uppers.

A soft and shock-absorbing cushioned midsole and a Gel Infused Memory Foam cushioned insole.

A durable and slip-resistant rubber outsole.

Completely waterproof construction.

---
To Conclude
It is important to understand how being on your feet all day can impact your entire body, and that not having the appropriate shoes for the job may be quite detrimental to your health.
Good shock absorption and comfortably fitting shoes are an absolute must for standing all day. In the end, you are trying to protect your body against shock from impact and to prevent foot fatigue, which are the two major issues related to being on your feet all day.
---
Index Table: Top Rated Work Boots for Standing on Your Feet All Day