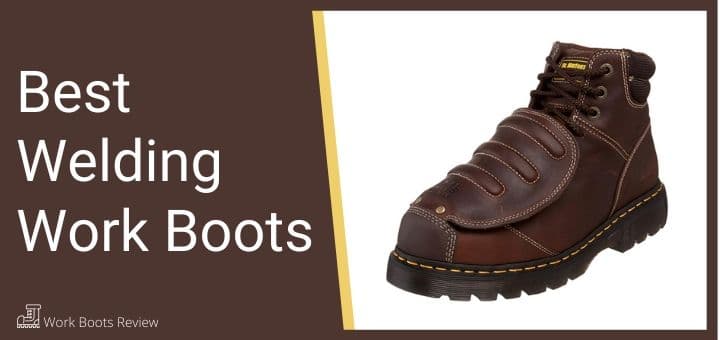 Want to weld in both safety and style? You've come to the right page.
Here we will be taking a look at hazards a welder faces on the job, how the best welding boots can provide safety from them as well as a review of all the very best around!
---
Safety Hazards of Welding To Be Aware Of
Welders use a combination of different metals and filler materials to join two pieces of metals together with a combination of dangerous tools. Occasionally welding also involves working with plastics.
To know which welding work boots will work best for you, you need to understand all the hazards your feet may be exposed to as a welder.
Here are some of the worst safety hazards of working as a welder:
Cuts, burns and injuries to the hands and toes.
Electrical shocks, especially if working with an electric arc welding device.
Being exposed to extreme high temperatures.
Scolding hot spatter, particularly if working with smelted metals to join materials together.
Kneeling and working in awkward positions if doing repairs, which places a large amount of pressure on the feet.
Standing for most of the day, resulting in foot fatigue.
Working with flammable substances which can cause fires or lead to third degree burns.
Working with heavy objects capable of crushing feet and especially toes.
The best welding boots should be able to protect you against all the hazards listed above.
---
Features of a Good Welding Work Boot
Your welders should include the following characteristics:
High Heat Resistance – Depending on the type of welding you do and what equipment you work with, you will need a specific degree of heat resistance. A standard welding boot tends to be able to withstand a minimum temperature of over 570F (300C).
Flame Retardant – Flame retarding leather is important if you work with a flame or flammable gas.
Good Grip – Falling while working with a heavy-duty electric arc is probably one of the worst possible things imaginable. Good grip with lots of cleats and traction is crucial to maintaining safety.
Lots of Support – Standing all day or working at awkward angles is highly demanding on your feet and body posture. Get good arch supporting boots to keep yourself more energized.
Safety Toe – A steel or composite safety toe is essential for keeping your feet from being crushed in the event something were to fall on your feet.
Metatarsal Guard Protection – This is the crux of any good welding boot, as this is what provides protection from sparks and spatter.
Electrical Hazard Rating – An electric hazard rating is necessary, particularly if you work with an electric arc as opposed to another welding device.
---
Reviews: The Best Welding Work Boots
Here we have gone ahead and reviewed the best welding boots available online, specifically aimed at heat resistance, foot protection, and support.
---
1
Doc Martens are among some of the best original industrial work shoe brands, bringing you world-class protection for your feet.

Fully equipped with an Ironbridge met guard, welding sparks and slag ruining your boots or burning your feet will become a thing of the past.

Slip resistant to oil, water, fat, petrol and many other chemicals; these boots offer lovely rubber soled traction.

A removable Smartmask insole provides your feet with some of the best cushioning that molds to them after the break-in period.

Full-grain waterproof leather capped with abrasion resistant heels and toes extend the lifespan of the boots and ensure your feet remain dry.

A breathable mesh liner keeps odors and sweat at bay.

Unlike other safety boots, Doc Martens use an old school wood shank for heavy duty arch support.

---
2
Surpassing ASTM safety standards with flying colors, these welders will keep your feet secure and shielded from any ultra hot debris or spatter.

Intense compression resistance steel toe coupled with a hinged metatarsal guard for excellent protection.

Rubber soles for lightness, flexibility, shock deflection and comfort, ideal for everyday welding.

An antimicrobial moisture wicking lining helps to keep your feet dry, fresh, odorless and blister free.

Durable cushioning technology provides the feet with optimal arch support and comfort, preventing fatigue while on the job.

Slip-proof and oil resistant outsoles reduce the likelihood of injury and accidents at work.

---
3
Iron Age Welders work boots will provide safety compliant foot protection for all known hazards on the work floor.

Goodyear welt construction and high-strength Kevlar stitching ensure durability and long-lasting style.

A metatarsal guard acts as a shield from any hot welding spatter or sparks.

Electrical hazard rated for the best protection from shocks and injuries.

Shock absorbing outsoles with high flex ability ensure that your feet don't feel tired out or sore.

A padded collar and tongue prevent slipping inside the boot and secure your heels in place.

The safety toe is made from heavy-duty steel to prevent punctures and pressure from wounding your feet.

---
4
Ideal for welders, tradesmen, engineers, garage workers and construction workers, these boots will protect your feet from multiple different forms of spatter.

Protective Metatarsal Guard.

Durable and slip resistant rubbersole.

Completely waterproof design.

---
5
Leather and synthetic uppers that are durable and heat resistant.

A comfortable Polyurethane insole for comfort and support.

Durable and slip resistant rubber outsole.

Protective reinforced toe cap.

---
6
Walk like a rocket scientist in these space-age styled welding boots and keep your feet protected all day long!

A dual layer met guard with velcro strap ensures that your feet are never exposed to welding slag or spatter.

Electrical rated and proven to prevent shocks from manning heavy equipment.

Resistant to chemicals, solvents, oils, fats and high heats up to 572F.

The dual-density soling technology combines a soft shock absorbing rubber midsole with a high-density ultra-grip rubber outsole for maximum support, traction and stability.

Flame retardant leather covers the outside, keeping your skin safe from burns.

Recommended for use in the heavy metal industry.

---
7
A crushproof and waterproof design safety work boot that is ideal for industrial environments and welding work.
Suede leather uppers from quality cowhide.

A wear-resistant, slip-resistant and anti-skid rubber outsole.

Antu stinger function, waterproof and a Crushproof toe cap.

Comfortable and durable design.

---
8
A comfortable and protective safety work boot from the well known and trusted Harley Davidson brand that is ideal for Welders.
Genuine leather uppers from premium full-grain leather.

A protective Metatarsal guard.

ASTM compliant safety work boot that is also electrical hazard safe.

Protective toe caps for each side.

A durable rubber oil and lsip resistant outsole.

---
9
A durable and quality lace-up work boot complete with a protective metatarsal guard.
Protects your toes against heavy fallen objects and hot liquids with the added Metatarsal guard.

A lace-up design ankle boot for comfort and stability.

Comfortable interior and linings.

Durable outsole offers good slip resistance.

---
Comparison Table: Top Rated Welding Work Boots