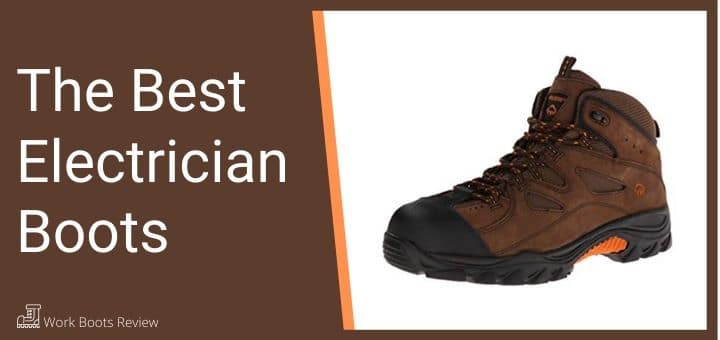 Any electrician will know the life-saving importance of a pair of
EH rated Work Boots that provide protection against Electrical Hazards
.
Electricians are faced with electrical hazards on a daily basis and they are also required to be on their feet most of the time, many times walking on hazardous floor surfaces as well.
Therefore a protective and comfortable work boot is of vital improtance to every electrical worker.

---
What Exactly Does an Electrician Do
Electricians have the main purpose of installing and maintaining electrical systems that provide electricity to run our homes, businesses, and factories.
Most electricians either focus on construction or maintenance although many do both. Electricians work in many different work environments that each poses unique hazards and risks beyond that of just electrocution.
---
Risks Electricians Face Daily
There are many risks that electricians are exposed to on a daily basis in their work environments;
Exposure to toxic materials and chemicals

Electrical burns and fatal electrical shock.

Exposure to fumes and gasses as well as radiation.

Working in extreme heat or cold conditions poses risks of frostbite and overheating.

Injuries from working in awkward and elevated positions, repetitive tasks, and lifting heavy objects.

Exposure to toxic molds and bacteria.

Risk of infection from exposure to bird and rodent droppings.

Stress-related health issues from working for extended hours.

Injuries from working with hand tools and power tools.

---
What to Look for in a Good Electrical Safety Boot
Rating – A good boot for electrical work should have an EH standard rating which means that they are insulated to help ground electricity so that it does not make accidental contact with live circuits or electrical equipment.

Steel protective Toe – An EH rated safety boot usually has either a steel or safety toe to protect your feet from compression and the impact of heavy falling objects. There is a misconception that a steel-toed boot is dangerous in an electrical working environment, which is completely untrue as the metal toe is surrounded by non-conductive materials which are usually rubber or leather.

Slip Resistance – It is also very important to select a boot that has a rubber outsole that is durable as well as slip, water, and abrasion resistant to protect you from slips on the job site.

Conductive Materails – In work environments where there is a lot of static electricity boots that are classified as anti-static are required. Conductive footwear will also help to protect you against static electricity build up in your body in a work environment where static electricity tends to accumulate.

Lastly, look at the comfort features of the boot, you are going to be wearing this boot every day for extended hours of work on your feet most of the time. Look for a boot that offers excellent support and is a comfortable fit.
---
Features of a Good Electrical Hazard Safety Work Boot
Non-Conductive Leather or Nubuck Uppers.

Comfort features such as a cushioned insole, EVA midsole, and padded tongue and collar.

An electrical hazard safe, durable, slip and oil-resistant outsole.

Other safety features such as waterproofing and a steel or composite toe and a metal plate in the sole that are also electrical hazard safe.

The electrical hazard protection is rated and complies to ASTM standards.

---
Reviews: The Best Work Boots for Electricians
Here are a few of the most popular boot with their reviews that are great for any form of electrical work in different industrial work environments.
---
1
Wolverine is one of the premier work boot brands today with almost a century of innovative and technologically advanced footwear. The Wolverine Hudson is a comfortable and rugged work boot that will ensure you maximum protection against electrical hazards.

Made from the finest quality non-conductive leather.

A 5-inch shaft from the arch.

Moisture-managing mesh inserts to keep your feet dry and comfortable.

A padded collar and tongue for a more comfortable fit.

A removable insole is enabling you to use your own orthotic inserts.

A Nylon shank for added protection and stability.

Durable and sturdy Wolverine permanent direct-attached constructed outer sole that is oil and chemical resistant.

Make sure to size up to about half a size as this is a large shoe.

Available in a few different colors.

---
2
Keen are well known for creating work boots that are industrial strength being able to counter anything that nature and the human environment can throw their way. The Keen Sheridan is an insulated boot that is perfect for colder weather and work condition. This boot exceeds the ASTM F1677-96 rating mark and is a certified electrical hazard standard protective work boot.

Made from the finest quality non-conductive Nubuck leather.

A 7.5-inch arch shaft from the arch.

Features a Keen Dry waterproof, breathable membrane to keep your feet dry and fresh all day.

A Left and right asymmetrical composite toe for further protection.

Locking metal lace hooks for a sturdy fit.

The thermoplastic polyurethane shank provides added midfoot support.

A comfortable, roomy and perfect fit.

---
3
The Dr. Marten Burham work boot is a boot made to endure, Dr.Marten are popular for their extremely durable footwear. This is a comfortable work boot that has the added protection of a steel toe with a heat resistant outer sole for up to 300 degrees Celsius.

Made from very durable leather.

The outer sole is a slip, oil, and abrasion-resistant, while also offers heat resistance of up to 300 degrees Celsius as well as protection against any electrical charge.

Insulates the feet from the ground up to provide protection against all electrical charges and accidental contact.

The steel to offers 200J impact protection and has a 15KN compression rating.

Industrial strength metal eyelet and D-Ring lace closures.

A padded tongue and collar for extra comfort.

Available in two color variations.

---
4
The Timberland PRO Boondock Work Boot is a well-insulated work boot with steel toe caps and anti-fatigue technology. A boot made to last as well as offering you all the comfort and protective technology that you may need for electrical work in any environment.

Made from the finest quality waterproof leather with a waterproof membrane that gives lightweight insulation to keep your feet warm and dry in even the coldest weather conditions.

The steel toe offers protection against falling objects.

A rubber toe protector gives increased durability and abrasion resistance.

Cement heel construction for stability and forefoot flexibility.

A cushioned lightweight midsole.

The anti-fatigue technology comfort system will help to absorb shock and return energy to your feet.

A contoured insole for maximum support and shock absorption.

A durable waterproof outer sole.

Electrical hazard safety protection.

The 30-day comfort guarantee ensures you that this is one of the most comfortable work boots that you will come across.

---
5
Caterpillar is a brand known for making superb work boots for over 100 years. The Caterpillar Men's 2nd Shift is a heavy duty industrial work boot that meets the slip and electrical ASTM F2413-11 standards with a steel toe that is I/75 and C/75 compliant.
Durable Goodyear Welt Construction for durability and comfort.

Meets the required electrical and compression and impact standards of a genuine industrial strength safety work boot.

A durable slip, oil and electrical hazard-resistant outer sole.

The protective steel toe will add protection against falling objects and compression.

With some break-in time, a very comfortable work boot with a padded ankle.

Available in black and brown.

A climate control sock liner will keep your feet cool and dry in humid conditions and warm in colder conditions.

---
6
The Carhartt Rugged Flex is a waterproof leather composite toe work boot that meets ASTM Safety Standards and also provides excellent protection against electrical hazards in the workplace.
Constructed with a waterproof membrane to keep your feet dry at all times.

Manufactured from 100% leather with a durable and slip-resistant rubber sole that offers Rugged Flex traction capabilities.

For comfort, there is an EVA midsole with Pu Strobel pad and an Ortholite insole.

A lightweight composite toe for lightweight protection.

---
7
RedWing also manufactures under the name Irish Setter, these are tough
aluminum toe work boots
that ensure adequate protection against electrical hazards in the workplace.
High-quality durable leather uppers.

A slip-resistant durable and shockproof rubber outsole.

the back pull-on loop ensures fast and easy on and off.

This boot meets ASTM safety regulations and is electrical hazard safe.

---
8
Not only is the Irish Setter 83605 tough and electrical hazard safety, but it also gives excellent heat resistance in high heat environments, which may be the case for many electricians.
This work boot is ASTM F2413-11 rated according to safety standards for protection against all electrical hazards.

The full-grain leather uppers are waterproof and tough in harsh environments offering superior heat resistance.

A polyurethane footbed ensures your feet are comfortable and well supported.

The durable rubber outsole is heat resistant to melting as well as slip resistant

A vamp lining from non-woven nylon for breathability and comfort.

---
9
Not your everyday work boot brand, although Skechers are fast becoming a popular choice when it comes to tough and comfortable work boots.
Electrical hazards safe materials that will protect you against the risk of electrical shock.

Comfortable and soft leather uppers with a more relaxed fit.

A comfortable memory foam insole.

The durable rubber outsole is completely slip resistant.

---
10
The Thorogood Gen-Flex is a composite toe work boot that is ASTM, and CAN/CSA-Z195 18, 000V, rated according to standards for superior electrical hazard protection. A tough and comfortable boot with all the safety trimmings.
ASTM F2413-11M I/75/C/75 and CAN/CSA-Z195 18, 000V rated according to standards for electrical hazard safety.

A tough and protective, lightweight composite toe, with abrasion resistant rubber on the outside.

Cushioned and flexible on the inside for the best support and comfort.

Rugged oiled full grain leather uppers with abrasion-resistant toe and side bumpers.

Underfoot support and protection with the composite shank.

Constructed with the tough and durable Goodyear Welt construction method.

A compression molded EVA midsole for additional support and shock absorption.

Available in wider widths and larger sizes for any foot requirement.

---
11
The Every Boots Protector Model is one of your top options when it comes to electrical hazard safety.
Durable leather uppers and a durable and slip resistant rubber outsole.

Electrical hazard safe materials, for EH protection that passes 18 000V standards and 60 hearts for one full minute.

A steel toe for toe protection.

The insole is soft and comfortable with a cushioned PU midsole.

---
12
With the Keen Utility Detroit, you have full protection from the Aluminium safety toe, Waterproof and Electrical hazard safe materials.
Durable upper construction with Keen dry waterproof and breathable membrane, that keeps your feet dry from the inside and the outside.

The rubber outsole is oil and slip resistant with high traction.

There are a protective underfoot plate and electrical hazard safe materials.

The aluminum toe offers full protection and remains quite lightweight compared to a steel toe.

---
13
The ariat groundbreaker offers you the protection of a steel toe in a tough and durable work boot that is perfect for electricians.
A fabulous cowboy boot style with leather uppers and detailed decorative stitching, in different color options to choose from.

A heavy dutyslip and oil resistant rubber Duratread outsole.

ASTM rated for electrical hazard safety.

Full grain leather uppers and a wider round toe for more comfort.

---
The shoes mentioned above will provide you with the maximum amount of protection against electrical hazards. Remember when choosing an electrical safety work boot that there are three types of conductivity ratings; EH for electrical hazard protection, SD which is static dissipative and CD which are conductive. You will see the rating of any electrical safety boot clearly on the label. The level of safety that your work boot should have will depend on your working environment and the safety requirements of your company policy.
---
Summary Table: Top-Rated Electrician Boots