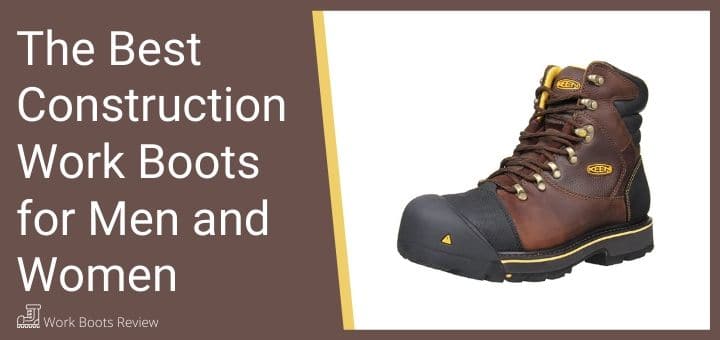 ---
---
Why Safety is Vital at Construction Sites
The safety of each and every construction worker is not a factor to be taken lightly, as there are serious hazards that can cause severe injuries and damages to property leading to legal complications for the company. The safety of the worker always comes first.
Therefore it is a necessity that every employee wears the correct Personal Protective Equipment that is suited specifically for the task that they are performing. Work Boots form a part of your Personal Protective Equipment, and they have to meet all the necessary safety standards and requirements in order to provide you with optimal safety.
Having a comfortable pair of safety boots will improve performance as well as provide protection and support for your feet.
Hazards Affecting the Choice of a Construction Boot
Slipping Risks – Construction workers work on uneven, wet, and slippery floor surfaces as well as cement and gravel.

Heavy falling Objects and Compression Hazards – There are heavy loads and risks of falling tools and materials during construction work.

Chemicals and Liquids – Dust, water and other chemicals and abrasives used during construction such as paint, oil, and thinners can seep through your shoes or cause damage to your shoes.

Foot fatigue and Pain – A construction worker is on his feet all day and moving around a lot, walking, climbing and stretching. Therefore a construction worker needs footwear that provides almost all the safety features and comfort features available in a work boot.

---
Functions of a Good Construction Work Boot
The soles of the construction work boot must me constructed from materials that are water resistant.
It should offer an excellent grip and traction on a slippery surface.
It should be thick enough to absorb shock on hard surfaces.
The entire work boot needs to be waterproof and abrasion resistant keeping your feet dry even in wet conditions.
The work boot should have a steel or composite toe to protect you from falling objects.</li.
The boot needs to be constructed in such a manner as to keep cement and dust out of the shoe.
The work boot needs to be constructed from materials that are both comfortable and durable.
Extra cushioning and a padded collar or tongue, as well as improved inner soles.
The above features will be a great advantage if you are going to be on your feet all day on a construction site.
---
Charactaristics that signifies the Perfect Pair of Construction Work Boots
Below is listed a few key features and properties that characterize the most suitable work boot for wearing on a construction site;

Shaft – Suitable shaft measure from the arch.

Outsole – Solid outsole with long lasting stability.

Toe – Steel toe to sustain safety of feet.

Pressure – Safety toe to tolerate excessive pressure.

Insole – High quality inner sole with for extra cushioning and comfort.

Insulation and Waterproofing – Construction boots must be insulated and waterproof.

Heel – Heel must be a little higher.

Rubber Sole – Entire sole should be made of high quality solid rubber.

Steel Shank – A construction work boot must be equipped with a steel shank for better performance and matchless safety.

---
Reviews: Best Construction Work Boots for Men
There are a few choices of work boots for working on a construction site. It is vital as a safety precaution and legal requirement to have the right pair of Safety Construction Work Boots;
---
---
---
---
---
---
---
---
---
Reviews: Best Construction Work Boots for Women
Today there are also Women working in the construction industry and textile firms where they will need the same quality safety boots to offer them protection, durability, and comfort.
Usually, these boots are specially designed and manufactured by various companies who specialize in shoes for women and their physical safety.
In general, women's construction working boots are similar to the construction work boots for men, except for being more lightweight and more comfortable for a women's delicate foot;

---
---
---
---
---
---
---
---
For protection against the many hazards involved in construction work, we have listed the best available boot brands with the most protective features, durability and comfort characteristics for both men and women. Stay safe and comfortable in the workplace with any one of these fantastic construction work boots.
---
Index Table: Men's Construction Work Boots
---
Index Table: Women's Construction Work Boots