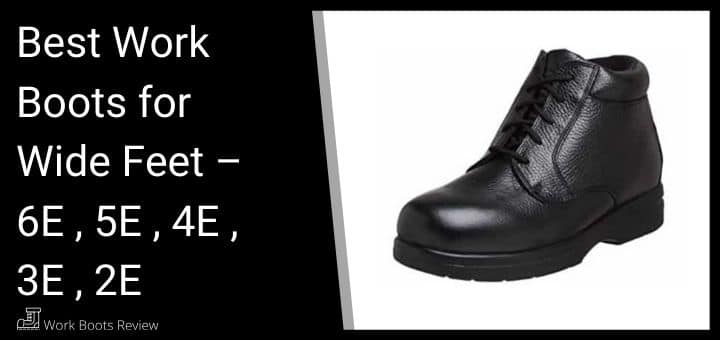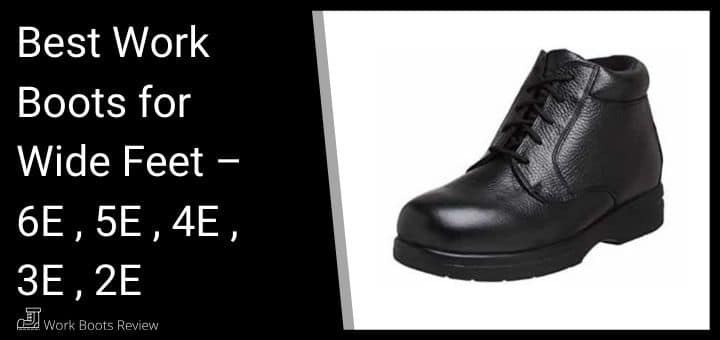 ---
Index Table: Top-Rated Work Boots for Wide Feet
---
6E Wide Width Work Boots
---
---
5E Wide Width Work Boots
---
---
4E Wide Width Work Boots
---
---
---
---
---
---
2E and 3E Wide Width Work Boots
Here are the best available work boots that have a wider fit or are available in wide width options;
---
---
---
---
---
---
---
Foot Conditions Caused by Narrow & Tight Boots
Foot conditions such as:

Corns

Calluses

Bunions

Ingrown toenails

Hammertoes

Crossover toe

These are all likely conditions that may develop when you wear ill-fitting work Boots.
A Work Boot that is too narrow will squeeze your feet causing significant pain and discomfort and a variety of foot conditions and concerns in the long run.
---
Characterises of a Work Shoe for Wide Feet
Should be specific width sizing and not just "wide".
A wider sole and forefoot area.
A square or round toe with ample toe room in the toe box.
Safety features such as a steel or composite toe and electrical hazard protection.
Tough and durable construction.
Waterproofing and insulation where required.
A wider durable, oil and slip resistant outsole.
---
Features Of A Reliable Pair of Extra Wide Work Boots
Having wide feet and wearing the wrong pair of shoes can be a total hassle. In most cases, having to wear boots that are not specifically tailored for wide feet can cause foot pain and discomfort.
That being said, if you have wide feet, you may want to opt for work boots for wide feet. Generally, the best pairs should have the following features:
Designed with toe boxes that have ample room for the foot to comfortably fit in
Designed with both wider soles and forefoot areas
Designed with specific width sizing, indicating the actual width size of the boot
Designed with well-cushioned insoles providing all-day snug comfort for the feet
May be designed with safety and protective features such as a composite toe or steel toe box
---
The Advantages Of Wearing The Best Work Boots For Wide Feet
Wearing the wrong type of shoes especially if you have wide feet is just a big no-no. It will not only cause discomfort to your feet, but it may also cause other painful conditions in the long run.
If you have wide feet, then you might as well be convinced to get wide work boots. Essentially, wearing the right pair comes with the following advantages:
The best wide work boots are tailored specifically for wide feet, allowing you to feel comfortable all-day
Won't strain or cause too much fatigue on your feet as they are guaranteed to fit comfortably
Designed to have ample space for wide feet, fully-accommodating the feet with ease
Select pairs are lightweight and flexible, allowing the feet to move more comfortably and freely
The Importance of a Safety Work Boot
A Safety Work Boot protects you from debilitating foot injuries that can result in you having to undergo serious medical treatment as well as time away from work and further complications in the future.
Falling and Flying objects are the main concern in industries where there are many people, machines, and vehicles operating with heavy materials in a dynamic environment. A protective steel or composite toe can provide effective protection against falling objects and compression hazards that may crush and injure the feet.
Workers may step on sharp protruding objects that can puncture their shoes and feet causing a serious injury. This can be prevented by wearing protective work boots that have a thick and durable sole that may have a metal plate for added safety.
Machinery with sharp moving parts pose a cutting hazard. Cut resistant materials, as well as a steel toe, also provide protection against cutting hazards.
Some Safety Work Boots have the added feature of providing electrical hazard protection from potential electrical shock or from static electricity that has accumulated.
Another major incident in the workplace is falling either by slipping or tripping. Work Boots that provide the appropriate traction and have proper threads that are slip and oil resistant will prevent slips, trips and falls.
Many industrial workers are on their feet all day some on hard concrete floors which can cause extreme foot fatigue. Comfort and support features such as cushioning, arch support and shock absorption will help to prevent foot fatigue, injuries and other foot conditions.
chemical burns and burns from chemicals, fire or hot molten metals can cause serious injuries. Work Boots that are made from durable materials can prevent burns from all these elements.
When you work in freezing weather conditions or snow a waterproof work boot with insulation can provide you with much-required warmth and protection. For extremely hot weather or work conditions, breathability and ventilation features can make a huge difference.
Stay safe and comfortable in one of these top brands of work boots with excellent safety, comfort, and durability features, that are available in wider widths.
---
The Final Takeaway
If you spend long hours on your feet on a daily basis, then it is of utmost importance to find the right boot. And if you happen to have wide feet, it is even more crucial that you find ones that are tailored as work boots for wide feet.
Keep in mind that more often than not, boots that fit poorly may cause the development of bunions, corn, calluses, ingrown toenails, and other conditions that may eventually cause discomfort.
That being said, based on our today's top picks of the best work boots for wide feet, which pair do you think fits your needs the most?