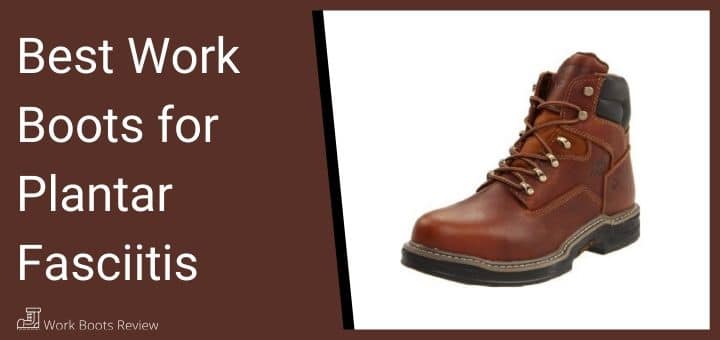 When you have to work an entire day, particularly on your feet, it can become a very long and painful day if you suffer from plantar fasciitis.
At some point in their lifetime approximately 10% of all people will suffer from plantar fasciitis.
If you are suffering from this condition there are natural remedies asB003XKNBDM well as accessories (such as insoles) on top of wearing one of the following work boots for plantar fasciitis.
---
What Is Plantar Fasciitis?
Plantar Fasciitis and Heel Spur pain are conditions of the foot that develop around the heel area and on the sole. Individuals that suffer from this condition find it very painful and uncomfortable to walk and stand.
This condition occurs when the plantar fascia which is a stretch of fibrous tissues that connect on top of the layer of fatty tissue and at the bottom of the foot stretching from the heel bone up to the ball of the foot, becomes inflamed or suffers an injury. As a result of this, the individual will experience pain and discomfort in that area of the foot.
---
How To Effectively Treat Plantar Fasciitis
The initial treatment of heel spurs and plantar fasciitis is more likely non-surgical and non-invasive, and as follows:
Ingesting an anti-inflammatory drug like aspirin.
Performing stretching exercises for plantar fasciitis especially designed for the feet and calf muscles.
Wearing of comfortable, appropriate and undamaged shoes that provide proper cushioning and support.
Taking a short break after vigorous athletic activities.
Application of cold packs or ice treatment for plantar fasciitis affected areas.
---
Preventing Plantar Fasciitis
There are a few things you can try to prevent Plantar Fasciitis from returning or developing initially;
Changing into different shoes when you have a chance to give your feet a break, such as changing into casual shoes when you get home from work.
Wearing a shoe that provides good cushioning that also absorb shocks and provide arch support.
Trying to keep in shape and losing that few extra pounds that add strain to your feet.
Doing regular stretching exercises to strengthen the Plantar Fascia and Achilles' tendons.
Taking short breaks from standing or walking on your feet for extended periods of time.
Try to avoid hard surfaces as much as you can.
By following these steps, you should see an improvement in at least six weeks. Your doctor may recommend that you use treatments such as orthotics, an injection of cortisone, physical therapy or other solutions that will help reduce inflammation in more severe cases.
---
Recommended Work Boots for Plantar Fasciitis
Here are some of the best choice in Work Boots to help manage Plantar Fasciitis, prevent further occurrences and eliminate pain;
---
---
---
---
---
---
---
---
---
---
---
---
---
---
---
What is a Heel Spur?
A heel spur, on the other hand, is a calcium deposit that grows and develops on the bottom part of the heel bone. This protruding bone strains the foot muscles and the ligaments due to prolonged stretching of the plantar fascia and tearing of the membrane covering the heel bone.
The pain that you experience when suffering from these conditions will lead you to walk on your toes or change your walking or running motion and stride to avoid the pain, which can cause even worse damage. The good news is that both these foot conditions can be managed or eliminated through surgical treatments and corrections as well as other non-invasive solutions, such as stretching before exercise, resting the foot, application of ice to reduce inflammation, and wearing supportive footwear.
---
Cause of Plantar Fasciitis Pain
Plantar fasciitis is a result of repetitive or prolonged straining of the tissue in the fascia area which has been stretched or torn over a long time. This condition is commonly associated with athletes and individuals who are always putting their feet under strain. Other factors that also contribute to this syndrome are motion imbalance, obesity or excessive weight, ill-fitting shoes, and worn out or damaged shoes.
Heel spurs, on the other hand, develop because of the stress placed on the muscles and ligaments of the foot as a result of plantar fasciitis, which causes the membrane around the heel bone area to become torn. Thus, heel spurs are caused by the same factors that cause plantar fasciitis.
---
How can Plantar Fasciitis Interfere with Your Work Performance
Plantar Fasciitis can cause debilitating pain and discomfort which affects the way you walk and can disrupt your concentration when you are working.
Heel pain can be excruciating and cause discomfort to the point where you can no longer walk or stand on your feet; this can cause loss of work time and productivity and in the end, get you into some trouble at work. Resting for a few minutes if you are on your feet for long periods of time and doing some stretching exercises can help to relieve the pain.
Because of the effect that the pain from Plantar Fasciitis may have on your concentration and walking capabilities, you are also at a greater risk of suffering an injury at work.
Therefore make sure to follow all the steps to eliminate the pain from Plantar Fasciitis and to properly support your feet when you work for your own safety and well-being.
---
Stretching and Exercising for Plantar Fasciitis and Heel Spurs
Heel pain is a result of stress placed on the ligaments in the plantar fascia area when it is stretched abnormally resulting in inflammation and small tears.
Strengthening and stretching exercises can make the ligaments become more flexible and strengthen the muscles that support the arch, which reduces the effects of stress and strain on those muscles. When combined with other treatments such as resting, ice pack application, using insoles, or ingesting pain medication, it will help to reduce the pain.
Stretching and exercising in the morning right after you get out of bed will deliver the best results for this condition. When you have tried stretching and exercising along with some of the other treatments mentioned, and there have been no results, it is better to consult a physician.
---
Insoles for Plantar Fasciitis
Insoles or shoe inserts are orthotic devices that provide relief from stress and strain as well as extra support that will help with plantar fasciitis. The advantage of an insole is that you can buy it without a prescription, and they are readily available almost everywhere.
Insoles and Orthotic devices are made of rubber, felt, or plastic materials. The soft arch provides support, and the heel cup is responsible for relieving the symptoms of plantar fasciitis, insoles also help to absorb shock and ease pressure on the heels. Some more advanced insoles help top realign your feet to a neutral position that will aid in combatting pain as well as offering the arch support and comfort that your feet need.
---
Ten Points to Follow When Choosing Safety Footwear for Plantar Fasciitis
Your feet support you throughout your entire life, without your feet you will be unable to work or do anything else for that matter. Therefore support your feet and treat them right.
Poorly fitting work boots that are not appropriate for your work environment will not provide you with the needed protection against work hazards and will also cause foot issues such as bunions, hammertoes, Plantar Fasciitis, and many other problems.
Here are some tips on selecting footwear that is protective and provides comfort and support;
Know the hazards of your workplace to choose a shoe with the appropriate protective features. A steel or composite safety toe and metatarsal guards will protect your feet from heavy falling objects, compression hazards as well as cut hazards, a puncture-resistant sole will prevent sharp objects from puncturing your feet, and specially constructed materials in the uppers and outsole of the work boot will protect you from water, chemicals, abrasives, oil, and slipping hazards. Electrical hazard protection is also a much-required safety feature in work environments where electrocution is a risk.
Buy footwear from a retailer that carries the appropriate types of footwear for your specific occupation and work environment. Make sure that the work boot your choose ha all the safety and comfort features that you may require.
Always check the soles of your footwear and make sure they are appropriate to your work environment. Soles can be designed to provide slip and oil resistance as well as protect your feet against chemicals, heat, punctures, and electrical shock.
A protective pair of footwear should completely cover your feet with puncture-resistant material.
Comfort Charactaristics
Breathability and a moisture-wicking lining is important to keep your feet dry and well ventilated.
Stability, particularly on uneven surfaces, can be important. A shoe with a wider base and a flatter sole will provide better stability.
The toe box of the shoe needs to provide ample toe wiggle room and enough space for you to still wear a thick sock when necessary.
Strong heel counters for the stability of your heel and ankle as well as a supportive midsole and arch support are great advantages particularly if you suffer from foot conditions such as Plantar Fasciitis.
A cushioned and supportive insole and good shock-absorbing capabilities are key to fight foot fatigue, provide comfort and eliminate heel pain.
Index Table: Work Boots for Plantar Fasciitis