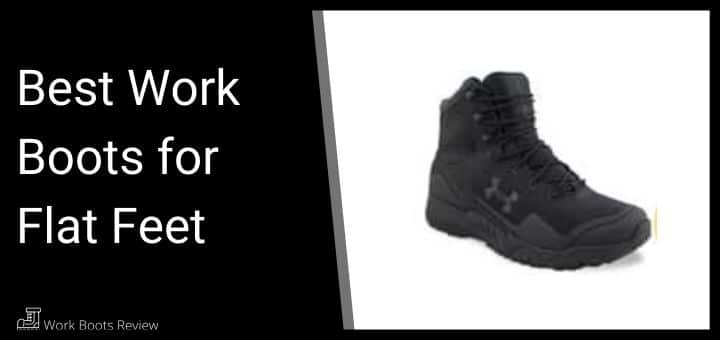 It is absolutely vital to have a supportive and well-suited work boot for your specific foot type particularly if you have flat feet or tend to overpronate.
Comfort and support feature provided by the best work boots for flat feet such as shock absorbency and cushioning are needed for a flat foot, especially if your work requires that you walk or stand for extended time periods.

---
---
What Exactly Causes a Flat Foot
The tendons making up the arch of the foot are elastic, so they stretch to help the feet develop, sometimes they pull together in uniformity with an extra force which causes the foot to flatten or the arch to fall.
This mainly happens when a person gains excess weight and during pregnancy when the tendons are more relaxed.
Other causes for flat feet are:
Abnormalities from birth

Rheumatoid arthritis

Stretched or torn tendons

Broken or dislocated bones

---
How do you know that you have Flat Feet
The easiest way to determine whether you have flat feet is too wet your feet and lightly press them on a concrete floor or brown cardboard. If you can see an image of your entire foot, then you have flat feet.
If only your toes, the ball of the foot, and the heel are visible then you do not have flat feet.
---
The Right Work Boots for Flat Feet
It is crucial to make sure that you get only the correct and best shoes for flat feet especially work shoes or boots as these are the shoes that you will be functioning in the most.
There is a huge variety of different brands and styles of work boots available that have specially designed features and functionalities for flat feet as well as for their specific work purpose.
Features of the Best Boots for Flat Feet
Uppers – Comfortable and tough uppers usually made from leather.

Construction Method – Seam-sealed or Goodyear Welt construction

Protection – Protective features such as a steel toe, metal plate in the sole and waterproofing.

Insulation – Insulation for working in cold weather conditions.

Comfort Features – Comfort features such as a cushioned and supportive insole and a supportive midsole.

Outsole – A durable, slip and oil-resistant outsole.

Related Content: Best Flexible Work Boots, the flexible insulated boot can be just as comfortable!!
---
Reviews: The Best Work Boots for Flat Feet
Below is a list of the best Work Boots that are most suitable for Flat feet.
---
1
Best Steel Toe Work Boots for Flat Feet
One of the very best work boots for flat feet is this particular brand, Let us have a look at a few features that could make it ideal for flat foot.

It is a sophisticated and stylish work boot designed specifically to give the maximum comfort and support to those who suffer from flat feet along with associated symptoms.

The human-made rubber soles are made from high-quality rubber to improve grip and stability which in turn helps with leg movement.

The inside of these boots are designed for complete comfort and will keep your feet warm especially during cold winters.

These boots will withstand any weather conditions, whether snow or rain and are so easy to clean.

On the whole, it is a fantastic shoe and a complete and holistic approach for people with flat feet.

This shoe will ensure the best value for money.

---
2
Tactical Boots for Overpronation
Under Armor is one of the most popular names when looking at work boots and the featured model is one of their best ranges. It is power-packed, feature-rich and has many specifications which could be very useful for those who are looking for a good shoe for flat feet.
Here are some interesting features which make this boot stand out in the crowd.

The upper part of the boot is made from a very high-quality synthetic material that is both durable and waterproof ensuring that the shoe remains water-resistant completely.

The shoe was designed in such a way using specific materials to meet the needs and requirements of people who suffer from the various degrees and different symptoms associated with flat feet.

These boots are extremely durable and will last you a very long time even with tough use on rugged terrain.

The boot itself is very lightweight and therefore very comfortable to wear.

These boots come with Full-length Micro G® foam, which adds a cushioning layer on foot without making it heavy on the feet.

Famous for the best of foot-strike guidance they are also known for the responsive cushioning which is a significant advantage in alleviating the pain caused by flat feet.

---
3
Flat Feet Work Boots for Men and Women
For the highest quality and performance in a boot, this is the ultimate model in work boots to consider. These boots have many interesting and worthy specifications and features.
Here are a few features that could tilt the balance in its favor.

Made from high-quality Full-Grain leather that molds to your foot shape.

Long-lasting, and durable boot that also looks sophisticated and stylish enough for any occasion.

The manmade rubber soles are well designed and shaped and could play a positive role in helping better coordination of the tendon muscles come to relieve symptoms associated with a flat foot.

The eyelet and welt stitches are an addition to the design of the boot giving it some more personality and a better appearance.

The covered cushion insole and EVA midsole are extremely comfortable and will keep your feet well cushioned which is especially favorable to people with flat feet.

This shoe will not only function as a work boot but is smart enough to wear for other occasions.

---
4
Soft Toe Work Boots for Flat Feet
This is one of the most stylish looking work boots that also features the best design for people who suffer from flat feet.

It is a boot that complies with 'ASTM F2413 Testing Standards', the sole is made from a single piece of rubber only.

This boot has a Foot-Force-F2A athletic insole; it is long-lasting and extremely durable.

The vulcanized rubber soles and the designing behind it aim directly at people who suffer from flat feet and the symptoms thereof.

These boots come with an Electrical Hazard Protection.
---
5
Waterproof Composite Toe Work Boots for Flat Feet
An attractive and tough pair of work boots that are also waterproof and offer a steel toe for added protection against compression hazards and falling objects.

Durable and comfortable leather uppers that are completely waterproof to keep your feet dry in even the wettest of conditions.

A strong and protective steel toe for ultimate safety.

A comfortable and cushioned insole that can be removed allowing you the use of your orthotics.

The slip-resistant rubber outsoles provide excellent grip and traction on multiple floor surfaces.

---
6
Waterproof Steel Toe Work Boots for Flat Feet
The Caterpillar 2nd Shift is a protective work boot that is also available in a wider fit which is perfect for flat feet that tend to be wider as well.

Manufactured from high-quality leather using Goodyear welt construction methods.

A nylon sock liner and lining to keep feet cool and dry.

the high traction outsole is slip and oil resistant.

A plush collar and comfortable and shock-absorbing footbed.

---
7
Composite Toe Work Boots for Flat Feet
The Timberland Pro Titan is a tough yet comfortable work boot for both men and women, the Ortholite footbed, and thick slip-resistant outsole provides all the necessary features for a flat foot.

Tough leather uppers with a moisture-wicking breathable inner liner.

A PowerFit comfort system for a better fit with added a padded collar and a soft safety toe.

The Ortholite footbed ensures comfort and support with Dryz intelligent temperature control technology.

The rubber outsole offers excellent slip resistance.

---
8
Waterproof Composite Toe Work Boots for Flat Feet
The Wolverine Mauler and Merlin is an excellent choice for flat feet as it has a compression-molded high-rebound EVA footbed that will absorb shock and provide cushioned support and comfort.
It also has exceptional safety features for industrial work environments.

Manufactured from the finest quality leather with a thinner cap wall for more toe room and a better fit in the Mauler and a moisture-wicking liner in the Merlin.

The Durafoam compression-molded EVA footbed eliminates foot fatigue and provides superior shock absorption in the Mauler.

The Merlin features a lightweight ethylene vinyl acetate midsole.

The outsole is oil, slip, abrasion, chemical and water-resistant and manufactured from rubber.

The composite toe provides added protection on the worksite.

The Merlin has a rubber outsole for added shock absorption and traction capabilities.

The Mauler also meets ASTM standards and provides electrical hazard safety.

---
9
Shock Resistant Work Boot
The wolverine LX for men and women is a highly durable and shock absorbing work boot for long days on your feet.
EPX supportive Honeycomb Heel design and a Cushioned Midsole.

Soft and supple leather uppers.

A durable and slip-resistant rubber outsole.

Lined with a breathable waterproof membrane.

The Nylon shank provides arch support while there is a compression molded ethylene vinyl footbed and midsole for cushioning and shock absorbency.

---
10
Western Work Boot
A comfortable and stylish work Boot from Georgia in a model for men and women, that supports a flat foot and helps to control overpronation.
Soft and supple full-grain leather uppers with a durable rubber outsole.

A TPU shank for stability and pronation control.

An EVA midsole for Cushioning and shock absorbency.

Durable combined Cement and Stitch out construction.

The Georgia Boot for women has a mid-calf height while the model for men has a full shaft.
---
11
Flat Feet Work Boots
The Timberland Pro Boondock is a Protective, Tough and highly comfortable work boot particularly for a flat foot or lower arch.
The High Tower for women features a protective lightweight Alloy Toe.

Durable leather uppers and a slip-resistant rubber outsole.

A shock-absorbing anti-fatigue comfort system.

Comfortable support and cushioning.

A protective steel toe.

---
---
Index Table: Top Rated Boots for Flat Feet