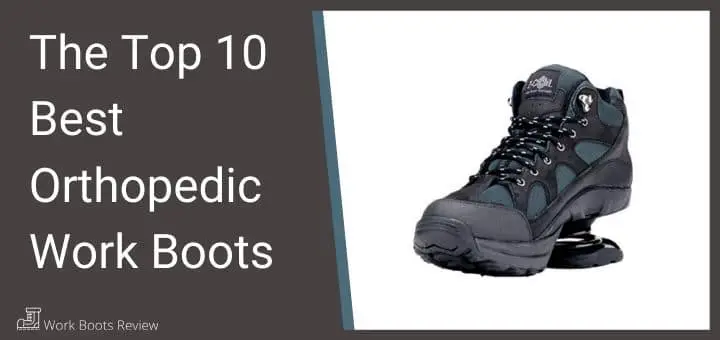 Orthotic or Orthopedic Work Boots are Boots that have specialized insoles and comfort features to help reduce strain and stress on your feet as well as prevent injuries and pain.
They still need to be durable and safe to use in an industrial or construction and engineering working environment.
Orthopedic work boots are also more flexible, lightweight and have added cushioning to support your feet, absorb shocks, and offer natural movement.
---
There are many hazards in industrial working environments, such as; slippery and wet or oily floors, falling objects, heavy loads, and abrasive and chemical materials.
Orthopedic work boots are manufactured with all these safety hazards in mind to keep you safe in dangerous terrain but also to offer you the maximum amount of comfort and support in a durable boot.
---
Anatomy of a Good Orthopedic Work Boots
When selecting the perfect pair of orthopedic work boots, you need to consider the type of work you are doing, your work environment and your foot type and unique requirements.
You should keep in mind the special requirements for your foot condition or personal comfort needs to select a boot that is qualified to offer relief and support for your condition or requirements.
Keep in mind that although it is an orthopedic shoe, it is still a very high quality, durable work boot. When selecting an orthopedic work boot, here are a few things to look at before you make a decision.
Make sure that you have the correct size of your feet so that the boot fits comfortably.
Take into consideration the dimensions of the boot if you want to add orthotics.
Look at the quality of the material, the design and very importantly the sole of the shoe.
Look for a lightweight shoe that offers soft comfortable cushioning or padding.
Heat and cold resistance features.
Anti skidding non-slip soles for better grip and traction is vital for safety.
Removable insoles are great if you have your own orthotics.
The heel and platform of the shoe must not be too high.
Make sure that the boot offers the safety and durability requirements for your specific work tasks and work environment.
Finally, always make sure to buy a pair of work boots that have a money back guarantee, whether you buy from a retailer or online store you orthopedic work boots should offer you complete satisfaction.
---
Top Recommended Orthopedic Work Boots
Orthopedic safety shoes are available in many different styles, colors, and shapes, each with its unique features and advantages. the choice you make will depend on your personal requirements as well as the safety requirements of your job and working environment.
---
This is not quite a work boot intended for industrials environments, but it can be worn for less heavy duty work.

The Z-coil shock absorbing technology reduces the pressure on your feet, joints and muscles.

These therapeutic boots give you comfort and flexibility for smooth movement.

Added extra support for the ball of the foot to reduce shock and strain.

An excellent choice if you are looking for work boots for plantar fasciitis.
---
The Caterpillar Second Shift is not only suited for a range of job descriptions but likewise, offers excellent comfort technology for a variety of foot conditions.

Soft and comfortable Nubuck leather uppers with a mesh lining that improves breathability.

A protective steel toe that protects toes against falling objects and compression hazards.

The plush collar and tongue provide a more comfortable and snug fit.

A durable oil and slip resistant rubber outsole.

Speed lacing system and a steel shank for better stability and support.

---
A modern, orthotic, working boot brand with long-lasting durability.

A very lightweight boot that offers optimal comfort and support for any foot type.

Offers safety & durability features suitable for heavy duty work in construction and other outdoor or industrial occupations.

Pay Attention: These are suitable for Winter; 400 grams of Thinsulate.

Made from good quality leather.

Removable insole for personal orthotics.

A rubber flatter Anti-slipping outsoles.

---
Dr. Martens make top-notch quality working boots that are extremely durable with orthotics.

You can use these boots for various types of heavy duty jobs because of their anti-skidding capabilities and reliability.

This is an indestructible boot with orthopedic comfort features and safety characteristics.

Softer cushioning for more comfort and support.

Manufactured from durable leather.

Anti-slipping technology rubber outsole.

Lightweight odor-resistant lining.

Seamless Phantom Line.

---
The Quad Comfort technology – is a 4 Layer EVA cushioning footbed that makes it feel like walking on clouds.

Created from good quality leather, it is one of the best pull-on work boots in the market.

These reduce stress and strain on your feet and relieve you of any pain or aches.

Rubber soles for excellent grip.

High compression specs.

Proper balance sustainability.

Anti-slip characteristics.

Highly comfortable for even the most sensitive feet.

---
Humanmade sole for excellent grip on all floor surfaces.

Imported quality boot.

Offers maximum support and comfort.

Breathable membrane for better ventilation to keep your feet dry and fresh.

Premium full grain leather uppers.

Anti-slipping technology.

A great boot to keep all liquids and moisture out.

Molded EVA midsole for extra comfort and support.

Built-in Orthaheel motion technology.

---
This orthopedic work boot offers all the necessary characteristics of a work boot with extra depth for comfort.

These are Therapeutic Orthopedic work boots with Extra Depth for advanced comfort and support.

Made from high-quality materials for durability and comfort.

The sole offers excellent grip on slippery floors.

A great work boot with added orthopedic functions.

Extreme comfort and support, especially with feet that have suffered an injury.

---
An all in one orthopedic work boot that offers all the safety features of a work boot and the comfort and support features of an orthopedic boot.

Constructed with an Orthopedic grade Polyurethane midsole for cushioning.

A protective steel-toe against falling objects.

Work boots that are lightweight and will last you for many years.

Made from premium, soft, full-grain leather for everlasting comfort.

Excellent arch support for inner foot stability and support.

Moisture-wicking, breathable fabric inner lining with anti-microbial properties.

Slip-proof rubber outsole that is water, grease, and oil resistant.

---
Podietrist designed orthopedic boot that is comfortabel and supportive.

Medicare/HCPCS code A5500 diabetic shoe.

Waterproof Nylon mesh lining.

Sealtex waterproof leather technology.

Hook and speed lace system for best fit.

Rubber outsole with self-leaning design.

---
This orthopedic boot comes with anatomical arch support that facilitate natural foot motion.

A non-binding relaxed fit, and maximum protection against pressure points.

Gel orthotic-insole and ergonomic cushioning sole soften your step and enhance stability.

Deep toe box design allows the foot to relax and spread out naturally.

---
The Dunham Cloud is a hiking style work boot that is ideal for outdoor work, providing you with waterproof protection and all the trimmings of an orthopedic shoe.

Genuine waterproof leather uppers that are soft and comfortable, with an adjustable circumference.

A durable and slip resistant rubber outsole.

Easy to put on and take off with the lace-up vamp.

For comfort, there is the removable EVA and memory foam footbed, and additional stability cradle.

Available in four neutral colors.

---
Fine quality, comfortable leather upper construction.

The Boss offers the protection of an additional steel toe.

A seamless padded lining for comfort and protection.

The comfort gel technology insole offers exceptional support.

Available in wider widths to accommodate foot conditions that require more toe room.

Extra depth, lightweight and safe for diabetics.

---
Comparison Table for Top Orthopedic Work Boots