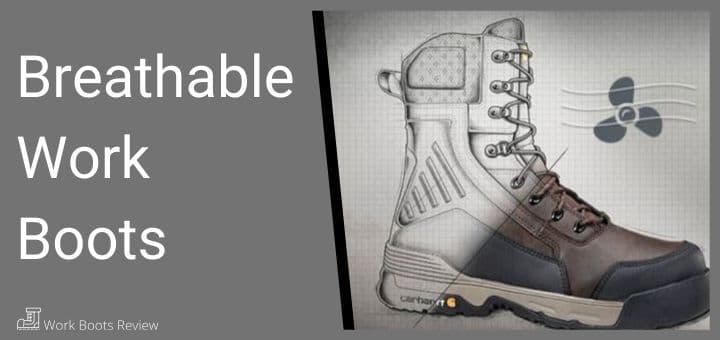 Finding the perfect pair of
High-Quality Breathable Work Boots
can make a big difference in your overall performance as well as improving comfort levels and reducing strain and stress on your feet and body.
A pair of breathable work boots will also keep your feet well ventilated and cool, preventing sweating that can cause blisters, discomfort and damage to your feet.

---
---
The Key Concepts to Consider in Work Boots
When choosing a work boot that is suitable for you will need to take firstly into consideration your occupation and specific work tasks, your work environments and then your foot type and personal preferences.
Aspects such as durability, comfort, protection, support, and breathability are the most important aspects that a good work boot should cover. One of the most important features of a work boot is, of course, its breathability as it aids in comfort and temperature control.
---
The Importance of Breathability in Work Boots
One of the key features you need to look at when purchasing a work boot is breathability, particularly if you work in an area where the temperatures can get quite high, or if you work in a hot environment such as in a boiler room.
The lack of fresh air in a work boot will not only deteriorate the material especially leather, that your work boot is made from faster but can also cause uncomfortable and achy feet.
The comfort of your work boot is associated with its breathability. The circulation of fresh air throughout your work boot will also reduce sweat and moisture to keep your feet dry and fresh and to prevent blisters and chafing. Boots that have good breathability factors will last you much longer than those who do not.
---
Breathability features of a Work Boot
Lightweight mesh or fabric uppers that allow for air to ventilate throughout the shoe.
Perforation allowing air to move in and out of the shoe improving breathability.
A mesh or Gore-Tex lining that also enhances breathability.
---
Reviews: Best Breathable Work Boots
All of the work boots here are good quality ones that offer excellent breathability features as well as protection and comfort.
These boots are durable and can be worn in a harsh work environment while still keeping your feet comfortable and being lightweight enough for extended work hours.
---
1
The Red Wing Heritage Moc Boot is a breathable and durable work boot, it is made to complement any lifestyle wonderfully.

Durable and comfortable leather uppers with a rugged look.

Longer lasting and durability is achieved by the Norwegian Goodyear Welt construction, tough.

The moc toe provides lightweight protection and durability for the shape of the boot.

A comfortable, supportive footbed with wicking moisture technology.

The rubber wedge sole provides excellent grip and traction as well a shock absorption and great support.

---
2
The Titan Workboot has been released about thirty years ago but has only become more popular as time passes.

This classic boot offers superb quality, comfort, durability and strength in a work boot.

This boot is extremely comfortable and requires no break-in time.

There is a very durable aluminum alloy toe inside the boot that offers the same level of protection as a steel toe but is more lightweight and comfortable.

The boot is entirely waterproof, and the outside of the boot is oil and slip resistant.

Made from breathable materials that will keep your feet dry and comfortable.

All round boot, perfect for any work environment and any weather condition.

---
---
4
An elegant and stylish work boot that offers exceptional comfort with excellent breathability, and safety features. This boot is suitable for the rugged man.

Made from beautifully tobacco stained leather that offers style, comfort, and breathability in a stylish and fashionable work boot.

A rugged work boot made from high-quality materials for improved durability and superior comfort.

The cotton lining on the inside offer extra comfort and helps to keep the feet dry and fresh at all times.

The safety toe provides extra protection for falling objects and heavy loads in heavy duty work environments.

The rubber soles provide excellent grip capabilities on any floor surface.

---
5
This boot is an extremely lightweight and breathable boot that is also waterproof. This boot is especially advantageous if you do quite a bit of walking or for hiking purposes.

Made from lightweight and breathable, high-quality leather that will keep your feet dry and comfortable even with long work hours.

The rubber sole offers excellent grip capabilities on any floor surface and is oil and slip resistant.

An added insole for extra comfort and support to reduce strain on the feet.

Completely waterproof and ideal for work in very wet and muddy condition.

A work boot that is just as comfortable, breathable and lightweight as an athletic shoe.

---
6
The ariat Men's Groundbreaker Work Boots offer excellent protection and breathability features in a comfortable and durable boot that is made from high-quality materials.

The upper portion is made from lightweight and breathable leather and textile materials that will greatly improve breathability.

A good quality heavy-duty synthetic outsole that enhances grip and is oil and slip-resistant.

A 1.25-inch platform to provide extra support and help to absorb shock which is particularly beneficial when you are doing a lot of walking or standing.

Waterproof Pro ™ technology in the construction to keep your feet dry in even the wettest conditions.

A full grain leather floor and 4LR™ four-layer footbed for advanced comfort and support.

The mesh lining offers exceptional breathability to keep your feet dry, fresh and cool in any weather conditions.

The Steel Safety Toe is ASTM F2413-11 M/I/75 C/75 EH rated and offered maximum protection against falling objects.

---
7
An all in one steel toe protective and extremely durable work boot that offers excellent breathability capabilities and is lightweight to wear.

Features a water-repellent technology and breathable lining that will keep your feet dry.

The rubber sole is oil and slip resistant and offers excellent grip on any work surface.

The boot is ankle length and features a padded collar and tongue for extra comfort and support reducing stress and strain on your feet.

This boot offers excellent protection against electrical hazards which is an advantage if you work in an area where you come into contact with electricity

Overall it is a lightweight, breathable work boot that offers a perfect fit, particularly for more narrow feet.

---
---
9
Rubber Sole with shock absorbing traction for any environment.

Full grain leather offers water resistance and ensures safe and protected ankles on and off the job site.

Oil resistant, slip resistant and chemical resistant.

Lightweight EVA midsole and OrthoLite insole give you multiple layers of cushioning for all-day comfort.

---
10
Electrical Hazard

Eva Midsole

---
11
GORE-TEX breathable mesh.

Vibram slip-resistant outsole.

Eva Midsole for extra shock absorption and comfort.

---
12
Breathable Mesh

Removable Insole

Foam Midsole

---
Index Table: Top Breathable Work Boots