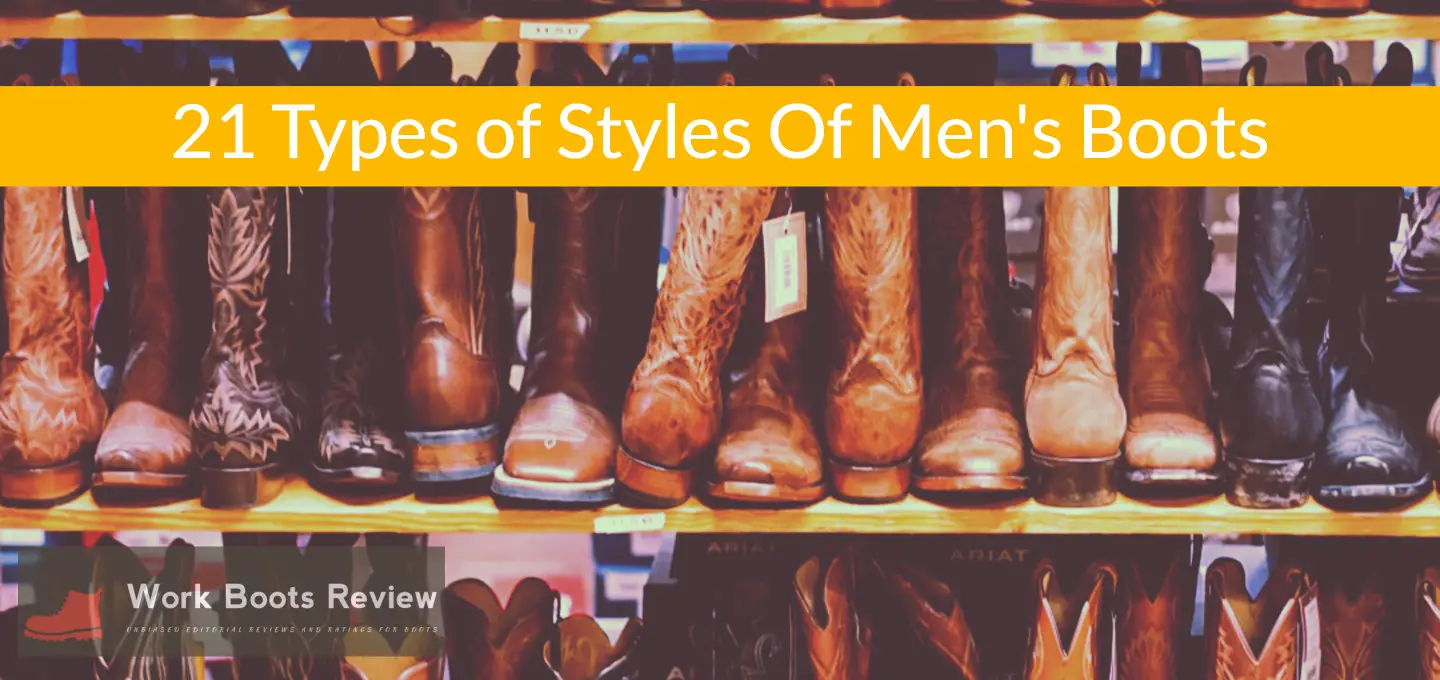 Every man needs at least one pair of high-quality boots in his wardrobe. With hundreds of different types of men's boots, colors, and brands, knowing what type of boot fits your style can be overwhelming for anybody.
Fortunately, we're here to help you out. We looked at the most popular boots of 2022 and comprised our list of recommendations. We made sure to pick out classic boot styles while doing our research.
All 21 types of mens boots listed are versatile, classic, and have been in style for decades, ensuring that any boot that fits your taste will never become dated. To make reading easy for you, we've also separated our list of boots into two main categories— dress boots and work boots.
This list has it all; boots for casual wear to upscale wear, and from a rugged style to a preppy style. We will first go over this year's most popular types of boots for men. 
Next, we will provide information and background for each men's boot style. Read on to learn more about the best boots every man should own.
2022 Popular Types of Boots for Men
Originally, most boots on this list had a reason for their creation. After all, boots are practical footwear created for functional purposes. 
Now, and especially in 2022, boots are everyday wear staples. Gone are the days when men solely wore their boots for working or riding only. The present-day sees men who prepare for boot season.
Fashion trends cycle through the decades, and the 2020s have seen a revamp of men's boot styles from the 80s and 90s. Still, 2022 fashion trends have made their way into the boot scene leading to platform boots and workwear boots becoming mainstream.
Generally, boot styles fit into one of two categories- dress boots and work boots. Many times, the best men's boots fit into both styles. Sometimes, a boot's style will lean slightly towards one or the other. 
Keep reading and check out our list of the best types of boots for men based on dress and work styles. We will start with men's dress boots.
Men's Dress Boot Styles
When it comes to dress boots, most appear less chunky than work boots. Dress boots also have different toes than work boots. Usually, dress boots have a pointed toe, cap toe, and more design detail. 
Typically, boots designed for formal wear have thinner soles than work boots and have roots in the Victorian era and early 19th and 20th centuries. To start our dress boot style list, we will first discuss general dress boots.
Dress Boots
Dress boots are simply leather men's ankle boots. Typically, these boots have a cap toe or have a more oxford boot style. A good dress boot features high-quality leather. These boots date back to the Victorian Era.
In the Victorian Era, dress boots initially were riding boots. However, with the onset of the automobile, these boots became more and more formal.  
According to a 1906 book titled The Blue Book of Men's Tailoring, they were also frequently worn to endure harsh weather because of the sturdy quality and build of dress boots. In modern times, dress boots are common and worn for both formal and casual occasions. 
Chelsea Boots
Another true classic, Chelsea boots date back to the Victorian era. Many Chelsea boots feature an elastic side panel.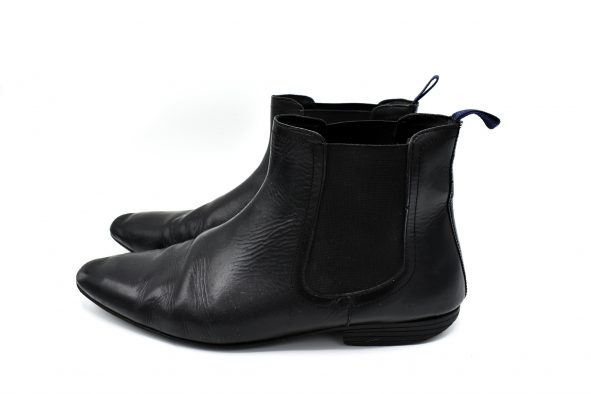 The history of the Chelsea boot starts with Queen Victoria's shoemaker named Joseph Sparkes Hall. The boots became a hallmark of style throughout the 19th century and remained popular until after World War I.
The Chelsea boot rose again in popularity in the 60s because of The Beatles. Decades later, they made another fashion come back in the 2020s. Chances are, you've seen Chelsea boots everywhere, including on modern-day A-list musicians like Kanye West.
Why? The Chelsea boot is convenient and versatile. The pull-on style, leather boots, and suede boots options make the Chelsea boot immensely popular. Every man should own a suede or leather pair of Chelsea boots.
Ankle Boots
The ankle-high boot is a boot designed specifically for style. Virtually every major boot brand company offers a version of the ankle boot because of its popularity.
They easily dress up, down, or somewhere in between if you're looking for a smart, casual look. Ankle boots provide a slight bit of height without looking chunky because of the ankle cut-off. 
Really, any boot that cuts off at the ankle is an ankle boot. These boots come in a variety of styles. For example, one can buy ankle cowboy boots, oxford boots, or hiking boots. 
This versatile boot is another must for any man's closet. The men's ankle boot is simply a must-have classic.
Chukka Boots
The Chukka boot is one of the most popular ankle desert boots on the market. According to the A to Z Book of Menswear, the chukka boot earned its name because of polo players. During a polo game, there is a period of play called chukka. Additionally, British soldiers wore the chukka during the World War II Western Desert Campaign.
There are leather chukkas, but not all chukkas feature calfskin leather. Many of these boots on the market feature suede material. However, chukka boots are ideal for drier weather if made of suede. A suede boot should not be confused with a waterproof boot.
Generally, men wear chukka boots with smart casual wear or more formal outfits, making the chukka another must-have pair of boots.
Desert Boots
The desert boot is a chukka boot with a crepe rubber sole and suede uppers rather than leather uppers like traditional chukka boots. 
In the 1950s, the well-known shoe company C. & J. Clark put the desert boot on the market. So much so that the desert boot usually gets referred to as the Clarks' desert boot.
The biggest difference between the chukka boot and desert boot is the chukka boot's hard leather sole. The desert boot's rubber soles make them great for casual outfits. Like chukka boots, suede desert boots do not perform well as waterproof boots.
Wingtip Boots
Wingtip boots, also known as full brogue boots are another true formal classic. The wingtip boot style features a pointed toe cap, often with "wings" up the sides. These cap-toe boots get the wingtip name from the "W" shape design that loosely resembles a bird's wings.
Men will want to wear cap-toe boots while attending more formal events. Wingtip boots come in various materials, but the most common wingtip boots are made of leather and have leather uppers, which are perfect for dress wear.
Jodhpur Boots
The jodhpur boot loosely takes after the Chelsea boot in its style. Unlike Chelsea boots, the jodhpur boots design looks like ankle riding boots with a rounded toe. Additionally, Chelsea boots do not have a strap and buckle like jodhpur boots.
Jodhpur boots were also originally worn by polo players in India during the 1920s before becoming a fashion staple in the western world. Jodhpur boots easily dress up a casual outfit and can also be worn more formally.
Oxford Boots
A good pair of oxford boots are the best example of dressy winter boots. Since the oxford boot is simply an ankle-high version of the formal oxford shoe, these boots pair well with suits that have a good cut-off length.
Oxford boots are traditionally formal cap toe boots made of high-quality leather, suede, or canvas. The best quality oxford boots feature a leather upper. As the name implies, the oxford boot gained popularity at Oxford University.
Cowboy Boots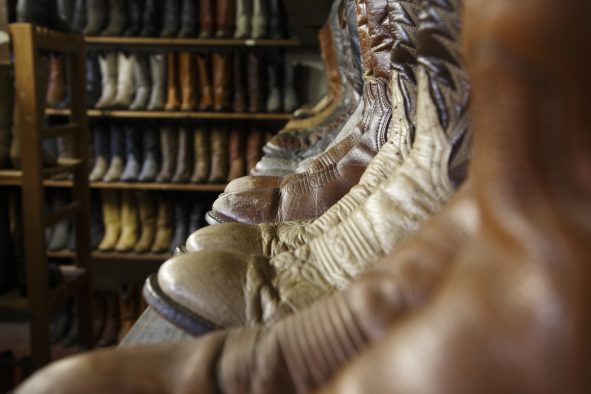 The cowboy boot works as a formal boot or work boot. Regardless of how they are worn, they are one of the most famous boots on this list.
Any list featuring the best men's leather boots will name at least one cowboy boot. Traditionally, cowboy boots are a type of riding boot worn by cowboys. Made out of leather, these boots may be a round toe boot or a regular toe boot.
Western or roper cowboy boot styles are the most popular. The western style, or classic, has a tall boot shaft that reaches halfway up the calf. Western styles also have an angled high heel. Traditional western boots had a rounded or square toe. However, the pointed toe boot took off in the early 20th century. 
Nowadays, the cowboy boot represents Western American style. The best quality cowboy boots offer full-grain leather.
Derby Boots
Similar to oxford boots and wingtip boots, the derby boot is another example of a toe boot. The derby boot performs best as a dress boot. These types of boots also go by Gibson boots.
Without the correct knowledge, it's hard to decipher between derby boots and oxford boots. Like oxford boots, the derby boot is a lace-up boot. However, the eyelets on the derby boot eyelet facings are attached to the top of the vamp. 
While maintaining the same formal qualities of the oxford boot, the derby boot offers a more relaxed and comfortable look.
Men's Work Boot Styles
In contrast with dress boots, work boots come with a steel toe or a moc toe. While work boot styles may not have as much design detail as dress boots and not as sharp of a toe, these boots are versatile and can usually be dressed up or down. Also, all boots on this list are effective snow boots as well.
Work Boots
Work boots are functional boots that are now incredibly fashionable with the onset of workwear in mainstream fashion. Most of the best work boots are made of leather and are considered lace-ups. 
Usually, they have tough hobnail soles rather than a thin sole and are steel-toe boots. 
Additionally, many of these boots are also moc toe boots since a moc toe is lighter than steel-toe boots and still durable. Sometimes, great-quality work boots may even have thick rubber soles.
Moc toe boots took off as a workwear boot with the creation of Red Wing's classic 6-inch moc toe boot and traction tread outsole. Modern-day hipsters usually flock to moc toe workwear boots.
Combat Boots
As the name implies, combat boots are boots made for the military. Historically, soldiers wore these boots during both combat and combat training. 
Now, their design offers great ankle support, foot protection, and grip. Since the boots are designed to withstand tough conditions, many people wear combat boots for work. 
When it comes to fashion, combat boots are some of the most iconic boots out there. The boots became mainstream in goth, punk, rock, grunge, and industrial circles. 
Since combat boots tend to last much longer than other boots because of their durability, they have become mainstream outside of subcultures. 
Boots made for combat offer durability that outlasts boots designed for fashion, causing combat boots to last longer and develop an authentic vintage look with time. 
When one thinks of a combat boot, one thinks of Dr. Martens and the 80s and 90s. Combat boots are functional, fashionable, and do it all.
Essentially, these boots are military boots, waterproof boots, stompy boots, and can even be worn as snow boots. Combat boots feature a leather upper and are one of the best boots for men on this list. There is a reason why these boots have truly never gone out of style and why skinny jeans have.
Hiking Boots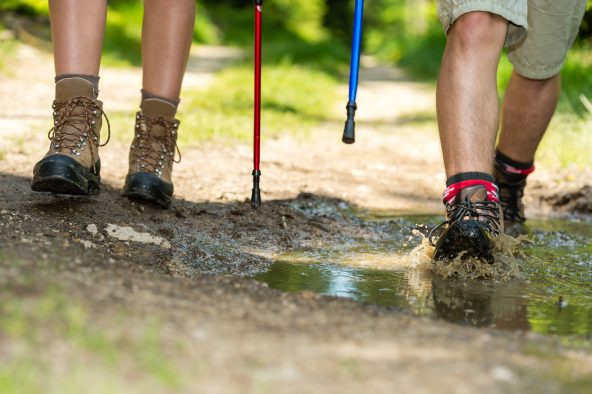 Truthfully, combat boots can even be worn for hiking. However, specially designed hiking boots exist that feature technology that maximizes comfort with crepe soles. They are designed less for boot style and more for boot functionality.
A true hiking boot offers support to the ankle and foot and is lightweight. Hiking boots are stiff while protecting feet from blisters and foot injury. A good pair of boots made for hiking will utilize materials that maximize foot breathability.
Hiking boots look great for those that have an outdoorsy, Patagonia-style wardrobe. Not only are they incredibly comfortable by design, but they are also stylish. Wear hiking boots with straight-leg jeans or even a pair of utility shorts. 
Hunting Boots
Hunting boots are similar to service boots and a hiking boot in design and functionality. These boots provide what's necessary for navigating tough terrains while also providing the comfortability needed to walk and stalk prey for long distances.
A hunting boot may have a moc toe or be worn as a snow boot. Either way, hunting boot styles offer high-quality footwear great for a casual outfit or while doing work. 
Hunting boots come in many varieties since people hunt in a variety of conditions and environments. Some feature material designed for warm, mild temperatures while others are made to endure tough, cold conditions. When it comes to fashion, hunting boots do well with casual, workwear-inspired outfits.
Rain Boots
Rain boots, or Wellington boots, were originally military-grade riding combat boots. They became famous by the 1st Duke of Wellington named Arthur Wellesley. 
When rain boots first gained popularity, they were heavily associated with a high class. Now, outdoorsmen and those partaking in a wide range of agricultural duties wear rain boots.
As one might expect, rain boots are waterproof boots and often made entirely of rubber, down to a rubber sole. Interestingly, the original rain boot design features pebble grain leather. In the United States, Americans sometimes call rain boots galoshes.
Snow Boots
A snow boot is simply a boot that can survive in winter, wet weather conditions. Snow boots come as moc toe boots, service boots, or virtually any pair of boots that has a high side, rubber sole, and consists of material that keeps water from entering the boot.
Unlike other boots designed for tough conditions, snow boots must always extend at least part way up the leg. Additionally, traditional versions of these boots are easier to clean than other types of boots. Boots made for the snow usually offer insulation and multiple water-resistant layers.
Trench Boots
The trench boot, or the Pershing boot, is a type of combat boot used in World War 1. As the name implies, the boot developed in response to trench warfare. The British version of these boots is called ammunition boots.
Now, trench boots designed for more formal occasions will have a cap toe. The trench boot is another pair of boots that will dress up or down. Additionally, the sturdiness and military-grade quality of these boots make them adept for work.
The trench boot also provides an interesting history. During World War 1, a general from the United States Army deliberately collaborated with studies geared toward protecting soldiers while they fought in trenches.
Engineer Boots
The engineer boot style is a traditional type of American workwear. Usually, the engineer boot has no lace and consists of a leather body.
Unlike other men's boot styles on this list, these boots became incredibly popular amongst bikers and motorcyclists during the 1930s. Modern engineer boots may come as a moc toe boot and other toe boot styles.
During the 1950s, engineer boots saw a resurgence in popularity among greasers. Twenty years later, engineer boots came back into style yet again with the punk culture that lasted until the modern-day.
Duck Boots
Duck boots look like they sound. Anyone can spot a duck boot by their unique toe, which is much different from a cap toe boot or moc toe boot. These boots offer amazing water resistance because of their leather sole and toe, similar to that of traditional rain boots. Many hikers use duck boots as hiking boots as well.
Duck boots also go by bean boots since they were trademarked and created by L.L. Bean. All bean boots have a leather upper, and some have an oiled leather upper. 
These men's boots really took off in the 2010s and still have maintained fashionability into the 2020s. In the 2010s, duck boots complimented a more preppy style. Now, everyone will wear duck boots because of their inherent functionality and unique look. 
Riding Boots
The history of many dress boots and workwear boots on this list shows that they originally functioned as riding boots. So, you may be wondering, what exactly makes a riding boot?
A riding boot is simply a boot made for horseback riding. Traditionally, the riding boot consisted of leather with a high enough leg to protect the rider from feeling the horse's saddle. Riding boots have sturdy toes and smooth heels so the stirrup does not get caught on anything in the case of a rider falling.
Nowadays, riding boots have lower heels. However, some styles of the cowboy boot riding boot offer the traditional high heel.
Motorcycle Boots
Motorcycle boots are of course associated with motorcyclists. Typically, a motorcycle boot starts at the ankle and may reach as high as the knee to protect a biker. From the outside, motorcycle boots look like normal boots with a low heel designed for easy control on behalf of the rider.
These boots promote rider safety on their bikes since they feature incredibly heavy, thick leather. Sometimes, motorcycle boots use energy absorption technology, padding, and even metal to protect the biker's body in the case of a crash.
The durability of motorcycle boots is also great for all types of weather and environments. However, these boots are quite heavy-duty. 
Final Thoughts
You've read a comprehensive list of the best men's boots available in 2022. Truthfully, almost all of the boots on this list are classics that will be fashionable decades into the future. These boots have already withstood the test of time. 
Best of all, the boots on this list are incredibly versatile in their style. You'll be able to buy boots that will last years and can be worn for both casual wear and formal occasions.  
Use this list to navigate boot brands and designs that fit your unique style. Whether you tend to gravitate towards classic combat style boots, work boots, or classy moc toe boots, there's a type of boot out there that fits your personal wardrobe.