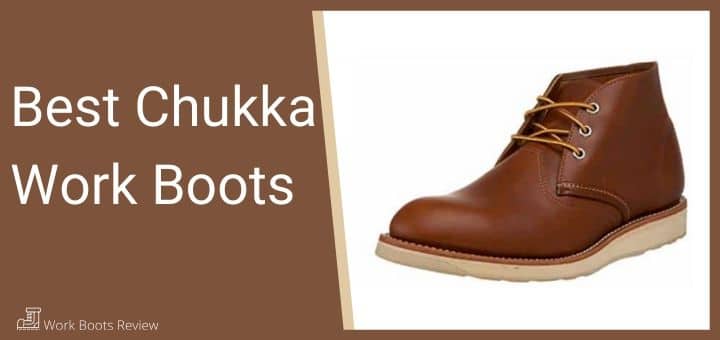 The Chukka boot can make an outstanding work boot that is ideal for both work and play, this boot has stylish features giving it a more classy and casual feel.
The idyllic work boot to wear both on and off-site!
---
Chukka Boots in a Nutshell
So what exactly is a Chukka boot, for those who are unsure?
The Chukka boot is an ankle-high leather boot with full leather or suede leather uppers. The sole of the Chukka boot is ideally also leather but in some cases may be rubber.
The word Chukka, if you wondered, is derived from the game of polo, where "chukka" refers to a certain period of play within the polo game. Chukka boots were originally worn by soldiers and became more popular during the 1940s and 1960s.
Chukka boots are supremely made from calfskin or suede although they can be made from other materials. Today Chukka boots persist as a popular and casual shoe for both men and women.
These boots have become so popular that they are now available as a work boot, with features such as a steel toe, electrical hazard safety, slip resistance and much tougher construction for the industrial environment.
---
What Will a Good Safety Chukka Work Boot Offer You
Any good safety work boot in itself offers you protection against work environment hazards.
In an industrial environment these can include;
Falling heavy objects.

Compression hazards.

Electrical Shock.

Exposure to chemicals.

Exposure to molten metals and hot surfaces.

Slippery, and oily or wet floor surfaces.

Puncture hazards.

Flammable substances.

Cutting and slicing hazards.

Then there are comfort features, because after all, a work boot is something you are going to be wearing all day, almost every day;
Cushioning.

Comfortable and supportive footbed.

Moisture-wicking lining.

Soft and comfortable fit.

Shock absorbency.

These along with tough durable materials that can withstand the elements, rough use, and abrasion, are all you need in a work boot.
The Chukka boot features durable and comfortable materials but it is a more minimalistic boot, though some models do come with some of these features.
---
Main Features of a Chukka Boot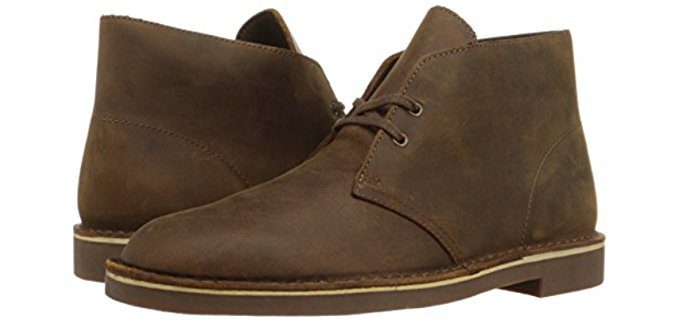 Short and sweet, what distinguishes a chukka boot is a low or mid-cut design, suede or leather uppers, with two or three eyelets for lacing, and a durable leather outsole.
Chukka boots are available in many colors and other materials, and some models likewise come with many extra comfort features and safety features
---
Reviews: The Best Available Chukka Work Boots
Looking for a durable and protective work boot, with the comfort and minimalistic features of a chukka boot, well then look no further;
1
Red Wing is a very popular name in heavy-duty and quality footwear. The Heritage Chukka boot is ideal to use as a work boot, because of its tough construction and slip-resistant outsole.
A Chukka boot with a casual design that is suitable for both work and play.

Tough and supple leather uppers manufactured from 100% genuine leather.

The White Crepe rubber Euro traction outsole offers exceptional grip and lasting slip resistance.

As with all Chukka boots the sole is manufactured from leather.

Durable nickel eyelets for fast lacing.

A very lightweight shoe for everyday wear.

---
2
Coming in the list is a pair of slightly rugged chukka boots from Caterpillar. The Caterpillar Men's Transform 2.0 is a pair that boasts the brand's iconic aesthetics combined with comfort and durability.
The Caterpillar Men's Transform 2.0 is built with durability and breathability as they come with full-grain leather uppers.

The pair is also built for all sorts of terrains as they come with sturdy, high-traction rubber outsoles.

In terms of comfort, these chukka boots won't disappoint as they are engineered with dual-density EASE footbeds.

The boots are also designed to be breathable as they come with nylon mesh sock liners.

Built to last long, the Caterpillar Men's Transform 2.0 boasts extreme durability as these boots are cement constructed and intricately handsewn.

---
3
One of the most innovative and versatile shoe brands that I have come across is Dr. Martens, they seem to have a shoe type for every occasion!
An excellent choice in work and casual boot this stylish chukka boot is a superior service boot.

Triple stitched for durability with tumbled full-grain leather uppers and a moisture-wicking lining.

A comfortable and supportive footbed that is finished off with an air-cushioned PVC outsole.

The tread on the outsole offers superb traction and slip resistance.

Available in a few stunning, neutral color options for your own personal style choice.
---
4
No list is complete without the Timberland, and luckily, in this case, they similarly sport a Chukka style work boot, the Disruptor. Tough and protective, as it is comfortable, you will not find better quality in a work boot.
Durable and comfortable leather and textile uppers that offer a superior fit.

A protective and lightweight Alloy safety toe.

Electrical hazard safe construction.

The Bio Suspension system offers improved cushioning and flexibility to give you the best support for a long and tough day.

A contoured shock diffusion plate to reduce stress and fatigue.

A durable and slip-resistant outsole.

---
5
This exquisite mid-cut Chukka boot from Rockport is an outstanding choice for outdoor work. It is lightweight and waterproof with a rugged and tough design.
Versatile enough to wear outdoors and indoors with all the protection and comfort features you may require.

Durable and waterproof leather construction with the aid of the Hydro-Shield waterproofing system.

A padded collar and bounce back feature for further comfort.

EVA outsole that offers good shock absorbency and high traction.

A classical Chukka leather design with very lightweight construction.

---
6
Yet another exceptional Chukka work boot from Timberland, the EK Brook is not to be left out. Featuring a stunning and elegant design, with anti-fatigue technology and a Gripstick outsole.
Highest quality premium leather upper construction.

Pure cotton laces are durable and long-lasting.

The leather heel welt offers elegant style and durable wear.

PET lining that is eco-friendly and breathable.

All-day comfort and support with the anti-fatigue technology.

The exclusive Gripstick outsole manufactured from recycled rubber will offer you top-rated slip resistance.

---
In Conclusion
A chukka boot is a graceful yet simplistic boot that offers a combination of superior craftsmanship and versatility. With the Chukka boot as a work boot you have a rugged yet still refined boot that can be worn for both work and play.
As you can see with our list for options the Chukka boot comes in may highly sought-after brand names with some exceptional comfort and protection features, that are ideal for an industrial work environment.
---
Index Table: The Best Chukka Work Boots