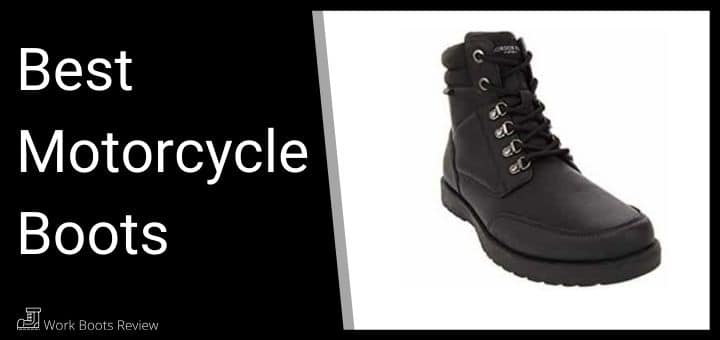 Motorcycling for some people is an affordable means of transportation while for others, it is a luxury recreational lifestyle accessory or sport.
Motorcycling has become a subculture and lifestyle for many people all over the world.
Although motorcycling is usually seen as a solo activity, it can also be a social method of recreation.
Many motorcyclists have formed groups or gangs and tend to have a sense of community with each other.
---
The Importance of a Good Pair of Motorcycling Boots or Shoes
People ride a motorcycle for two reasons, passion or practicality. One of the unique effects of riding a bike is that there is nothing else that feels relatively the same as the thrill of being one with a two-wheeled machine.
Protection Against Impact and Injuries – Motorcycling holds many risks of injury, and it is imperative to protect your feet and ankles particularly if you are involved in a motorcycling accident.

Budget VS Quality – When you decide on motorcycling as a sport, hobby, or practical form of transportation, you will need to also factor in the expensive cost of protective gear, as motorcycle riding is dangerous. You may want rather invest in a less expensive pair of stiff, supportive, and protective general-purpose boots such as work boots that you can get by with, but this is not an ideal solution. Good work boots will provide you with some protection, but not as much as proper riding boots, and they will also wear out much faster.

Ankle Support – A good motorcycling boot will cover your foot and ankle and supports your weight and that of your bike every time that you stop.

Durable Protection – Motorcycling boots are made to be extremely sturdy, durable, and offer maximum protection against the hazards specifically associated with motorcycling. This is one of the purest and exhilarating ways of getting from point A to point B, and the danger involved just heightens the enjoyment.

Comfortable and Versatilile – After a quick fun ride, or a long day on the road, every motorcyclist usually yanks off their helmet, gloves, and armored riding jacket, but not their boots, the boots stay on and are walked in and used wherever the day may take them.

Therefore every motorcyclist needs a pair of boots that offer all the protection required for riding and the road, in the disguise of a stylish and conservative all-day wear shoe or boot.
A sturdy pair of motorcycling boots is much different from a regular boot and has many features for protection and safety that other boots do not have.
---
What to Look Out for in a Motorcycling Boot
Height – For any boot to provide you with adequate protection and ankle, support it should come up at least just over the ankle. A high top boot can be much stiffer and more uncomfortable than a boot that only comes up to your ankle, but it will offer much more protection.
Material – A good motorcycling boot is constructed from much thicker, abrasion-resistant and durable leather or textile materials. Reinforcements in high wear areas such as the toes and heels are also a good characteristic.
Closures – The way your boots open and close, whether it's a zip, laces or Velcro is your own personal choice although laces tend to be more popular because of the precise fit they give and ease of removal of the boot. Although laces may come undone and get caught on the bike, in which case a buckle to strap the laces down is very useful and a great safety feature. Other closures such as buckles and Velcro will ensure that the boot stays on even in the event of a high-speed crash.
Construction – Construction techniques such as double and triple stitching and a sewn-on the sole make the boot much more durable and long-lasting.
Soles – The Soles should give you the right amount of grip. A soft sole gives better grip but is less durable whereas a harder sole is more durable but gives less grip. Make sure that the soles are oil-resistant as oil buildups on the road can pose a critical hazard to any motorcyclist.
Fit – Keep in mind a boot that is hard to take off will not come off easily in the event of an accident or any other situation. Make sure the boot fits snugly and comfortably.
Safety – Extra armor and padding, especially for racing boot, is always a great advantage. With street riding boots they usually have steel plates around the toe area to protect your toes and feet from getting crushed during an accident.
Replaceable Parts – Parts such as a fitted bootie that you can remove and clean after wear and replaceable toe sliders that get worn out quite quickly are another huge perk of motorcycling riding boots.
---
The Different Types of Motorcycling Boots and their Features
Touring Boots
Touring involves traveling at great velocities for long distances in different weather conditions either in a sports manner or as a hobby. Touring boots offer protection against different weather conditions, are comfortable, flexible, and durable. A flexible sole, as well as padding around the toes and ankle bones for comfort and reflective materials for visibility at night, are some characteristics of a touring boot.
Cruiser Boots
Cruiser boots protect your feet ankles and legs from crash impacts as well as providing protection from the elements and hazards of the road. They also provide tough and non-slip traction when you come into contact with the pavement. Cruiser boots are slip and oil resistant, have reinforced heels and ankle cups, a steel toe or shank, anti-torsion sole and built-in shift pads.
Commuter Boots
When you are making a motorcycle your main form of transportation, you also need to invest in protective motorcycling gear. Commuter bikes have a tough and durable construction with grippy soles and strong heel and toe boxes as well as good ankle impact protection
Casual Boots
For those casual riders, that mostly ride around town or close to home, shorty style boots and riding shoes are becoming increasingly popular. Short boots lack upper leg protection but still provide comfort, weather resistance, and durability. You can also still go with a normal length riding boot for the maximum amount of protection. Casual riding boots provide the durability, comfort, and protection of a general riding boot but are more versatile and have a more casual appearance for everyday casual wear.
Off-Road Boots
Off-Road, boots are the most protective riding boots that you will find. Off-Road, riders ride fast and hard in harsh terrain and subject their legs and feet to various elements and hazards. A good Offroad boot is tough and durable, provides stability and toe protection, has gaiters to prevent dirt and water from getting into the boot, steel shanks for support, and a torsion control braking system.
---
Reviews: The Best Motorcycling Boots
We have chosen some of the best-rated motorcycling boots from a top brand for every kind of motorcycling from off-road to casual;
Sturdy and Durable, Comfortable and Supportive, the following Motorcycling Boots offer all of this and much more;
1
The Cambridge for London Fog is a no-fuss basic commuter boot that is sturdy and durable as well as protective.
Durable and comfortable leather uppers with a classic metropolitan style for casual wearing.

Completely waterproof for added protection in wet conditions.

The durable outsole provides excellent traction.

A 6-inch shaft for ankle protection and support.

---
2
Innovative materials and technology for a lighter more anatomically profiled performer, the Alpine Stars Tech 7 provides core stability and flex.
The uppers are constructed from suede leather and microfiber with a TPU shell for lightweight performance and abrasion resistance.

The TPU shin plate gives a better range of fitment, and the reinforced Velcro closure system ensures a comfortable and custom fit.

A removable anatomical footbed ensures maximum comfort and support.

The dual-compound sole is seamlessly integrated into the multi-density foot base structure for built-in support and robust durability.

There is shock absorbing padding in the heel and ankle areas for improved comfort and protection.

A Poly fabric lining with 3d open cell foam prevents sliding and reinforces the heel area.

The extensive TPU protection provides protection to the toes, feet, ankles heels, calf, and shin with extra hard compounds in the toe box and heel area.

The evolutionary design features lateral flex zones for front and rear flexion and support.

A soft microfiber gaiter aids in keeping water and dirt out of the shoe.

---
3
Next on the list is a pair from Harley-Davidson. A brand that is known for its line of motorcycle essentials, Harley-Davidson also manufactures some of today's most sought-after motorcycle boots. Rugged, reliable, and durable, the Harley-Davidson Men's Scout is a pair that definitely is worth every buck spent.
The Harley-Davidson Men's Scout boasts durability that is accompanied by rugged aesthetics as these boots are crafted with full-grain leather uppers.

These motorcycle boots feature reliable grip and traction as they are engineered with sturdy rubber outsoles.

Designed not only to look extremely rugged, but the pair is also beyond comfortable as they come with unlined, cushioned insoles.

Built to perform, these motorcycle boots are also designed to stay secure as they come with classic and reliable YKK locking inside zippers.

A pair worth every penny shelled, the Harley-Davidson Men's Scout is made even durable as these boots are Goodyear welt constructed.

---
4
Coming from a background that is centered around free spirits Harley-Davidson has created yet another classic, the Barton. A tough and durable boot with exceptional comfort and protective features for an easy and safe ride.
The uppers are made from premium genuine leather.

An oil and slip-resistant rubber sole.

The full length cushioned sock liners ensure comfort and support.

Sturdy and durable Goodyear Welt construction.

Classic lace to toe motorcycle styling.

---
5
For the casual riders, there is nothing more tough and stylish than a pair of Harley Davidson Boots. The Harley Davidson Brake Light offers cushioned comfort, tough construction, and a rugged vintage style.
Full-grain leather uppers constructed using the tough and durable Goodyear Welt construction method.

The YKK twin locking zippers offer a secure fit and make it easy to take these boots off and put them on.

A full length cushioned sock liner provides excellent support and comfort.

There is an iconic Bar shield on the ankle and metal accents on the heel and toe for classic style and added protection.

The durable rubber outsole is both slip and oil resistant.

---
6
A tough and tough-looking Pilot boot that is as comfortable as it is durable. The Skechers Pilot Utility Boot is an excellent choice for a motorcycling boot it has all the comfort and safety features of a good motorcycling boot that will withstand even the toughest use.
Smooth leather uppers and a padded collar and tongue for lasting comfort and a great fit.

A work boot design that is lightweight for comfortable wear.

Additional ankle supports from the padded collar.

A lightly padded footbed for support and comfort.

A metal logo plate at the shaft to enhance the rugged appearance of the boot.

The lugged outsole ensures s robust and firm step.

A six eye lacing system with tonal stitching for durability.

---
7
Tough with all the comfort and protective features that you may require in a durable and long-lasting boot. Harley Davidson is one of the most popular names in motorcycling.
Constructed from Suede Leather using welt construction.

A slip and oil-resistant rubber outsole for non-slip grip on any surface.

A padded mesh liner collar for ankle support.

The full length cushioned sock lining adds support and comfort.

---
8
The Dingo Chopper is a tough and durable motorcycling boot that will stand the test of time. A classic oiled leather appearance and a comfortable cushioned insole make this boot one of the best.
Durable oiled leather uppers with silver hardware for a stunning appearance and tough wear.

Heavy-duty, rubber, oil-resistant outsole for durability and shock absorption.

A comfort cushion insole for added support and comfort.

Soft, comfortable linings for long-lasting wear.

A durable and great looking boot.

---
9
The Bates Raide is a Military Style Boot for the adventurer, indestructible, and comfortable with all the essential protection for miles of riding.
Full-grain leather uppers that are durable and great looking, as well as Waterproof.

A YKK locking inside zipper for added safety and ease of use.

Ortholite removable cushioned insert for comfort and support, and an EVA midsole for shock absorbency and lightweight durability.

features an oil and slip-resistant as well as offering excellent grip wherever the road may take you.

Robust and durable construction in the style of a Military boot that offers a superior fit.

---
10
There is just no comparison, Harley Davidson is the name to look for when it comes to tough and good looking Motorcycling boots.
Durable full-grain leather uppers with Goodyear Welt construction quality, and TecTuff abrasion-resistant overlays.

A full mesh inner lining for complete moisture control and comfort.

A YKK locking zipper on the inside for easy and secure fitting.

PORON ankle protection and a shock-absorbing, high traction rubber outsole.

---
11
The Danner Quarry is a rugged and protective Boot with a Vibram Outsole that ensures the best in grip and abrasion-resistant durability.
Manufactured from full-grain waterproof leather with a classic lace-up design for superior protection and hard-wearing durability.

Triple stitched construction for tough endurance and performance.

The rugged hard wear on this boot will stand the test of time.

A Vibram Quarry design outsole that is slip and oil resistant.

---
Whatever your riding taste or needs you are sure to find the perfect fit with one of our top selections of riding boots.
Stay safe and comfortable on the road with these durable and quality constructed riding boots.
Whether you are on or off the road, these fantastic motorcycle boots will keep you protected, comfortable, and stylish with their excellent and classic motorcycling appearance.
---
Index Table: Top Rated Motorcycle Boots