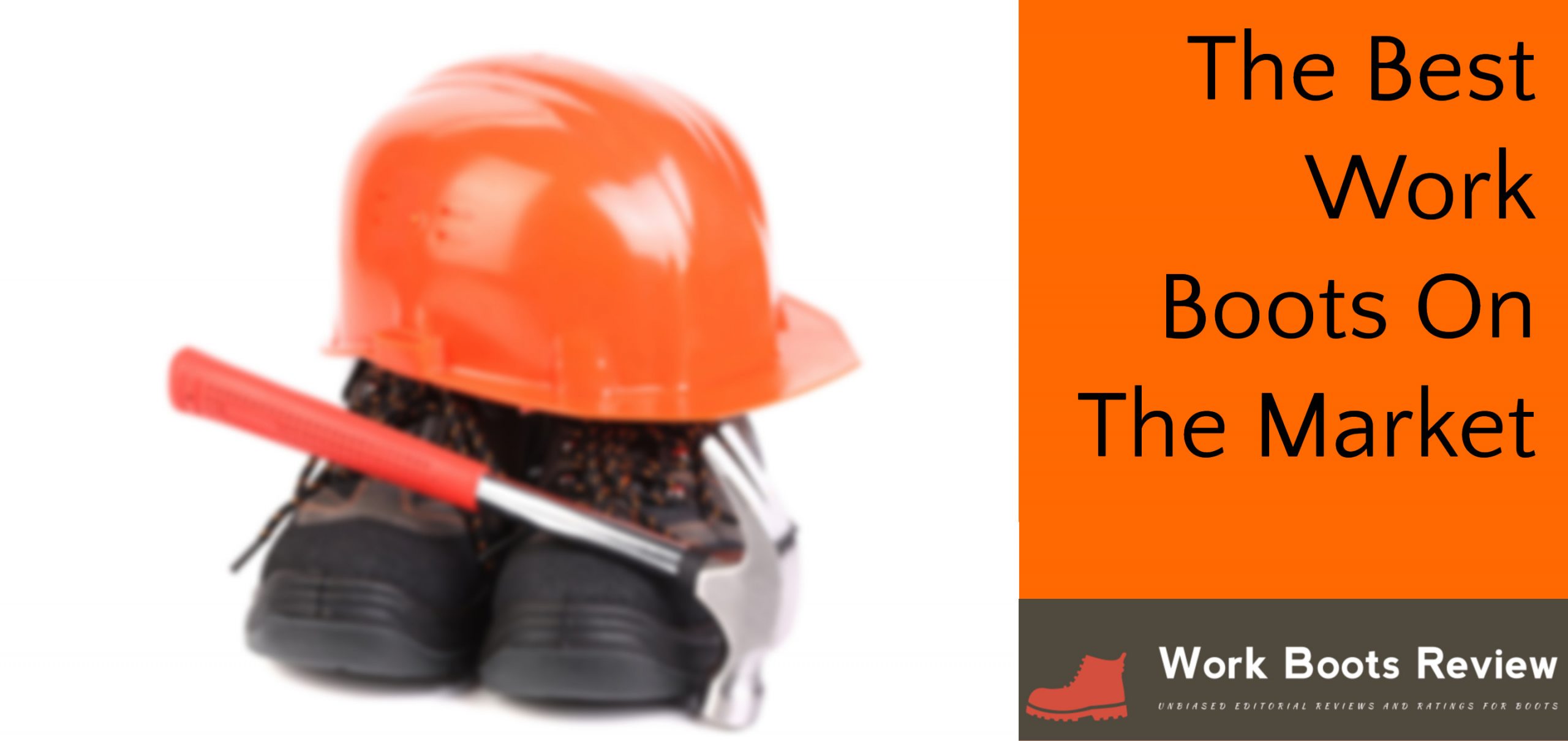 The best work boots for men will not only protect your feet on the job site but are also comfortable reducing foot pain and foot fatigue. However, protection produces heavier boots than footwear designed for comfort only, and boot companies have overcome this by manufacturing comfortable safety boots.
We created a list to help you pick the work boots for your needs with the required protection and comfort. We included lightweight work boots, soft toe boots, composite toe boots, steel toe boots, boots with metatarsal protection, against electrical hazards, waterproof boots, and winter work boots.
The Best Work Boots Compared
Caterpillar Mens Second Shift Steel Toe Work Boot

Check price at

Keen Utility Lansing Mid Steel Toe Waterproof Work Boot

Check price at

Ever Boots Tank Soft Toe Work Boots

Check price at

Timberland Pro Mudsill Steel Toe Shoe

Check price at

Keen Utility Pittsburgh Steel Toe Waterproof Boot

Check price at

Skechers Burgin-Tarlac Industrial Boot

Most Popular

Lowest Price

Check price at

Carhartt Waterproof Insulated CMC1259 EH PAC Composite Safety Boot

Check price at

Caterpillar Excavator Superlite Waterproof NT

Check price at

Thorogood American Heritage Steel Toe Work Boots

Check price at

Irish Setter Wingshooter ST-83632 Work Boots

Check price at
How To Choose A Pair Of Men's Work Boots
Not all work boots for men are made the same concerning the quality of protection, comfort, and durability. Here's all you need to know if you plan your next trip smartly.
Safety Toe Box Protection
If you are working in a hazardous area, then safety toe boots like steel toe boots and composite toe boots will protect your feet. Companies will specify when a job site requires workers to wear protective gear.
Soft Toes
Soft toe work boots are more flexible and comfortable than safety toe boots; the boots generally weigh less because there are no added materials for toe protection. A soft toe work boot is perfect when working in low-hazard areas where you still need the durability, balance, and support provided by work boots, but there is no risk of heavy items dropping onto your toes.  
Composite Toes
Composite safety toe work boots have better electrical resistance than steel toe boots and are ideal for electricians and engineers. The safety toe cup that protects the toes is made from nonmetal materials; the safety toe options are fiberglass, plastic, carbon fiber, and Kevlar. 
A composite toe meets impact and safety standards but is limited to one of these impacts. These men's work boots are lighter than steel toe boots and better for cold weather; the boots don't conduct cold and heat. 
Steel Toes
A steel toe cap boot offers better toe protection than composite toe boots and is more durable. A steel toe cup forms part of the boot construction to protect toes and reduce the impact of falling objects, cuts, punctures, compression, and burns. 
Steel toe boots conduct temperature and electricity, which means they aren't as comfortable in heat and cold as composite toe or soft toe boots. If you need electrical hazard protection, make sure the work boots adhere to industry standards.
Met-Guard
Some protective boots feature a met-guard that fits over the laces offering additional protection for the metatarsals, the bones forming the foot arch. 
ASTM Safety Standards
The ASTM (American Society For Testing And Materials) safety ratings are international standards for the minimum requirements of protective work boots. Three lines outline the ASTM standards. 
Line 1 is the compliance and year. For example, ASTM-F2413-18 means the performance requirements of F2413 issued in 2018 comply with the ASTM standards. 
Line 2 identifies the gender (M/F), impact (I, safety toe cap can tolerate 75 lbs dropped on it), and compression (C, safety toe cap can handle the crushing compressive force of 2500 lb)resistance.
Line 3 indicates the additional safety hazards the worker is protected against.
ASTM-F2413
Here are some examples of ASTM-F2413 standards rate work boots for specific safety hazards. 
C for compression resistance
CS for chain saw cut resistance 
DI for dielectric insulation, insulation from conductors, circuits
EH for electrical hazard resistance
I for impact resistance
Mt for metatarsal resistance
PR for puncture-resistance
SD for static dissipating
Comfortable Boots
The cushion and support affect the comfort level of work boots, but keeping feet dry and warm also contributes to a worker's comfort.
Comfort
The best work boots are comfortable boots that help you focus on your job instead of affecting your performance because of aching, tired and sore feet. Cushioned insoles, padded collar, and tongue contribute to all-day comfort to feet.
The inner lining, work boot uppers, keeping feet dry, cool, and warm also affect the comfort level of the work boots. A pair of leather work boots generally require a break-in period before they are comfortable to wear. Good airflow and breathability reduce discomfort from sweating feet, and antimicrobial linings help with odors.
Waterproof
Waterproof leather boots and boots with waterproof membranes are essential when working in wet weather or industries with damp job sites. Waterproof work boots for men keep feet dry in all types of weather, outdoor situations, and work environments where liquid or water spillage occur. You don't always need a waterproof design; water-resistance work boots are sufficient for most construction sites where getting wet isn't the norm. 
Insulation
The best-insulated boots will keep your feet comfortable when the temperature drops. Thinsulate is the most common insulation used in work boots and is measured in grams. The wide range of insulation in grams focuses from 200 grams for cool days, 400 grams for general winter weather, to 800 grams for keeping feet comfortable and warm at 30 to 40 degrees Fahrenheit. 
Men's work boots for cold weather include insulation in the boot shaft and a thermal footbed for comfort and warmth. 
Work Boot Materials
Upper Material
Boot manufacturers like to use full-grain leather uppers when constructing classic boots with a long lifespan. Although a durable material, leather boots require a break-in period for ultimate comfort. Synthetic materials like nylon, polyester, and Kevlar are more breathable than leather but have a limited lifespan. The combination of leather and synthetic uppers creates a work boot that is breathable, lightweight, and durable. 
Work Boot Sole And Heel
The best work boot soles are durable, flexible with sufficient traction for the construction site. Most work boot outsole materials are rubber, PVC (polyvinyl chloride), or PU (polyurethane). Rubber materials and TPU (thermoplastic polyurethane) outsoles make excellent boots for safety, providing oil and slip resistance, chemical resistance, electrical hazard protection, and protection against high temperatures like burns and flames. PU outsoles protect against slippage, are lightweight and durable.  
Protective boots for the job site are flexible and made from quality materials that withstand wear and tear. 
A classic wedge-shaped sole absorbs the shock dispersing it evenly across the rubber outsole. Your feet won't tire that much with a wedge sole; you can easily add a wedge sole to a work boot that is re-soleable. 
Work boots with a full-contact sole offer better traction than heeled boots, for example. Construction workers who need oil and slip-resistance soles prefer the full-contact sole.
Cowboy work boots and logger boots come with heels and a gap between heels and toes that shifts gravity forward. The benefit is the enhanced sensitivity for steadiness when you need to know where you are stepping. Cowboy and logger boots are generally taller, offering added ankle support and stability. 
Boot Construction
Cement construction boots are generally lighter than welted boots. Heavy work boots add to the weight the feet have to carry, increasing foot fatigue from standing for long hours. Athletic shoes and people who walk a lot on the job prefer lightweight work boots to heavier boots. However, cemented boots cannot be re-soled or repaired due to wear and tear.
Goodyear storm welt construction is the most common welted work boot. With welted boots, the boot manufacturers sow the outsole welt to the bottom of the work boot. The welted boot is more durable than cemented boots. Unlike cement construction boots which are unrepairable when wear and tear take their toll, the welted boots are resewn, enhancing the work boot's lifespan. 
Midsoles
The midsole is between the outsole and the insole; the insole rests on the midsole. EVA (ethylene vinyl acetate) and PU (polyurethane) are the most common materials used for work boot midsoles.
An EVA midsole is lightweight and provides shock absorption and cushioning for comfort and support; it does compress over time, reducing its cushioning and support abilities.
A PU midsole is more expensive than an EVA midsole because it is highly resilient and durable; it doesn't flatten over time. 
Shanks
The work boot shank is inside the sole providing structure that supports and protects the foot. Shank material is rigid like fiberglass, steel, nylon, and kevlar.  A quality shank features puncture resistance, foot support when standing on ladders or uneven surfaces for an extended period.  
Insoles
Your feet are in direct contact with the insole or footbed; it is what your foot rests on. Removable insoles are easier to clean, and if you have foot issues, you can replace the insole with customized inserts.  
Insoles add extra cushioning for foot comfort, and their shape also determines the amount of arch support. Insoles also help manage moisture-wicking and odor control. 
The Best Work Boots Reviewed – Individually
Check price at
 The Caterpillar Second Shift Steel Toe Work Boot is a formidable pair of work boots with steel safety toe caps protecting toes and feet from impact, compression, and slippery surfaces.
The round steel toe cap complies with the highest rating for protection against impact and compression (ASTM F2413-11 I/75 C/75, ASTM F2413-18). The work boots are electric hazard safe (ASTM F2413-05 1/75 EH), protecting wearers against shock from open circuits up to 600 volts in dry conditions. An oil and slip-resistant deep cleated rubber sole with an excellent grip for low traction surfaces keeping feet steady over uneven terrain. The T3 rubber outsole lugs are also ladder-safe, and the steel shank offers additional arch support and foot stability. 
Made at Gold Rated Tanneries (LWG), these work boots for men are constructed to last with durable full-grain leather uppers and single-stitched Goodyear welt construction. The oiled full-grain leather or nubuck material keeps water at bay but isn't 100% waterproof for working in water or for landscapers walking on wet lawns the entire day. Being leather, the work boots have a short break-in period, worth the comfort wearers experience after that.
A moisture-wicking nylon-mesh lining draws internal moisture away from feet, keeping feet dry. The Climasphere insoles are breathable, enhancing comfort by keeping feet cool on hot days. The padded collar offers a snug fit and support for ankles. The boots fit true to size and are a comfortable fit.
The lacing system features long-lasting eyelets and hooks to secure the sturdy laces. It won't compromise the durability of the leather work boots; the CAT brand is known for quality, durable products in the construction industry. 
CAT full-grain leather work boots are aesthetically pleasing, and the steel toe protection keeps feet safe from impact and compression. Being a steel toe work boot, the boots are heavier than other types of work boots. 
The work boots are ideal for oil refinery engineers, auto mechanics, diesel mechanics, people working in warehouses with concrete floors, and construction workers. Motorcycle riders will appreciate the boot's toughness, protection, and sporty look, but note these work boots are not waterproof and aren't recommended for people working in wet terrain.   
Check price at
The Keen Utility Lansing Mid Steel Toe Boots are the best waterproof work boots for men to keep feet dry when working in and around water or liquids. 
Keen.Dry is a breathable and waterproof membrane liner that prevents feet from getting wet from rain and water outside the pair of boots. It also draws moisture from sweating vaporing outward away from feet. The boot inner lining integrates with the waterproof membrane. The Cleansport NXT use probiotics for natural odor control.    
Asymmetrical steel toes ensure a comfortable fit and protection from impact and compression. Steel toe caps can be uncomfortable, but the asymmetrical design mold fits right and left foot anatomically. The work boots meet or exceed the ASTM F2412 and F2413 I/75 and C/757 standards.  The Keen wider footwear form allows ample toe flexibility and a comfortable fit for wide feet.
A TPU stability shank adds additional support, and the underfoot electric hazard protection keeps workers safe from live electrical circuits. With oil and slip-resistant, non-marking, and improved traction features, the rubber outsoles meet or exceed the ASTM F166777 Mark II and ASTM F2913 SATRA Non-Slip Testing Standards. The sole lug patterns provide excellent grip when walking on surfaces, and the refective safety features run across the entire length of the work boots. 
The Keen Utility Lansing Work Boot is recommended for medium-duty work in the transportation, construction, and maintenance industries. These waterproof boots with steel toe protection will be your favorite work boots when your feet stay dry at wet job sites, and you don't have smelly, sweaty feet from lack of airflow and odor control.  
Check price at
The Ever Boots Tank Soft Toe Work Boots are high-quality work boots for men at a meager price; reviewers were surprised at the quality and comfort compared to the price tag. 
The all-purpose Tank soft toe boot is constructed from premium 2.0 mm Nubuck leather that is durable and offers a comfortable fit without really needing a breaking-in period. With a Goodyear Welt construction, reinforced stitching, and thick leather uppers, these boots are long-lasting. The tanned leather won't dry out or crack quickly; Nubuck leather has water-resistant properties but is not ideal for working in wet conditions. However, the insulated mesh lining keeps feet warm in cold weather. 
With speed hooks, the work boots lace up easily and quickly. A steel shank reduces pressure when climbing ladders, scaffolds, or stairs. The PU insoles provide cushioned support, reducing foot fatigue so that workers can stand on their feet for extended periods. The cushioned insoles are removable for those who want to replace them with customized orthotics.
The signature Tank tread pattern on the outsoles protects workers from slipping when working on uneven and slippery surfaces. The durable work boots have oil-resistant features enhancing the longevity of the boots. 
The Tank work boots are the best value for money quality boots for everyday wear, home building, contractors, yard work, or working on gravel and dry cement surfaces. The soft-toe boots are larger in size, making them the perfect pair of boots for men with wide feet, flat feet, or workers who don't like tight-fitting footwear. The boots have a three-month guarantee covering outsoles falling apart, leather rips from normal wear, or uppers and outsoles separate within that period. 
Check price at
The Timberland Pro Mudsill Stee Toe Shoes are the best work boots for a craftsman, someone working outdoors, or a construction worker who needs footwear with maximum comfort that protects toes and feet. This steel-toe shoe is comfortable with oil, slip, heat, and abrasion-resistant safety features. 
When Timberland launched a waterproof leather boot in 1973, the company set industry standards for protection, durability, and craftsmanship. Timberland's Mudsill steel toe boots feature the rugged performance and silhouettes excepted from the best hiking boots. The modern outdoor styling work boots will support and protect feet in the most demanding environments with abrasion-resistant leather uppers and outsoles. 
The pair of steel toe footwear meet ASTM F2412-05, F2413-05, I/75, and C75 safety standards for compression and impact protection. An asymmetrical design follows the natural foot and toe shape, offering ample flexibility for toes. The pair of alternative work boots provide electrical hazard protection and are abrasion-resistant. The durable, non-marking rubber outsole, with its heat, oil, and slip-resistance, makes it safe for all-around work. 
The Timberland Pro 24/7 comfort system gives arch support and cushions feet with every step. The compression-molded EVA midsole and padded boot collar cover your feet in comfort, and the moisture-wicking lining with antimicrobial properties dissipates any smells from sweaty feet. A nylon diffusion shank provides torsional rigidity and structural support contributing to a comfortable experience. 
If you prefer a safety toe work shoe to a boot for protective footwear, then the Timberland Mudsill Steel Toe work shoes with its rugged leather upper, steel-toe protection, heat, slip, and oil-resistant outsoles, and cushioned midsoles are an excellent choice. 
Check price at
The Keen Utility Pittsburgh Stee Toe Waterproof Boot with superior torsion stability is the best work boot for medium-duty work in the landscaping, transportation, masonry, energy, construction, and maintenance industries.
The Keen.Key-Tech stability plate is a full-length plate that fits like a key in the midsole. The plate keeps the heel locked for safe medial and lateral movement and provides forefoot stone bruising protection. The Keen. Protect outsoles toe protection wraps up and over the toes for the best protection.
An asymmetrical steel toe cap ensures a comfortable fit and ample room for toe flexibility. The Keen boots meet safety regulations for excellent protection at the job site against impact, compression, oil and slip-resistant, and electrical hazard protection. The boots comply with ASTM F1677-96 Mark II and ASTM F2913-19 SATRA non-slip testing standards; ASTM F2412-18, F2413-18 M I/75 C/75 EH standards.
The Nubuck leather is waterproof, and the Keen boots come with the Keen.Dry waterproof, breathable lining. The waterproof membrane keeps feet dry, wicking moisture away on the inside and shielding feet from wet entering the boot.
In addition to torsional support, the Keen boots have a structured insole that hugs the arch for reduced foot fatigue caused by standing on your feet for long hours. The metatomical footbed is anatomically designed, and the insole supports the overall foot shape, emphasizing the first metatarsal joint; hence, the term metatomical combines metatarsal and anatomic. The EVA midsole and footbed are so comfortable that it feels like tennis shoes instead of work boots.
The Keen Pittsburgh Work Boots are safe and comfortable work boots for different types of job sites. The boots will keep workers safe and secure with these steel toes, protect against electrical hazards, are oil and slip-resistant, and have excellent outsole traction.
Check price at
The Skechers Burgin-Tarlac Industrial Boots are the best work boots for men who wear protective boots and looking for ultimate comfort. The cushioned memory foam insoles feel like a pair of sneakers, but you are wearing a pair of ankle height steel toe work boots. 
With the memory foam inner sole, the steel toe work boots are comfortable, adjusting to the contours of your foot shape. The memory foam provides extra support when standing for a long time and absorbs the impact when walking on hard surfaces.
The insoles are removable for easy cleaning. For utmost comfort when wearing steel toe boots, it's recommended to buy a half size up; the toes won't chafe against the steel toe box from the top. With Air Cool features, the inserts are breathable to prevent feet from overheating.
The full-grain leather uppers offer durability for maximum wear resistance and are water-resistant. The rugged leather resists punctures protecting the feet. The comfortable boots also feature electrical hazard protection, slip-resistant rubber outsoles, and a padded collar for ankle stability.
The slip-resistant outsole and the reinforced heel provide additional protection. The rubber outsole grip pattern offers versatile traction on various terrain, including wet and dry grass, sand, rocky terrain, tiled and slippery floors. The side ridges give stability when climbing ropes or scaffolding.
A steel toe boot is heavier than soft toe boots and often lacks the comfort level other boots offer. However, the Skechers Burgin-Tarlac Industrial Boots are one of the best work boots that combine comfort and safety features.
Check price at
 The Carhartt Insulated Composite Toe Pac Boots are the best winter work boots when working in extreme hot or winter conditions. The insulated work boots feature 1000 LiteFire insulation, protection from electrical hazards with an oil, chemical, and slip-resistant outsole.
With 1000 LiteFire technology, the insulated work boots will keep feet warm and protected in any job that takes you out in the snow, whether it is emergency services, maintenance, or construction. The aluminum-based membrane reflects body heat equivalent to 1000 grams insulation without adding bulk or weight to the boots. The Storm Defender waterproof breathable membrane design ensures an entirely waterproof boot; your feet will stay dry in mud puddles, snow, and rain. The membrane's breathability allows for airflow and circulation to keep feet at a constant temperature. A padded collar, padded tongue, Ortholite insoles, and PU midsoles provide comfort; working in heat or snow won't affect your feet at all.
The rubber lug outsole has excellent traction, is dirt-repellent, and keeps feet steady when stepping on slippery surfaces. The composite toe meets ASTM F2413-18 EH safety standards for electrical hazard, compression, and impact resistance; the non-metallic safety also features molded rubber toe bumpers for abrasion resistance. The electric hazard safety toe protects a worker against incidental contact with electrical circuits of 18,000 volts in dry conditions.
The shaft measures about 10 inches from the arch for additional warmth and protection. The TPU heel guard with Achilles flexes joint offers ankle stability, heel, and side-impact protection, enhancing the boot's durability.
The Carharrt Yukon Pac-Boot design is the perfect cold season safety boot providing warmth, protection, and extra comfort on a daily basis.
Check price at
The Caterpillar Excavator Superlite Nano Toe Work Boots is the best lightweight boot for men walking and standing on their feet all day. With less weight on the feet, you require less energy to move resulting in feet not so tired after a long day.
These light industrial work boots meet ASTM F2413-18-11 I/75 C/75 safety standards. The boots also provide electrical hazard protection (ASTM F2413 – 18 I/75 EH) against open circuits up to 600 volts in dry conditions.
Premium full-grain leather uppers are durable and waterproof. The patented iTechnology construction with bond-welted forefoot and cemented heel enhances the boot's durability and comfort level; the work boot feels like wearing a pair of athletic shoes. Reinvented EASE Engineered Comfort midsoles feature a 30% lighter proprietary foam midsole with more flexibility and shock absorbant characteristics than standard EVA midsoles. A contoured, engineered comfort footbed adds more comfort with the excellent cushioning, rebound, and support.
The work boots give excellent protection with TecTuff material for abrasion resistance, ergonomic ankle pods for stability, rubber toe bumper for wear, SRX slip-resistant rubber outsoles, and biomechanical outsole lug design for superior traction.
Check price at
The American-made Thorogood American Heritage Steel Toe Work Boots are constructed by union workers, skilled craftsmen, and women who understand the need for a durable, comfortable boot that protects and is also stylish for off-duty wear.
The Maxwear wedge slip-resistant outsole absorbs impact and is more flexible, reducing foot fatigue than most work boot soles. The sole meets the ASTM F3445-21 slip-resistance standards; ASTM F2413-18 or ASTM F2892-18 electrical hazard standards.
With Goodyear welt construction, triple stitching, and tanned full-grain leather uppers, the boots are durable, wear-resistant, and the moisture seal keeps water outside. The boot design allows for breathability keeping feet comfortable. A fiberglass shank construction helps the boots maintain their shape and provide the strength and flexibility needed.
The dual-density cushioning features air-permeable open cells for maximum moisture wicking and shock absorption. The Poron Comfortion Cushion removable insole contributes to the optimum comfort level.
The Thorogood American Heritage steel toe work boots are great for industrial and outdoor jobs. Electricians, technicians, machinists, carpenters, sheet metal workers, construction workers, and truck drivers will appreciate the comfort and level of protection these boots provide.
Check price at
The Irish Setter Wingshooter Work Boots has a non-metallic safety toe and meets electric hazard, impact, and compression ASTM F2413-18 safety standards. The comfortable boots keep feet at a constant temperature and protect workers against heat.
With a heat-resistant outsole, the footwear is designed and tested for high heat surfaces. Soles are heat-resistant to melting at a minimum of 475 degrees Fahrenheit, and the wedge sole also keeps workers steady on oily and slippery surfaces.
The Irish Setter UltraDry construction ensures long-lasting comfort in wet and dry environments. The moisture management lining wicks sweat away from the feet, and the waterproof component keeps feet dry from water penetrating from outside.
The work boots are stylish with amber leather uppers and a white sole. The Nano toe protects and offers enough room for toes to flex. These waterproof boots feature excellent rubber-EVA traction Tred soles for grip, Goodyear welt construction for durability, removable polyurethane footbed for comfort, and the UlraDdry waterproofing system.
PRODIMG
 The Western-style Ariat Groundbreaker Square Toe is the best cowboy work boot for durability and lasting performance. Founded to provide boots for equestrian athletes, Ariat manufactures pull-on work boots that are reliable and comfortable, reducing foot fatigue.
These cowboy boots are tough with the full-grain leather foot, suede uppers, Goodyear welt construction, and 6-row shaft stitching. The boot features Waterproof Pro construction and 400-gram Thinsulate Ultra Insulation to keep feet warm and dry, and the mesh-lining offers moisture-wicking properties preventing sweaty feet.
The composite toe is safety rated for electrical hazards, impact, and compression (ASTM F2413-11 M/I/75 C/75 EH). The square toe design allows for more toe room than pointed cowboy boots and is comfortable working long hours on your feet. The cowboy work boots have oil and slip-resistant Duratread rubber compound outsoles with a 90-degree heel for additional steadiness and a stability chassis for a proper gait cycle. The shock-absorbing EVA midsole and 4LR (four-layer rebound) technology cushioned the foot, providing a higher rebound for extra comfort.
The Workhog Cowboy Work Boots are ideal for factories, warehouses, construction, and farm work with pull-on tabs for easy wearing, metatarsal protection, composite toe, stability technology, and soft, cushioned insoles for those extended workdays.
PRODIMG
 The Timberland Pro Work Summit work boot is the best composite toe work boot that keeps you energized irrespective of your work conditions. The boot is designed to keep you moving without painful or tired feet.
The composite toe with the lightweight CarbonShield technology meets US and Canadian safety standards for compression and impact protection (ASTM F2412-18a, ASTM F2413-18, CAN/CSA-Z195-14 Grade 1). The asymmetrical design is shaped more naturally, offering more toe room and comfort. The Exospine technology with lasting structure locks your heel in place and enhances durability. The boots protect against impact, compression, and electrical hazards.
Premium full-grain leather uppers are waterproof, keeping feet dry when working in wet conditions. The waterproof membrane also protects feet from getting wet from the outside and wicks moisture away on the inside. Antimicrobial treatment helps reduce odor control from sweating feet, and the membrane breathability keeps feet cool.
The all-weather TPU outsole is oil and slip-resistant, abrasion-resistant, offers shock absorption and energy return; it reduces foot fatigue when on your feet for many hours. A fiberglass shank provides structural support, and the padded collar contributes to a comfortable fit.