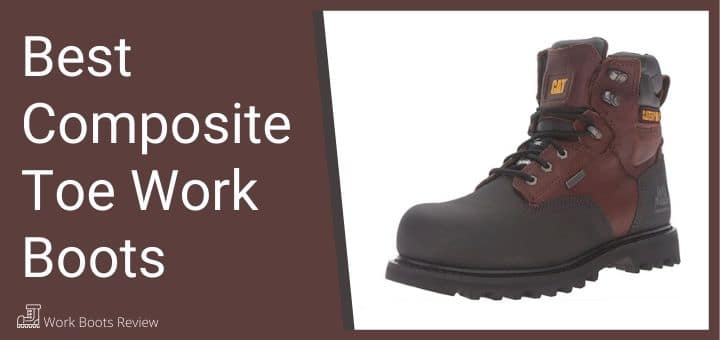 The purpose of a composite toe work boots is to provide added defense and protection to the area of the boot that is the most vulnerable, it is, of course,
your toes!
The main reason why people are still reaching for a steel toe boot rather than a composite toe boot is affordability.
The materials used to manufacture a composite toe costs more than producing a steel toe; Therefore a composite toe boot tends to be more expensive than its steel counterpart.
---
---
Steel Toe vs. Composite Toe
Advanced Materials: New Technologies using advanced materials in Composite toe work boots are well on their way to replace steel toe work boots as a norm in the industrial industries, although some companies and types of work still require a steel toe according to law or company policy.

Type of Materials: A composite safety toe is constructed from non-metal materials such as Kevlar, Carbon Fibre, Plastic or Fibre Glass.

Weight: A composite toe work boot, because it does not contain any metal is much more lightweight and comfortable to wear than a steel toe, a lighter boot also expends less energy with movement.

Weather Considerations: A composite toe is also a better choice when you work in extreme weather conditions as a metal toe becomes very hot in hot weather and very cold in colder weather.

Security Arrangements: A composite toe boot is the best choice for outdoor work and is also advantageous in companies that have metal detectors that you are required to pass through.

Electric Hazards: Further, the plastic used in some composite toe boots do not conduct electricity and have much better electrical resistance than a steel toe. Therefore they are also an excellent choice for electricians and people working with or around electricity.
---
Anatomy of a Good Composite Toe Boot
There are two major aspects to look for in safety work boots:
Impact Resistance
Impact resistance refers to the ability of a certain material to withstand a very high force or shock from another object usually over a short burst of time.

A composite toe boot is thicker and more bulbous at the toe to provide the same amount of impact resistance as the steel toe boot.

A Composite toe will pass the initial impact and ASTM compression tests, but sometimes with an impact or compression event they may not perform as adequately as desired.
Compression Resistance
Compression resistance is the ability of a material to withstand a load that has the tendency to reduce the size of the material or elongates the size of the material due to tensile strength.

The composite toe offers compression resistance at high ASTM standards.

The compression rating which is the number of loads a composite toe boot can withstand before breaking is for example; a C/75 will guard against loads up to 2500 pounds where a C/50 will only guard against a load of up to 1750 pounds.
---
Advantages of Wearing Top Rated Composite Toe Work Boots
Composite boots are convenient and relatively lightweight versus their steel toe counterpart

Offers just enough security and safety for the foot, especially for those who work in tough environments

This type doesn't set off metal detectors, easily making them security and airport-friendly

Select pairs are crafted to be waterproof, as they are constructed using a seam-sealed technology that makes them suitable for use under extremely wet working conditions

Comfortable, boasting well-cushioned, shock-absorbing insoles that work well in keeping the feet from feeling fatigued

---
Features of The Best Composite Toe Work Boots
Composite work boots are made of composite materials, providing reliable protection and security for the feet

Non-metallic, robust, and extremely durable construction; able to withstand impacts.

Non-metallic eyelets, usually made of nylon plastic, ensuring that the pairs don't set off metal detectors

Lugged, oil, slip, abrasion, and water-resistant, high-traction outsoles that perform well against varying surfaces

Chemical, heat, abrasion, puncture, oil-resistant, and electrical hazard-safe, ensuring that the pair meets the most basic safety standard requirements

---
Reviews: The Best Composite Toe Work Boots
Below are the best composite toe work boots available today:
1
Established in 1885 as a dress shoemaker, today Bates Footwear is devoted to the advancement and assembling of uniform footwear for all extensions of the military and citizen police powers.
In 2003, the organization joined a billion-dollar footwear company that is headquartered in Rockford, Michigan. The Bates E02276 GX8 Men's Desert Tan Side Zip Composite Work Boot is made from Wolverine Warrior cowhide with 1680 denier nylon uppers, easily making it to our list of top composite toe work boots.
Leather and Nylon uppers for comfort and breathability.

Imported quality.

The non-metallic toes are ASTM appraised; they ensure the safety of your feet while keeping them cool in hot climates.

A synthetic sole that will improve grip and traction.

Lace-up boot with padded collar for comfort.

Medial side zipper to make the boot easier to put on and remove.

---
2
The Caterpillar Creston offers solid and dedicated work boots that combine sleek and subtle elements with immaculate performance, making it a go-to brand for the best composite toe boots.
Creston has been composed with the ERGO comfort framework, which incorporates an arrangement of anatomically faultless and bio-mechanically-recognized characteristics to work with your foot's shape and natural movements.
All styles emphasize an EVA sock liner to pad each step, a high-footing flexible outsole for excellent grasp, and a nylon cross-section lining for all-day-long dryness. This Composite toe work boot for men can be considered as one of the most comfortable work boots for industrial and construction work.
Constructed from full grain waterproof leather.

A rubber sole offering excellent grip.

A comfortable boot that will keep your feet dry.

Improved durability of the waterproof membrane construction.

---
3
The Timberland has been a trusted companion in the boot production industry for more than three decades and was the first company to make genuine waterproof boots.
They have ventured into numerous different sorts of footwear and keep on providing top-notch quality footwear for every occupation, adventure, and the environment.
The Timberland Pro Composite Toe Boot offers an elastic outsole that is oil, slip and heat-resistant, with one of the finest composite toes.
A Lace Up Leather Boot with a Power Fit comfort system and padded collar.

Titan Safety Toe technology.

Rubber sole that is oil, heat, and slip-resistant.

Ortholite footbed with Dryz Intellitemp X-Static technology, to regulate temperature and reduce moisture.

Constructed from high-quality leather.

This is a stylish work boot for every businessman.

---
4
Coming on the list are Timberland pro composite toe work boots. The Timberland PRO Helix offers a boot with a cowhide upper covered with a waterproof membrane. The shoe is padded inside for added comfort, and the composite toe offers extra protection against impact and compression perils.
Constructed from cowhide leather with a waterproof membrane.

A slip, oil, and heat resistant rubber outsole.

anti-fatigue technology.

Constructed on Titan Last technology for a superior fit.

A composite safety toe shaped on the Titan last.

---
5
Also making it to the list of best men's composite toe work boots are composite toe cowboy boots. The ariat Men's Work Hog is a pull-on composite toe pair that features a classic Western look, combined with durability, performance, and impressive stability.
The shaft measures approximately 10 inches from the arch.

The robust outline of the boot features a full-grain calfskin upper and Goodyear welting for unrivaled quality, while the Duratread outsole is self-cleaning.

These Boots offer ATS Max engineering backings and pads your feet as you move, diminishing fatigue and providing more comfort.

The foot and upper are constructed from premium full-grain leather.

The EVA mid-foot backing decreases stress and pressure on the metatarsals.

ATS: Advanced Torque Stability technology that complements the composite forked shank.

A roper toe profile.

---
6
A Stylish Imported Premium Waterproof Leather & Textile Work Boot.

With 400 gram of Thinsulate – it is more appropriate for cold weather.

Rubber sole that is flexible.

Athletic Contour Welt construction that moves with you by bending and flexing at essential points.

Shaft measures approximately 6″ from the arch.

Abrasion-resistant carbon toe cap.

Removable Ortholite cushioned insoles for all-day comfort.

Slip, oil, water, abrasion, and chemical-resistant outsole for added protection.

---
7
Rubber Sole with shock absorbing traction for any environment.

Full grain leather offers water resistance and ensures safe and protected ankles on and off the job site.

Oil resistant, slip resistant and chemical resistant.

Lightweight EVA midsole and OrthoLite insole give you multiple layers of cushioning for all-day comfort.

---
8
An athletic styled work boot that is tough, protective and very comfortable with a flexible design, for all day active wear.
This Work Boot is quite similar to the Overpass model that I have mentioned before, although it is the non-insulated and electrical Hazard safe model.
Waterproof leather uppers with an abrasion resistant toe.

Very flexible and seam sealed contour welt construction for durability and comfort.

The rubber outsole is oil, slip, chemical and abrasion resistant for the best on the job site protection.

A Composite Safety Toe and Electrical hazard Safe materials that are both ASTM rated for Safety and protection.

Available in three different color option to choose from.

For all day comfort there is a cushioned Ortholite footbed.

---
9
Tough and durable, with Peanut Oil tanned leather construction and a bumper toe for additional protection, along with many exceptional comfort and safety features.
Soft and supple oil tanned leather uppers in a dark tan shade.

An advanced Insite engineered footbed, for the best form and fit with a moisture wicking high grip suede cover, and two layers of foam for compression and energy return.

The Storm Defender waterproof membrane is completely breathable while offering maximum liquid protection.

Electrical hazard protection that meets ASTM standards.

Completely chemical and abrasion resistant as well as weatherproof.

The outsole is a chemical, slip, oil, and abrasion resistant rubber.

---
10
a stunningly handsome pair of work boots in that original Western Style, with some fabulous features and comfort characteristics, from Ariat.
100% Pure leather construction with decorative four-row stitching patterns on the shaft, and a leather toe overlay for a reverse saddle effect.

The uppers are entire Waterproof with Waterproof PRO construction.

An anatomical last for a superior and comfortable fit.

inside there is a breathable and moisture wicking mesh lining, and a comfortable footbed.

the rubber outsole is highly robust and slip resistant.

---
11
A full house safety work Boot that has a lightweight and protective Composite toe, from a Top american Brand Wolverine.
Durable leather uppers with a waterproof membrane.

Comfortable Ortholite footbed that is removable.

The rubber outsole is slip, oil, abrasion and chemical resistant.

Electrical hazard safe and ASTM compliant.

---
12
A casual and comfortable all-day wear workboot that is electrical hazard safe and features Cooling technology.
A dual density slip resistant PU outsole.

Comfortable and soft leather uppers with a safety composite toe.

Stylish and casual design.

Comfortably cushioned footbed and Cool Max cooling technology to wick away moisture and breathe.

Enhanced toe support and requires minimal break-in time.

---
13
A tough and highly durable work boot from Timberland Pro with a protective Composite toe.
Genuine leather uppers and a lightweight protective composite toe.

A molded rubber Toe protector.

Durable rubber and TPU outsole that highly slip-resistant.

Premium waterproof membrane lining.

A comfortable dual-density anti-fatigue technology polyurethane footbed.

The composite toe is shaped on a Titan technology last.

---
Conclusion
Work in style comfort and with the protection of a composite toe in any one of these magnificent and durable work boots chosen from only the best brands with the highest ratings.
The traditional steel toed work boot remains faithful for many years since being introduced and remains the preferred method of foot protection for many workers in industrial industries.
Although the composite toe boot, the steel toe boots competition is much more lightweight, the steel toe safety caps still offer much more flat protection.
So as far as straight impact and compression resistance are concerned the steel toe can by far handling much more impact and weight, giving you much more protection.
A steel toe will be of greater use in a hazardous environment where the risk of getting injured is greater.
For a less hazardous environment with lower incident risk, a composite toe has less risk of shattering and will deliver the desired performance.
---
Index Table: Top Rated Composite Toe Work Boots