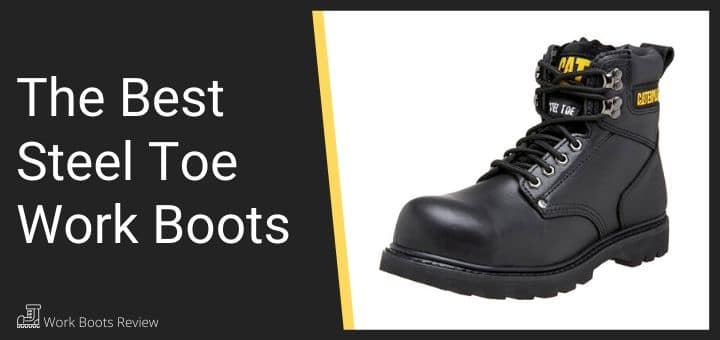 Steel safety toe boots are a necessity for those who work in construction, transportation, and other industries where safety is paramount. Steel toes provide the wearer with protection against falling objects or debris. It's important to find the best steel toe boots for your needs – no boot can protect you if you don't have them on your feet!
Of course, your boots need to be comfortable as well as protecting your feet.  Far too often people think they need to give up comfort for protection – but that certainly isn't the case in 2021.  In some workplaces you can get away with wearing steel toe sneakers for protecting your feet – but most work environments require safety boots.  We've put together a list of the best steel toe boots rated and reviewed based on their comfort, durability, value, and more.  We also offer you advice on what to look out for when buying these shoes online.
The Best Steel Toe Boots Compared
---
Individual Reviews Of Our Best Rated Steel Toe Boots
Whether you are looking for the best steel toe waterproof work boots or the best steel toe work boots for standing on concrete all day, this review will get your work boot needs covered.
So without any further ado, here are our picks for the top safety work boots to keep your feet safe.
---
1
The overall best steel toe boot available in 2021 is the Timberland Pit Boss.  With 6″ of  steel toe protection you get a great mix of safety features and puncture resistance while still fighting the foot fatigue that comes with a heavier, longer steel plate.
Timberland's Pit Boss work boots are designed for those who want to be comfortable and safe while working on their feet all day. They're heavy-duty steel toe construction meets ANSI safety standards, meaning you'll never have foot pain with these bad boys on! With unsurpassed traction-grip, they help perform your toughest tasks – even in wet conditions! This boot is not only meant to last but will keep you well protected against open circuits thanks to their electrohazard protection. Not just tough, Timberland also cares for its customers' feet by including a removable sock liner that helps prevent blisters from day's end. These are boots that won't let you down whether it's at the office or the factory!
Most people find these leather boots have just the right amount of arch support, and are true to the sizing for width.

Rugged, nubuck leather upper for comfort and durability.

Goodyear welt construction enhances the outsole's strength and lifespan.

Steel safety toe provides protection from hard kicks or falls that may lead to injury.

Padded top collar is contoured with a foam-injected nylon lining made of antimicrobial cambrelle fabric for long lasting odor control– even in wet conditions!

Polyurethane midsole offers durable comfort appropriate for many types of work environments including warehouse floors like concrete where it can get slick. Youll love the slip resistance!

Provides secondary underfoot protection against live electrical circuits and other electrical hazards. Meets ASTM F2412-11, ASTM F2413-11 and ASTM F2892-11 standards.
---
2
These KEEN Utility Milwaukee safety boots will keep you on top of your game and feeling comfortable. You'll be able to focus all day long, thanks to the water-proof leather upper that has toe protection from patented Keen PROTECT technology. It's easy to keep these steel-toed boots laced up with the locking metal speed hooks designed for a secure fit. The breathable waterproof membranes allow vapor out but not in–so don't worry about any foot fatigue in wet environments! The anatomically correct design ensures proper comfort while staying focused at work throughout the entire day without worrying about blisters or sweaty feet because these shoes have an excellent ventilation system too!
Tough-Tec leather uppers that are tough, abrasion-resistant, and comfortable.

Manufactured using Keen Welt Construction for improved durability.

, there are left and right asymmetrical steel toes for maximum protection.

The removable meta anatomical dual-density EVA footbed ensures excellent shock absorbency and superior comfort.

An oil and slip-resistant non-marking rubber outsole that provides exceptional grip on even the slipperiest surfaces.

Electrical hazard protection meets the ASTM F2412-11, ASTM F2413-11 and ASTM F2892-11 standards.

---
3
The Ely leather work boot is a direct-attach constructed, water-resistant style – inspired by the comfort of hiking boots. The lightweight and flexible shoe features an UltraDry™ waterproof membrane that provides superior protection from the elements while its snug design keeps your feet comfortable all day long. In addition to being durable and functional for people on their feet all day, this iconic look will never go out of style.    They can easily go from the shop floor to happy hour with the crew without missing a step.
Tough and comfortable leather uppers for all-day rugged wear.

The supportive and comfortable polyurethane footbed makes for a comfortable pair of boots – easy to stand in on the most demanding of job sites.

The safety toes offer extra protection against falling objects and compression hazards.


This pair of protective boots meet the ASTM F2413-11, M/I/75/C/75, electrical hazard, and safety standards.

A tough and durable PU V-Grip outsole for comprehensive slip resistance.

---
5
One of the best pull-on work boots with solid-steel foot protection introduced by Dr. Marten. Dr. Marten Is well known for designing the most durable and reliable footwear available. They may look rough, but a pair of the Dr. Marten Industrial Length Boots are one of the most comfortable steel toe work boots available on the market.

These Steel Toe Boots for men comes with a heat-sealed welt construction along with a wood shank.

These heavy-duty boots are slip-resistant and have PVC soles that are capable of dealing with electrical hazards.

Constructed from very durable leather.

A synthetic PVC slips resistant sole that provides electrical hazard safety.

ANSI rated protective steel toe.

ANSI/OHSA approved work boot.

---
6
The Keen Atlanta Cool Steel Toe Boot is your one-stop stylish solution for the daily hazardous encounters. This boot is a sturdy but comfortable boot that is perfect for an industrial or outdoor environment.

These low rise boots have an ESS shank along with slip-resistant rubber soles to keep you protected and your feet well-grounded on any surface.

Made from leather and mesh material.

An oil and slip-resistant non-marking rubber sole.

Left and right asymmetrical steel toes.

Dual-density compression-molded EVA sole for added comfort.

Mesh liner for breathability and ventilation.

A meta atomical removable dual-density EVA footbed for more support and shock absorbency.

---
7
Dating back to the 1883's, Wolverine is an iconic shoe brand known for its fine material and timeless craftsmanship. Wolverine designs some of the best steel toe work footwear that is available today.

This hunky steel toe boots for men by Wolverine is manufactured with smooth full-grain leather with a 6-inch lace-up and a leather shaft.

The padded collar gives extra comfort, and the single stitched welt construction makes this a tough and durable work boot.

Made from full-grain smooth leather.

A rubber sole for better grip.

Multi-shock absorbing compression pads that are molded into the outsole.

Mesh lining that controls moisture.

Wolverine multi-shot contour welt construction for durability.

A Removable full cushioned footbed for added support.

A Nylon shank

Protective steel toe.

---
8
Caterpillar is a brand of boot well known for their long-lasting durability, the 2nd Shift Steel Toe Boots are built to last and to offer you the necessary protection that a hard-working boot should.

Manufactured with full-grain leather and nubuck, which will not let you down when it comes to comfort and performance.

The Caterpillar 2nd Shift is designed to keep your feet dry and comfortable in even the highest of temperatures.

A durable, oil-resistant synthetic outsole that provides a good grip on slippery surfaces.

An ankle-cut work boot with padded ankles for extra comfort.

Features a protective Steel Toe for safety against heavy falling objects and compression hazards.

---
If you need the robust and ultimate protection of a Steel Toe Work Boot, then you cannot go wrong with anyone of these choices.
A work boot should be durable, protective, and comfortable and never scale down on any of these perquisites. Choose the best to choose a steel toe work boot!
The Composition of the Best Steel Toe Boots
A Steel Toe boot is also known as a safety boot. A Steel Toe Work Boot is a durable and protective work boot that has a protective reinforcement in the toe area that is made of steel to protect you against falling objects, compression, and cutting hazards.
A Steel Toe work Boot usually comes combined with a midsole plate that provides protection against punctures from below.
---
The Advantages of Wearing The Best Steel Toe Boots
The best steel toe work boots offer you the maximum amount of protection against falling objects that can crush or injure your toes and forefoot, as well as from compression and cutting objects.

The midsole plate that comes combined with the steel toe protects you underfoot against punctures from sharp protruding objects.

A steel toe work boot can withstand much higher impact and compression than its composite equivalent.

The most comfortable steel toe boots come with breathable mesh linings and shock-absorbing insoles, ensuring that your feet stay comfortable and less fatigued even after long hours of wearing.

---
Features of The Most Comfortable Steel Toe Boots
Industrial steel toe boots boast protective steel caps over the toe area.

A midsole plate under the foot for protection against punctures.

Durable and protective upper construction.

A slip and oil resistant durable outsole that offers a good grip.

Comfortable steel toe boots are designed with well-cushioned insoles.

Other protective features such as electrical hazard protection, waterproofing, and chemical resistance.

---
Who Requires a Best Steel Toe Boots
Many companies, as well as industrial legislative policies and insurance companies, require the use of a Steel Toe Safety work boot in individual work settings. Safety Toe or Steel Toe work boots may need to be certified according to certain national and international standards.
If you work in an environment where there are heavy loads and the risk of falling objects such as an engineering or construction environment, then a Safety Toe work boot is necessary.
Work environments where sharp, hazardous objects are lying around or cutting tools also seem viable for a Protective Steel Toe work boot.
---
Conclusion: Which Pair of The Best Steel Toe Work Boots Is For You?
Without a doubt, everyone wants to find comfort and safety in the most durable work boots. So regardless of the tough industry, you work in, wearing comfortable steel toe work boots will surely help you get through the daily demands of work with ease.
May it be in the construction field or at a warehouse, having the right pair that fits your needs is a must.
That being said, which one of today's best steel toe work boots for men do you think is your perfect match?