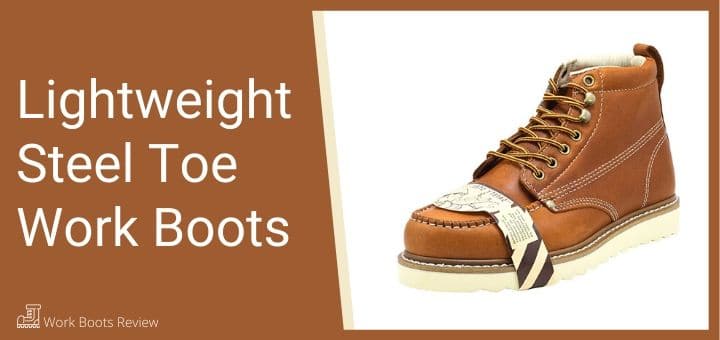 Are you looking for a good pair of lightweight steel toe work boots?
A steel toe boot is a work boot that is also known as a Safty Boot, Steel Capped Boot, or Safety Shoe that has a protective steel reinforcement in the toe area to protect the feet from falling objects or compression.
A steel toe boot is usually combined with a midsole plate that protects your feet against punctures.
Most steel toe boots have durable and safe, protective construction.
Let's have a look at why you would want a steel toe work boot, pros and cons, benefits, and characteristics of a good steel toe boot.
---
Why Steel Toe Work Boots
The steel toe work boot is the age-old classic and trusted safety boot that has been protecting workers' feet for decades.
A steel toe is the toughest protection that you will find; a steel toe can resist much bigger impacts and more compression than any other form of a safety toe.
The steel toe boot also comes in a larger variety of styles, so your choice of safety boot is much wider than that of the composite or alloy toe counterpart.
Steel-toe safety boots are affordable and cheaper to make than composite toe safety boots. Therefore, many companies and workers are still remaining with this tried and trusted affordable option of protection.
---
Pros and Cons of Steel Toe Work Boot
Steel toe boots offer much more puncture protection; they are shatterproof and much cheaper than composite toe boots.
A steel toe boot is also a more reliable safety boot when there is a risk of glass or a nail that may puncture your boot.
Unfortunately, steel toe boots offer little or no insulation and can become very warm in hot weather and very cold in cold weather as the metal tends to conduct the heat and cold.
You will also have a problem getting through metal detectors in you are in an area such as an airport as the steel tends to set off the alarms.
Steel, in general, is quite heavy therefore most steel toe boots will be heavier than the composite or alloy toe boots.
---
Benefits of a Lightweight Steel Toe
Steel toe work boot will give you the maximum protection of a steel toe in a lighter boot that offers much easier movement and reduces foot fatigue.
A steel toe work boot provides protection against falling and flying objects that can crush or injure your feet and toes as well as protection from punctures when stepping on sharp objects because of the metal plate in the sole.
A steel toe work boot also protects you against compression and cutting objects.
The sole of any safety work boot is durable and offers protection against slips trips and falls and is usually made from rubber, and the durable materials that the boot is made from can protect you against chemical and physical burns from hot or molten materials.
Characteristics of a Good Pair Of Steel Toe Work Boots
Lightweight steel toe work boots are designed with protective steel toe caps and steel shank underneath.

The pair is also constructed to be waterproof or water-resistant.

Steel toe lightweight work boots are generally made of sturdy yet lightweight breathable materials.

These work boots are also equipped with durable, slip, and oil-resistant outsoles.

The best lightweight steel toe work boots are tested to pass ASTM F2413-11 EH standards.

Steel toe work boots in general boast a tough and durable construction.

The best lightweight steel toe work boots also come with comfort features such as cushioned insoles and supportive footbeds.

---
Review of the Best Lightweight Steel Toe Boots
Having a reliable pair of work boot is important, especially for those who spend long hours on their feet. And for tough and heavy-duty workplaces, having extra comfort lightweight work boots with steel toe is an absolute plus.
That said, here's our list of the best steel toe work boots that are comfortable and lightweight.
---
---
---
---
---
---
Steel toe work boots do not have to be heavy and uncomfortable; you can have the maximum protection of a steel toe with added comfort all in a lightweight boot.
A lightweight work boot will aid in fighting foot fatigue and can come in quite useful when you have a fast-paced job where you are moving around quite a bit.
Police officers and people working in the law enforcement and security industry need the protection of a steel toe in a lightweight boot because they are required to run and jump for their occupation.
---
Comparison Table for Lightweight Steel Toe Work Boots
The Final Takeaway
While steel toe work boots are generally designed to be robust, most of these pairs also come with quite a dreadful weight. And unfortunately for some, that could be an issue.
However, a reliable pair of safety shoes don't necessarily have to be heavy. There are also select pairs that are considered to be lightweight steel toe work boots.
Prioritizing all-day comfort and breathability, the best lightweight steel toe work boots are designed to keep the feet protected, without causing too much strain to the feet.
And with our list of some of today's top-rated steel toe lightweight work boots, which pair do you think fits your workplace needs the most?