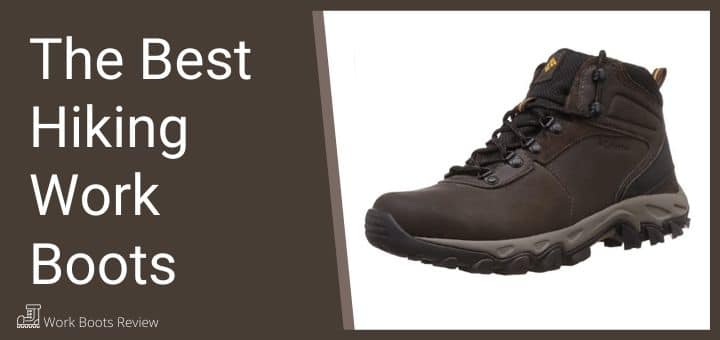 Whether a Hiking or proper Workboot, comfort, and safety are the two most important features that a boot can offer. Given the hefty price tag on most new work boots, many may look for getting double duty out of their boots.
Hiking work boots look and have many similar features the most work boots, and there is no harm in using a hiking boot as a work boot and for outdoor adventures.
---
The Difference Between a Hiking Boot and Work Boots
Hiking boots have a quality that far exceeds that of any number of work boots; hiking boots are also lightweight and waterproof. Work boots particularly safety boots have a steel toe cap which adds quite a bit of weight to the boot; Waterproof work boots are not so common unless they are designed for outdoor work.
Some occupations may require a significant amount of walking, running and even climbing. If your employer allows it, you should check out steel toe tennis shoes if you'll be covering tens of thousands of steps during your day.  Hiking boots are much more flexible and work boots and have been engineered to endure long distances, harsh and uneven terrain.
Hiking boots also provide better traction because of their lug outsole typically made from rubber. They also slip-resistant and made to tread through wet, snowy and muddy conditions
---
Who Will Benefit Most from Hiking Work Boots
Those who have occupations in the fields of Archeology, Forestry, Firefighting, Landscaping, Surveying and other outdoor work including construction will all benefit greatly from a pair of hiking boots.
Hiking work boots also provide insulation and slip resistance in snowy and frigid weather conditions.
---
Features of a Good Hiking Work Boot
Uppers – Uppers that are from durable full-grain leather, abrasion-resistant as well as water-resistant, Split grain leather paired with nylon mesh for lightweight breathability or Nubuck leather which is full-grain leather that has been buffed to resemble suede.

Waterproofing – A waterproof membrane will protect you against any liquids but can cause your feet to become sweaty in hot weather; this is where a non-waterproof mesh upper comes in handy.

Insulation – Insulation is quite important especially if you work in cold or freezing weather conditions; synthetic insulation is added giving different degrees of protection against the cold.

Midsole – An EVA midsole is lightweight, less expensive and provides more cushioning, and is available in different densities for firmer support. The Polyurethane midsole is much firmer and more durable but usually only found in backpacking or mountaineering hiking boots. A midsole buffers your feet from shock and provides comfort and stability.

Support – A shank that can be from 3 to 5 mm thick is inserted between the outsole and the midsole to protect the feet and provide stability. A plate is a thin semi-flexible insert between the midsole and outsole below the shank if a shank is included that protects the feet against uneven rocks and roots.

Outsole – Rubber is used on all hiking boot outsoles and additives such as carbon are sometimes used on the outsoles of backpacking or mountaineering boots to make them harder. A harder outsole is more durable but can become slick when you need to work on slippery surfaces. A lug pattern consists of small bumps on the outsole that improve traction. A widely spaced lug offers the best traction and helps to shed mud and debris quickly. A heel brake is when the heel zone is more distinct from the rest of the foot area. The heel brake reduces your chances of sliding during steep descents and improves grip.

---
Reviews: Best Hiking Boots for Men
---
---
---
---
---
---
---
---
---
---
Hiking boots will protect you from all the danger of the outdoors such as wet, muddy and rocky terrain and they will stay firm on uneven and slippery surfaces.
Hiking boots also protect your ankles and feet against injuries and keep them comfortable for extended hours. For these reasons hiking boots will also make exceptional work boots in the right environment.
The above-listed choices have excellent comfort and protection features which are the two most important characteristics of a good hiking or work boot.
Top Rated Hiking Work Boots Compared