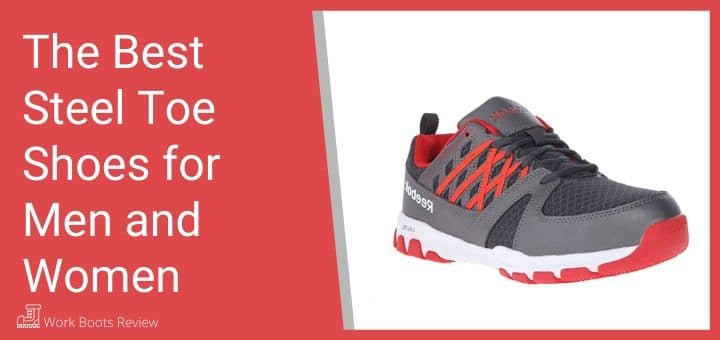 Are you looking for a great pair of steel toe shoes?
We've got you covered. 
We've reviewed dozens of steel toe shoes for men and women and found the best one's.
Whether it's for work or just for casual day-to-day use, your feet deserve nothing but comfort and protection. For this reason, many opt for steel toe shoes as their go-to everyday pairs. 
Relaxed yet robust, a pair of good steel toe shoes offer security that other types of shoes simply don't. And while they're not exactly lightweight, these shoes are sure to guarantee safety for your toes like no other.
Advantages of Wearing Comfortable Steel Toe Shoes
The history of steel toe shoes goes way, way back when workforce safety wasn't exactly a priority. In fact, it wasn't until the end of World War II that industrial safety became an issue that was worth addressing. 
Not too long after, the first pairs of steel toe work shoes were manufactured. Generally, wearing this type of shoes come with the following advantages:
Provides full protection and security for the feet as they are designed with robust steel toe caps

Offers supreme comfort, keeping the feet feeling relaxed and less fatigued all day, even during extended hours of wearing

Keeps the toes protected as these can withstand up to 75 pounds of weight

Sturdy and durable, can withstand the tough and heavy-duty demands of a workplace

Keeps the feet protected against punctures, crushing, burns, and lacerations

---
Features of The Best Steel Toe Shoes
Steel toe footwear became a trend not only for those work in tough industries but as well as for those who simply want the extra protection for their feet. Low cut, impressively breathable, and more comfortable to wear, these shoes go well with almost any type of casual outfit.
Generally speaking, if you're on the lookout for the best steel toe shoes, you may want to look for the following features:
Engineered with high-quality steel toe caps that meet ASTM F2413-2011 I/75 C/75 and ASTM F2413-18 1/75 EH safety standards

Sturdy, heavy-duty, slip, oil, chemical, water, and abrasion-resistant rubber outsoles that will guarantee high traction against all types of surfaces

Waterproof construction, allowing the shoes to be fit for use under wet environments

Made from tough, premium materials that are also breathable, allowing the feet to move comfortably

Well-cushioned footbeds that come with moisture-wicking linings that keep the feet dry and safe from developing unwanted odors and bacterial buildup

---
Reviews: The Top Steel Toe Shoes For Men
Whether it's for work, or simply for a casual stroll, some prefer the durability and performance of reliable, robust steel toes.
So without any further ado, here are some of today's best-performing men's steel toe shoes.
---
---
---
---
---
---
---
---
---
Reviews: The Best Women's Steel Toe Work Shoes
While it's most common for the guys to opt for steel toes, some women prefer the durability and security of this type of footwear as well. That said, here is our list of some of the top-performing steel toe shoes for women in the market today.
---
---
---
---
---
---
---
Comparison Table: The Top Men's Steel Toe Work Shoes
Comparison Table: The Best Women's Steel Toe Work Shoes
Which Pair Of Steel Toe Shoes Is For You?
Whether or not you are working in a tough industry, your feet still deserve to wear shoes that will get you covered at all costs. And for this reason, steel toe shoes just make about the absolute perfect option.
From classic, rugged Timberland steel toe shoes, down to a more relaxed and snug pair of Skechers, there are just so many options available in today's market.
And from our list of the best steel toe shoes, which pair do you think is the perfect fit for your needs?