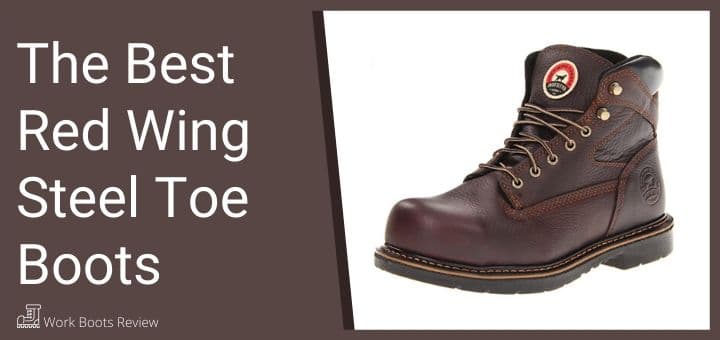 Red Wing is an American work boot brand name that is making a huge impact on the Work Boot market today.
They have manufactured some exceptional heavy-duty boots perfect to wear as a safety boot for work or to for the adventurer and outdoorsman.
---
What Makes Redwing so Special?
During the turn of the twentieth century, a Red Wing shoe merchant named Charles Beckham saw that there was a dire necessity for work shoes that have been specially designed for industrial work such as construction, engineering, mining, and other outdoor work. Beckham envisioned a shoe that is sturdy and durable enough for rigorous and heavy-duty work, but that still provides superb comfort for the worker.
It has now been more than a hundred years since Beckham opened his company and Red Wing is still manufacturing the same unwavering highest standard work boots that Beckham envisioned.
The Heritage Collection is a testament to american made footwear with the highest ideals of performance and quality; this collection has not changed in style and quality since up to eighty years ago.
Behind every pair of Red Wing shoes is over a century of experience and quality that is proven to outlast and perform with added timeless style and comfort.
The Red Wing logo stands for Standard in Excellence that you will find in no other!
---
Advantages of A Steel Toe Work Boot
Several industries such as engineering, construction, and mechanical workplaces require a trusty pair of steel toe safety boot as part of the standard Personal Protective Equipment. 
Others may also consider this as part of the standard workwear according to both the law and the company procedure. 
Industries such as nursing and hospitality services may also require steel toe work boots.
Protecting your feet and toes in a hazardous work environment is just as important as protecting other body parts. Take into consideration that your feet are vital, and without your feet, you will not be able to walk or stand. Without your toes, you will struggle to walk, keep your balance nor stand, therefore you will be unable to perform your work.
Certain hazards such as falling tools, falling materials, and equipment, heavy loads, moving vehicles and equipment, are also reasonable factors to have a pair of steel toe work boots.
If you are working in an industry where these are some of the hazards that you may face, then it is wise to invest in a reliable pair of steel toe work boots, like Red Wing steel toe work boots. Crafted to keep injuries at bay, the brand offers some of today's top-performing steel toe work boots.
---
Features Of A Good Pair Of Red Wing Steel Toe Boots 
Redwing steel toe boots feature protective toes made of sturdy, robust steel

They also feature well-cushioned insole for extreme comfort

Select models are constructed with waterproofing and insulation

Some of the most comfortable Red Wing work boots boast breathable characteristics

Some of the best Redwing work boots boast slip and oil-resistant, durable outsoles

---
Reviews: The Best Red Wing Work Boots
If you're looking for your next pair of Red Wing work boots, then you've come to the right place.
In this section, we're listing our very own Redwing work boots review featuring some of today's best-performing pairs in the market.
---
1
The Red Wing Heritage Moc Boot is a breathable and durable work boot, it is made to complement any lifestyle wonderfully.

Durable and comfortable leather uppers with a rugged look.

Longer lasting and durability is achieved by the Norwegian Goodyear Welt construction, tough.

The moc-toe provides lightweight protection and durability for the shape of the boot.

A comfortable, supportive footbed with wicking moisture technology.

The rubber wedge sole provides excellent grip and traction as well a shock absorption and great support.

---
2
The Red Wing Irish Setter is a Steel Toe Work Boot that deserves all the credit it can get.
Crafted with Red Russet Leather, this pair of Red Wing Irish Setter steel toe is an absolute classic that boasts durability and comfort.
Backed by more than a hundred years of experience, the Irish Setter is a robust, all-purpose boot with modern craftsmanship and classic style.
This is a premium boot line that has been specially designed for hunters and industrial workers.

Manufactured from full-grain waterproof leather.

The Prairie sole helps to reduce weight, gives underfoot cushioning, and provides excellent traction and grip.

UltraDry construction combining a moisture management lining along with other waterproof components.

A shoe with comfort and performance that will stand the test of time.

Steel toe for added protection.

---
3
If you're looking forRed Wing waterproof steel toe boots, then this pair is for you.
The Red Wing pull-on work boot is crafted with prime materials that are guaranteed to stay dry and keep your feet comfortable all day, easily making it among the best Red Wing pull-on work boots.
It is a Waterproof slip-on boot that will insulate your feet from water and other liquids.

Made from full-grain leather, these Red Wing pull on steel toe boots are enforced with a direct-attach welt construction this slip-on boot from Red Wing is one of the most durable work boot today on the market.

The brand's Endurance outsole gives excellent traction on slippery surfaces.

These Red Wing steel toe boots for men carry the brand's UltraDry waterproofing system.
---
If you are looking for a pair of comfortable work boots for men with the highest ratings, then your search stops here! The Red Wing boot is known for its exceptional durability and comfort. They are fit for wearing on any terrain in any industry. These are by far the most comfortable work boots that you will find.

A Lace-up style boot.

Made in the USA from the highest quality materials.

Made from full-grain leather.

The upper part is manufactured from stylish patent leather.

The sole is made of rubber and leather offering good grip and durability.

The Shaft measures almost 5.5 inches from the arch.

The Heel measure is the same as in other boots; 1.25 inches.

A well crafted, durable boot that will last you for many years.

Offers protection to the ankles and heels.

The soft toe is comfortable and roomy.

---
5
The Red Wing Irish Setter is a longer length rubber boot that offers, even more, protection against, heat, chemicals, abrasion as well as other hazards.
A long boot that is manufactured from rubber and textile materials for added protection.

The Steel Shank in this boot ensures, even more, protection and structural enhancement.

An exceptional Safety Work Boot that meets all the ASTM F2892-11 EH standards.

The outer sole is manufactured from Slip, Oil, Chemical, Abrasion, and Heat resistant rubber.

For Comfort and support, there is a polyurethane cushioned footbed.

---
6
RedWing also manufactures under the name Irish Setter, these are tough
aluminum toe work boots
that ensure adequate protection against electrical hazards in the workplace.
High-quality durable leather uppers.

A slip-resistant durable and shockproof rubber outsole.

the back pull-on loop ensures fast and easy on and off.

This boot meets ASTM safety regulations and is an electrical hazard safe.

---
7
The Irish Setter Mesabi Logger Boot from Red Wing is just another one of Red Wings excellent Work Boots, featuring a protective Steel Toe and 600 grams of insulating, making this an all in one perfect work boot for logging work.

Manufactured from high-quality leather with a durable high traction rubber sole.

Added electrical hazard protection.

The leather is waterproof and the boot is insulated with 600grams of insulation for cold and wet weather conditions.

A steel toe offers, even more, protection against work hazards.

---
8
UltraDry construction combines a moisture management lining with waterproof components for dry, long-lasting comfort and performance.

Durable welt construction.

Removable PU footbed for all-day comfort.

Nonmarking, lightweight rubber RPM Roper outsole provides excellent slip, oil/gas, chemical, abrasion, and heat resistance.

---
9
Durable steel safety toe and ASTM-rated electrical hazard protection work boots that have excellent cushioned midsole properties that are great for relieving foot pain.
Toe Box: Steel Toe protection that provides about 40% more room to increase comfort and warmth.

Uppers: Full-grain leather uppers and heavy-duty welt construction.

Insoles: Cushioned Polyurethane insoles that are removable so you can replace it with custom orthotics.

Midsole: Steel shank for additional midfoot support.

Outsole: Durable rubber gives you the slip-resistant advantages on top of ASTM-rated electrical hazard protection.

---
Perform your work tasks in comfort and the ultimate protection. Red Wing manufacture some of the highest quality and most durable Steel and Aluminium toe work boots available that also feature many other great characteristics such as waterproofing, insulation, and electrical hazard protection.
---
Index Table: Top-Rated Red Wing Work Boots
The Final Takeaway
Without a doubt, Red Wing is a brand that showcases durability, functionality, and comfort when it comes to footwear manufacturing.
Boasting some of today's best-selling Red Wing steel toe shoes and work boots, the brand easily is one of the most reliable in the market.
From our list of today's most comfortable Red Wing work boots, which one do you think is your perfect match?