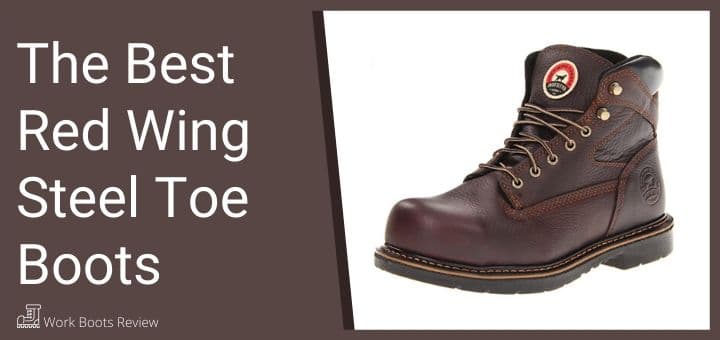 Red Wing is an American work boot brand name that is making a huge impact on the Work Boot market today.
They have manufactured some exceptional heavy-duty boots perfect to wear as a safety boot for work or to for the adventurer and outdoorsman.
---
What Makes Redwing so Special?
During the turn of the twentieth century, a Red Wing shoe merchant named Charles Beckham saw that there was a dire necessity for work shoes that have been specially designed for industrial work such as construction, engineering, mining, and other outdoor work. Beckham envisioned a shoe that is sturdy and durable enough for rigorous and heavy-duty work, but that still provides superb comfort for the worker.
It has now been more than a hundred years since Beckham opened his company and Red Wing is still manufacturing the same unwavering highest standard work boots that Beckham envisioned.
The Heritage Collection is a testament to american made footwear with the highest ideals of performance and quality; this collection has not changed in style and quality since up to eighty years ago.
Behind every pair of Red Wing shoes is over a century of experience and quality that is proven to outlast and perform with added timeless style and comfort.
The Red Wing logo stands for Standard in Excellence that you will find in no other!
---
Advantages of A Steel Toe Work Boot
Several industries such as engineering, construction, and mechanical workplaces require a trusty pair of steel toe safety boot as part of the standard Personal Protective Equipment. 
Others may also consider this as part of the standard workwear according to both the law and the company procedure. 
Industries such as nursing and hospitality services may also require steel toe work boots.
Protecting your feet and toes in a hazardous work environment is just as important as protecting other body parts. Take into consideration that your feet are vital, and without your feet, you will not be able to walk or stand. Without your toes, you will struggle to walk, keep your balance nor stand, therefore you will be unable to perform your work.
Certain hazards such as falling tools, falling materials, and equipment, heavy loads, moving vehicles and equipment, are also reasonable factors to have a pair of steel toe work boots.
If you are working in an industry where these are some of the hazards that you may face, then it is wise to invest in a reliable pair of steel toe work boots, like Red Wing steel toe work boots. Crafted to keep injuries at bay, the brand offers some of today's top-performing steel toe work boots.
---
Features Of A Good Pair Of Red Wing Steel Toe Boots 
Redwing steel toe boots feature protective toes made of sturdy, robust steel

They also feature well-cushioned insole for extreme comfort

Select models are constructed with waterproofing and insulation

Some of the most comfortable Red Wing work boots boast breathable characteristics

Some of the best Redwing work boots boast slip and oil-resistant, durable outsoles

---
Reviews: The Best Red Wing Work Boots
If you're looking for your next pair of Red Wing work boots, then you've come to the right place.
In this section, we're listing our very own Redwing work boots review featuring some of today's best-performing pairs in the market.
---
---
---
---
---
---
---
---
---
Perform your work tasks in comfort and the ultimate protection. Red Wing manufacture some of the highest quality and most durable Steel and Aluminium toe work boots available that also feature many other great characteristics such as waterproofing, insulation, and electrical hazard protection.
---
Index Table: Top-Rated Red Wing Work Boots
The Final Takeaway
Without a doubt, Red Wing is a brand that showcases durability, functionality, and comfort when it comes to footwear manufacturing.
Boasting some of today's best-selling Red Wing steel toe shoes and work boots, the brand easily is one of the most reliable in the market.
From our list of today's most comfortable Red Wing work boots, which one do you think is your perfect match?